THIS POST MAY CONTAIN COMPENSATED LINKS. FIND MORE INFO IN MY
DISCLAIMER
.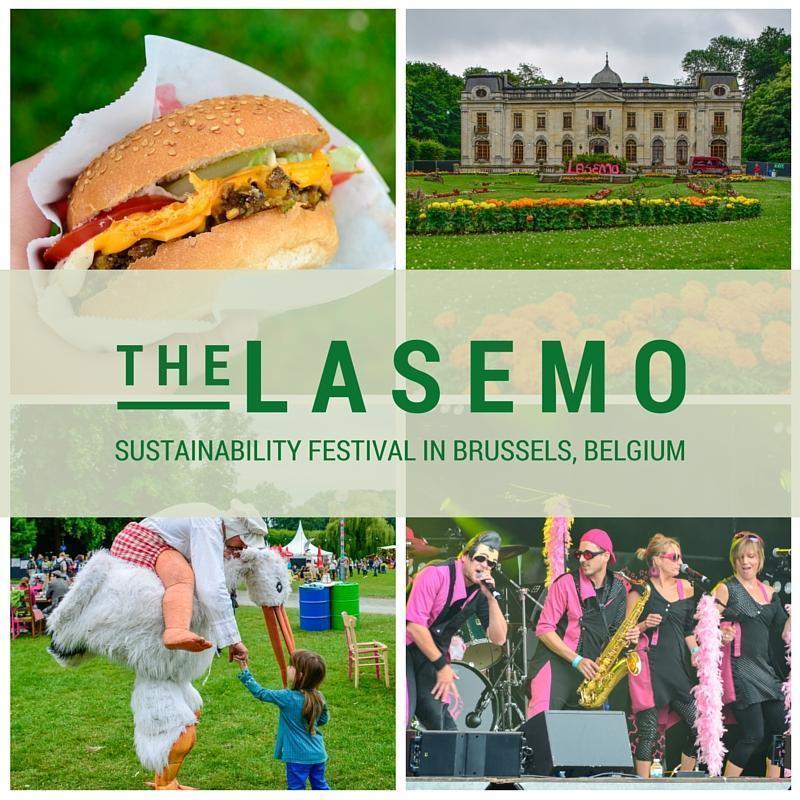 The LaSemo Festival in Brussels is an annual, family-friendly event focusing on sustainability, food, music, and fun. Adriana shares her experience at this year's edition.
Even though it has been going on for seven years, I admit, I'd never heard of the LaSemo Festival, until this year when I was asked to experience it.  Before attending, I read about it and learned it's a project that showcases music concerts, street art, workshops offered by different associations, and children's activities, all built around the theme of sustainability – where everything is designed to minimize your environmental footprint.  After reading this, I was intrigued and excited to check it out.
LaSemo takes place on the grounds of Enghien Park, which is worth visiting in itself, for its chateau and vast manicured lawns and gardens.
We arrived at the La Semo Festival early, a good idea if you want to beat the crowds and have the place to yourself for a little while.
As soon as I entered, I was engulfed by the smell of burning incense and for some reason I thought, "pot smoking hippies" right away. Rest assured, this festival is not about that. It's a very relaxed, family-friendly, fun, and activity-filled event, that has something to offer for everyone.
Because we arrived early, we had the food trucks all to ourselves, so we indulged one of my favorite activities – eating. We tried local, sustainable food (massive pork sandwiches from pigs roasting on large rotisseries), weird food (the Bugs In Mugs food-truck offered us mealworm burgers and crickets on a stick), mouth-watering organic, ethnic food from India, Sri Lanka and the Ivory Coast, homemade pizzas made in a brick oven, and homemade, organic sweets. If you ask me, I would go every year just for the food.
Later on, with bellies way too full, we started exploring the rest of what the LaSemo festival had to offer.
A major part of the festival is music, which takes place on two different stages. Local artists took turns playing a range of tunes, from the somewhat goofy, to serious compositions. and plenty of covers by well-known bands and artists. Overall, it was entertaining and what pleased me most was the relaxed atmosphere; nobody was drunk, pushing, or acting stupid, like at many concerts. People even had babies close by the stage.
For a small fee, the organizers rented out noise canceling headphones, so the kids would not be startled by the loud music – a smart idea.
Beside the small concert stage was a great little reading corner with chairs and books on shelves pinned to the trees. It looked like a very relaxing activity.
Since we attended with our kids, we explored the games area and here is where we had the most fun.
The little merry-go-round called The Nomad Tree was beautiful and interactive. I would not mind having it in my back yard. My daughter enjoyed it so much; prying her from it was a challenge.
Beside it was a board game area and a large labyrinth made of old wooden crates. It was divided by age categories, with a difficult path for older kids, and an easy one for the little ones.
We spent a good portion of our day here and I learned to play different games. The best part was you could play as long as you wanted or until another family or group wanted to play. It was all done based on a turn taking system.  In case you are wondering, all of the games and activities were free of charge.
For the littlest of visitors, LaSemo offered a dedicated area full of fun: a gym made of foam blocks, face painting, balloon animals, and painting workshops.
I also saw my first snail race at LaSemo. Were the snails interested in racing? No. However, that didn't stop us from participating, especially since the two people presenting the race were so much fun.
The snail race took place in an area dedicated to different booths talking about the environment, sustainable living, and even a booth dedicated to safe sex and AIDS awareness. Everybody here was kind enough to explain a few things in English for us so do not be afraid to ask.
As far as drinks go, LaSemo offered a variety of local beers, mostly from Silly, and the Havanna Club bar mixed a very delicious Mojito for me along with other cocktails and drinks.
We also enjoyed the shopping. Local vendors sell a variety of handmade items like clothes, jewelry and accessories, home goods, and decorations. It was fun to lose myself in looking at trinkets. They even convinced me to buy a hammock chair, which is now my office chair.
LaSemo was the best and safest festival we've attended. Despite not knowing about it before, now that I do, I insist you visit too. I promise you will not regret it.
For another taste of what the LaSemo festival has to offer, check out their video from the 2014 event:
The next LaSemo Festival will take place on July 10-12th 2015.
Read more from this series...
LaSemo Festival – Music, Food and Sustainability in Brussels, Belgium