THIS POST MAY CONTAIN COMPENSATED LINKS. FIND MORE INFO IN MY
DISCLAIMER
.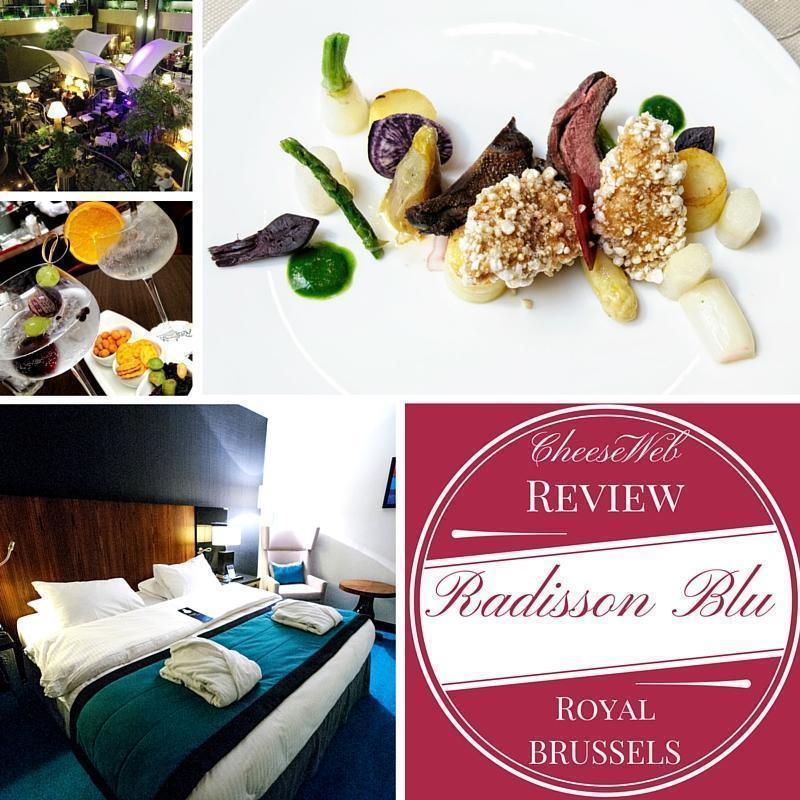 Fine dining, great gin cocktails and luxurious rooms await you at the Radisson Blu Royal hotel in central Brussels.
You may recall, back in February, I was invited to Paris to visit several Radisson hotels to become a brand ambassador and one of the #BluBloggers. A few weekends ago, Andrew and I were able to visit one of the Radisson properties right here in Brussels – The Radisson Blu Royal.
Radisson Blu Royal Brussels City Centre Hotel Review
The Radisson Blue Royal is conveniently located in Brussels' city centre, near Brussels Central Station, Grand Place, and the museums and galleries in the heart of the city.
We arrived on a Saturday afternoon to maximise the amount of time we'd have to enjoy the property and were immediately greeted by a warm and friendly host at the reception. We were then whisked to our room by the lovely sales and marketing coordinator, Maëlle, who made our visit possible.
I use the term room loosely here. We were shown to a space almost as large as our flat. We had a bedroom separate from a vast living room and dining area.
Our bathroom(s) contained a huge tub and large rain shower, in addition to acres of counter space and plenty of toiletries.
Our Executive Suite isn't even the largest of the rooms in the hotel. If you really need elbow room, you can opt for the Ambassador Suite or treat yourself to the ultimate stay in the Royal Suite.
If you don't need quite so much space, even the Standard and Business Class rooms are spacious (26m2) and include free wifi, coffee and tea service, air conditioning, a safe, and flat screen TVs. Business class will also give you access to the Fitness Club and include the giant buffet breakfast.
Our room was very comfortable and quiet. I loved soaking in the enormous tub (once I figured out how to work it!) and when we called down to the front desk for some sheets of paper to make notes on (yes, we're working even when we're not supposed to be), it was delivered within 5 minutes.
In fact, our only hiccup was Sunday morning before checkout. To make a long story short we had a customer service issue, we found disappointing, especially since everyone had been so friendly up until that point (and no, the rest of the staff didn't know we were there as bloggers.)
What is great about the Radisson brand however, is their commitment to customer satisfaction. Radisson has a 100% Guest Satisfaction Guarantee – they will make it right, or you don't pay. When I expressed my concern to the management, it was dealt with swiftly, and the problem was rectified. Things sometimes go wrong, that's unavoidable. It's how a company deals with issues that is crucial.
But on to the most important part – the food and drink!
The Ginothèque
We are big gin and tonic fans, so when we heard the Radisson Blu Royal has recently launched a Ginothèque, we had to give it a try (for research purposes of course!) The bar is located in the bright and open atrium (conveniently located beside the Atrium Restaurant) so we opted for a pre-dinner cocktail.
The bar has a good variety of high-end gins and half a dozen kinds of tonic (including two of my favourites). You can mix and match your own or ask the bartender to create something to your taste.
We left ourselves in the mixologist's hands and were definitely happy with the result!
It's also possible to order a variety of tapas and snacks with your drinks, or just cozy up on the sofa-style seats with a coffee and enjoy the atmosphere.
The Atrium Restaurant
The Radisson Blu Royal is home to two restaurants: the famous Michelin two-starred Sea Grill (which is privately owned and leases space from the hotel) and the Radisson owned and operated Atrium Restaurant. While I'm still saving my pennies to dine at the Sea Grill someday, I've had the opportunity to dine at the Atrium twice and both were positive experiences.
My first visit was with Andrew, directly after our Ginothèque experience. We moved into the dining area, beside the remains of part of the old Brussels city wall. I loved how they saved this piece of history and incorporated into the design.
I started with a duo of smoked quail breast and seared foie gras with a cream of sweet potatoes and crisp of apple. Delicious!
Andrew tested the Ostend Grey Shrimp croquettes. Crispy outside, gooey inside!
I chose my main course from the seasonal asparagus menu: Slowly cooked lamb filet, stuffed with asparagus. I could have handled my meat slightly less done, but it was still very tasty and a great combination of flavours. I also loved the potato gratin that came on the side – give me cheese and potatoes any day!
Andrew ordered the oven roasted 'Piétrain' pork filet and crawfish tails and enjoyed the flavour combinations. We both felt the portion sizes were ample and our wine suggestion was excellent as well.
There wasn't much room left for dessert, but I couldn't pass up the creamy chocolate with cherries and cinnamon. It was rich and delicious.
Andrew is never one to pass up a good crème brulée and this was indeed a good one.
Overall, our service was excellent and our food was very good indeed. We loved the open atmosphere of the Atrium and the prices were fair, especially for a hotel restaurant.
My second experience at the Atrium was over lunch with Maëlle from Radisson, and my fellow #BluBlogger Emma.
This time, I started with the Asparagus "velouté" with sliced Dublin bay prawn. It was creamy and wonderful and the prawns were a nice addition.
My main course came on the recommendation of the Restaurant Manager: Belgian pigeon breast and crispy sweetbreads with roasted endives and truffle sauce. I love pigeon but I have to say sweetbreads are not normally my favourite thing. This dish definitely won me over though. The coating on the sweetbreads was very crispy and almost had a popcorn-like quality. The pigeon was perfectly cooked and the colourful vegetables complemented the proteins perfectly.
For dessert, I went with a simple gratin of local strawberries, vanilla from Madagascar and almonds milk ice cream – a classic combination well executed.
While I choose my dishes a la carte, the three service chef's selection menu is a great value at 35€ or 49.50€ with wines included.
My recommendation – start with a custom gin at the Ginothèque and then head to the Atrium for a lovely meal in a beautiful location.
Click here to see the latest prices at the Radisson Blu Royal
Radisson Blu Royal Hotel, Brussels
Rue du Fosse-aux-Loups 47
We visited the Radisson Blu Royal in Brussels as part of the #BluBlogger program sponsored by Radisson Hotels. As always, all opinions remain our own.
Looking for more hotel options in Brussels? We get asked where to stay in Brussels – All. The. Time. We finally did something about it and wrote the Ultimate Guide to our top 30 hotels in Brussels. Read it here.
Latest posts by Alison Cornford-Matheson
(see all)
Read more from this series...