THIS POST MAY CONTAIN COMPENSATED LINKS. FIND MORE INFO IN MY
DISCLAIMER
.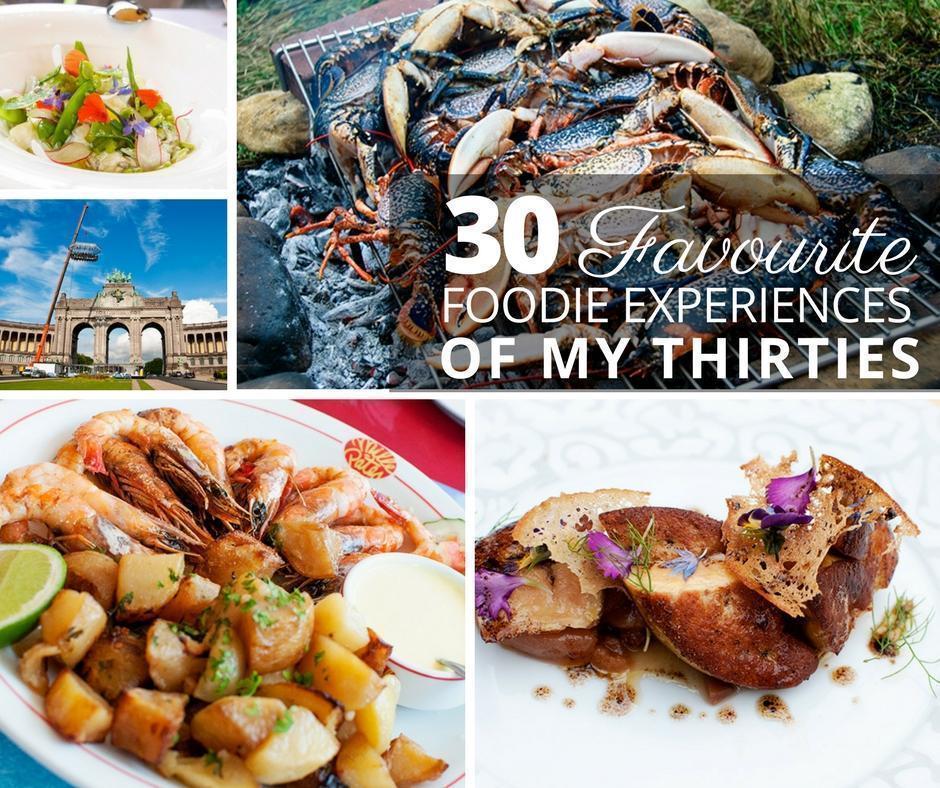 To celebrate my 40th birthday, I'm sharing the 30 best food and dining experiences I had during my thirties covering Europe, Asia, and the Americas!

Our first expat experience in Amsterdam, back in 2004, was a turning point in my relationship with food. No longer was it something I ate mindlessly. I started to think about where ingredients come from and why the foods I saw in Europe seemed so much fresher and more flavorful than what I ate back home.
It was a gradual progression, so although I had a few monumental food experiences in my late 20s, the bulk of my foodie highlights happened in my 30s (so far!). Because food and travel are so intertwined for me, you'll see some of the same locations pop up in my article on my favourite travel experiences. Some, however, are memorable for the food above all else.
So, once again in chronological order, I give you my 30 best food experiences of my 30s.
1. Eating Blind in Valladolid, Spain (June 2007)
The dark little restaurant, Don Claudio, in Valladolid, Spain, came highly recommended. Armed with my trusty guidebook with its handy menu decoder in the back, I thought I had everything under control. Chicken, pork, beef – none of the Spanish words listed in my book appeared on the menu. In fact, we couldn't even fathom a guess what things were. 'English?' We hesitantly asked our waitress. She shook her head as sheepishly as we felt. For the first time, I gave up all control and pointed blindly to the menu. Andrew chose a different dish at random. We still don't know for sure what we ordered but we do know our meals were delicious. The experience forced me out of my food comfort zone in a big way and I haven't looked back.
2. The Chef's Table Experience at Comme Chez Soi, Brussels, Belgium (March 2008)
In the past few years, I've had the opportunity to dine at a number of Michelin-starred restaurants and several times those experiences included dining at the chef's table. Back in 2008, I had no idea such a concept even existed. At the time, Andrew's co-worker from India and his wife had been living and working in Brussels for 3 months and we had become good friends. They were returning to India and before leaving, they desperately wanted to dine at Comme Chez Soi, a legendary Belgian restaurant. Our spunky friend called at the last minute and somehow managed to score not only a reservation but 4 seats in the kitchen at the Chef's Table. I don't even have any photos from the evening but I'll never forget that night. Watching how a professional kitchen at such a high calibre works started my fascination with fine-dining restaurants and chefs.
3. Food and Frivolity at La Benjamine, Monein, France (December 2008 & July 2009)
As I mentioned in my last post, my 30s began with an epic stay at La Benjamine in south-west France. But that wasn't the only memorable food experience we had in Monein. In 2008, we attended our first New Year's Eve at La Benjamine – a mind-blowing night of food followed by dancing and a LOT of wine. We spent a day cooking with other guests under the instruction of our French Chef friend and learned how to make pasta from scratch among other things. If we had to choose our most memorable food experience from La Benjamine though, it is Bastille Day of 2009. We met our San Francisco friends in France, and the four of us joined a group of other guests for a Bastille Day picnic in the vineyards surrounding La Benjamine. This was no potato salad and sandwiches picnic, though. We feasted on cote du boeuf and blue lobsters grilled over an open fire. I don't think I've ever laughed so much in my life. The wine helped, but the company helped even more.
4. Discovering Foodie Heaven in Las Vegas (January 2010)
In my last article, I shared how Las Vegas took us completely by surprise and we ended up loving it despite our preconceptions. One of the big reasons we enjoyed it so much was the food. I had still held out-dated images of the Vegas food scene; cheap buffets brimming with subpar warmed-over food. While I'm sure that still exists in Vegas, we didn't see (or eat) it. We dined our way around the world on excellent Mexican, Thai, and Japanese food. We ate at restaurants owned by celebrity chefs like Wolfgang Puck and Tom Colicchio. We even ate at Thomas Keller's Bouchon which was a real highlight for me. But it wasn't only the 'fancy' food we enjoyed in Vegas. Our local friend introduced us to In-N-Out Burger, a west coast chain that still makes their fast food from scratch. I'd go back to Vegas just to eat in a heartbeat.
5. Eating Tentacles in Vouliagmeni, Greece (October 2010)
"I will eat almost anything; just not bugs or tentacles." It was my common refrain for years, but I've eaten both now. The difference is I actually seek out the tentacles since our first trip to Greece. On our final day in Vouliagmeni, we wanted to simply relax and enjoy being beside the sea, something we both desperately missed in Brussels. There was a café with a terrace on the beach across the street from our hotel, and we sat there for hours sipping coffee and admiring the view. Getting peckish, Andrew ordered a seafood platter. Being Greece, it came heaped with huge grilled octopus tentacles. Now I had had calamari before, but I was pretty indifferent about it. I mean, anything deep-fried is edible, but mostly I found it rubbery. I pulled up my big girl pants and decided I would try the grilled octopus, as everything else we had eaten in Greece was just so good. I was blown away. The taste and texture were both delicate, and the smoky grilled meat was delicious. I couldn't get enough. It made me realise, like all things in life, when it comes to food, never say never.
6. Eating All. The. Things. in India (March 2011)
For someone as obsessed with all things Indian as me, eating my way around the country was a revelation. Although my stomach didn't always cooperate, I was able to try many dishes I had never set eyes (or taste buds) on before. I had Biryani that blew my mind. I discovered the masala dosa and life was never the same again. We even had our best-ever room service experience at the Taj Kumarakom in Kerala. Although I had already been cooking Indian cuisine at home, our trip to India helped me discover the regional differences and flavours I had never encountered before and made my obsession with authentic Indian cooking even deeper.
7. A Cheese Feast in Strasbourg, France (June 2011)
You may have noticed I like cheese. A lot. So when I read about a restaurant dedicated to my favourite dairy product in Strasbourg, France, I had to go. La Cloche a Fromage was everything I dreamed it would be. My entire meal was a cheese tasting menu. Andrew discovered authentic raclette; melted cheese over potatoes and meat? Yes, please! Even I wouldn't be able to eat that much cheese every day, but as a once-in-a-lifetime (Oh, who am I kidding? I could do it once a year at least) experience, it was cheese-lover heaven.
8. Eating Local in Bosnia and Croatia (March 2012)
Visiting Bosnia-Herzegovina and Croatia with a local on a private day trip was one of my travel highlights. It was also a foodie highlight. In Mostar, our guide took us to a local restaurant we would never have walked into on our own. He was so delighted we wanted to try everything, he ordered way more food than we could ever eat just so we could taste all his favourite dishes. On our way back to Dubrovnik, he asked if we liked oysters. Is the Pope Catholic? 'Well, I know a guy…' The next thing we knew, we pulled into a driveway and bumped along the dirt track to a small shed on the water. The oyster farmer greeted us with a huge smile and a barrage of words we didn't understand. He then leaned into the water and pulled out a strand of oysters which he promptly shucked and handed to us. He beckoned us inside his shed where he pulled out a plastic jug of red wine. We ate our fill of oysters washed down with jug-wine and watched the sun set over the water. It was a magical local experience I will never forget.
9. Discovering a Foodie Gem in Cordoba, Spain (April 2012)
We had many great food experiences with my parents on their trips to Europe (and a few horrible ones), but one of my favourites occurred in Cordoba (the location of one of our travel highlights). My father was feeling a bit under the weather, so Andrew, Mom, and I headed out for a walk around town. We stopped at a little wine bar called Regadera for a drink and a snack. As often happens with Andrew at the helm, we ended up chatting with the owner. He asked if we'd be interested in having dinner and motioned to the few tables tucked in a back room. The wine and snacks were so delicious, we wanted to take him up on his offer, but we wanted Dad to join us. As promised, the four of us returned the following evening and were treated to one of the best meals I've ever had in Spain (and believe me, that's a high bar.) Best of all, my parents loved it too.
10. Dining on a Tram in Brussels, Belgium (May 2012)
To wrap up that same visit from my folks, I had something special planned. I had attended a press event for The Tram Experience when it launched earlier in the year, and I managed to make reservations for four, for the final evening of my parents' visit. I'm not sure what they thought when we made them wait around at the tram stop in their fancy duds. When the Tram Experience pulled up, I dare say they were a bit surprised. For the next two hours, we were wined and dined by one of Belgium's top chefs, as we cruised around town on this fancy tram. As it was still relatively new in Brussels, the looks on people's faces as we passed by was priceless. I could list 30 memorable food experiences in Brussels alone, but the Tram Experience would still be near the top of the list.
11. Dinner in the Sky in Brussels, Belgium (July 2012)
Just two months after the Tram Experience, we had another epic dinner in Brussels. I was hesitant when Andrew booked our seats for Dinner in the Sky. It was a lot of money for a meal, AND I hate heights. I was even more hesitant when I woke up that morning to pouring rain. To spend that much money and be grounded would be devastating. But, when we arrived at Parc Cinquantenaire the clouds parted. By the time we boarded our table, it was a beautiful evening. We were seated right in front of the chef, a legend on the Belgian food scene, who charmed us with his food and personality. We had an incredible view of the city and a meal we will never forget.
12. Eating All. The. Things. (Again) in Copenhagen, Denmark (July 2012)
Back in 2012, we wouldn't have expected Copenhagen to be such a foodie city. Of course, Noma was on our radar, but not in our budget. However, from the moment we stepped off the plane, it felt like we started eating – and it was all good. From a gut-buster of a brunch to tiny sandwiches, the food was delicious and made with care and attention to detail. Our favourite meal, however, was a Singaporean feast which remains one of the best Asian meals I've ever had. Of course, sharing it with two of my favourite people didn't hurt either.
13. Eating at Nobu by Accident (Twice) in Budapest, Hungary (July 2012)
On the same European trip as Copenhagen, my friend and I visited Budapest. It was the final stop on a whirlwind adventure, and we were a bit burnt out. Budapest was a city of highs and lows for us. In addition to travel fatigue, we were dealing with some less than ideal (to put it mildly) accommodations. We decided to treat ourselves to a nice meal and followed TripAdvisor recommendations to an 'authentic' Hungarian restaurant. We should have turned around the second we set foot inside. From the terrible live music to the overpriced cocktails it was very obviously targeted at tourists. Finally, after an incredibly rude encounter with our server, we paid for our drinks and walked out. Hungry and frustrated we started looking for alternatives when we passed by a beautiful and calming Japanese restaurant. We stepped inside and asked if they had a table available. It wasn't until we were handed the menu I noticed it said 'Nobu.' I looked at my friend. 'It can't be THE Nobu… Can it?' Sure enough, we had accidently scored a table at Chef Nobu Matsuhisa's Budapest restaurant. Because we had entered by the back way, we didn't realise we were inside the exclusive Kempinski Hotel Corvinus Budapest. The food was exceptional and, being Hungary, far less expensive than it would have been in our home countries (if we could have even gotten in.) In fact, we enjoyed our meal so much we made reservations for the following night. We never did get our 'authentic' Hungarian meal, but we sure ate well in Budapest.
14. Watching the Shrimp Fisherman on Horseback in Oostduinkerk, Belgium (July 2012)
I debated whether to add this experience to my travel experiences in Belgium post (coming soon) or to my foodie experiences. It landed here as, overall, the experience is a traditional method of food harvesting. While the tiny grey shrimp in the North Sea used to be harvested by fishermen on Horseback up and down the coast, these days it only happens in Oostduinkerk, Belgium. The spectacle is so unique it's been recognised by UNESCO. The horses and fishermen work as a unit to comb the shallow waters for shrimp. Afterwards, the shrimp are sorted and cooked right on the beach where visitors can purchase a small box to taste. It's fascinating to watch, especially as a photographer. It's a strange, beautiful, unforgettable experience few have the opportunity to see.
15. Eating With (Booka)Lokals in Brussels, Belgium (December 2012 & January 2013)
We're all about local experiences so when we were contacted by a fellow expat in Brussels about her new start-up, Bookalokal, we were intrigued. The concept is fairly common now; you can book a food experience hosted by a local person online. It's a great way to meet new people, try different cuisines, and gain local knowledge. We loved the concept and fully supported its founder. The following month we tried our first Bookalokal experience. It was a murder mystery dinner hosted by a local food blogger I'd been following for a while. It turned out she'd been following me too and we hit it off right away. Not only was the evening a blast, with excellent home-cooked food, but I made a great new friendship.
16. Eating on Plastic Chairs in Malaysia (April 2013)
Our trip to Sabah, Malaysia and Hong Kong was memorable for so many reasons – food figures highly. We ate a lot of tasty things in Malaysia from excellent Indian food to delicious grilled meats. Even the Asian side of the breakfast buffet at our hotel made me happy. But the one meal that stands out was at a restaurant next door to our hotel. It specialised in seafood and only the kitchen was fully enclosed. It was our first time having that essential Asian dining experience of eating on tiny plastic chairs. We ordered a number of dishes but the best was the salt and pepper soft shell crab. It was crunchy, spicy, and delicious. Unfortunately Andrew's phone died taking with it all of our food photos from Malaysia. Even without evidence, we'll never forget that meal.
17. Eating All The Things (Part 3) in Hong Kong (April 2013)
If any city in the world is made for foodies it's Hong Kong. In fact, we didn't have a bad meal there. It started shortly after we landed in the city. We strolled into a hole-in-the-wall restaurant (with plastic chairs) for roast duck and pork. It was heavenly. Throughout the week, we ate Thai curry, Argentinian steak, Spanish Tapas, Korean BBQ, and all manner of fusion foods. But by far the best were the dumplings. We ate dumplings morning, noon, and night and my favourite discovery was the soup dumpling. My life hasn't been the same since.
18. Visiting Pork Town in Umbria (May 2013)
If Andrew likes anything as much as I like cheese it's pork. So when our friend in Umbria mentioned there was a whole town dedicated to wild boar it sounded like a road-trip to us. As soon as you set foot in Norcia you see boar. There are stuffed heads mounted on the walls of the shops and storefronts are brimming with all manner of pork sausages, terrines, and pates. Now I like sausage as much as the next carnivore but it's not the boar I remember the most, it's the restaurant we chose. Il Cenacolo is about as authentic an Italian restaurant as you can get. There were just four tables inside and not a tourist in sight. While the atmosphere was as casual as it gets, the food was out of this world. It was simple and rustic and so. so. delicious. In fact, every meal we ate in Umbria was memorable but Il Cenacolo was life changing. Tragically, Norcia was devastated by an earthquake in October of 2016. I'm not even sure if the restaurant still exists but it certainly exists in my memory.
19. Eating Tripe with Tuscan Hunters in Castelfalfi, Italy (November 2013)
So many of our best meals over the years have been in Italy. If any country understands the importance of seasonal, local ingredients it is Italy; it's no wonder the Slow Food movement started here. So when I was invited on a press trip to discover a resort that was working with the local community to promote agriculture in the area I was all in. My time at Castelfalfi was filled with memorable food experiences from cooking a meal with an Italian chef to truffle hunting in the forest. However, the food memory that stands out the most wasn't even on the program. My hostess charmed her way into the local hunting club. After the hunt, a feast is served to the hungry hunters. It is huge, meaty, as rustic as it gets and, frankly, delicious. Sitting at a long table packed with slightly raucous hunters I was happy to eat what was handed to me – until they passed the tripe. Well, in for a penny, in for a pound. I dove in. I can't say it was the best thing I ever ate but it wasn't bad at all, and the look on the hunters' faces was well worth it. They had expected me to baulk at eating cow stomach, but they were suitably impressed when I cleaned my plate. This Canadian gal was alright after all. I still don't have a clue what was said to (or frankly about) me, but the hunters who had been a bit cool at my arrival were shaking my hand and slapping my back when I left.
20. Discovering Foodie Heaven (Again) in Lille, France (December 2013)
It's not hard to find great food in France, but some places top the foodie charts even in this food-obsessed country. Lille is one of those locations. We had been living just an hour and a half from this gastronomic city for a decade before we had any clue how great it is. We popped down for a weekend to review a bus service and visit the Christmas Market. While we weren't overly impressed with the market (we were spoiled by the Belgian Christmas Markets) we couldn't believe how good the restaurants were, and the gourmet shops, and the market. We barely did anything but eat, shop for food to take back to Brussels, and plan our next meal.
21. Dumplings Forever in South Tyrol, Italy (May 2014)
Our first trip to South Tyrol was to explore the South Tyrolean Wine Road, and frankly, even if the food was terrible we still would have loved the region. But the food was anything but terrible. It was unlike any other food we had had in Italy. This was hearty mountain food, but it was far from bland. The emphasis on local produce meant everything was fresh and flavourful. The farm-stay company we were working with also had a chain of shops featuring local products of all kinds. They were a revelation, and I loaded up our car both times we visited the region. Of all the dishes we tried (and we tried a lot), we fell head-over-heals for the local dumplings, Knödel. I probably ate my body weight in Knödel on our return trip to South Tyrol, but I regret nothing.
22. Eating All. The. Things. (Part 4) in Munich, Germany (May 2014)
Like Lille, Munich was not a city I expected to be on my foodie bucket list. I always considered German food heavy and relatively bland. I was so wrong. While we did have traditional German food at a famous Bavarian beer hall, Munich surprised me with its variety of foodie offerings. We sampled pastries, visited the open-air produce market and a German version of Harrods food hall, and ate both traditional and nouveau German cuisine. But perhaps the most deliciously surprising restaurant of the trip was vegetarian. I've always said if a city can do vegetarian food well then it can do anything and that certainly seems to be the case in Munich.
23. Eating at a Castle with The Friends of Taste in Belgium (June 2014)
When an expat friend asked if we'd be interested in joining her and her Belgian husband for a local, sustainable meal prepared entirely outdoors I was already interested. Then she told me it would be served on the grounds of one of Belgium's castles. Um. Yes. The meal was hosted by Vrienden van de Smaak (The Friends of Taste), a group that organises meals of local produce, in exceptional locations, with the goal of uniting foodies over great food. It was exceptional. Even without the epic location the meal itself would have been unforgettable. But, in addition to the amazing food, we also got a sneak peek inside a privately owned chateau. Fantastic!
24. Finding Authentic Chinese in Brussels, Belgium (August 2014)
In spite of, or more likely because of, the ubiquity of Chinese restaurants we had pretty much given up on finding an authentic taste of China in Brussels. But our expat network in Brussels is a rich and varied one so when an American friend who had lived in China said she knew a place, we were intrigued. We joined her and a chef friend at the tiny hole-in-the-wall Nid Savoureux and we are so glad we did. The owners didn't speak much French but luckily our multi-lingual friend took over ordering. Colourful plates of food paraded from the tiny kitchen and soon we were eating things that weren't even on the menu. We returned again and again and even without our interpreter we were always greeted with warm smiles and fantastic food.
25. Dining at Sea Grill in Brussels, Belgium (December 2014)
You don't have to spend a fortune to eat well in Belgium. However, if you want to splurge on a meal, there are some fantastic places to do so in Brussels. If you love seafood as much as I do, there's no better place for an unforgettable meal than Sea Grill, located inside the Radisson Hotel in the city centre. A Belgian Blogger friend and I had worked on a campaign with Radisson and asked if it would be possible to eat at Sea Grill. Unfortunately, other than leasing the location, Sea Grill and Radisson are completely independent entities. However, our contact at Radisson pulled some strings and a few months after the campaign ended, invited us to join her for a meal at Sea Grill. It completely lived up to my high expectations. Although the entire meal was unforgettable, it was the lobster press that stole the show. I don't think I'll ever be able to eat lobster bisque again as it could never compare to the one we had at Sea Grill. If you're prepared to drop a wad of cash for an epic seafood experience, let this be it.
26. Eating and Drinking Our Way Through The Rhone Valley, France (March 2015)
When we were in the process of planning our three-month motorhome trip through France with Atout France, they asked us if we were interested in working on another campaign with them before we left Brussels. Already short on time to sell off all of our things and get ourselves ready to leave, we were hesitant to take on anything else. 'The campaign is highlighting the French wine regions, and we need someone to cover the Rhone Valley.' Well, we didn't need any arm-twisting. The wine tastings and experiences were incredible and diverse, from drinking wine in a cave to tasting 'ancient Roman' wine, but the food was pretty epic too. All of the restaurants we visited were fantastic, but our Chef's Table experience at Auberge de Montfleury was the star of the show. We closed the place down chatting with Chef Richard Rocle and his wife, Angèle. They were as charming as the food was mouth-watering.
27. An Epic Slow Food Experience in Rural France (May 2015)
Our back-to-back press trip marathon in France was an exhausting schedule to maintain, but it did afford us some amazing foodie experiences we wouldn't have been able to squeeze out of our budget otherwise. In fact, we probably wouldn't have been able to eat out at all, let alone enjoy the parade of excellent restaurant meals we did. It's hard to choose a favourite but, guns to our heads, it has to be Les Orangeries, in the Nouvelle-Aquitaine region of France. We had the opportunity to spend time talking to the chef about sustainability and the challenges of running a high-end restaurant in rural France. Then we got to eat. The food was some of the most beautiful I've ever seen, and every mouthful was fantastic.
28. Following the Cheese Routes of France (May-June 2015)
Three months in France meant cheese – a LOT of cheese. While there was always great local cheese in our little motorhome fridge, there were several places where we followed Cheese Routes through the countryside. The first was of our own design. We both wanted to visit Normandy, even though we couldn't organise a sponsorship there. Of course, our reasons were very different. Andrew wanted to tour the D-Day battle sites and I wanted to chase down the cheese in Normandy. But Normandy was just the start of our cheesy adventures in France. In Poitou-Charentes (now part of Nouvelle-Aquitaine) we followed the Route du Chabichou and tasted the most amazing goat cheeses. Nearing the end of our French adventure, we discovered the AOP cheese route in Auvergne (now Auvergne-Rhône-Alpes). I don't like to play favourites when it comes to cheese but the variety in Auvergne made it hard to beat.
29. Eating South American Style in French Guiana (July 2015)
So many things about my trip to French Guiana were surprising, not the least of which was the food. Just like the region itself, the food is a melting pot of cuisines and cultures. I ate everything from French fusion to bush meat while touring the area. One of the most memorable meals was my big bowl of Asian noodle soup in the Laotian village of Cacao. But what sticks with me the most is the vast array of fresh tropical fruits I ate at every single meal. I couldn't get enough of the fresh juices, and I think I had passionfruit on everything I ate. The market in Cayenne was a feast for the eyes with the colourful fruits and vegetables all laid out. I've never seen so many different sizes and shapes of bananas.
30. Eating from the Rooftop in Fredericton, NB, Canada (August 2016)
I'm not going to lie; from a food perspective, returning to New Brunswick was a bit of a let-down after living in Europe for so long. We miss our ripe, unpasteurized cheeses, the wide variety of cuisines we had access to in Brussels, and the regional specialities we discovered while travelling the continent. On the flip side, I am still surprised by how much the food scene has advanced in NB since I was a teenager here. The variety of cuisines available has improved significantly and, even more importantly, there is an emerging movement among chefs to highlight the fresh, local produce we have at our fingertips. We've raved about Saint John's Chef Jesse Vergen repeatedly and, in our eyes, Chef Matt MacKenzie in Fredericton can do no wrong. While we've enjoyed many meals by both chefs, the one that stands out the most is the Rooftop Harvest Dinner at the Crowne Plaza Fredericton. It showed creativity, finesse, and most of all, it was simply delicious.
While we've enjoyed countless fantastic meals over the past decade, what I am most thankful for is the opportunity to speak with passionate chefs and food producers. Over the years, both my career as a travel writer and pure chance have opened doors to kitchens and farms around the globe. Some of these interactions are fleeting, but we count many chefs and producers among our good friends. Seeing what a difference passion makes to a product or a meal has become evident. Slow food, like slow travel, is all about taking time – to experience, to consider, and to enjoy – and it's been one heck of an enjoyable (and delicious) decade.
Latest posts by Alison Cornford-Matheson
(see all)
Read more from this series...
30 Best Food Experiences of my 30s