THIS POST MAY CONTAIN COMPENSATED LINKS. FIND MORE INFO IN MY
DISCLAIMER
.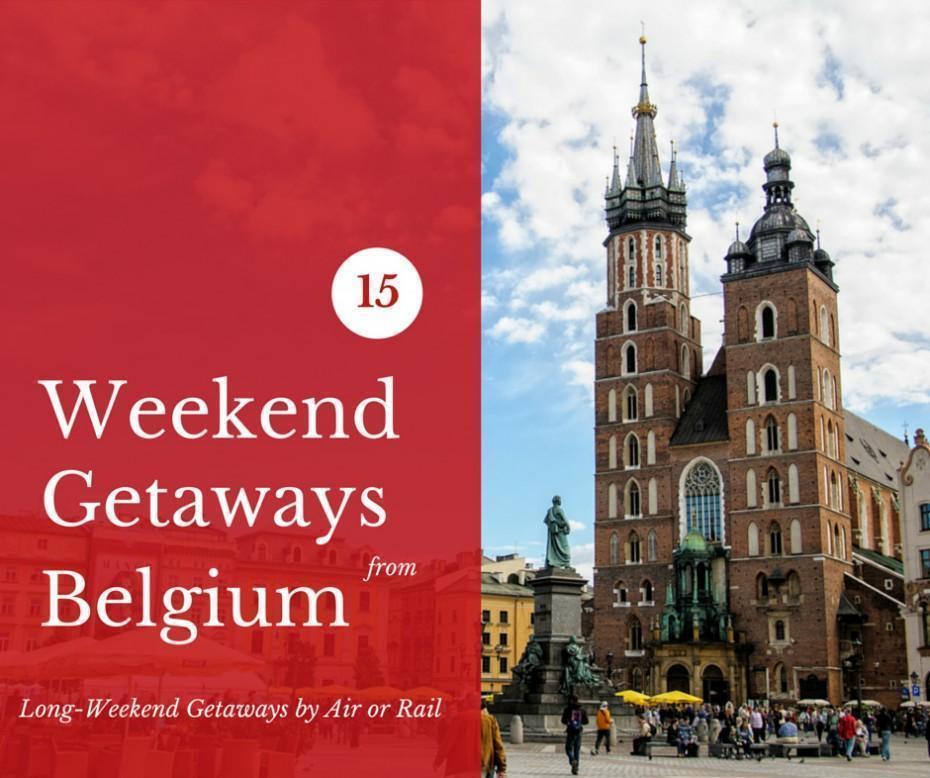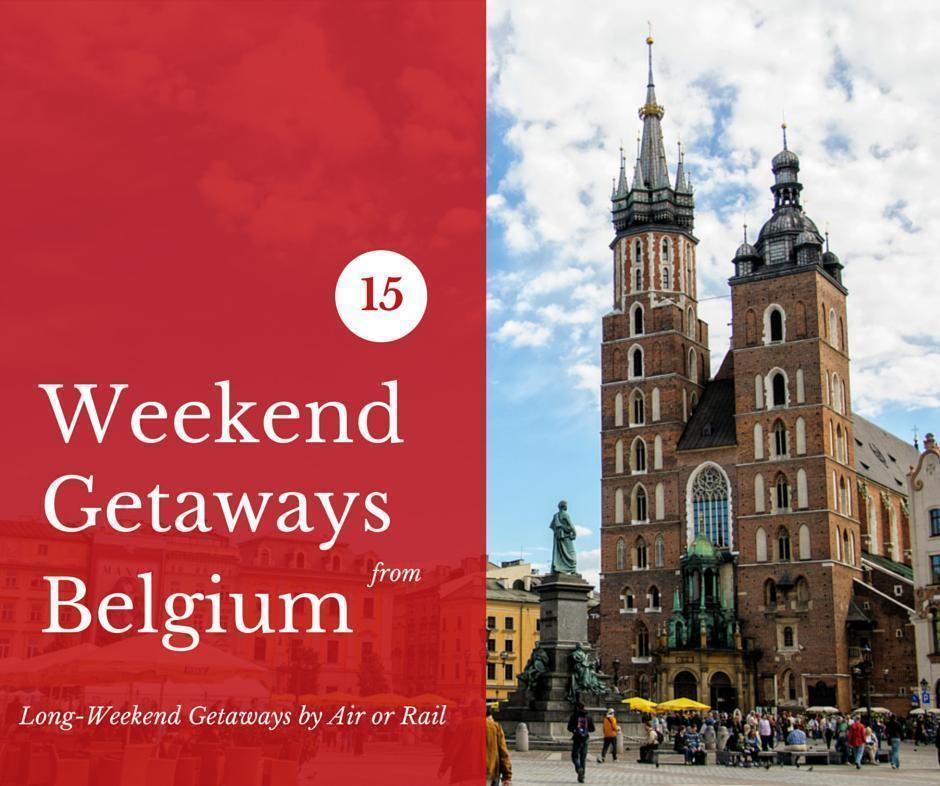 If you need inspiration for your next long-weekend holiday, look no further. Today we share our top 15 getaways from Belgium (or elsewhere) by plane or train.
Last week, we shared our favourite long-weekend road-trips from Belgium. We love to drive, but sometimes you want to go farther afield than your car can take you in a few days. Besides, sometimes it's nice to sit back and let someone else worry about the transportation for you. With great international flight and rail connections from Brussels, and Antwerp and Liege to a lesser extent, you have all of Europe at your feet, within a few hours of travel time.
Today, we want to share the top 15 long-weekend holidays from Belgium we've enjoyed most over the past 10 years. (In no particular order, because we've loved them all!)
1. Valladolid, Spain
Coming from Canada, where airfare anywhere will cost you a bundle, we were excited to discover the low-cost air carriers in Europe (perhaps less so once we experienced their lack of service…) One of our very first weekends away by plane was to Valladolid, Spain.
We had no expectations. In fact, we even had to look at a map to figure out where it was. We booked the tickets only two days in advance and had no time to plan or research. But that lack of planning turned out to be a good thing. It was one of our few relaxing weekends away. Normally we rush from place to place looking for story angles or taking more photos. In Valladolid, we went with the flow, discovered things by accident, and loved it.
Don't miss: The Campo Grande park with its resident peacocks and the stunning rose garden.
2. Avignon, France
A September long-weekend in Avignon was our very first trip away from Belgium. In my road-trip article, I mentioned we have a tendency to drive longer than normal humans. We actually drove to Avignon in a day (we've done it multiple times since). After being told we were nuts by our European friends, we realise for most of you, this trip is better done by plane or train.
September was the perfect time to visit Avignon and the Provence region. We had fantastic weather, the tourist crowds had thinned, and we were able to pay off-season prices. Even if you do fly or take the train, it's worth renting a car to explore the area. We've made easy day-trips to Orange, Nimes, Les Baux-de-Provence, and Arles while based in Avignon. It's a gorgeous region to explore (and don't forget the wines!)
Don't miss: A fabulous meal of Provencal specialties at La Fourchette and a day-trip to Les Baux-de-Provence.
3. Munich, Germany
My trip to Munich, last year, was one of my favourite long-weekend getaways yet and sadly, Andrew wasn't able to join me (a great excuse to return!). While it may be known for Biergartens and Lederhosen, there is so much more to Munich. There are more museums than you can shake a Dirndl at; plenty of wide-open green-spaces; the modern design scene is innovative; and Munich is an absolute heaven for foodies.
I traveled to Munich on Lufthansa, a quick hour and a half flight. I returned on the Deutsche Bahn ICE train, which took longer (7.5 hours), but is a more relaxing and comfortable way to travel. Whatever way you get there, if you haven't been to Munich yet, you should definitely add it to your agenda.
Don't miss: The mouth-watering Viktualienmarkt, open-air market, and the breath-taking Residenz Palace
4. Krakow, Poland
We travelled to Poland to attend a wedding in the stunning Silesian Beskids Mountains. Before the big day, we spent a weekend exploring Krakow and are we ever glad we did. This pretty, little city has a beautiful historic centre, where we enjoyed exploring the atmospheric streets. We gorged ourselves on pierogi, visited the castle (and its famous dragon), and listened to a classical concert in a church. Another highlight was our day-trip to the UNESCO listed Wieliczka Salt Mine. This is no ordinary mine, but a work of art, including statues, a cathedral, and a spa all carved from salt.
Don't miss: Pierogi of all varieties at Zapiecek Polish Pierogi and a day underground at Wieliczka Salt Mine.
5. Athens, Greece
A number of people have told me they disliked Athens, Greece. I just can't figure it out. We've actually spent two long-weekends in the Greek capital and loved every minute of it. Perhaps it's because we always go during the off-season and are able to enjoy the attractions without the crowds, but there's something about Athens that draws me back.
While I enjoyed exploring the Acropolis and the Agora, for me, the highlight was wandering through the Central Market. Andrew loved the ceremony of the changing of the Evzones and we both enjoyed our day-trip to the temple of Poseidon at Sounion.
Don't miss: the bustling Central Market (take your camera!) and the excellent Acropolis Museum
6. Barcelona, Spain
Like Athens, Barcelona is a city that keeps drawing us back. I can't think of a more colourful and architecturally unique European city. Of course, admiring the works of Antoni Gaudi is necessary, especially the Sagrada Familia and Parc Geull. But be sure to wander through some of the side streets, to get a taste of authentic Barcelona.
Barcelona's food scene is incredible and its nightlife continues until the wee hours of the morning. It's a city of hills so walking is tiring, but you can find great viewpoints all over the city and they are worth the effort.
Don't Miss: Rustic Catalan food at Pla De La Garsa and the view of Barcelona from the top of the Sagrada Familia.
7. Dublin, Ireland
While you could easily spend a week exploring southwest Ireland, as we did, Dublin makes a great quick trip for a weekend. The centre is small enough to explore on foot and you can hop on public transportation or one of the easily accessible tourist buses to go further afield.
We've been to Dublin several times and it reminds us of home, in Eastern Canada. There is live music in every pub, people are friendly and welcoming, and the food is excellent (especially for curry fans!) One of my highlights was visiting the Book of Kells at Trinity College Library and of course, no trip is complete without a pilgrimage to the Guinness Storehouse.
Don't miss: the breath-taking Trinity College Library, brunch and shopping at Avoca, and live music at an off-the-beaten-path pub.
8. Umbria, Italy
Like our Valladolid trip, our weekend in Umbria was unplanned and unexpected.  A chance internet meeting blossomed into a friendship that ended in us winging our way to Spello, Italy for a few days. This picturesque hilltop village is everything you could want in an atmospheric Italian escape. The tiny cobbled streets, little boutiques, and views of rolling hills had me reaching for my camera constantly.
Umbria has everything its popular neighbour, Tuscany, has with a fraction of the tourists. Plus, it's an easy day-trip from Siena, if you want a taste of Tuscany too. Renting a car is essential if you want to get around the back-roads – and you do. Trust us.
Don't miss: Norcia, the town dedicated to wild boar and a day-trip to UNESCO designated Assisi.
9. Riga, Latvia
The capital of Latvia, Riga, is a hidden gem. It's filled with stunning Art Nouveau architecture, a picturesque historic centre, and plenty of museums and cultural activities to discover. For me, the big bonus is Riga is not as well known as cities like Prague, so you can revel in the charm and character, without the crowds.  Oh, and the food scene is up and coming too!
Don't miss: The enormous Central Market brimming with local produce and a walk through the Art Nouveau district.
10. Dubrovnik, Croatia
Dubrovnik, Croatia has earned a well-deserved spot on the European tourist trail. During the summer months, the Old Town Walls are filled to the brim with day-trippers. However, if, like us, you visit during the off-season (we were there in early March) you'll only share the city with the locals. The evenings get chilly but the empty streets are worth braving the wind.
There is so much to love about Dubrovnik: the warren of narrow alleys, the dramatic churches, the great seafood and wines, and the ease of day tripping up the coast or into neighbouring Bosnia.
Don't miss: Viewing the city from above by walking around the Old Town Walls and eating oysters fresh from the bay at nearby Ston
11. Berlin, Germany
Berlin, Germany was a huge surprise for me. I'm not sure what I was expecting, but it wasn't the vibrant, artistic city we discovered. We first went to Berlin to meet up with visiting American friends and we had a blast. It was August and the weather was glorious meaning we ate most of our meals outdoors.
While a number of the museums and the remnants of the wall are a heavy reminder of Berlin's dark history, the city is anything but depressing. If you are an art and culture buff, do not overlook Berlin.
Don't miss: The heart-wrenchingly powerful Memorial to the Murdered Jews of Europe and a delicious meal at Restaurant Aigner followed by cocktails on the Gendarmenmarkt.
12. Lisbon, Portugal
With its colourful tiles (or azulejos), incredible street art, and bustling centre, Lisbon, Portugal is vibrant, alive, and just the right amount of edgy. Lisbon was our starting point for an epic road-trip we took with my parents but is easily a great long-weekend escape in its own right.
Everything in Lisbon is up one hill and down another so be prepared for a hike (or hop on the adorable little streetcars). It's worth the effort. We loved the sweeping views from the castle (and discovering a great little wine bar just outside it), the jaw-dropping Jeronimos Monastery, and the towers at Belem. A day-trip to the stunning town of Sintra with its palaces is also a must!
Don't miss: Taking in the details of the Jeronimos Monastery and wandering the back streets to admire the azulejos.
13. Pau, France
Pau, in Aquitaine, France, is one of our favourite small cities in France. It has everything: It's close to the mountains and the sea, and it has a beautiful market, great restaurants, and even a castle. Some of our favourite wines in France – the sweat, golden Jurancon wines and the rich, red Madirans, come from the region around Pau. It's a great place to base yourself for day trips to the vineyards or up into the Pyrenees for stunning scenery and Basque cuisine.
Don't miss: Shopping in the excellent market for delicious regional products and taking a drive into the Pyrenees Mountains.
14. Budapest, Hungary
There's no doubt about it, Budapest is a stunner of a city; from the opulent Parliament buildings to the bridges that criss-cross the Danube. It's impossible for me to choose a favourite memory: sipping champagne after touring the glamorous opera house; relaxing in the Gellert Spa; accidentally eating at Nobu; or perhaps taking a day-trip up the Danube. Budapest is beautiful, alive, and a little bit edgy – just the way I like my cities.
Don't miss: Relaxing the Hungarian way at one of the numerous baths or taking a day-trip into the countryside.
15. Bolzano, Italy
If you've been reading CheeseWeb for the past year, it will come as no surprise, how much we love South Tyrol, Italy. The best place to explore the region from is the capital, Bolzano (or Bozen). This little city has everything: a colourful Old Town, great markets, amazing restaurants, and plenty of shops and museums.
But for us, South Tyrol is all about the countryside. You can explore the South Tyrolean Wine Road by car or by train and you can head up into the mountains for everything from vigorous hiking to relaxing at a spa.
Don't miss: Exploring the UNESCO listed Dolomites Mountains and rejuvenating yourself at the Vigilius Mountain Resort.
We hope this post has given you plenty of inspiration for your next weekend away. While we're on the road, we're going to continue seeking out the very best destinations in Europe and sharing our discoveries with you.
While we understand how important it is to get away sometimes, we also LOVE exploring right here in Belgium. Next week, we'll share our favourite getaway destinations in Flanders and Wallonia. We know some are going to surprise you!
Latest posts by Alison Cornford-Matheson
(see all)
Read more from this series...
Our 15 Favourite Long-Weekend Getaways from Belgium by Plane or Train