THIS POST MAY CONTAIN COMPENSATED LINKS. FIND MORE INFO IN MY
DISCLAIMER
.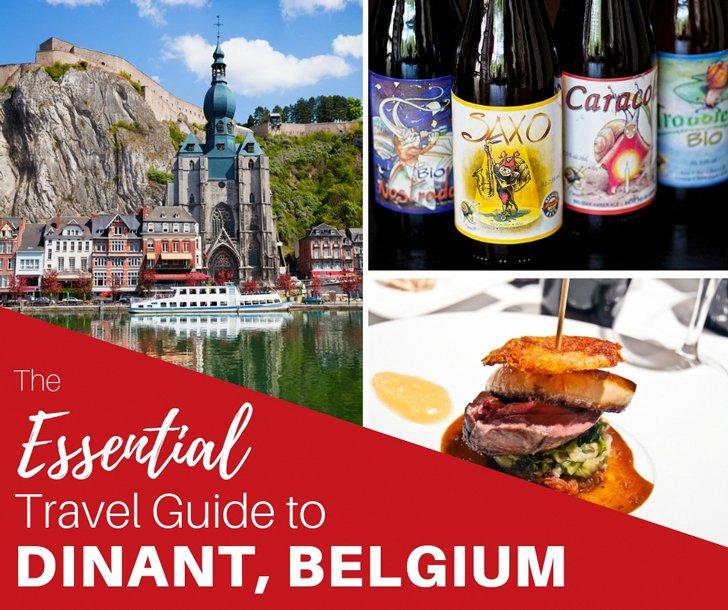 We share the top things to do in Dinant, Belgium and the surrounding area in Namur province, as well as the best restaurants in Dinant and where to stay to have a great weekend getaway in Belgium.
Dinant was one of the first cities I visited in Wallonia and, as it is bisected by the River Meuse, I couldn't help but compare it to the towns and villages along the Rhine River in Germany.
With its lively waterway, hilltop castles and fortresses, beautiful churches and picturesque vistas, Dinant only lacks one thing its German counterparts have – a convoy of tourist buses sitting in traffic jams all summer long.
Dinant makes an excellent base for exploring the Meuse River valley, one of Belgium's most scenic drives. But there is plenty to see and do in the city itself.
Dinant is an unmissable part of my Ultimate tour of Belgium, so whether you take a day-trip from Brussels or make a weekend getaway of it, we've got you covered!
Where is Dinant, Belgium?
Dinant sits on the Meuse River in the Walloon region of Namur, where it's a 30-minute drive from the city of Namur. It's located on the edge of the Ardennes Mountains near the French border.
How to get from Brussels to Dinant, Belgium
The easiest way to get from Brussels to Dinant is to drive. The A4 (E411) motorway will take you past Namur to the N936 for the quickest route.
However, if you have time to spare, it's worth exiting at Namur and driving the N92 along the Meuse River for one of our favourite drives in Belgium.
If you don't drive yourself and are pressed for time, you can book a full-day sightseeing tour of Dinant and Luxembourg from Brussels.
There is no direct train from Brussels to Dinant. However, you can take the Luxembourg or Rochefort-Jemelle train from Brussels-Midi station to Namur and change to the Libramont train to Dinant.
Best Things to Do in Dinant, Belgium
1. The Citadel of Dinant
When you first set foot in the Walloon city of Dinant, you can't miss its top attraction. Looming over the buildings below, jutting straight out of the hillside, is the Dinant Citadel.
There are two ways to get to the citadel from the centre of Dinant. After purchasing your ticket, you can start to climb the 408 stairs. You may make it to the top in a few hours.
Alternatively, take the gondola conveniently included in your admission price. I'm not a fan of gondolas and spend most of the ride trying not to imagine cables snapping and fiery crashes, but the citadel's gondola is thankfully quick and easy.
Once at the top, you are faced with, in my mind, the best part of the whole experience – the view. Even though we visited on a foggy November morning, we could still see all of Dinant, as well as quite far up the Meuse River in both directions. On a clear day, I'm sure the view would be even more spectacular and well worth the price of admission to the citadel.
Inside the citadel, you can take a self-guided tour following numbered markers. You are given a pamphlet, available in English, explaining the history of the Citadel.
The citadel itself is impressive. It was built in the 11th century to control the Meuse valley. It was destroyed in 1466 by Charles the Bold but rebuilt by French engineer Vauban during Dinant's occupation by Louise XIV's troops, from 1675-1698. The Citadel was again destroyed and rebuilt in the early 1800s, by the Dutch.
During Belgium's struggle for independence, the Citadel was occupied by Belgian partisans. It was finally demilitarised in 1878 but was still the scene of violent conflicts during both World Wars.
Unfortunately, the citadel's exhibits are quite dated and in need of a facelift. The dusty, bedraggled mannequins look like they have been on site since the time of the first Citadel.
Nonetheless, it is worth a quick stroll through the rooms while trying to imagine what life would have been like here. A tour of the entire citadel takes under an hour.
There are a small cafe and souvenir shop on site. Outside the citadel, on the other side of the lift, is a large play area for the children and a cafe with indoor and terrace seating.
2. Collegiate Church of Notre-Dame
Nestled directly under the Citadel is Dinant's second most recognizable building, the Collegiate Church of Notre-Dame.
This gothic church, topped with its onion dome tower, was rebuilt after the original Romanesque church was crushed by falling rocks. The sandstone doorway on the north side is the only thing that remains of the original church.
Inside, the church has huge vaulted ceilings and several stunning stained-glass windows.
3. Adolphe Sax Museum
The inventor of the Saxophone and one of Belgium's most famous citizens, Adolphe Sax, was born in Dinant.
The city centre is littered with saxophone statues, lamp-posts, and hanging lights.
There is also a tiny, free, museum displaying some early saxophones and explaining the history of the inventor's life. Outside, sits a statue of the man himself.
4. Boating on the Meuse
One lovely way to get a different perspective on the city of Dinant is from the water. The Meuse River bisects the city and in the summer, is bustling with boats of all shapes and sizes.
For the adventurous, kayak rentals abound.
For a more relaxing ride on the river, hop on one of the various tour boats that travel up and down the Meuse in peak season. Sit back and admire the scenery as you float by.
5. Bathtub Regatta
Belgium is known for its exciting variety of festivals. One of the strangest is the Bathtub Regatta, which takes place each 15th of August in Dinant.
The festival began in 1982, and over 20,000 visitors attend each year. Contestants decorate bathtubs, usually with a healthy dose of humour, and race them down the Meuse. It's a good laugh and an even better story to tell your friends back home.
6. Pont d'Amour Ostrich Farm
We discovered this ostrich farm near the city centre by accident a few years ago, and after several attempts, we finally made it there during their open hours. We have seen the huge herds (flocks?) of ostriches from the road – an unexpected sight in rural Belgium. The farm offers tours and has many ostrich products for sale.
7. Race Supercars
Do you have a need for speed? Do you dream of driving a Porsche, Ferrari, or Aston Martin? If so, take a day-trip to Mettet, in Namur province, and visit Sprint Racing. You'll learn how to drive on a race track from a professional driver. Then, you'll get the chance to get behind the wheel of your Dream Car. Read about Andrew's experience driving his favourite supercar.
8. Cycle from Dinant to Namur
If you prefer to power your vehicle yourself, choose the eco-friendly option and cycle from Dinant to Namur. The 30km route beside the Meuse River is flat and scenic and easy enough for complete beginners. You can bring your own bike or rent one at the Namur train station. Get all the details about this beautiful bike ride here.
9. Day trip to Namur
Even if you don't cycle there, a day-trip to Namur should be on your to-do list. The capital of Namur province, like Dinant, Namur overlooks the Meuse. The city is dominated by a massive fortress complex and is home to a UNESCO recognised belfry. Foodies will also find the best bakery in Belgium which is worth the trip alone!
Plus Beaux Villages Near Dinant
There are four villages listed on the Plus Beaux Village du Wallonie (Most Beautiful Villages in Wallonia) within easy reach of Dinant. If you have a vehicle at your disposal, a circuit of these pretty towns makes a great road trip.
Celles
The pretty stone village of Celles was founded by a monk in 669. The village is also home to an 11th-century former church and you can reach the St. Hadelin hermitage by following a cross-lined footpath. Celles was also one of the farthest points the Wehrmacht advanced during the Battle of the Bulge in WWII. There is a Panther tank in the village to commemorate this event.
Falaën
The highlight of Falaën is the ruin of Montaigle Castle, perched above the village. The village itself is made up of grey limestone houses from the 18-19th centuries and is dominated by a church and castle-far. This hike up to the castle is well worth it, not only to explore the ruins but for the views of the surrounding landscape.
Crupet
Crupet is another of Namur province's pretty stone villages bedecked in flowers during the summer months. It is home to Belgium's best preserved medieval dungeon, the Chateau du Crupet. It's even surrounded by a moat with a drawbridge! Unfortunately, the chateau is a private residence closed to the public. You can, however, visit 'The Devil's Cave,' an artificial cave with a gate guarded by a devil statue. Inside the cave, you'll find a depiction of the life of Saint Anthony of Padua.
Sosoye
Sosoye's charms are more understated than its neighbours listed above. This classic limestone village doesn't tout a castle or dramatic abbey. Instead, you can enjoy the relaxed pace of village life here in one of several holiday homes for rent. Enjoy an excellent meal and take a bike ride on the RAVEL cycle trail.
Castles Near Dinant Belgium
Castle of Freÿr
The Castle of Freÿr is one of Belgium's most recognisable, especially from above. With its dramatic formal garden perched beside the Meuse River, it would look right at home in the Loire Valley in France. This stately chateau has been in the same family for 20 generations, and much of the castle is open to the public for visits. Read more about what you'll discover inside the Chateau de Freÿr.
Annevoie Castle
While Annevoie's chateau is lovely from the exterior, it's not as dramatic or imposing as some of the other Belgian castles in the area. The main draw to Annevoie however, is not the architecture, but the gardens. The stunning formal gardens are worth a visit for any nature lover, however, every spring there is an even better reason to make the trip. Dozens of costumed visitors take part in the Venetian Carnival festival which is a photographer's dream come true. It's a fun event for all ages and truly must be seen to be believed.
Castle of Vêves
The Castle of Vêves is located just outside the Plus Beau Village of Celles. This fairytale castle is listed on Wallonia's Major Heritage list and consists of six towers. Although the site has been occupied since the 7th century, the current castle was largely built in 1410. The castle is open to the public and is especially enjoyed by children who get to dress up as knights and ladies.
Crèvecœur Castle
The ruined castle of Crèvecœur sits perched above the Bouvignes-sur-Meuse. It was built in 1320 to help fortify the village below. Unfortunately, the castle was destroyed in 1554 by King Henri II of France. The castle ruins are free to visit and are open year-round.
Poilvache Castle
Like Montaigle and Crèvecœur, Poilvache Castle is a ruin overlooking the Meuse that was destroyed by Henri II. The site is also listed as Wallonia's Major Heritage. The ruin is open to the public on weekends from April to October and every day during July and August. The 2€ admission charge includes an information booklet so that you can take a self-guided tour. For a more in-depth visit, you can book a guide (2-week advance notice is needed).
Private Castles
The following castles are in the vicinity of Dinant but are not open to the public. These Belgian castles can only be viewed from the outside.
Château de Fontaine
Walzin Castle
Spontin Castle
What to Eat and Drink in Dinant
Couques Dinant
You'd think in a nation as small as Belgium; the cuisine would be the same the country over. You'd be wrong. Dinant itself is home to two culinary specialties you'll be hard pressed to find elsewhere. The first of these is the Couque de Dinant.
These hard cookies were initially created from flour and honey out of necessity. Now they are a decorative specialty frequently given as gifts. Be warned though; these cookies are so hard they are given to babies for teething. Be sure to dunk your couque in a hot beverage to soften it up before eating.
Flamiche
Flamiche is Dinant's other local specialty; a hearty tart filled with eggs and cheese. There is nothing healthy about this heart-stopping treat, but it is oh so decadent. It's also so vital to Dinant's cultural heritage it has its own brotherhood! Learn more about Flamiche and Couques de Dinant and where to find them in this article.
Escargot
When you think about eating snails, you probably think of France, but Escargotière de Warnant is one of the best artisanal producers of escargot around. You can visit the shop near Dinant most days to purchase a variety of products including preserved escargot, escargots gros-gris à la bourguignonne, and even escargot caviar.
It's even more interesting to visit the farm during the summer months when you can take a guided tour and learn about raising escargot and how snails are a sustainable source of protein; the superfood of the future.
Caricole Organic Belgian Brewery
It's impossible to talk about what to eat and drink in a Belgian city without mentioning the local beer. Dinant has a few options within easy reach. Our top choice is the artisanal organic Belgian brewery Caricole.
Stepping into Brasserie Caricole is like stepping back in time. The beer is brewed over an open fire, and even the waste is recycled into cattle feed for a local farm. Read about our visit to Caricole Brewery.
Rochefort Trappist Belgian Brewery
For a more mainstream Belgian beer experience, hit the road for a day-trip to Rochefort Brewery. Rochefort is one of Belgium's famous Trappist beers, and the beer is brewed from a recipe dating from 1595. Learn more about Rochefort Trappist beer and what to do on a day-trip to the area in this article.
Best Restaurants in Dinant, Belgium
La Broche
When we first visited La Broche way back in 2011, it was one of the best restaurants in Dinant as ranked by Tripadvisor. I'm thrilled to see it still is today.
We had a fantastic 3-course menu of the season here (which also came with an amuse bouche and treats with our coffees). The service was excellent, the decor modern and the food was fantastic.
There is no discount on Sundays for lunch so our menu, with a bottle of wine, came to 100 euro, for the two of us. There are still reasonable set menus starting at 20€ for lunch and 36€ for dinner. This is definitely not one to miss!
Solbrun Tea Room
For a nice lunch or an afternoon tea, this little bakery has a dining room overlooking the Meuse. Choose from fresh soups, quiches, crepes and waffles or take away some goodies from their selection of chocolates and cookies. The Solbrun Tea Room is the perfect restaurant in Dinant for a light lunch or a mid-afternoon pick me up.
Best Hotels in Dinant, Belgium
Castel de Pont-a-Lesse
While in Dinant, Andrew and I stayed at the Castel Pont a Lesse, as they were running a winter special. This hotel is located 5km outside of Dinant in a very rural setting, so a car is necessary.
The Castel Pont a Less was more impressive than your typical hotel as it was once a chateau. The rooms themselves are spacious, although the decor was quite dated at the time. They have since had a modern makeover. The bathrooms have been updated and include huge tubs with excellent shower pressure.
There is an on-site restaurant, where we dined, one evening. While it wasn't as good as La Broche, we still quite enjoyed our dinner. The breakfast buffet was generous, with both hot and cold options. Check the current rates.
Autrefois chez Lina
For a stunning holiday home in Dinant close to the centre of the city, book Autrefois chez Lina. This beautifully decorated one-bedroom home has a fully-equipped kitchen, cozy living room, and a bathroom with a soaker tub. This is the perfect place for a romantic getaway weekend with a budget price tag. Check the current rates.
Dinant Area Attractions Map
Dinant is the perfect city for a weekend getaway in Belgium. If you are planning to visit Dinant as part of a more extensive visit to the country, don't miss our Ultimate Tour of Belgium & Luxembourg for more ideas.
Latest posts by Alison Cornford-Matheson
(see all)