THIS POST MAY CONTAIN COMPENSATED LINKS. FIND MORE INFO IN MY
DISCLAIMER
.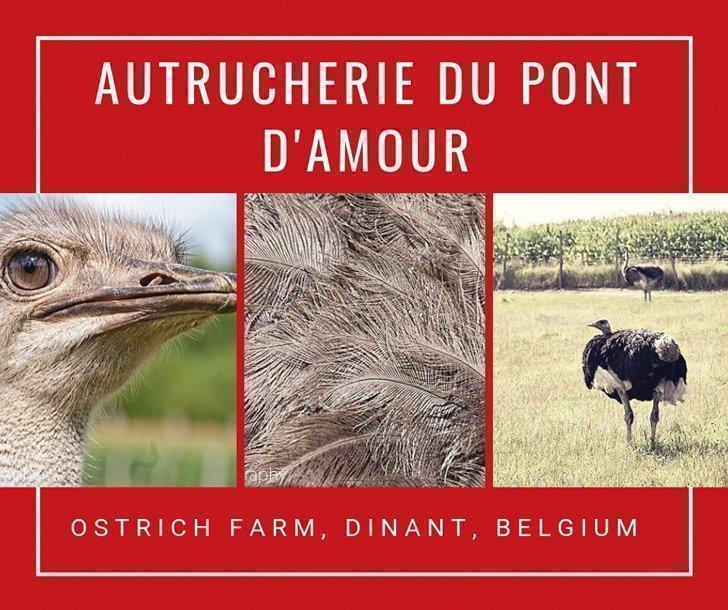 Ah, the beautiful Belgian countryside. Is there anything more calming than driving past fields of corn, cattle, bales of golden hay and … ostriches?!? This was our reaction when we first discovered the Autrucherie du Pont d'Amour ostrich farm, near Dinant, Belgium.
It all began, as many discoveries do for us, with a road trip. We were exploring the outskirts of Dinant when I spotted a brown sign. "Did that say Autrucherie," I asked Andrew, "as in ostriches?"
Andrew, who had (wisely) been paying attention to the road, hadn't noticed the sign. At the next roundabout, I spotted another one. Sure enough, there was a silhouette of a giant bird beside the word I recognised as ostrich in French. I'm a sucker for animals, and giant birds are no exception. The hunt for ostriches was on.
We followed the signs down a series of smaller and smaller roads. Finally, we spotted a field scattered with large black shapes, in the distance. As we drew closer, the shapes took on a decidedly bird-like form.
Discovering a field full of giant birds, not only ostriches, but also emus, rheas and cassowaries, is not something you expect in rural Belgium, but we've come to expect the unexpected in this peculiar country.
After watching and photographing the giant birds, we returned home, where I decided to do some research on our accidental find.
It turns out; we had discovered the Autrucherie du Pont d'Amour, an ostrich farm that has been raising these giant birds, in the fields of Dinant, since 1995.
Why ostriches? Well, why not?
In fact, every part of these versatile birds is useful; from the meat, which is extremely low in cholesterol, to the giant eggs, which can feed eight people. The feathers are used for decorative purposes, and the hides become leather products. In addition to fresh ostrich steaks, the farm also makes their own sausages, ham, terrine, pate and confit – all from ostrich meat. All of these products are available in the on-site farm shop.
But the most remarkable part of visiting the Autrucherie du Pont d'Amour is simply watching these curious birds. On our last visit, with friends, several of the ostriches were particularly interested in our cameras.
We were also very excited to see one female ostrich lay a giant egg, right in front of us. Another bird quickly rolled the egg into the taller grass, where different females would take turns tending it. Fascinating!
The farm offers guided visits (on our things to do list!) with prior reservation and during Wallonia's open farm days. The shop's opening hours are listed below. You can see the birds from the road, as we did, any time. It's a fun way to pass an hour during a visit to Dinant.
What more tips on what to do in Dinant and the province of Namur? Check out our guide to the region!
L'Autrucherie du Pont d'Amour
Rue de la Sablonnière
5503 Sorinnes-Dinant
Latest posts by Alison Cornford-Matheson
(see all)