THIS POST MAY CONTAIN COMPENSATED LINKS. FIND MORE INFO IN MY
DISCLAIMER
.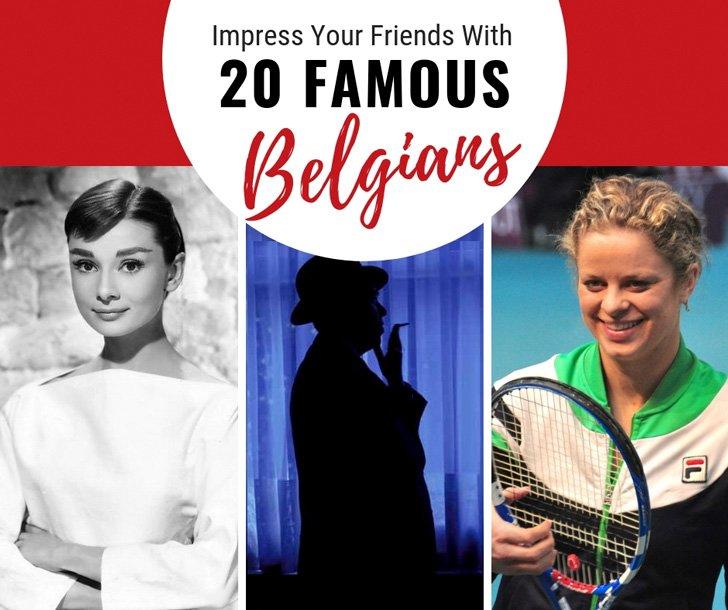 It's a standing joke that it's impossible to name five famous Belgians. The people of this tiny county are well known for their modesty and rarely toot their own horns.
However, this tiny country has its fair share of significant historical and modern-day heroes from artists to athletes, inventors to actors.
So the next time you are down at the pub, impress your friends with not only five, but the following 20 famous Belgians:
Famous Belgians in Art
1. Jan Van Eyck
Although now there are indications oil painting probably originated in Asia, Jan Van Eyck, of Limburg, is known as the 'father of oil painting,' for his mastery of the technique.
2. Peter Paul Rubens
World famous baroque painter, Peter Paul Rubens, was knighted by both Philip IV, King of Spain, and Charles I, King of England.
3. Rene Magritte
If you know anything at all about Belgian art, you'll have come across
René Magritte
and his famous painting of a pipe, The Treachery of Images. The
Magritte Museum in Brussels
contains some of his most famous works such as
The Empire of Light.
4. Victor Horta
The architecture world owes Victor Horta thanks for his stunning Art Nouveau designs; Four of which are UNESCO World Heritage Sites.
Famous Belgians in Music
5. Adolphe Sax
The world of music would be very different had Belgian musician and inventor, Adolphe Sax, not created the saxophone. There are tributes to him and his most famous creation in the Walloon city of Dinant.
6. Toots Thielemans
Arguably the world's most renowned harmonica player is Belgian, Jean 'Toots' Thielemans, who became a became NEA Jazz Master in 2009.
7. Jacques Brel
Legendary on the French 'chanson' and pop music scene is Jacques Brel, who sings about his birthplace in his song Bruxelles.
Famous Belgians in Film
8. Jean-Claude Van Damme
Most people know modern-day action movie actor, Jean-Claude Van Damme is 'The Muscles from Brussels.'
9. Audrey Hepburn
Fewer seem aware of the fact the lovely
Audrey Hepburn
, of
Breakfast at Tiffany's
fame, was born Edda van Heemstra Hepburn-Ruston in Brussels. You can still see the plaque on the house where she lived.
Famous Belgians in Literature
10. Hergé
If you grew up reading TinTin's adventures, you probably know his creator, Belgian Georges Remi, as Hergé.
11. Georges Simenon
Georges Simenon, is one of Belgium's most prolific authors, with his world-famous detective series about Commissaire Maigret, of the Paris police.
Famous Belgians in Sports
12. Eddy Merckx
One of Belgium's best-loved sports is cycling and Eddy Merckx, the five-time winner of the Tour de France, is the national hero.
13. Kim Clijsters
Tennis lovers know Belgian star, Kim Clijsters, who was ranked number 1 in the World, in both singles and doubles.
Famous Belgians in Science
14. Georges Lemaître
Belgian Roman Catholic Priest, Georges Lemaître, proposed what he called the 'hypothesis of the primeval atom' which would later become known as the Big Bang theory of the origin of the Universe.
15. Julius Nieuwland
Another man of the cloth, Reverend Julius Nieuwland, created the synthetic rubber that led to the invention of neoprene by DuPont.
16 Leo Hendrik Baekeland
Collectors have Belgian, Leo Hendrik Baekeland, to thank for the design of the early plastic, Bakelite.
17. Jules Bordet
Belgian bacteriologist, Jules Bordet, developed the first vaccine against the whooping cough virus as well as the Wassermann test for syphilis.
18. Gerardus Mercator
Flemish cartographer,
Gerardus Mercator
, devised a technique to produce globes and is remembered for the Mercator projection world map.
Famous Belgians in Fashion
19. Liz Claiborne
The Fortune 500 company CEO and fashion designer Liz Claiborne, was born Elizabeth Claiborne Ortenberg, in Brussels.
20. Dries Van Noten
In 2005, the New York Times described Belgian fashion designer Dries Van Noten, "one of fashion's most cerebral designers." His eccentric style is world famous.
Although I've listed 20 of my favourite famous Belgians here, there are many, many more. You can discover others at Wikipedia's List of Notable Belgians.
Want to learn more Belgian trivia? Check out our post 40 Fun Facts About About Belgium.
Latest posts by Alison Cornford-Matheson
(see all)