THIS POST MAY CONTAIN COMPENSATED LINKS. FIND MORE INFO IN MY
DISCLAIMER
.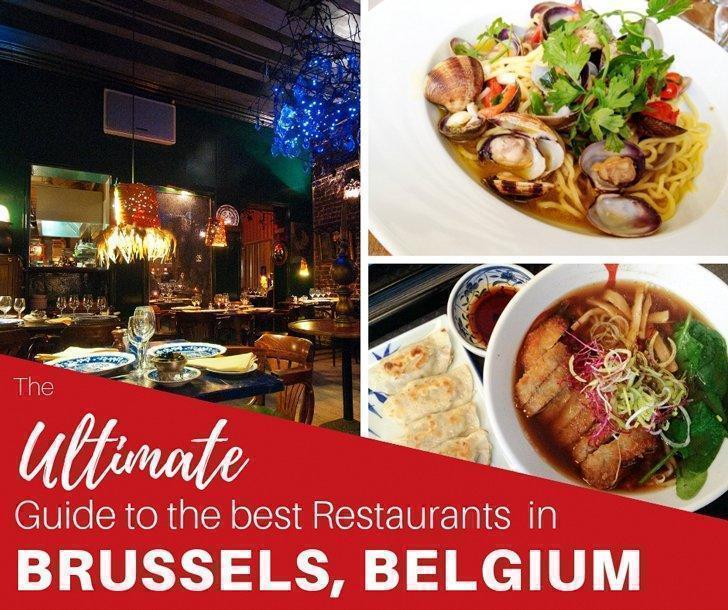 If you are looking for the best restaurants in Brussels, Belgium, look no farther. We've rounded up our top picks from 15 years of dining in Brussels to bring you those with staying power. Don't read while hungry!
The Brussels restaurant scene is always changing. New hot spots appear and disappear seemingly overnight, especially in hip neighbourhoods like St. Gilles and Ixelles. While we love taste testing what's new and popular, for us, the best restaurants in Brussels are those with staying power.
The CheeseWeb team has spent 15 years tasting their way through Belgium, (It's a tough job, but someone has to do it!) and we've literally written the book on the Brussels foodie scene, but even we can't test every restaurant in Brussels. (We've tried though – how we've tried.) So yes, like all top lists, this one is subjective, but we're confident these top restaurants in Brussels will provide you with delicious meals and a great experience.
Read on for our picks for the Best Restaurants in Brussels, Belgium
Our picks for the Top 10 Restaurants in Brussels, Belgium
While our ultimate guide to the best restaurants in Brussels contains dozens of great options in a wide variety of categories, we're often asked for our top 10 restaurants in Brussels overall.
The list is in alphabetical order because I absolutely cannot rank them. I love them all. You'll find detailed descriptions of each of them in the appropriate category below, but these are the places we return to again and again (and again) and would recommend without hesitation.
Beaucoup Fish
Café Novo
Chez Oki
Etiquette
La Mamma
Le Mess
Le Nid Savoureux
Le Wine Bar
L'Idiot du village
Noordzee – Mer du Nord
Best Belgian Restaurants in Brussels
Café Novo
One of our most frequently asked questions is: 'Where can I find a great Belgian Restaurant, on a budget.' Not far from Grand Place in the city center you'll find my favourite hidden gem. Café Novo has my favourite Stoofvlees/Carbonnade in Brussels. (Believe me; I've tried loads of them before coming to this conclusion.)
They also serve up traditional dishes like stoemp, boulettes, and filet Americain. Beyond the typically Belgian dishes, there are plenty of surprises, like kangaroo steaks and Moroccan tajines.
Their menu caters well to vegetarians, as well as carnivores. Café Novo's falafels are my favourite summer dish when carbonnade is just too heavy. The restaurant is close to Grand Place, so it's tourist-friendly, but it's out of the way enough to still be a little secret. (You're welcome.)
We Especially Love: The casual atmosphere and great value
Café Novo – Vieille Halle aux Blés 37
Les Petits Oignons
Conveniently located beside Petit Sablon, Les Petits Oignons is a nice restaurant in Brussels serving traditional Belgian dishes in a fine-dining setting. The menu is extensive and features classic Belgian cuisine like vol-au-vent and steak frites. The set menus feature international cuisine with additions like risotto and octopus salad.
The starters are excellent, and I can highly recommend the perfectly crispy grey shrimp croquettes and rich and delicious goose foie gras.
We Especially Love: The classy yet fun décor and the variety of classic Belgian dishes
Les Petits Oignons – rue de la Régence 25
Restaurant Jef
Tradition Belgian Restaurant Jef's menu is short, seasonal, and creative. I ordered a goat cheese salad looked unassuming when it arrived, but the flavours popped. Our main courses were hearty,  homey, and served on vintage flora plates, giving the feeling of Sunday lunch at Grandma's but much, much better than Grandma ever cooked (Sorry Grandma!)
We Especially Love: The warm and friendly service and the wall decorated with wine corks.
Restaurant Jef – Rue Haute 20, 1000 Brussels
Le Mess
If you're looking for a unique place to take your guests, why not take them to jail? Le Mess is a Belgian restaurant inside a former prison mess. In addition to being a fun, quirky place to dine, Le Mess focuses on traditional Belgian dishes. There is a strong emphasis on sustainable seafood, and the organic lamb comes from the Gaume region of Wallonia. They even offer a 'Veggie Thursday' featuring a vegetarian lunch.
We Especially Love: Dining in the greenhouse and the fantastic desserts
Le Mess – Louis Schmidtlaan 1
Best Seafood Restaurants in Brussels
Sea Grill
See Michelin-Starred restaurants in Brussels below
Bia Mara
Whenever we recommend the best fish & chips in Brussels, we confidently send people to Bia Mara. The fish is sustainably sourced, the restaurant is near Grand Place, it has a modern, lively interior, and, best of all, it is simply delicious. Did I mention it's affordable too? The only downside is it is so popular there is often a lineup. Go early and when you aren't in a rush. It's worth the wait. Trust us. Read our full review here.
Bia Mara Urban Seafood Kitchen – Rue du Marché aux Poulets 41
Beaucoup Fish
I had heard good things about Beaucoup Fish since they first opened. But it wasn't until a return trip to Brussels in 2017; I finally had the chance to try them for myself. This female-run, fine-dining restaurant is elegant and refined without being stuffy or formal – just like the dishes they serve. My meal here included some of the best seafood I've had in Brussels. The lunch menu is a steal at 25 euro, and if you love seafood, you simply must enjoy a leisurely dinner here.
We Especially Love: The care taken to make sure every bite is perfect.
Beaucoup Fish – Rue Van Gaver Straat 2
Noordzee / Mer du Nord
If you are looking for a uniquely Brussels foodie experience, you absolutely can't miss Noordzee / Mer du Nord; Even the name is in two of the official Belgian languages. This seafood counter has exploded in popularity with visitors since we first visited in 2005. But that doesn't stop locals from flocking to this 'seafood bar' at lunchtime. Noordzee began as a fish-seller that happened to sell some of the best seafood snacks in the city and has since expanded into multiple restaurants around the city.
The fish soup is incredible on a cold day. The mussels, shrimps, calamari and oysters are all as fresh as it gets and washed down with a chilled glass of white wine or champagne. The menu depends on the season and the catch of the day.
In the summer, you can enjoy your lunch in the square while you people-watch or do as the locals do and enjoy a snack while you wait as your seafood order is prepared for you to take home.
We Especially Love: The grey shrimp croquettes – They are the first things I eat when I come back to Brussels to visit.
Mer du Nord / Noordzee – Rue Ste-Catherine 45
Restaurant Francois
When we talk about seafood restaurants in Brussels with staying power, we can't leave out Restaurant Francois. This top seafood restaurant has been serving Bruxellois since 1922 from their fish market. Step inside their classy dining room for Belgian seafood favourites from grey shrimps to lobster. Read our full review here.
We Especially Love: The decadent presentations and attention to detail.
Restaurant & Traiteur Francois – Quai aux Briques 2
Best Fine-Dining Restaurants in Brussels
L'Idiot du Village
There's a good reason for this to be on our overall top ten restaurants in Brussels list. If you want a real taste of 'quirky' Belgium, L'Idiot du Village is not to be missed. While the décor is funky (with just a touch of odd), the food is just straight up delicious. In fact, we love this place so much; we wrote a whole post about it. Their duck and game dishes are heavenly, and they have a way with scallops. If you are adventurous, order whatever the special of the day is, as it's bound to be seasonal and wonderful. L'Idiot isn't open on weekends, and it books up quickly, so reservations are essential.
We Especially Love: The quirky décor and the decadent food.
L'Idiot du Village
19, Rue Notre Seigneur
The Tram Experience
For a unique dining experience in Brussels, all you have to do is take the tram – The Tram Experience that is. Spend an evening riding around Brussels on a luxurious tram while being served dishes created by some of Belgium's top chefs. Sound intriguing? Read all about it here.
We Especially Love: The unique experience is a fun way to treat guests to a tour of Brussels.
The Tram Experience – Place Poleart
Chez Oki
Chez Oki has been around since 2004 – old age for a fine-dining restaurant in Brussels. It is French and Japanese fusion, something that can go horribly wrong. However, here, it is done so right; it seems like a match made in heaven. Chef Haruki Oki was born in Japan and trained in Michelin stared restaurants in Paris. He marries both of these culinary traditions seamlessly in his dishes.
We were taken on a surprise 4-course culinary journey from Tokyo to Paris and back while remaining seated in the perfectly Zen dining room of Chez Oki. A blur of foie gras, sushi, tartar, dumplings, and lamb, were presented to us with care and precision. Every dish was familiar, yet innovative at the same time.
We Especially Love: Two of our favourite cuisines married seamlessly
Chez Oki  – 62, Rue Lesbroussart, 1050 Ixelles
Peï & Meï
In this gastronomic bistro, you'll find traditional Belgian favourites as well as international flavours, all presented with precision and the utmost freshness. The flavour combinations were truly unique, and I found myself 'mmmming' over things I don't normally enjoy (pickles anyone?) The service was exceptionally friendly and helpful, despite the restaurant filling up quickly. Be sure to reserve your table at this one!
We Especially Love: The surprising takes on traditional dishes and flavours.
Restaurant Peï & Meï – 15, Rue de Rollebeek, 1000 Brussels
Le Wine Bar
Tucked away in Marolles neighbourhood is one of our all-time favourite Brussels restaurants. You can find a traditional meal in an intimate setting at Le Wine Bar. As the name suggests the main feature here is wine, and the restaurant is located in a 17th-century wine cellar.
The menu is short and heavy on meat dishes, but each one is prepared with care and attention. The beef braised in red wine melts in your mouth and the owner hand-makes the selection of charcuteries.
The service is excellent and knowledgeable, and there are plenty of wines available by the glass and, of course, by the bottle.
We Especially Love: The house-made charcuterie and, of course, the excellent wine list
Le Wine Bar des Marolles – Rue Haute 198
The Restaurant @ The Hotel
When you call yourself 'THE' Restaurant, you'd better have the goods to back up the claim. Luckily, The Restaurant at The Hotel has the goods and serves them up in fine style. Chef Pierre Balthazar has created a multicultural menu highlighting Belgian ingredients. The flavour pairings are creative, and the presentation is impeccable. The Restaurant isn't cheap, but it's well worth it for an elegant meal in a beautiful setting. Read our full review here.
We Especially Love: The attention to detail and the creative dishes
The Restaurant – Boulevard de Waterloo 38
Restaurant Alexandre
When we first visited Restaurant Alexandre on Rue du Midi, it held one Michelin star. Although it has since lost that status, it's still well worth a visit.
The signage is discreet. We also had to buzz the door before we could enter, adding to the mystery.
The dining room is quite low-key for such a fine-dining restaurant. But it was elegant, and the service was friendly and professional.
There were several standout dishes, both in terms of flavour and presentation (I adored the tiny sofa). A meal at Alexandre is not cheap (although comparable to other fine-dining venues in Brussels) however, there is a weekday lunch menu available for 45€. If you're looking for an elegant dining experience, in Brussels, with an innovative menu, this may be the one for you.
We Especially Love: The innovative plating and flavour combinations
Alexandre – Rue du Midi 164
La Buvette
La Buvette falls into so many categories on our list of top restaurants in Brussels. It is fine-dining, yet casual. It is a leader in the Slow Food movement in Brussels, and it could easily be on our top ten overall restaurants list. We've written an entire post on La Buvette, but to summarise: original dishes, featuring organic, local ingredients at a very attractive price. It's a winner.
We Especially Love – Their commitment to the Slow Food movement and use of ancient Belgian vegetable varieties.
Restaurant La Buvette – Ch. d'Alsemberg 108
Café des Spores
If you love all things fungus, Café des Spores is your mushroom restaurant in Brussels (ok, maybe the world). Owned by the folks who own La Buvette, everything on the menu features mushrooms – and that includes a cheese course and dessert.
The menu has changed a bit since we've last been there, but the creations cooked up in the open kitchen are all delightful. Request a seat on the upper level, and you can watch your dinner being cooked below. The only reason not to visit this innovative restaurant is if you are allergic to mushrooms, in which case, we're very sorry for you.
We Especially Love: Mushrooms… What else?
Cafe Des Spores – Chaussee D'Alsemberg 103
Etiquette Wine Bar
I wasn't sure how to categorize Etiquette as it's not really fine-dining, or Belgian, or any of the other categories we've listed. However, if you love great wine, you'll adore Etiquette. This establishment is much more than a restaurant – but it does do a great job at that, serving a variety of tasty tapas and shareable plates. It is also a wine bar and wine shop. It has a great summer terrace and has become a hip meeting spot for friends to gather. Read our full review here.
We Especially Love: The self-serve wine bar and the braised pork belly
Etiquette – Avenue Emile De Mot 19
Restaurant Brugmann
Fine-dining restaurants come and go in the trendy Chatelain neighbourhood of Brussels, but we think Restaurant Brugmann will be around for a long time to come. Its elegant dining room is only surpassed by the elegant dishes served there. International flavours paired with the best ingredients available mean you are in for an indulgent meal. Read our full review.
We Especially Love: Thai flavour profiles paired with excellent Belgian ingredients
Restaurant Brugmann – Avenue Brugmann 52-54
Best Asian Restaurants in Brussels
Samouraï Ramen
We love Samourai Ramen so much; we wrote a whole post about it. If you are an Asian noodle lover, it bears repeating – go try Samourai Ramen! With huge bowls of delicious broth and thoroughly slurp-able noodles, if there is better ramen in Brussels, we haven't yet found it.
On a recent return visit to Brussels, I tried Samourai's new noodle bar at Toison d'Or, and it was the same great menu. There's a lot more space and a lovely summer terrace.
We Especially Love: NOODLES!
Samouraï Ramen – Rue Fossé-aux-Loups 28 & Rue Capitaine Crespel 1
Pho Pho
Pho Pho calls themselves Vietnamese fast food, but this is so much fresher and tastier than fast food as we know it. You order at the counter and choose from a variety of soups and starters, then take a seat in the brightly coloured and comfortable seating area. Then you sit back and wait for the steaming bowls of goodness to arrive. I love big bowls of Asian noodles and Pho is my all-time favourite. Pho Pho's soups are HUGE, fresh and delicious.
We Especially Love: Being able to add the fresh elements to our own soups, so they taste just the way we like.
Pho Pho Vietnamese Fast Food, Rue de la Paix 27, Ixelles & Boulevard du Jardin Botanique 6, Brussels
Le Nid Savoureux
Le Nid Savoureux is hands down the best Chinese restaurant in Brussels. It's small and tucked away in an off-the-beaten-path neighbourhood, but if you want authentic Chinese cuisine, it is worth seeking out. Not only is the food amazing, it's affordable and the owners are super friendly. Read our full review for more details but trust us – this is one to try!
We Especially Love: Honestly – everything. You can't go wrong here.
Le Nid Savoureux – Rue de la Cambre 325
Indus Pride
'Where is the best curry restaurant in Brussels?' is one of our most frequently asked questions and years ago we had to shrug and say 'Go to London.' These days, there are more options, and our favourite is Indus Pride. (Sadly for us we only discovered them the year we left Brussels!) If you're craving dosas, curries that actually have flavour, and authentic South Indian dishes beyond the five standard curries, head to Woluwe-St-Lambert and give Indus Pride a try. We've written more about where to get Indian food in Brussels here.
We Especially Love: The dosas are a.maze.ing!
Indus Pride (Sibys)
59 Avenue Marcel Thiry
Best Italian Restaurants in Brussels
La Mamma
La Mamma is located in an unassuming vine-covered building in St. Josse. But don't let appearances fool you. This is by far, one of the most authentic and best Italian restaurants in Brussels. In addition to a terrific Italian wine and grappa list, La Mamma features traditional Italian pasta and meat dishes. Many of their ingredients are imported from Italy, and there are always seasonal menu selections. The portions are hearty too and we never quite make it to the scrumptious looking desserts.
The atmosphere is so cosy; you almost forget you're on the bustling Place St. Josse. With Italian being spoken in the kitchen and a heaping plate of Italy on the table before you, you are transported to la dolce vita.
We Especially Love: The warm service and authentic regional dishes you don't find elsewhere in the city.
La Mamma 9, Place St. Josse
Sale Pepe Rosmarino
We discovered this tiny Italian restaurant near Ave. Louise through a desperate, last-minute TripAdvisor search. Like many of the hidden gems in Belgium, you could easily pass it by. In fact, when we found it, we looked at each other with "is this it?" expressions on our faces.
Inside the shabby-chic interior, delightful smells were emanating from the kitchen. Not long after we sat down, the small dining room began to fill. In addition to the rave reviews we read, these were two very good signs.
Our pasta arrived looking almost as wonderful as it smelled, and the taste – velvety and delicious. This is authentic Italian, prepared with care and attention to detail, just the way Mama would make it.
We Especially Love: The intimate atmosphere and authentic flavours
Sale Pepe Rosmarino – Rue Berckmans 98
Best Cheap Restaurants in Brussels
Because dining out can be an expensive proposition, we dedicated an entire article to the best cheap restaurants in Brussels. From pizza to tacos to traditional Belgian, find all of our favourite cheap eats in Brussels here.
Best Slow Food Restaurants in Brussels
The Slow Food movement has taken off in Brussels in recent years, and we're happy to see more and more restaurants following suit. We've written an entire post about the best Slow Food restaurants in Brussels which you can find here.
Best Restaurants in Brussels City Center
La Kasbah
For those who don't want to venture far from Grand Place, there are more great restaurants in Brussels city centre now than ever before. However, one of our favourites has been there since long before we moved to Belgium in 2005. La Kasbah will transport you all the way to Morocco, without ever leaving Brussels.
We were drawn to this restaurant by the 120 colourful lanterns hanging from the ceiling. We return for the delicious food, fun atmosphere and affordable prices. We take most of our visiting guests here, and La Kasbah never disappoints.
The menu features couscous, tagines and grilled meats. There are options for vegetarians and carnivores alike. The portions are big enough for sharing, and you can even accompany your meal with some Moroccan wines. The atmosphere is festive, and the service is always friendly.
We Especially Love: The fun atmosphere, affordable prices, and vegetarian options.
La Kasbah – Rue Antoine Dansaert, 20
Les Filles
This traditional Belgian restaurant is also part of the Slow Food movement in Brussels, but we felt it was worth mentioning here as it is a great restaurant in Brussels city center. This bustling restaurant near Place Sainte-Catherine offers a traditional family-style dining experience. Not only do you eat from communal dishes, whatever happens, to be the meal of the day, but you also sit with strangers (who may even become friends).  The organic food is a bit like Grandma's comforting meals – but Grandma never served such good wines!
We Especially Love: The family-style atmosphere and traditional Belgian dishes
Les Filles – 46 rue Vieux Marché aux Grains
Top restaurants in Brussels City Center listed in other categories:
Bia Mara
Samourai Ramen
Noordzee / Mer du Nord
Best Vegetarian Restaurants in Brussels
When we arrived in Brussels in 2005, dining out with a special diet was next to impossible. Gluetin-free eating was unheard of (a meal without bread?!), and there were very few vegetarian restaurants in Brussels. Luckily, things have changed, and every year there are more options for vegetarians, vegans, those who are gluten-free and have other special dietary needs. We've created a Gluten-Free Guide to Belgium which also lists vegetarian and vegan options around the city.
Michelin Starred Restaurants in Brussels
**Restaurant Bon Bon
Two-star Michelin Restaurant Bon Bon in Woluwe-Saint-Pierre is a gastronomic marathon! It isn't cheap, but it is a once-in-a-lifetime foodie experience (for us anyway.) We're still talking about our favourite course, the Jewels of 'White Pearl' oysters with Corsican mint and Vodka-tonic gels.
You can read our full review and see photographs of our entire menu on our Restaurant Bon Bon Review.
We Especially Love: The take-home menu 'booklet' listing all of our courses.
Restaurant Bon Bon – Avenue de Tervueren 453, 1150 Woluwe-Saint-Pierre
**Sea Grill
If you love seafood, there's no better place to dine in Brussels than two-star Michelin restaurant Sea Grill. This restaurant in Brussels city centre is tucked away inside the Radisson hotel. But this is no ordinary hotel restaurant but a full-on gastronomic experience headed by one of Belgium's top chefs, Yves Mattagne. Read our full review here.
We Especially Love: The solid silver lobster press
Sea Grill
Rue Fosse aux Loups 47
**Comme Chez Soi
Dining at the chef's table at Comme Chez Soi is one of our all-time foodie highlights – and it happened long before we even became foodies. This is the Grande Dame of Brussels' Michelin-starred restaurants. While it has dropped from three stars to two since we dined there, it is still well worth a visit for its excellent food and Belle Epoch atmosphere.
We Especially Love: The stunning interior is almost as impressive as the food itself
Comme Chez Soi – 23 place Rouppe
More Michelin Starred Restaurants in Brussels 2019
**La Paix – Rue Ropsy-Chaudron 49
**La Villa in the Sky – Ave Louise 480
**Le Chalet de la Foret – Dreve de Lorraine 43
*Bozar Restaurant – Rue Baron Horta 3
*Senzanome – Place du Petit Sablon 1
*Kamo – Chaus. De Waterloo 550a
*La Villa Emily – Rue de l'Abbaye 4
*La Truffe Noir – Boul. De la Cambre 12
*Wine in the City – Place Reine Astrid 34
*San Daniele – Ave. Charles Quint 6
*Da Mimmo – Ave Roi de Chavalier 24
*La Villa Lorraine – Ave. Vivier d'Oie 75
*La Pigeon Noir – Rue Geleytsbeek 2
*'t Stoveke – Jetsestraat 52
*Michel – Gossetlaan 31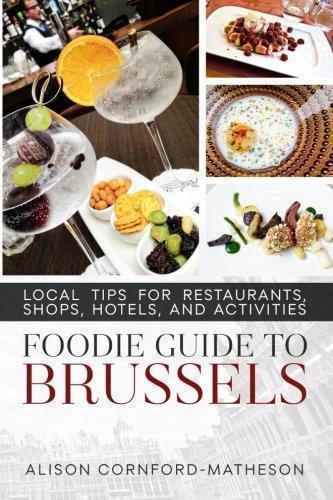 Pick up your copy of the Foodie Guide to Brussels for even more great restaurants in Brussels, Belgium
Latest posts by Alison Cornford-Matheson
(see all)