THIS POST MAY CONTAIN COMPENSATED LINKS. FIND MORE INFO IN MY
DISCLAIMER
.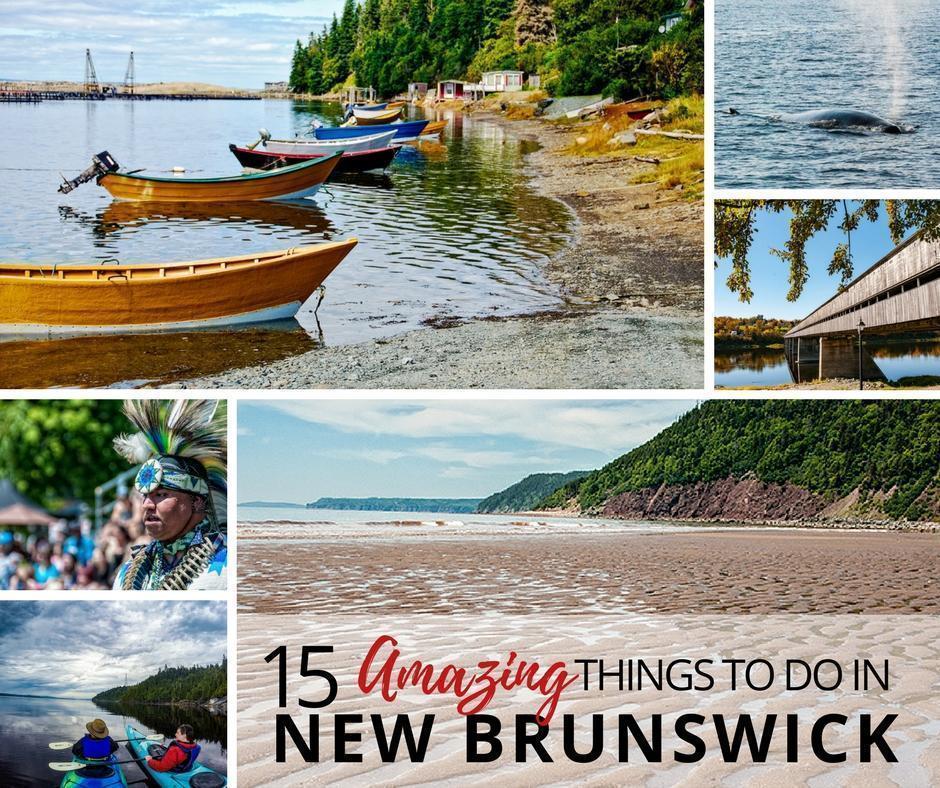 We share our top 15 things to do in New Brunswick (plus 6 more from our own Bucket List) to make the most of your travel to Canada's Maritime Provinces.

For the past year and a half, we've been re-discovering my home province of New Brunswick, Canada. We've re-visited some of my old favourite haunts like NB's National Parks and visited a few places I had never been before like Edmundston and our very first Powwow.
Today we're sharing our 15 top things to do in New Brunswick (so far!), as well as a few things we still have on our personal bucket lists. These are in no particular order because, with so many amazing things to do, why play favourites?
1. Experience the Bay of Fundy Tides
We said this list was in no particular order, however, if you only have time for only one thing to do in New Brunswick, make sure it is this. (Then make sure you come back again soon!) The Bay of Fundy Tides are the highest in the world and one of the best ways to witness them is to find a beach and walk on the ocean floor at low tide.
But there are so many ways to experience the dramatic tides and coastlines of the Bay of Fundy; it's difficult to condense them into one listing. You can drive the stunning Fundy Parkway; explore the Hopewell Rocks; ride the tidal bore in Moncton; see the power of the Reversing Rapids in Saint John; camp at the stunning Fundy National Park; or stroll on any of the beaches on the Fundy coast at high and low tide to witness the dramatic difference. Visit the village of St. Martin's to explore the sea caves carved by the pounding surf. For the truly adventurous (and experienced), you can hike the epic Fundy Footpath, rated one of the 50 best hikes in the world.
2. Visit Canada's Oldest Incorporated City
There are plenty of things to see and do in Saint John, but some of the most fascinating are also the oldest in the country: The Saint John City Market is a must; The New Brunswick Museum gives insight into both the natural and cultural history of the province; and Loyalist House depicts the early days of the 'Loyalist City,' of Saint John. Be sure to stroll around Uptown and admire the architecture. Pop into some of the unique boutiques and dine at the excellent restaurants.
3. Discover New Brunswick's Historic Capital
Fredericton has plenty to offer visitors from the newly renovated Beaverbrook Art Gallery to the historic Garrison District, to the country's oldest university campus, to the vibrant Boyce Farmers' Market and diverse Cultural Market on Saturday mornings. Fredericton's downtown is easily walkable and offers a wealth of unique boutiques and restaurants, as well as some of the best B&B and hotel accommodations in the province. Don't miss a day-trip to the King's Landing Historical Settlement for a taste of early life in NB.
4. Experience New Brunswick's First Nations' Culture
There's no better way to experience the diversity of NB's First Nations than to attend a Powwow. The Saint Mary's First Nation Powwow, in Fredericton, is an open and welcoming way to discover the music, dancing, and traditions of the first inhabitants of the province. This colourful weekend is accessible to all ages and nationalities and was one of the highlights of our time in New Brunswick.
5. Discover Brayon Culture in Edmundston
The culture of the Madawaska region of New Brunswick is unique in the province. Edmundston makes the perfect base to explore the food, language, history, and nature of this distinct culture and offers plenty of activities for all styles of traveller. Don't miss the stunning Botanical Garden. A relaxing walk through this stunning garden is one of our favourite things to do in New Brusnwick.
6. Explore the Diverse Ecosystems of Kouchibouguac National Park
Kouchibouguac is the lesser-known of NB's two National Parks but undeservedly so. It may not have the dramatic rocky coasts of Fundy, but it has warm salt water, sandy beaches, bogs, marshes, and forests brimming with wildlife. The nature trails are some of the best in the Maritimes, and there are plenty of activities for all ages. Read all about our visit to Kouchibouguac.
7. Hunt for New Brunswick's Hidden (and not so hidden) Waterfalls
There is something magical about water tumbling over rock, whether in delicate trickles or rushing rapids. NB has more than a hundred waterfalls of a decent size, and many can be accessed by well-maintained hiking trails (a few are even in the middle of cities like Grand Falls or just off the road like Lepreau Falls). You can find GPS coordinates for many of them online or in the excellent little book, Waterfalls of New Brunswick.
8. Share a kiss on New Brunswick's Covered Bridges
New Brunswick has around 60 covered bridges, most of which are still used for vehicle traffic and maintained by the Department of Transportation. They were known as 'Kissing Bridges' because young men would slow their horses while crossing the bridges to steal a kiss from their ladies. The longest covered bridge in the world is in Hartland, NB and is well worth the trip to experience crossing this amazing structure.
9. Find one of Canada's Best Gardens in Quaint St. Andrews
Kingsbrae Garden is ranked one of Canada's top Botanical Gardens, and it's easy to see why. The 27-acre park is jam packed with themed gardens, art installations, adorable animals, and a fantastic seasonal restaurant.
It doesn't hurt that it's located in St. Andrews, one of New Brunswick's prettiest coastal towns, where other attractions include the Huntsman Aquarium and Marine Sciences Centre, the historic blockhouse, access to Ministers Island National & Provincial Historic Site, and colourful murals painting on buildings around the town.
10. Slow Down on One of New Brunswick's Unique Islands
New Brunswick's rugged coast is home to numerous islands, but two, off the coast of Maine USA, are particularly special. The first, Grand Manan, is the largest Canadian island in the Bay of Fundy and is a prime whale watching location. (In fact, we saw more whales from the Grand Manan ferry than when we went on a whale watching tour!) Grand Manan is beautiful, with charming villages perfect for relaxing for a few days. Our friends from Hecktic Travels have some great coverage from Grand Manan that will make you want to pack your bags right now.
11. Visit Two Countries in One on Campobello Island
The second of New Brunswick's fascinating islands is actually accessed by road from Lubec, Maine (or you can take two ferries to stay in Canada). Campobello was the summer home of US President Franklin D. Roosevelt and his wife, Eleanor. Their former property is now Roosevelt Campobello International Park and is shared by Parks Canada and the U.S. National Park Service. The summer home and surrounding park are beautiful and the drive there is scenic. It makes a great day-trip if you're based in St. Andrews or Saint John.
12. Say Hello to the Largest Mammals in the Sea
Even more spectacular than the Fundy Tides, are the creatures who call them home. The Fundy coast of New Brunswick is prime whale watching territory, and it's easy to join a boat tour to see whales and other sea creatures. Head to St. Andrews for the widest choice of tour operators and packages. You could see Finbacks, Humpbacks, Minke, Right and Sei Whales as well as harbour and grey seals and maybe even Atlantic puffins.
13. Witness the Night Sky as it was Meant to Be Seen
With the world's growing population and the unending sprawl of cities, it's becoming increasingly difficult to visit places untouched by light pollution. New Brunswick is at the forefront of Dark Sky Preservation, and there are a number of spots around the province for prime stargazing. NB's Dark Sky Preserves include Kouchibouguac and Fundy National Parks and Mount Carleton Provincial Park. All three offer programs with astronomers to discover the universe visible at night.
14. Discover a Billion Years of Stories at North America's First Geopark
If you think geology is boring, Stonehammer Geopark will change your mind. North America's first UNESCO Global Geopark offers a variety of activities that will shine a new and fascinating light on the world beneath our feet. You can see where Africa and South America collided from a boat tour on the Reversing Rapids or kayak to see Stromatolites on an Ice Age river. Ziplines, rock climbing, and paddling are just a few of the active adventures you can have while learning about southern New Brunswick's fascinating geologic history.
15. Eat All The Things
As it always is for us, food is integral to discovering and understanding New Brunswick. So much so, we wrote a whole article about the things you need to eat in New Brunswick.
Even we haven't seen everything there is to see in New Brunswick, but there are a few that are high up on our travel bucket list. If the list above hasn't convinced you, here are six more things we still want to discover around the province:
Miscou Island – The Northeast corner of NB's Acadian coast is one of the few places we haven't visited yet. At the very tip is the island of Miscou, one of the first areas explored by Jacques Cartier in the 1500s. The island is home to small fishing communities, peat bogs, heaps of nature, and its lighthouse is a National Historic Site.
Metepenagiag Heritage Park – Our experience at the St. Mary's Powwow heightened our desire to learn more about New Brunswick's First Nations. Metepenagiag is the ancestral home of the Mi'kmaq of the area, and the Heritage Park tells their stories. The park consists of two important archaeological sites and a museum and interpretation centre.
Carleton Provincial Park – Mt. Carleton is not only one of NB's Dark Sky Preserves; it is also the tallest peak in New Brunswick and the Maritime Provinces – and we want to climb it. Mt. Carleton is also one of the Canadian highlights of the International Appalachian Trail. From the top, on a clear day, you can see 10 million trees.
Beaubears Island – This island, off the coast of Miramichi, is home to two National Historic Sites. Beaubears Island is notable both for its shipbuilding history and for Boishébert who led the Acadian and Mi`kmaq resistance against the Acadian expulsion. The island is a living museum and interpretive site with guided tours offered throughout the season.
Dogsledding in Northern NB – The final two items on our New Brunswick Bucket list are more 'hows' than 'wheres.' I'm not a fan of winter or winter-related activities, but I have always wanted to go dog sledding. This is one of the many winter activities available in the northern part of the province.
Exploring the Saint John River by Houseboat – Just outside Mactaquac Provincial Park is the docking site of Lakeway Houseboats. These luxurious 'floating cottages' have everything you need for a decadent holiday on the water: fireplaces, fully-equipped kitchens, a rooftop bar, hot tubs, flat-screen TVs, and even waterslides; Not to mention the epic scenery of the St. John River Valley.
We hope this list has you packing your bags for New Brunswick. This is but a mere taste of the things to see, do, and experience around the province. Be sure to check out our Ultimate Guide to New Brunswick for even more reasons to visit Canada's hidden gem.
Latest posts by Alison Cornford-Matheson
(see all)