THIS POST MAY CONTAIN COMPENSATED LINKS. FIND MORE INFO IN MY
DISCLAIMER
.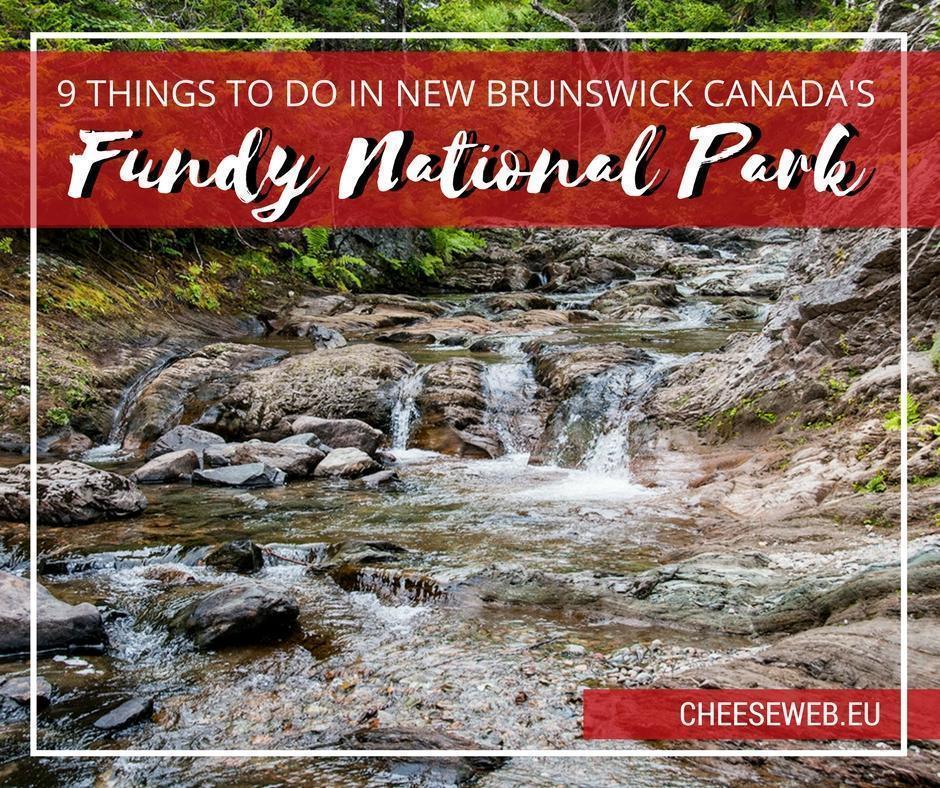 From dramatic coastlines to epic hikes, stunning waterfalls, and even covered bridges, Fundy National Park highlights the best sights New Brunswick, Canada has to offer.

If there is one place that encapsulates all of the highlights of New Brunswick, it is Fundy National Park. Dramatic tides and coastal landscapes, dense forest wilderness, tumbling waterfalls, elusive wildlife, and even one of our iconic covered bridges are all found within the park's boundaries.
​Discover

 

Fundy

 National Park

Located between the major cities of Saint John and Moncton, Fundy National Park is the highlight of the Fundy Coastal Drive. While you can experience a taste of what this amazing park has to offer on a day trip, it is well worth the time to slow down and stay a while to get to the heart of what makes Fundy, and indeed New Brunswick itself, great.

Fundy is the more well-known of the province's two national parks and, while we love the under-rated Kouchibouguac, it's not hard to see why so many tourists are drawn here. Today we want to share some of the many reasons to visit and stay at Fundy. Some are obvious but, we think a few may surprise you. But before we get to that, I'd like to share a personal reason Fundy has a special meaning.

Andrew and I had planned a press trip to visit Fundy in the first week of September 2016. We made our plans back in the spring, chose and reserved our campsite, and didn't really think about it again. The plans slipped our minds because the summer was filled with caring for my father who passed away in August. It was a terrible time for my family, and the last things on our minds were travel and work. We came close to cancelling our Fundy visit but instead, decided to adapt our plans.

For me, two things have always been restorative – the ocean and the wilderness. When I need to regroup, restore, and recover, I find myself drawn to the power of nature to help me heal. Getting away from the sadness of my parents' house and escaping to both the ocean and the wilderness seemed like the perfect diversion for Andrew and me, but also for my mother who decided to join us the day after our arrival. The trip from Saint John to Fundy was short distance-wise, but I think it did the three of us a world of good. So beyond all of the excellent reasons below, Fundy will always have a special place in my heart as the first step to healing after the loss of my father.

If you are in need of some healing, Fundy National Park is a great place to be, but your motivations to visit need not be so personal. Below, we share nine great reasons for anyone to visit Fundy National Park.
1. Explore the Bay of Fundy
It seems like every time we write about New Brunswick; we mention the dramatic Fundy tides. The Bay of Fundy is so integral to the fabric of southern NB; it touches everything from the landscape to the way we eat. Fundy National Park obviously takes its name from the Bay, and many of its most dramatic features are tied to the power of the Fundy tides.
The difference between high and low tide here can be up to 12 metres (38 ft) which creates a dramatic change in scenery. You can be jumping waves in the Bay and, on the same spot six hours later, you can be walking on the ocean floor. Fundy National Park is the heart of the UNESCO Fundy Biosphere Reserve which designates everything from the marine ecosystem to the geological formations to the cultural heritage of the region.
There are countless ways to experience the Bay of Fundy within the park, from a simple stroll on the beach (at high and low tides) to sea kayaking and other watersports for the more adventurous. Hike the challenging Coastal Trail for stunning views of the Bay. (See more about hiking Fundy below.) In the summer months, there are interpretive guided walks on the ocean floor or visit the village of Alma (see #6) to get a taste of authentic life on the Bay of Fundy.
Fundy National Park also makes a great base for discovering the Bay beyond the park with visits to the stunning Fundy Trail Parkway, Cape Enrage, and the iconic Hopewell Rocks.
2. Stay a Spell at Fundy National Park's Accommodations
Living in a motorhome means we're always on the lookout for great places to camp and Fundy National Park has a site for every style of camper.
Headquarters Campground is in the thick of the action. It is within walking distance of the village of Alma and many of the park's facilities. It's a great option for families as it is near both the saltwater pool and the playground. If you book early enough, you can even score a site with a view of the Bay. Headquarters Campground does get busy during the high season so if you like your privacy you may want to explore a different option.
We opted for the best of both worlds by staying at Chignecto North Campground. This campground is located further inland, and the sites are more private. There are serviced and unserviced spots available, and our wooded site had the perfect amount of space and privacy while still being an easy walk from trailheads and facilities.
Backwoods campers, including those in very small RVs, can also opt for Pointe Wolfe Campground. The campsites here exclude larger RVs because access is via a weight-restricted covered bridge. We checked it out by car, and it's a lovely spot offering serviced and unserviced sites close to the Coastal Trail.
If you're looking for wilderness adventures, Fundy offers four different backcountry campsites some of which can accommodate group camping. Options include camping on a secluded beach to paddling to lakeside campsites.
For those of you who don't travel with your own accommodation or prefer your wilderness with a side of luxury, Fundy National Park offers oTENTik cabins equipped with beds, furniture, and even a BBQ. All you need to bring is bedding, cooking gear, and a sense of adventure. Alternatively, opt to stay in a Yurt in the Headquarters Campground. Each Yurt can accommodate a family of five.
3. Star Gaze as Nature Intended
Fundy National Park is one of a series of Dark Sky Preserves in New Brunswick. Electric lights are limited only to where they are necessary so there is little light pollution. This not only helps wildlife maintain their circadian rhythms, but it also allows campers to experience the night sky the way it was meant to be seen. During the high season, you can join a guided tour of the sky with a member of the Royal Astronomical Society of Canada and look through a giant telescope.
4. Learn From Locals
Fundy National Park's interpreters offer the opportunity to learn about all aspects of the park from the area's biodiversity to the region's cultural history. Foodies can opt for a walk to learn about edibles found on the ocean floor. Adventurers can join a guided paddling trip to explore the Fundy Coast by kayak. Visit the Molly Kool Centre in Alma for a traditional Maritime Kitchen Party and learn about North America's first female sea captain. There are programs for kids of all ages and sing-a-long campfire nights. You can even join a biologist to help monitor the river salmon.
5. Swim & Golf as You Never Have Before
You may be able the swim or golf around the world, but not in the same way you can at Fundy. Golf the 9-Hole course designed by golf course architect Stanley Thompson. This challenging course has stunning views, and the local wildlife who like to graze on the lush grass often serve as entertaining obstacles.
Swimming in Fundy's pool is one of my favourite childhood memories. The saltwater pool is now heated by giant solar panels as opposed to being heated directly by the sun, as it was when I was little (an exhilarating experience). The pool overlooks the Bay and is also at the trailhead of the popular and stunning Dickson Falls Trail, (see #9).
6. Visit an Authentic Fundy Coastal Village
You may have noticed we love small towns and villages. We've written about visiting St. Martin's, on the other side of Fundy National Park, but the village of Alma is worth a look too. This little fishing community is now a hub for Fundy Park visitors and is a great day out if you're tired of roughing it in the woods.
The village has a number of cafes and seafood restaurants where you can enjoy fresh seafood, including local lobster. Alternatively, pop into one of the lobster pounds, like Collin's Lobster, as we did, and choose your own dinner to cook back at your campsite. The Octopus' Garden Café has a lovely patio where you can enjoy a hot beverage and a tasty snack. For the sweet tooth, an unmissable stop is Kelly's Bake Shop where the sticky buns are legendary.
7. Cross a New Brunswick Icon
If you've been following our adventures in New Brunswick, no doubt you've heard us talk about the province's iconic covered bridges. There are around 60 remaining and one of them is in Fundy National Park. The Point Wolfe covered bridge is a bold red statement in the surrounding greenery. Stop at the pull-off before crossing the bridge for a photo op and to learn about the logging community that once thrived here.
8. Hike in Unspoiled Nature
We've saved our two favourite reasons to visit Fundy for last and because they go hand in hand. Fundy has a trail for everyone. There are
4 easy hikes ranging from 15 mins to 2 hours
11 moderate hikes ranging from 30 mins to 2.5 hours
14 difficult hikes ranging from 2-6 hours.
The hikes cover a broad range of ecosystems. There are trails with coastal views like Shiphaven and Matthews Head, trails with beach access like Herring Cove Beach and Goose River, trails with river crossings like Dobson Link and Bennett Brook, and trails to the park's waterfalls (see #9). Several of the trails are multi-use and open to cyclists, and the easy trails are accessible to visitors with strollers or more limited mobility.
For extreme hikers, there are a few epic multi-day hikes that cross the park boundaries. The Trans Canada Trail includes 33km of trails within Fundy, including Goose River, Shiphaven, Coastal, Upper Salmon River, The Forks, and Moosehorn. The Trans Canada Trail joins the Dobson Trail and the Fundy Footpath. (see below)
We mentioned the Fundy Footpath in our article on the Fundy Trail Parkway. This rugged 41km hike is one of the best (and most difficult) in the world. Spanning from St. Martin's to Goose River inside the park the footpath hugs the coast and offers some spectacular views.
The Dobson Trail is a 58km footpath through the New Brunswick Wilderness from the northern border of Fundy National Park to Riverview, NB.
If you'd like to stay within the park, the Fundy Circuit is a 48km loop of trails that highlight the best the National Park has to offer.
But you don't have to sleep on the ground to experience great hiking at Fundy. We tackled two of the trails during our stay and loved every minute. It's hard to choose which trail to hike, but we decided to go chasing waterfalls…
9. Fall in Love with Fundy's Waterfalls
There are six waterfalls marked on the Fundy National Park map, four of which make it into the Waterfalls in New Brunswick Guide, and five hiking trails offer waterfall access.
We opted to hike two trails marked moderate, Laverty Falls and Dickson Falls.
Laverty Falls definitely takes more commitment, both to reach and to hike. Access to the trail is via a gravel road, and it's not recommended for RVs. Luckily we had access to my mother's SUV to get us to the parking lot. The Laverty Falls trail is 2.5km one way. It is possible to hike a loop with the difficult Moosehorn Trail, but we opted to go in a back the same way.
The trail is well marked and popular with hikers, but it isn't easy. The hike to the falls is mainly downhill, which means coming back is pretty much straight up. We were definitely feeling the burn by the end of the day. The effort is well worth it as the prize is the stunning Laverty Falls. The water is crystal clear and chilly, so it's a nice place to stop and soak your feet before heading back.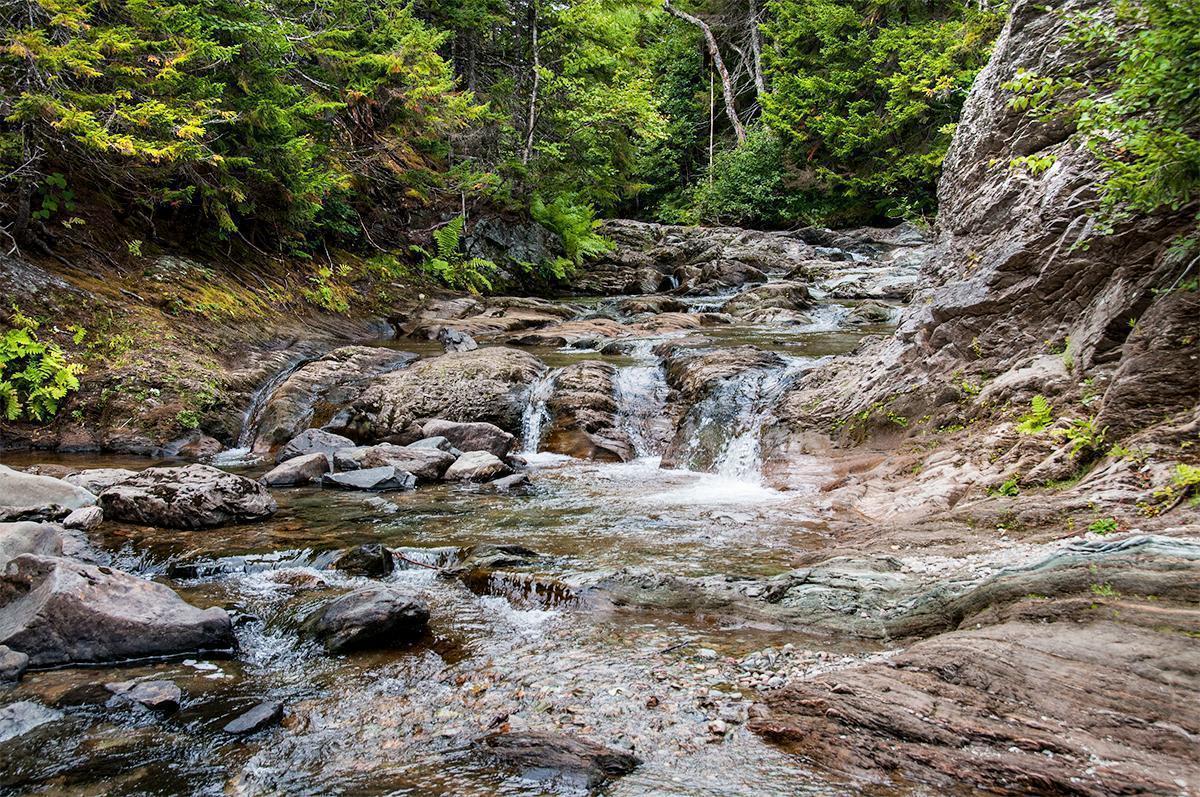 Although they have the same rating, the Dickson Falls trail is much less taxing. In fact, if it weren't for all of the stairs, it would probably be rated easy. The trailhead is located close to park headquarters, right beside the pool. The 1.5km loop is primarily boardwalks and stairs beside the tumbling falls. The landscape here is vibrantly green with fuzzy moss almost giving the impression of a tropical rainforest. This is easily the most popular and accessible trail in the park and is well worth stopping even if you're just passing through.
There are so many more reasons to visit Fundy National Park, but we want to leave you with some surprises to discover. We know we'll return to explore more for ourselves. See you on the trails!
Latest posts by Alison Cornford-Matheson
(see all)