THIS POST MAY CONTAIN COMPENSATED LINKS. FIND MORE INFO IN MY
DISCLAIMER
.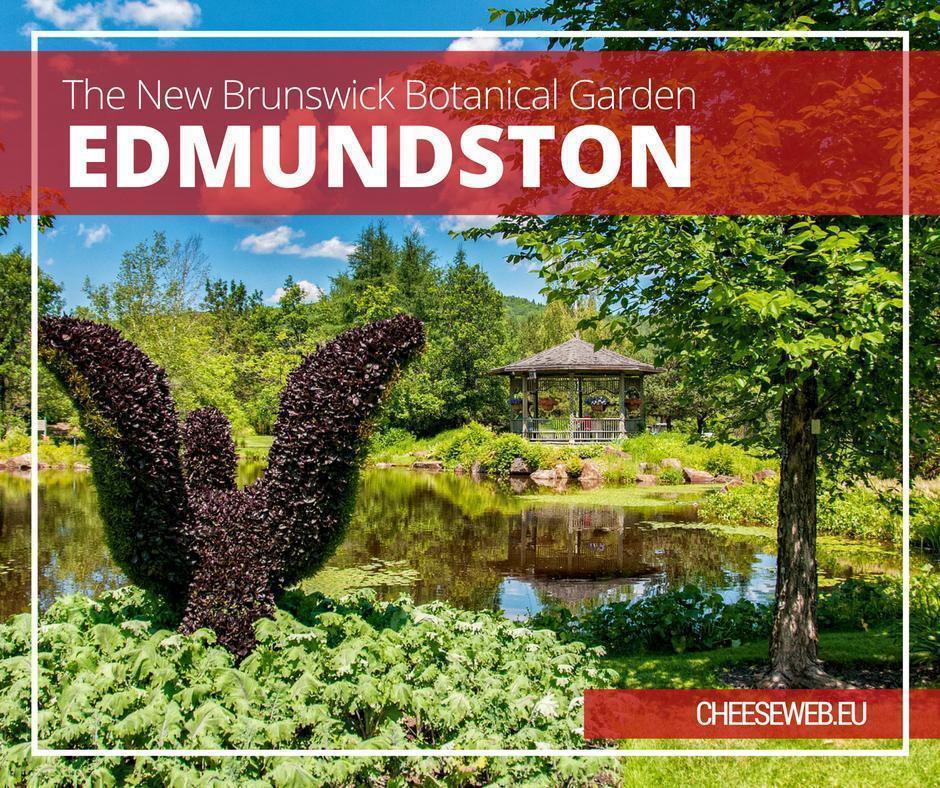 We visit the New Brunswick Botanical Garden, in Edmundston, Canada, a hidden gem of nature, art, and great food.
Over the past dozen years, we've tromped all over Europe in search of stunning gardens. The sad (but all too common) fact is, I had never visited the botanical garden in my home province in Canada. Granted, the New Brunswick Botanical Garden isn't exactly in my backyard. Saint John to Edmundston, NB, is roughly four hours by car. Still, we've driven much farther on a whim (or for lunch).
It was high-time we visited Edmundston, a bustling little city, in the northwestern hook of NB, near the Quebec and Maine borders. We planned a three-night tour, in partnership with Tourisme Edmundston, to discover the food, culture, and history of this unique region, and the Botanical Garden was the perfect place to begin our discovery.
As all good adventures should begin with lunch, we arranged to meet our guide, Janice, from Tourisme Edmundston, at the garden's Café Flora for a bite to eat.  The café features fresh, local menu items and lunch offerings include the expected soups, salads, and sandwiches, but also tacos, crepes, fish burgers and other surprises. And, let's face it, on a hot July day, there are a lot worse places to dine than Café Flora's shady terrace overlooking the Botanical Garden's waterfall.
My fish tacos were crispy, fresh, and just spicy enough, while Andrew's crunchy baguette was stuffed with fresh veggies, apple, bacon, and brie. Paired with fresh squeezed lemonade, it was a refreshing and delicious meal.
Sharing the building with the café is the garden's gift shop, information desk, washrooms, and the butterfly house. It's always fun to get up close and personal with tropical butterflies, and we could see how drawn children are to this particular corner of the garden.
The Botanical Garden itself is no small space. This 8ha (20 acre) area is divided into 11 themed gardens and two arboretums – that's a lot of plants. The garden's northeastern border is the Madawaska River, and water also plays an important role throughout the space, with ponds, streams, and even a waterfall as central features.
We explored the various themed gardens: perennials, annuals, alpine, conifers, shade, and an enchanting rose garden.
The Botanical Garden also includes a few unexpected features. There is an herbalist's garden and pavilion where you can attend workshops on medicinal, culinary, and cosmetic uses for plants.
One of the newest features is Khronos, the Celestial Garden. More art installation than actual garden, Khronos' 12 giant granite monoliths look straight out of 2001: A Space Odyssey. This enormous sundial could be a modern-day Canadian Stonehenge.
But Khronos isn't the only work of art in the garden. In fact, there are sculptures, topiaries, and painted Adirondack chairs dotted throughout the space.
Our favourite stop was at a sunlit, circular pavilion near the river. This building is the summer workshop of sculptor Luc Cyr. Cyr has a warm smile, talented hands, and is a real character. His humour shines through in his carvings, many of them caricatures of people he knows, local celebrities, and imaginings from his creative mind. In addition to selling at the Botanical Garden, Cyr's work is also featured on the bottles of Edmundston's craft beer, Petit Sault. (More on that in a future article!).
Cyr even did a hasty carving of Andrew; the likeness is uncanny.
I could have easily spent the entire day exploring, discovering, and relaxing in this beautiful place. If I lived in Edmundston (not at all a bad prospect), I wouldn't hesitate to buy a season pass.
The garden is open from May to September, with a special opening on the first weekend of October for the Grande Grouille, a fall festival with evening openings to show off more than 2000 carved pumpkins. This event is definitely on our bucket list!
The New Brunswick Botanical Garden is a must-visit if you are in Edmundston, or indeed the province. Stay tuned for plenty more highlights from Edmundston, a little gem of New Brunswick.
We'd like to extend our thanks to Tourisme Edmundston for hosting us in the area and allowing us to share this hidden gem with you. As always, all opinions are ours alone.
Latest posts by Alison Cornford-Matheson
(see all)