THIS POST MAY CONTAIN COMPENSATED LINKS. FIND MORE INFO IN MY
DISCLAIMER
.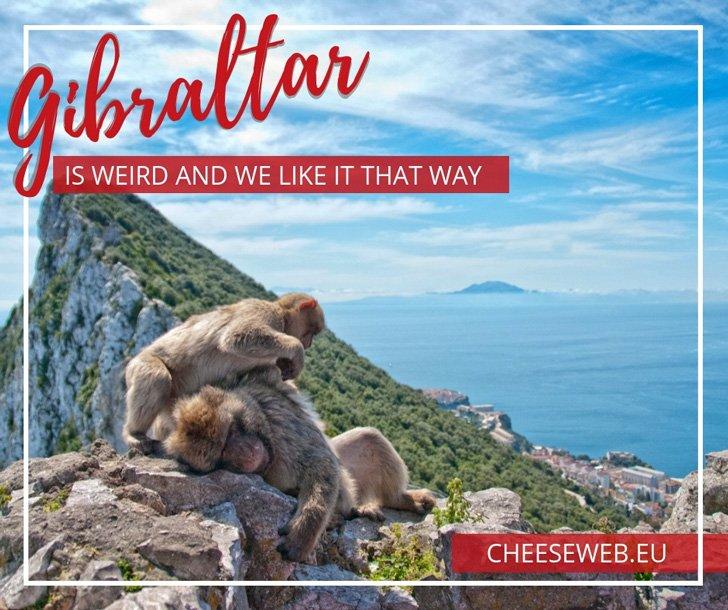 Gibraltar is weird. It's owned by England, yet dangles off the end of Spain. You have to drive across an airport runway to get to it, and its main feature is a giant rock riddled with caves and inhabited by monkeys. We couldn't wait to discover all the weird things to do in Gibraltar!
Andrew and my father were intrigued by Gibraltar's complicated history. Mom and I, we were after the monkeys. So we decided to take a day trip from Malaga and see what 'The Rock' had to offer.
We drove ourselves from Malaga to Gibraltar but there are day trips from many Spanish cities in Andalusia. You can book a guided tour from Seville, Cadiz, or Malaga as we did.
Here are just a few of the options available:
Day Trip from Malaga to Gibraltar
Arriving in La Línea de la Concepción, the Spanish town bordering Gibraltar, we were met by a queue of traffic. We had been forewarned this line-up could get extremely long, particularly when Spain and England disagree over political matters.
You see, you have to cross out of the Schengen territories and into the UK to visit Gibraltar, so that means a passport inspection. Luckily for us, the border guards were in good spirits and waved us through with barely a second glance.
Then we arrived in the second queue of the day; the line-up to cross the airport runway.
Yes, you did read that correctly. To visit Gibraltar, you have to drive (or walk) across the airport's only runway. That means when planes are landing or taking off, all traffic stops and waits.
Luckily the flights are relatively infrequent. Luckier still for us, we were able to watch a few flights land while we waited, and later on from above.
As the light turned green and traffic began to cross the runway, I couldn't resist taking this (shaky) video. [click here if you don't see the video below].
Driving Across Gibraltar's Airport Runway from CheeseWeb.eu on Vimeo.
Things to do in Gibraltar
Tour the Top of the Rock
Finally, in Gibraltar, we decided the first order of business was to head to "The Top of the Rock." There are several ways to do this: You can walk – it's free, but on a hot day it's a long way up; You can ride the cable car, which was our original plan; or you can take a guided taxi tour.
On our way to the cable car entrance, we spotted several taxi guides (or rather they spotted us). We weren't given the hard sell, but simply offered an alternative – a guided tour taking in St Michael's Cave, the Great Siege Tunnels, the Pillars of Hercules and of course, a visit to the Barbary Macaques.
For 25 euros each (which included our admission fees to the attractions), it sounded like a good deal to us. Best of all, our guide, a member of the Gibraltar Taxi Association, was born and raised in Gibraltar and had lots of stories to share about life on the Rock.
There are plenty of options for private and group tours of Gibraltar. Here are a few great options:
The Pillars of Hercules
Our first stop was the Pillars of Hercules for a view of Africa.
The Pillars of Hercules was the name given to Gibraltar and its equivalent point in Africa, by the ancient Greeks. There is a monument here, representing the ancient world. But we came for the view.
Sure enough, hovering above the clouds, we could see Africa. It looked almost close enough to touch.
St. Michael's Cave
Our next stop was St Michael's Cave, located in the Upper Rock Nature Reserve. It is one of 150 caves in the Rock of Gibraltar and is over 300 metres above sea level.
St Michael's Cave has been explored and inhabited since prehistoric times. The Victorians used it as a party venue, and soldiers from the Berber conquest of 711AD to World War II have put the cave to use.
These days,  St Michael's Cave is a tourist destination and concert venue. When we visited, it was being set up for an evening DJ party.
The Great Siege Tunnels
From the cave, we headed back underground to the Great Siege Tunnels.
The tunnels were carved out of the Rock by the Merchant Marines to defend Gibraltar during the Great Siege of 1779 to 1783. The Siege was Spain and France's attempt to take The Rock back from Britain during the American War of Independence.
Obviously, it didn't work out as planned.
Gibraltar's Barbary Macaques
Finally, the time had arrived to drive to the very Top of the Rock – home to Gibraltar's colony of Barbary Macaques.
Gibraltar's Barbary Macaques are the only wild population in Europe and number around 300 animals in 5 family groups. Although their origins are disputed, they probably arrived as pets of the Moors during their occupation of Spain.
Although they are often called Barbary apes or rock apes because they don't have tails, the Macaques are monkeys.
Gibraltar's Macaques are closely monitored by the Gibraltar Ornithological and Natural History Society (GONHS), and each one is tattooed and micro-chipped.
They are fed, watered and given regular health checks. Each of the monkeys is photographed and catalogued, and an annual census is taken to monitor the population.
Legend has it that as long as the Macaques are on Gibraltar, it will remain under British rule. During WWII, the population dwindled to seven monkeys, so Sir Winston Churchill ordered more be brought in from Africa.
The taxi drivers and monkeys have developed a symbiotic relationship, over the years, and drivers can recognize most of the Macaques by name.
The drivers know which young monkeys are safe to interact with and arrange photos with the macaques for those who want to hold them. Boy did I!
After our photo op, we climbed to the top of the Ape Den look-off and watched the monkeys play, groom each other and relax in the sun.
Although they do sometimes wander down into the city, life is pretty darn good for a monkey on the Rock, so they tend to stay put and enjoy being pampered.
After our monkey safari, we headed back down to the city and bid our driver farewell. He pointed us in the direction of our last stop – because when in Britain, you can't not have Fish and Chips.
After scarfing down our deep-fried feast, on a sunny terrace, we piled back in the car, for a last jaunt across the runway, and back into Spain.
Gibraltar may be weird, but we sure liked it that way.
Be sure to follow all of our road-trip adventure in Portugal and Spain!
Latest posts by Alison Cornford-Matheson
(see all)
Read more from this series...