THIS POST MAY CONTAIN COMPENSATED LINKS. FIND MORE INFO IN MY
DISCLAIMER
.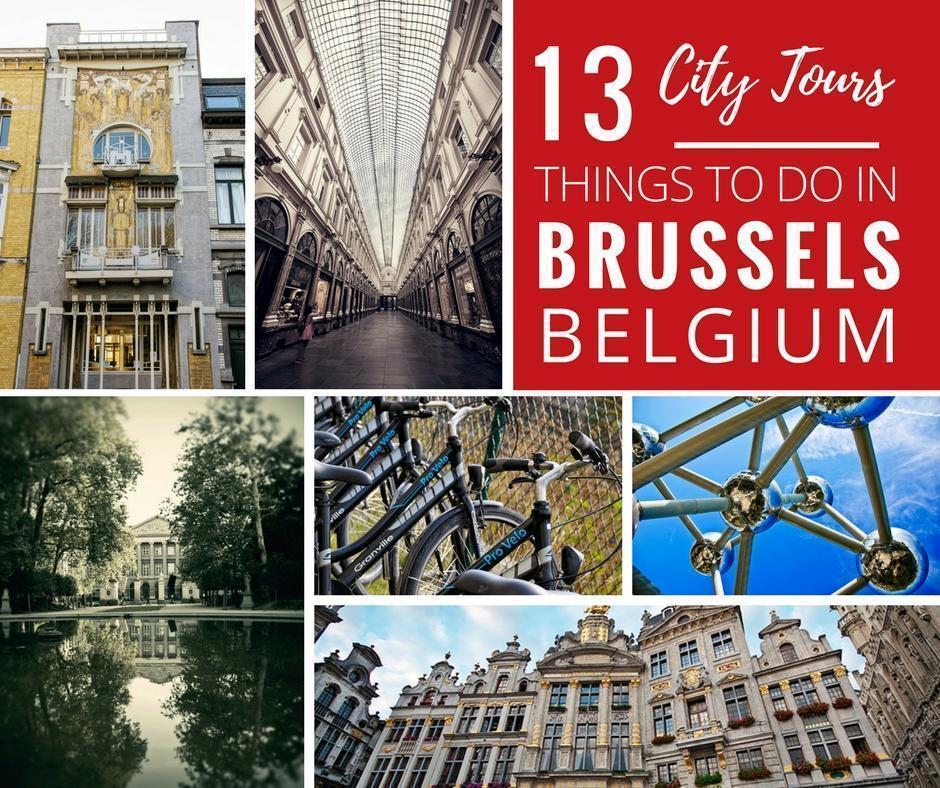 We share our top 13 Brussels city tours for sightseeing, education, and fun. Get to know the Belgian capital, on the best sightseeing tours for individuals, groups, and families.

Taking the time to discover a city's hidden gems slowly is a luxury we indulge in whenever possible. However, when we travel, time is not always on our side. Sometimes we need a little help to understand the ins and outs of a new place (or even a place we think we know very well.)
Brussels, Belgium is particularly hard to comprehend at first glance. Luckily, there are dozens of options for Brussels city tours; so many, in fact, it can be difficult to know which one to choose.
Fear not! Today we're sharing our 13 favourite Brussels city tours, and we have something for everyone. Whether you prefer to walk, ride, or try alternative transportation, on your own, with a knowledgeable guide, or in a group of potential new friends, we have a Brussels city tour option for you.
Best Walking Tours of Brussels, Belgium
Our favourite way to get around a city is on our own two feet, and Brussels is no exception. While the city has excellent public transportation options, you can miss a lot of Brussels' beautiful details if you pass through too quickly. The best way to not miss anything is to have an expert guide along to share Brussels' hidden secrets with you. Whether it's your first time in the city or you've lived there for years, you can always learn something new on a Brussels city tour.
1. Brussels Greeters
The Brussels Greeters are a great option if you have time to plan ahead and you're on a tight budget. You can book a Brussels city tour with a Greeter for free, and the tour can be on the topic of your choice (provided there is a suitable Greeter available.) Brussels Greeters tours aren't just limited to the highlights and tourist attractions. We decided to test the Greeters' knowledge of the city and asked them to take us to part of Brussels we didn't know well. They obliged, and we had an excellent tour of Molenbeek, a neighbourhood that is little known and misunderstood. Whether you want to discover lesser-known areas of the city or you'd like an overview of the highlights, the Greeters have an option for you.
2. Wondrous Wanders
We met Wendy many years ago and hit it off right away. As Canadian expats in Brussels, we clicked over our combined missing of all things Canuck and our love of Belgium. Wendy started Wondrous Wanders, a walking tour company dedicated to uncovering the hidden gems of Brussels. Obviously, it was totally something we could get behind! Wendy's tours cater to small groups and are ideal for expats and residents as Wendy often touches on topics that particularly affect locals. Wendy has a passion for sharing stories, and you are guaranteed to learn loads on her walks. Bonus: you'll likely get to meet Billy the wonder pup!
3. Based in Belgium Tours
Like Wendy, we met Diana quite early on during our stay in Brussels. As an American living in Hasselt, Diana became our go-to Flanders expert. If you love art and history, you need to book a tour with Diana. She majored in medieval history at Yale and has a double masters in medieval art history and museum studies. So yeah, Diana knows her stuff. She offers tours of several cities in Belgium including Ghent, Bruges, Antwerp, Hasselt, and Tongeren. She also has a variety of options for Brussels city tours focusing on the historic centre, Art Nouveau, Art Deco, and Pieter Brueghel. We visited Hasselt with Diana and learned so much about her adopted city and its hidden secrets.
Best Self-Guided Tours of Brussels, Belgium
While we love exploring new places with knowledgeable tour guides, I'll admit, my introvert nature often takes over, and I want to be on my own. But when you explore a new place by yourself, it's easy to miss some of the most fascinating details. Self-guided tours can offer the best of both worlds – solitude and a sense of discovery with the help of an informative text to point you in the right direction and give you background information.
4. Visit Brussels Mini Maps
Over the past few years, Visit Brussels, the city's tourism office, has produced 24 mini maps on different themes. These colourful little maps fold down to the size of a credit card (although thicker) so they are easy to stuff in your pocket and go. (You also avoid the bulky 'Hey! Look at me. I'm a tourist,' look of carrying a big map or guidebook.) On the reverse side is bite-sized information about the points of interest along your route. The themes include everything from Art Nouveau, Surrealism, and design to Jaques Brel, TinTin, and Carolus V. There are maps for kids, foodies, LBGT, garden-lovers, and sports nuts. The maps cost 1€ and are available from the Brussels Tourist Office (right beside Grand Place).
5. Use-it Map
If unlike us, you are young and hip, another great Brussels resource is the Use-it map. The map is filled with local tips from young Bruxellois. It includes the tourist highlights like Grand Place and Manneken Pis, but also great restaurants, bars, clubs, and shopping. There are several self-guided walks and tips for public transportation and local customs. Use-it has also created two supplementary maps for vintage-hunters and vinyl record collectors. You can download and print the maps or pick up copies at the Use-it office at Galerie Ravenstein 25 (near Central Station). The office also provides free wifi, hot drinks, storage lockers, and a free walking tour every Monday at 2 pm.
6. Brussels City Tour Maps
If you read French or Dutch, there is a final good option for learning in-depth historical information about different areas of the city. The city of Brussels, in collaboration with the Archives and Historic Patrimony Society, produces four maps detailing the historic buildings of central Brussels, Laeken, the east, and the south. You can download these full-colour, detailed guides or pick them up at the Brussels City Archives.
Best Brussels Sightseeing Tours
Walking in Brussels isn't always practical. It's a sprawling city, and many of the top attraction are far apart. If you'd like to explore Brussels on wheels, there are a number of options available.
7. Brussels on Wheels
We learned about Brussels on Wheels Brussels city tours well after we left the city. Luckily, our contributor, Monika, was on the case. Frankly, we were jealous we missed our chance for this unique tour in a vintage Citroen 2CV. Brussels on Wheels offers five different city tours including the central pentagon, the European Quarter, and trips to the Atomium. Tours are available in a variety of languages, and, as the cars accommodate a maximum of 3 passengers, you're guaranteed a private journey.
8. Motorcycle Tours of Brussels
Back in 2013, Andrew had a fun motorcycle Brussels city tour organised by our friends at the Funkey Hotel. In researching this post, I discovered UrbanDrive.be, the company that runs the tours, is 'temporarily closed.' We're not sure how temporary it is, but we hope this service will be up and running again soon.
9. Bicycle Tours of Brussels
If you want to see more of Brussels, while still getting some exercise, a bicycle tour may be just the thing. There are multiple companies offering bike tours of Brussels, but I had a great time with the team from Pro Velo. I'll admit, I was nervous cycling in Brussels. (I may have used the words 'never, ever, ever.') But the professional guides from Pro Velo made sure we were safe at all times and kept to bike-friendly routes whenever possible. Pro Velo has a wide-ranging tour program including food and beer tours, and some of the tours are even free. If you prefer to cycle on your own, Pro Velo provides a variety of excellent bike routes on their website.
Best Brussels City Tours for Families
If the thought of dragging your kids on a historic walking tour makes you (and them) shudder, there are some fun Brussels city tour ideas for the whole family.
10. Hop-on-hop-off Brussels City Tours
You've likely seen them in cities around the world; the ubiquitous hop-on-hop-off buses packed with tourists. We've been there and done that in countless places. While the concept defies our slow travel mantra, the truth is these buses are popular because they make life easy. I've taken some our visiting guests on the Brussels hop-on-hop-off bus, and it does provide a decent overview of the city while getting you to the more distant attractions without having to navigate public transportation with your kids. My caveats for these tours would be to avoid rush hour(s), or you'll use up all your time sitting in traffic and save the bus tour for a sunny day. The advantage to the double-decker buses is the open top, providing better views and photo opportunities. If the roof is closed in and the windows are pelted with rain, you won't see much.
11. Brussels by Water Boat Tours
People often forget landlocked Brussels was once a booming port town. The waterways are still an active transportation hub, and Brussels by Water offers a unique way to see the city. Take a boat tour during the day to see the sights or enjoy a relaxing evening cruise complete with an aperitif. There are boat trips around the Brussels Green Belt, and you can even combine boat and bus tours to other parts of Belgium. It's a great summer activity for the whole family.
Best Brussels City Tours to Meet People
12. Expat Club Tours
We realise it's possible to meet people on any of the Brussels city tours listed above, but none of them is specifically geared to making friends. Enter the Expat Club. We are huge fans of the founder, Edgar, and his team of eager organisers. While the Expat Club is primarily about helping Brussels residents get out of the city, there are frequently tours and activities organised right in Brussels itself. Andrew visited the Brussels Audi Factory with the Expat Club and currently on the agenda are trips to Hallerbos to see the bluebells, a tour of Wallonia, a sailing trip from Oostende, and a trip to the Planetarium. Expat Club members come back again and again, and you'll be welcomed to the club like family.
Best Brussels Tours for Foodies
13. Foodie Guide to Brussels Walking Tour
While I was in the planning stages of writing this article, I learned some sad news. One of our favourite Brussels-based companies, Bookalokal, has shut its doors. (Luckily the founder has moved on to other great things!) However, it is a loss for the Brussels foodie tour scene, as I would have pointed to them as a go-to source for food, chocolate, and beer tours of Brussels. [If you know of any great Brussels food tours, please do let us know in the comments.]
While there are plenty of culinary tours on offer, I have sadly heard negative reviews of the bulk of Brussels' foodie tours. I used to organise food tours of Brussels myself, and I find it tragic visitors are being taken to sub-par places when Brussels has so much to offer foodies.
The one alternative I can offer is The Foodie Guide to Brussels. I published this guide in late 2015 (so always double check the info is still current), and along with the book, you get access to a private membership website. On that site, I include my entire Brussels Foodie walking tour, including shops, cafes, restaurants, and museums for foodies.
Even if you've lived in Brussels for years and think you're an expert, we guarantee there's always more to learn. So strap on your walking shoes, book a guide, bike, or boat, grab some friends or you kids and get out and explore!
Latest posts by Alison Cornford-Matheson
(see all)
Read more from this series...
Things to do in Brussels Belgium: The 13 Best Brussels City Tours