THIS POST MAY CONTAIN COMPENSATED LINKS. FIND MORE INFO IN MY
DISCLAIMER
.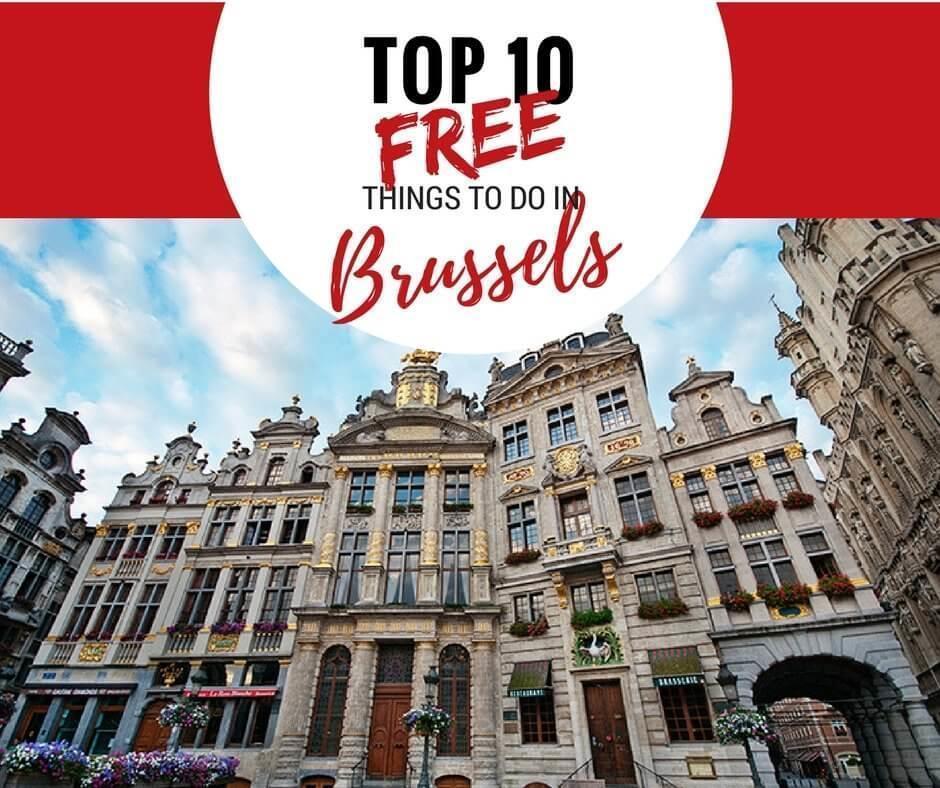 Looking for the best free things to do in Brussels, Belgium that won't break the bank? We list our top 10 free things to do in Brussels from free museums in Brussels to the best free walking tour Brussels has to offer.
With Europe in the middle of an economic crisis, many of us have had to cut back our entertainment budgets. While we all know it doesn't cost anything to stroll through the stunning UNESCO-listed Grand Place or hang out with Mannekin Pis, after the first hour, many of us are left wondering what to do in Brussels for free. Wonder no more!
There are plenty of things to do in Brussels for free, and we've listed 10 of our favourites below to get you started.
1. Take to the Streets with a free Walking Tour of Brussels
Even in tough economic times, foot power remains free. If you need guidance, Visit Brussels has created a series of Brussels free walking tours you can follow.
Check out your favourite fictional characters on the Tintin Walk, or explore the city's famous architecture on the Art Nouveau Walk. Stop by the nearest tourist office and pick up one of the mini-maps (they'll only cost you a euro) or print off a PDF map and hit the road for free!
If you prefer to walk about with a passionate tour guide, book a trip with the Brussels Greeters in advance, for the best free guided tour of Brussels. Tours are completely free (no tipping allowed) and can be catered to your interests. Read all about our experience with the Brussels Greeters.
If you aren't able to arrange a free tour in Brussels with the Greeters or are looking to splurge on something special, be sure to check out our article on the 13 best city tours in Brussels.
2. Go Green in a Park
Brussels may be bustling and busy, but there are plenty of quiet green spaces to discover, no matter where in the city you find yourself. A few of our favourites include:
Parc du Cinquantenaire
This vast park is smack dab in the middle of Brussels and is an urban oasis. Year-round, it's filled with locals, jogging, walking their dogs, playing with their kids, or simply enjoying the outdoors.
Watch the parakeets in the trees above and admire the views of the Cinquantenaire Arch towering over the park. You'll also find access to a free museum in Brussels here. (See #7 below!)
Bois de la Cambre
This beautiful green-space is on the edge of the Sonian Forest to the south of the city. It's a favourite of joggers and home to a number of festivals throughout the summer.
In the warmer months, you can take the tiny passenger ferry to Robinson's Island in the middle of the park's lake. There's a restaurant there, with plenty of Belgian beer, and the island is populated by scores of rabbits. Nearby you'll find La Cambre Abbey, another of our Brussels free things to do. (See #6 below!)
Parc de Woluwe
This vast park in Woluwe offers plenty of quiet walking paths and shady corners. The many lakes are filled with birds and there are a number of remarkable trees, including a giant sequoia.
Square Ambioix
Square Ambiorix was our local park when we lived in Brussels. Smaller than those listed above, it's still worth checking out. Surrounding the park is one of Brussels best neighbourhoods for architecture spotting. Give yourself your own free walking tour of some of the best Art Nouveau in the city, including one of Victor Horta's creations.
Parc Léopold
Parc Leopold is a small green-space surrounding a lake, between Place Jourdain and the European Quarter. On sunny lunch hours, you'll spot dozens of Eurocrats escaping to enjoy a quick bite in the sun. At the far end of the park, you'll also find the Museum of Natural Sciences, which is well worth the detour.
Parc d'Egmont
The tiny Parc d'Egmont is a hidden gem just off one of the busiest streets in Brussels – but a whole world away. Tucked just behind The Hotel and home to the Palais d'Egmont and a statue of Peter Pan.
For a full list of parks in Brussels, on an interactive map, check out the Parks and Gardens of the Capital Region website.
3. Find Religion in Brussels' Churches
You don't have to be religious to appreciate the beautiful art and architecture of Brussels' churches and cathedrals. Although a few charge a nominal fee for entrance, most of the city's churches are free or simply ask for a small donation.
Beautiful examples include:
This imposing cathedral is just steps from Grand Place. Its twin towers loom 64 metres (210 ft) over the small park below. On Sundays, there are often concerts given, featuring the cathedral's 49-bell carillon.
This towering Neo-Gothic church is near the Royal Palace of Laeken, the residence of the Belgian Royal Family. It was built by the infamous King Leopold to commemorate his wife, Queen Louise-Marie.
This 15-century church is found at the top of the popular Sablon Square (famous for its Belgian chocolate shops). The church is famous for two ornate Baroque chapels and its ties to the Ommegang festival and the Crossbow Guild.
This stunning Art Deco church dominates the neighbourhood of Koekelberg. Some find the interior austere, but it's one of my favourite churches in Brussels. The modern stained-glass windows are stunning.
For a small fee, you can take the elevator to the top of the Basilica's dome for an unprecedented view of the city.
4. Justice for all at the Palais du Justice
It may be a controversial sight in the city, but Brussels' Palace of Justice is one of the free things in Brussels you can explore on your own (at least those areas open to the public). Bigger than St. Peter's Basilica in Rome, this giant building towers over the Marolles neighbourhood below.
Beside the Palace of Justice, is one of the best free views of Brussels at Place Poelaert, named after the building's architect.
5. Mingle with royalty at the Royal Palace
Although the Royal Palace of Brussels is only open to the public during the summer months, it is one of the top free things to do in Brussels during the peak tourist season.
Although only part of the palace is open to the public, you can walk through many of the staterooms and suites on a free self-guided tour. The Royal family demonstrate their support for the arts with a different cultural exhibition each year.
6. Find peace at the Abbey de la Cambre
The former Cistercian abbey, Abbey de la Cambre, founded in the late 1100s, is now the headquarters of the Belgian National Geographic Institute and the visual arts school, La Cambre. You can freely visit the beautiful grounds and gardens as well as Notre Dame de la Cambre, the small abbey church.
7. Get militant at The Royal Museum of Armed Forces and of Military History
If you are interested in the history of the military and armed combat,  the Royal Museum of Armed Forces and of Military History is one of Brussels' free museums. Collections include exhibits from Medieval times to the European Forum of Contemporary Conflicts. You can see planes, tanks and all manner of weapons and uniforms from throughout history.
If you're looking for more free museums in Brussels, see #10 below.
8. Learn about the European Parliament in the heart of Europe
If you are interested in politics, you can tour the European Parliament's plenary chamber with a free audio guide, available in all 23 of the official EU languages. You can also visit another of Brussels museums free of charge, the Parlamentarium Visitor's Centre, where you can take an interactive journey through the European Union's member states.
9. Visit with Belgium's dearly departed at the Ixelles Cemetery
Walking through graveyards is not everyone's cup of tea, but the Ixelles Cemetery has some famous residents if you are up to a visit.
Art Nouveau architect, Victor Horta is buried here, and he also designed the tombs of sculptor Édouard Louis Geerts and chemist Ernest Solvay. Belgian chocolate master Frederic Neuhaus is also buried here, as are painter Antoine Wiertz and writer Camille Lemonnier.
10. Enjoy Free Museum Day Brussels
While many of Brussels' major museums charge entrance fees, if you are flexible with your dates, you can visit many of them for free on the first Wednesday or Sunday afternoon of the month. Participating museums include The Museum of Musical Instruments, The Magritte Museum, Cinquantenaire Museum (with its stunning Art Nouveau gallery), the Natural Science Museum (with its dinosaur collection), and many others.
[TIP: If you aren't able to make it to a museums' free day, you can still save money by purchasing the Brussels Card to save on admission costs and public transportation.]
Free Museums Brussels first Wednesday of the Month
MIM – Musical Instruments Museum (from 1pm)
Old Masters Museum (from 1pm)
Modern Museum (selection) (from 1pm)
Art & History Museum (from 1pm)
Fin-de-Siècle Museum (from 1pm)
War Heritage Institute – Royal Museum of the Armed Forces and of Military History (from 1pm)
Museum of the National Bank of Belgium (from 1pm)
Royal Museum of Fine Arts of Belgium (from 1pm)
Museum of Natural Sciences – Royal Belgian Institute of Natural Science (from 1pm)
Halle Gate (from 1pm)
ULB – Experimentarium Physics (from 2pm)
BELvue museum (from 2pm)
ARGOS – Centre for Art & Media (from opening until 9 pm)
Villa Empain – Boghossian Foundation (all day)
WIELS (all day)
Free Museums Brussels first Sunday of the Month
art et marges musée museum
Anderlecht Old Béguinage
Autrique House
Bibliotheca Wittockiana – Bookbindings and Book Arts Museum
Red Cloister Abbey Art Centre
experience.brussels
La Fonderie – Brussels Museum of Industry and Work
Erasmus House
Maurice Béjart House
Brussels Museum of the Mill and Food
Spontaneous Art Museum
Brussels City Museum
Museum of Costume and Lace
Toy Museum
Jewish Museum of Belgium
National Museum of the Resistance (1pm-4pm)
René Magritte Museum (strictly upon reservation via Facebook)
ULB – Museum of Medicine
Always Free Museums in Brussels
In addition to the free Brussels museums we've singled out above, believe it or not, there are dozens of museums that are always free in Brussels.  You can see a full list of free museums here.
This list just scratches the surface of the free activities in Brussels. The Brussels Capital Region Portal has a huge list of free activities, arranged by category, and incredibly, it's available in English. So get out there and enjoy the best (free) things to do Brussels has to offer!
For more great things to do in Brussels, visit our Brussels portal and check out more of our best Things to Do in Brussels series.
Need a place to stay in Brussels? Be sure to check out our  top 30 hotels in Brussels, Belgium, or if you're in a hurry, book hotels at the best possible rates below:

Latest posts by Alison Cornford-Matheson
(see all)
Read more from this series...