THIS POST MAY CONTAIN COMPENSATED LINKS. FIND MORE INFO IN MY
DISCLAIMER
.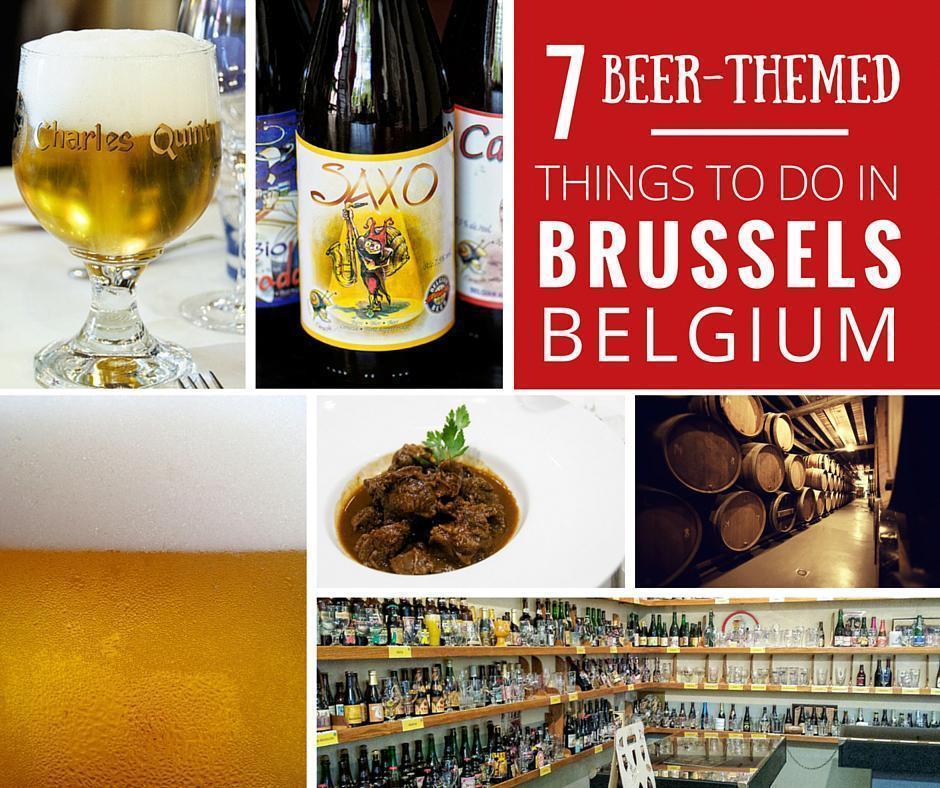 If there is one thing Belgium is known for, it is producing some of the world's best beer. To make the most of your next visit, we share 7 things to do in Brussels if you love Belgian beer.
Belgium boasts more than 160 breweries and produces the 7th  largest volume of beer in Europe. For a country of fewer than 11 million inhabitants, this is impressive. However, so many different beers make knowing where to start intimidating for visitors. I know, because I was overwhelmed too when we first moved to Belgium.
Brussels adds another layer of intimidation because the city is a warren of side streets and small shops. Knowing where to go to discover Belgian beer and whose opinions to trust takes time and experience. Even after 11 years in Belgium, I wouldn't say I'm an expert on Belgium or Belgian beer, but I am happy to share what I have learned.
To help cut through the feelings of intimidation, my fellow beer lovers, here are my seven recommendations for things to do in Brussels to maximise your beer tasting time in the city.
1. Visit a Belgian beer bar
There are many choices to quench your thirst for beer in Belgium's capital, but there are only a few establishments providing a broad range of options. I always recommend a trip to Moeder Lambic Fontainas (Fontainasplein 8 – open every day from 11 am) to anyone travelling to Brussels. They have an ever-changing list of beer on tap, guest beer from around the world, and ample comfortable seating.
I also highly recommend the Bier Circus (Rue de l'Enseignement 57 – closed Sundays and Mondays), tucked into the streets behind the Belgian Parliament. They offer a wide variety of bottled beer with a menu to help you make your choice. You can't go wrong with either of these bars.
For more beer bar recommendations, check out my Top 5 Belgian Beer Bars in Brussels.
2. Tour a Belgian brewery
Brussels used to be home to a variety of breweries but today there is only a handful. Only one offers regular tours: Cantillon. Cantillon (Rue Gheude 56 – closed Sundays and Wednesdays) is a unique brewery because they are the only brewery in Brussels still producing a particular type of beer, Lambic. Natural airborne yeasts specific to this part of Belgium, are used in the Lambic fermentation process resulting in an ale that is quite sour. Lambic of various ages are then blended to produce Gueuze. Touring Cantillon and tasting their beer is like stepping back in time. It's definitely a great way to understand Belgian beer making history.
For a more modern brewery, check out the Brussels Beer Project (Rue Dansaert 188 – Thursday & Friday 2-10pm). An innovative team started the Brussels Beer Project, in 2013, leaning on crowdfunding to get their business up and running. This craft beer experiment aims to test 20 new recipes a year and isn't afraid to try something new. I wonder if they would be interested in collaborating on a Spruce beer?
For more brewery tour ideas around Belgium, check out my Brewery Tours in Belgium for Individuals.
3. Go back in time at the beer museum
There is a beer museum on Grand Place, but it doesn't compare to the collection at the Schaarbeek Beer Museum. The Schaarbeek Beer Museum (Avenue Louis Bertrand 33-35 – only open Wednesday and Saturday afternoons from 2-6pm) features over 1000 bottles from existing and defunct breweries, many of which are accompanied by their companion glass (having the proper beer glass is required in Belgium). There are plenty of other pieces, including a variety of machines used to make beer, vintage pub and beer signs, and a range of other historic documents and materials from Belgium's beer making past.
4. Eat a meal  with Belgian beer
Beer isn't just for drinking; it is often used in cooking and is a key ingredient in one of Belgium's most famous dishes. Stoofvlees (Flemish) or carbonnade de boeuf (French) is a rich beef stew with a sauce made from beer, bread, mustard and spices. No two chefs use the same beer in their stew, but it is typically a darker brown beer. Of course, stoofvlees is served with Belgia fries. Our favourite in Brussels can be found at Café Novo, just up the hill from Manneken Pis. Delish!
For more beer inspired meal options, check out Restobières (32 Rue des Renards – closed Monday-Wednesday), a bustling bistro near Place du Jeu de Balle. Or try In 't Spinnekopke (1 Place du Jardin aux Fleurs – closed Sunday), the restaurant of one of Belgium's best beer-chefs, Jean Rodriguez. When it comes to cooking with beer, Rodriguez officially wrote the book: Cuisine Facile à la Bière (sadly, no longer in print).
5. Buy some Belgian beer (for further tasting, of course)
Sometimes you just can't drink all the beer you want in one sitting. If you find yourself running out of time at the bars, or you are planning a picnic, step into a beer store and buy some beer to go. Of course, you can buy beer at any supermarket in Belgium, but they don't typically have a large selection (although many do carry a number of the Trappist beers).
In Brussels, there are a few shops right off Grand Place, but go a bit deeper and you'll find Delices et Caprices (Rue des Bouchers 68 – closed Tuesday & Wednesday), a Belgian beer tasting shop. Here, the owner, Pierre Zuber, introduces shoppers to the variety of beer available in Belgium. Have a drink on site, book a tasting session, or buy a few to take away.
Alternatively, check out Beer Mania (Chaussee de Wavre 174-176, near the European Parliament) for an excellent selection of Belgian beer. They also have an online shop so you can order even while you're at a bar sampling!
For more tips, read my article on Where to Buy Beer in Brussels.
6. Get festive at a Belgian beer festival
With over 160 breweries, it is no surprise Belgium is home to some of the biggest beer festivals in the world. One of the highlights of the year is the Belgian Beer Weekend (Sept 2-4, 2016) held in Brussels' Grand Place and the surrounding streets. With more than 50 breweries represented, this is an excellent way to sample a variety of beer in one of the prettiest town squares in Europe. The weekend also includes a variety of other events, such as the consecration of the beer, induction of new members into the Knighthood of the Brewers' Mashstaff, and a number of parades. It is a colourful event and one every beer lover should try to attend once in their life.
For more Belgian beer festivals, check out my Top 10 Beer Festivals in Belgium.
7. Take a Belgian beer bus
A new tour offered since we set out on our motorhome adventure, the Brussels Beer Bus looks like a fun way to explore the city and taste a variety of beer. The Brussels Beer Bus takes their guests, in a vintage 1960's bus, through city centre and EU quarter, while offering at least 4 Brussels beers. A tour also includes a visit to the Brussels Beer Project, admission to the Beer Museum, and a local guide. Although I've not tried it, this does look like a fantastic way to meet people, taste great beer, and learn about the city.
Want even more beer tour options? Check out the available Brussels Beer Tours from local guides:
Brussels is an amazing place to experience the best of Belgian beer. The above recommendations only scratch the surface of the beer culture in Brussels, but it will get you started. Check out our Guide to Belgian Beer and Breweries for even more information. Also, consider ordering a copy of our book, A Foodie Guide to Brussels, to go beyond beer in this incredibly diverse city.
Now it's your turn. What's your favourite Belgian beer? Share your thoughts in the comments below and I'll let you know if I've tried it!
Read more from this series...