THIS POST MAY CONTAIN COMPENSATED LINKS. FIND MORE INFO IN MY
DISCLAIMER
.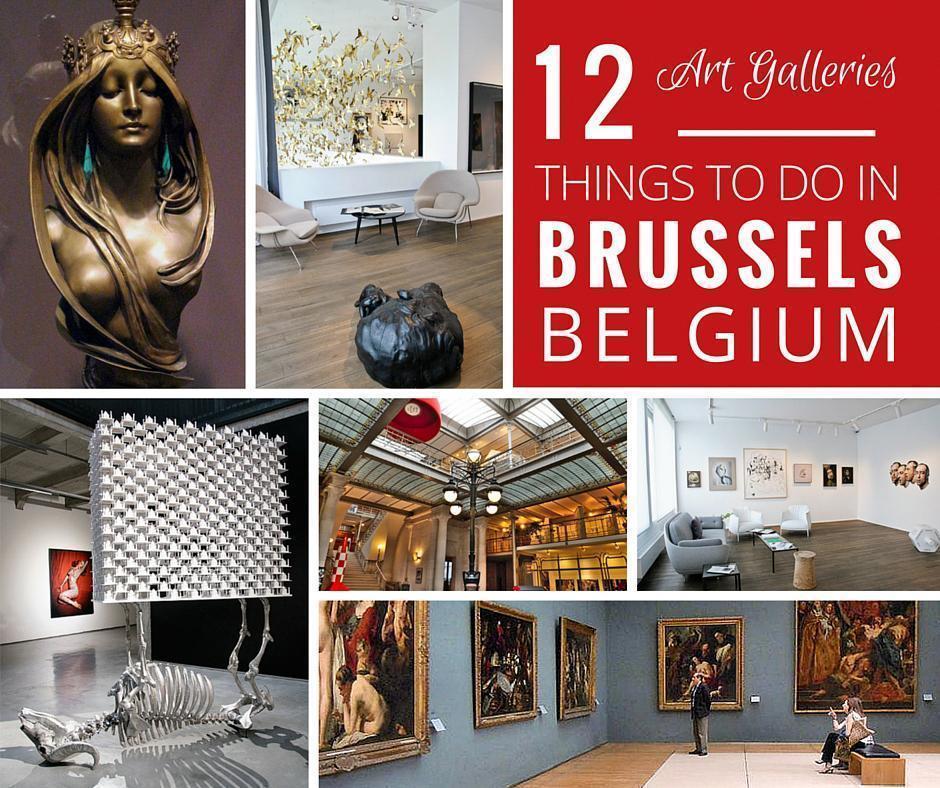 Art enthusiasts will find plenty of things to do in Brussels, Belgium. We share our list of the 12 best museums, galleries, and events for art-lovers in Brussels.
Last week, to kick off our series on things to do in Brussels we shared our favourite museums. Because there are SO MANY, we decided to give art museums and galleries in Brussels their own post. Today we're rounding up our 12 favourite art-related things to do in Brussels.
1. Royal Museums of Fine Arts
The Royal Museums of Fine Arts is a collection of six museums (the Musée Old Masters Museum, the Musée Modern Museum, the Musée Wiertz Museum, the Musée Meunier Museum, the Musée Magritte Museum and the new Musée Fin-de-Siècle Museum) comprising more than 20,000 works of art. Each museum focuses on a different era in the art world, and each is worth visiting in its own right. (We've listed our favourites in detail below.)
The bulk of the collection is housed in the Musée des Beaux-Arts building on Rue de la Régence. Here you'll find the Old Masters, Modern Art, and the new Fin-de-Siècle Museums under one roof. You could easily spend a day exploring the entire collection, but if you have the time, I think it's more enjoyable to focus on one area at a time.
Admission is €8 for each museum or buy a combi-ticket for €13. You can also wait for the 1st Wednesday of the month when admission is free. (Musée Wiertz Museum and Musée Meunier Museum are always free of charge.)
2. Musée Magritte Museum
To truly understand the Belgian psyche you must understand surrealism. No other Belgian artist put his stamp on surrealism more than René Magritte. Magritte's work is inescapable in Belgium, and you'll see references to his bowler hats, umbrellas, and green apples everywhere. To understand what it's all about, a visit to the Musée Magritte Museum is a must.
This award-winning, interactive museum contains more than 200 of Magritte's works and walks you through his life, influences, and inspirations. The audio-guide, available in multiple languages, tells the story through Magritte's own words as well as the voices of those close to him. It's an enlightening look at Belgian surrealism and a good way to understand this tiny, confusing country. Read more about the Museé Magritte Museum.
3. Fin-de-Siècle Museum
The newest in the Royal Museums' collection is the Fin-de-Siècle Museum highlighting one of Belgium's golden ages of art and design. The Art Nouveau period put Brussels on the map as an innovative centre for art and creativity. The highlight of the Fin-de-Siècle Museum, for me, is the Gillion Crowet Collection, containing over 230 works of Art Nouveau from artists like Horta and Mucha. If you want to learn more about Art Nouveau in Brussels, this museum is the perfect starting point.
4. Bozar Centre for Fine Arts
Just a few steps from the Beaux-Arts Museum, you'll find Bozar. (They are pronounced the same way so be careful when someone tells you they'll meet you at Bozar… or was that Beaux-Arts?) Bozar is Brussels home for art of all kinds from visual art like painting and sculpture to dance, music, cinema, literature and more. If it involves creativity, you'll find it at Bozar. What makes this museum so interesting is everything is temporary. Exhibitions come and go, and the museum is always in flux. Every time you visit there is something different to experience.
Bozar hosts a number of recurring expos like the Summer of Photography and Europalia as well as international events like TED Talks and prestigious guest speakers like his Holiness the Dalai Lama. Concerts range from Baroque choirs to Taiwanese procession groups, and you can see classical ballet or Bollywood on any given week. There is truly something for everyone.
5. Museum of Ixelles
The museums listed above are all massive, not to mention popular during peak tourist season. If you want to get off the beaten path and still see world-class art, head to the Museum of Ixelles. The museum is located in one of Brussels' trendiest neighbourhoods and houses an impressive collection of more than 10,000 works from the 16th-century to Contemporary pieces. The impressionist and surrealist collections are particularly impressive.
The Museum of Ixelles also has an astounding collection of posters from the Belle Epoch, including the entire collection of lithographs by Toulouse-Lautrec. If you enjoy Art Nouveau or graphic art make sure the Musée d'Ixelles is on your list. Read more about the Museum of Ixelles.
6. Maison Particulière
There are dozens of Contemporary art galleries scattered all over Brussels from tiny one-room studios to vast collections. One of the best, however, is Maison Particulière in the Châtelain neighbourhood. This unique gallery in a private home is non-profit; that's right, nothing is for sale. The exhibitions are donated by art-lovers and collectors around a particular theme.
The works are exhibited in a comfortable, non-threatening manner that makes the sometimes unapproachable world of Contemporary Art feel downright cosy. Maison Particulière's exhibition space spans three floors and includes a lovely garden, a comfortable library and a striking glass elevator, making the entire space accessible. Read more about Maison Particulière.
7. Vanhaerents Art Collection
The Vanhaerents Art Collection is one family's private passion and is one of the most important Contemporary Art collections in Europe, if not the world. It is open to the public the first and third Saturday of every month, or you can inquire about a guided tour. The vast industrial space is the perfect backdrop to display the eye-catching Contemporary pieces. Like Maison Particulière, each exhibition follows a theme that lasts for two years. Currently, the theme is Man in the Mirror. This gallery is a hidden gem in Brussels. Read more about the Vanhaerents Art Collection.
8. Belgian Comic Strip Centre
Don't tell a Belgian that comic strips are not art. In fact, Belgium is home to many of the most influential comic artists of all time. Even if you aren't a comic-lover you'll know the likes of the Smurfs and Tin Tin. You'll find them and many others at the Belgian Comic Strip Centre. The museum traces the history of comic art from its beginnings to exhibitions on contemporary artists. There is a section dedicated to Belgian legend Hergé, of course, and many less widely-known comic heroes.
The building itself is worth the visit. It is an Art Nouveau masterpiece created by none other than Victor Horta. The Comic Strip Centre also has a lovely brasserie and an extensive comic book shop.
9. Brussels Wall Murals
If you're walking around central Brussels, don't forget to look up. More than 50 walls around the city are painted with colourful murals. Most of them are part of the Brussels Comic Strip Walk, an initiative started by the Belgian Comic Strip Centre in 1991. You can find Le Chat, Lucky Luke, Asterix, and of course, Tin Tin and Snowy. The Brussels Tourist Office can provide you with a map of the murals closest to Grand Place.
But there are more to Brussels murals than just comics. Keep your eyes open and you can see trompe l'oeil secret gardens, street scenes, and even some famous faces…
10. Subway Station Art
I'll be the first to admit, the Brussels metro isn't always the most inspiring place to be (especially having lived with the chaos of Art-Loi construction for seven years). However, each and every metro station in Brussels has its own unique art installation, and some of them are really worth seeking out. STIB (Brussels' public transportation network) has produced an excellent downloadable guide to metro station art, including information about all of the works and their artists. With metro tickets available for less than 2 euros, it's one of the cheapest ways to see art in Brussels, and it's also a great excuse to get off at those metro stations you always pass through and discover a different area of the city.
11. Open Gallery and Studio Events
Brussels is a real artist's city, but it can be difficult to discover new talent and emerging artists beyond the big names. That's why I love open studio events and visiting the small out-of-the-way galleries. Two of my favourite events are Brussels Gallery Weekend and Art 1030.
Brussels Gallery Weekend is exactly what it says on the tin; over a 4-day weekend in September, more than 30 Contemporary Art Galleries in Brussels open their doors to the public. Many of these are small galleries that are usually by appointment only. There are also art talks and networking events and the gallery weekend map is a great way to keep track of all of the small galleries around the city.
Even more than visiting galleries, I love meeting and talking to artists one-on-one. Art 1030 makes this possible in Brussels' Schaerbeek commune. While Ixelles might be known for its galleries, I think the best artists are located in Schaerbeek (although I may be biassed as I'm friends with a number of them.) With more than 230 artists participating, it's hard to argue with the concentration of creativity in the commune. The event lasts for two weekends, and the open houses are everything from cultural centres to private garages. It's festive, inviting, and lots of fun.
12. Brussels Art Fairs
It can feel as if there is an art fair every weekend in Brussels. This may be a bit of a stretch but they are relatively common and, like the galleries, span an entire range of eras, styles, and budgets. The big names include Art Brussels and the BRAFA Art Fair. Spot immerging talent at the Off Course Art Fair and the Young International Art Fair. You can even score a bargain at the Affordable Art Fair or the Accessible Art Fair.
Whether your artistic tastes run to the Old Masters or cutting edge Contemporary art, you can find it in Brussels. This list is by no means comprehensive as there are hundreds of tiny galleries and studios all around the city, with more popping up all the time. For a full list of museums in Brussels, including many art galleries, visit the Brussels Museums website. (Many of Brussels' museums are free on certain days. Read more about free things to do in Brussels here.)
Stay tuned for more in our series of things to do in Brussels; next up – our favourite city tours!
Latest posts by Alison Cornford-Matheson
(see all)
Read more from this series...
Things to do in Brussels: Top 12 Galleries, Museums, and Art Events