THIS POST MAY CONTAIN COMPENSATED LINKS. FIND MORE INFO IN MY
DISCLAIMER
.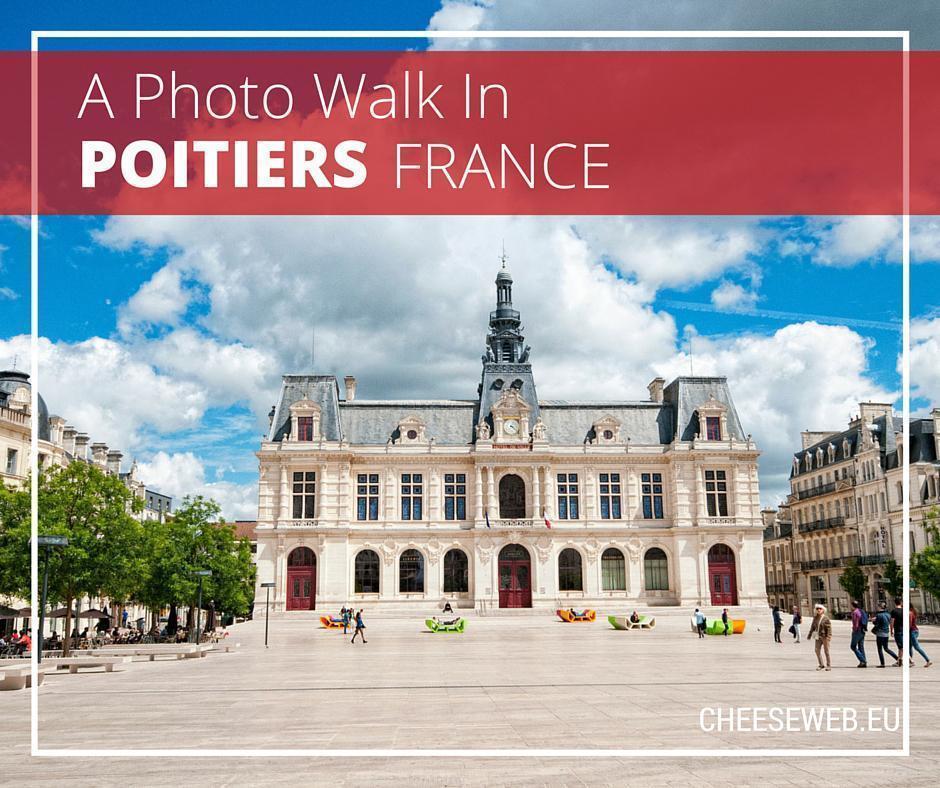 We take a guided walking tour through historic Poitiers, in Poitou-Charentes, France and share our favourite photos from our visit.
Despite our efforts to get off the beaten path, sometimes our travel isn't as slow as we'd like it to be. While travelling through Poitou-Charentes, France, we only had a few hours to discover the city of Poitiers and we could have spent much more time. However, the fact we finally visited Poitiers' historic centre was something in itself. We had passed through the outskirts of Poitiers on numerous occasions on our way to Aquitaine, even staying overnight at hotels just off the highway, but had never before ventured into the city. We'd been missing out.
To learn a bit about Poitier's history, we met with a local guide, Françoise d'Argenson, for a short walking tour of the city. This is what we saw in Poitiers:
1. Manneken Pis' Twin
While we all know about Brussels' famous statue of a peeing boy, we had no idea Manneken Pis has a twin who lives in France. Tucked away inside the Police headquarters in Poitier is a familiar face.
Manneken Pis' doppelganger was given to the people of Poitier as a thank you for their hospitality in 1940. In Fact, Poitier was the capital of Belgium for 26 days during the occupation of Brussels by the Germans and our favourite little statue commemorates this kind act.
Next door to the police station is the beautiful central post office. We couldn't help but admire its ornate façade.
2. Cure de Saint Porchaire
We visited several of Poitiers churches on our walk through the city, but I had a particular affinity for the cosy Cure de Saint Porchaire. The 11th-century bell tower seems out of place on the busy shopping street, but inside the Roman church, it is dark and tranquil. The atmosphere reminded me of Saint-Nicolas church another favourite of mine we discovered in Barfleur, Normandy.
3. Hotel de Ville
Poitier's town hall is a beautiful building on Place Marechal Leclerc. While we strolled by, citizens enjoyed the sunshine on the colourful benches provided in the wide open square. Around the plaza are plenty of shady terraces to enjoy a drink or a meal while people-watching.
4. Old City Walls
Hidden within the side streets of Poitiers is a layer-cake of history. In several locations, you can see the old city walls and foundations of old buildings worked into the fabric of the modern city.
5. Hôtel Jean Beaucé
I fell in love with the stunning Hôtel Jean Beaucé. Once a private home, this building with its tower staircase, is now split into high-end apartments. We didn't know it at the time, but apparently you can even rent one for a night on Air B&B
6. Palais de Justice de Poitiers
Unlike Brussels Palace of Justice, Poitiers' Justice Hall began life as an actual palace for the Counts of Poitou and Dukes of Aquitaine. The exterior resembles both a castle and a medieval church but inside the courthouse hearings still occur.
7. Church of Notre-Dame la Grande
Despite my affinity for the cosy Saint Porchaire church, the nearby Church of Notre-Dame la Grande was the most memorable of our walk through Poitiers. The ornately carved façade is striking, but it is the interior that is especially remarkable.
Almost every inch of the church is painted with colourful frescoes, including the columns and walls. The paintings are reminiscent of the Abbey of Saint-Savin-sur-Gartempe, but they are even more colourful.
8. Poitiers Cathedral
Our final stop was also a church, this time, the imposing Poitiers Cathedral. A combination of Romanesque and Gothic architecture, the cathedral's prettiest feature is its colourful stained-glass windows.
Although our visit to Poitiers was brief, we're glad we took the time to detour off the motorway to explore the city's historic centre. You can arrange your own guided tour of Poitiers through the tourist office or download one of the self-guided tours from their website.
Here's a rough outline of the route we took:

If you do plan to be in the area, Poitiers is a great day-trip from our favourite hotel in Poitou-Charentes, Les Orangeries.
We'd like to thank Françoise d'Argenson for a lovely and informative walking tour of Poitiers. Thanks also go to the Région Poitou-Charentes Tourism office for hosting us in the area. As always, all opinions are our own.
Latest posts by Alison Cornford-Matheson
(see all)