THIS POST MAY CONTAIN COMPENSATED LINKS. FIND MORE INFO IN MY
DISCLAIMER
.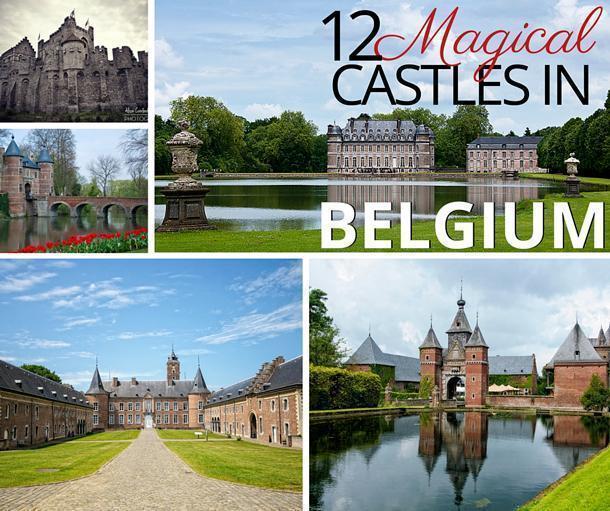 Belgium is a country known for its stunning architecture. If you're wondering where to find the best castles in Belgium to visit on your next day-trip, wonder no more. In this article, we share our top 12 most magical castles to visit in Flanders and Wallonia.
One of the things we loved most about our time in Belgium was visiting the many castles dotted around the country. It is said, Belgium has more castles per capita than France. We're not sure if this is true but we do know they are a lot less spread out and, therefore, easier to visit.
While we already have a detailed list and map of most of the castles, chateau, and fortifications around the country, today we wanted to share our favourite castle visits in Flanders and Wallonia, to inspire your own travels in Belgium.
Be sure to click on the links to learn more about each of the castles listed here and immerse yourself in many more photos.
Without further ado, here are our Top 12 castles in Belgium:
1. Gravensteen, East Flanders, Belgium
The Gravensteen Castle (Castle of the Counts), in the Flemish city of Ghent, has everything you would imagine in a medieval castle: strong stone fortifications, towers, a moat, and even a creepy torture museum inside!
2. Castle of Freÿr, Namur, Belgium
The grand Chateau de Freÿr stretches beside the Meuse River, in Wallonia's Namur province. Its French-style formal garden is best viewed from above, from the opposite side of the river, to fully appreciate its design.
3. Alden Biesen Castle, Limburg, Belgium
Alden Biesen Castle, in Limburg, Flanders, is the most romantic castle we've visited, with its sprawling rose garden and pretty turrets. You can learn all about the less-than-romantic history inside the small but well-maintained museum.
4. Groot-Bijgaarden Castle, Flemish Brabant, Belgium
Groot-Bijgaarden Castle wins the prize for the castle with the most beautiful spring garden in Belgium. (We think it rivals Keukenhof in the Netherlands.)
It also gets bonus points for being very close to Brussels, but sadly is only open to the public for a few weeks in the spring.
5. Gaasbeek Castle, Flemish Brabant, Belgium
Gaasbeek Castle is the ultimate fairy-tale castle. You can almost picture Prince Charming riding up to the gates on his white horse (and the savvy, badass Princess telling him to get lost because she's already slain the ogre. Wait? Is that just my fairy-tale…?)
Gaasbeek also has a museum and medicinal garden and makes a great day-trip from Brussels.
6. Château de Beloeil, Hainaut, Belgium
With its round turrets surrounded by water, Wallonia's Château de Beloeil is truly picturesque.
It was one of my favourite castles to photograph in Belgium and gets bonus points for its beautiful library.
7. Château de Modave, Liege, Belgium
The Château de Modave, in the province of Liege, wins the prize for interior design, especially at Christmastime. For the holidays, the rooms in the castle are decorated by different designers and visiting is a great way to get into the festive spirit.
8. Boetfort Castle, Flemish Brabant, Belgium
Boetfort is our pick for the best repurposing of a castle because it just happens to be home to our favourite spa in Belgium, Thermae Boetfort.
The main castle building is now the spa's restaurant. We bet you've never eaten in such luxurious surroundings – in your bathrobe.
9. Château de Waroux, Liege, Belgium
We love the Château de Waroux for its current use too. It's now a lovely little art gallery where we saw an excellent exhibition of works by Chagall. It is also unique architecturally, as it is built in a circle.
10. Commanderie Castle, Limburg, Belgium
The Kasteel De Commanderie in Flanders' Limburg province is one of the most stunning private homes we've had the honour of visiting.
The owners graciously hosted a Vrienden van de Smaak event making it one of the most atmospheric meals we've ever eaten.
11. Montaigle Castle, Namur, Belgium
Montaigle Castle, in the province of Namur, wins Andrew's pick for best castle ruins in Belgium. He loved climbing over the crumbling stone walls.
Hiking to the top also offers a great view over the surrounding landscape.
12. Annevoie Castle, Namur, Belgium
Last but not least, Annevoie Castle, near Dinant, wins our prize for the best (and strangest) event we've attended at a castle.
The Venetian Carnival festival, held at the chateau each spring, is a dazzling display of close to 100 authentic carnival costumes, straight from Venice, Italy, in the heart of Wallonia, Belgium.
These 12 castles are just a sample of the fascinating castles you can visit in Belgium. For even more Belgian castle goodness, check out our list and map of castles in Belgium.
Latest posts by Alison Cornford-Matheson
(see all)