THIS POST MAY CONTAIN COMPENSATED LINKS. FIND MORE INFO IN MY
DISCLAIMER
.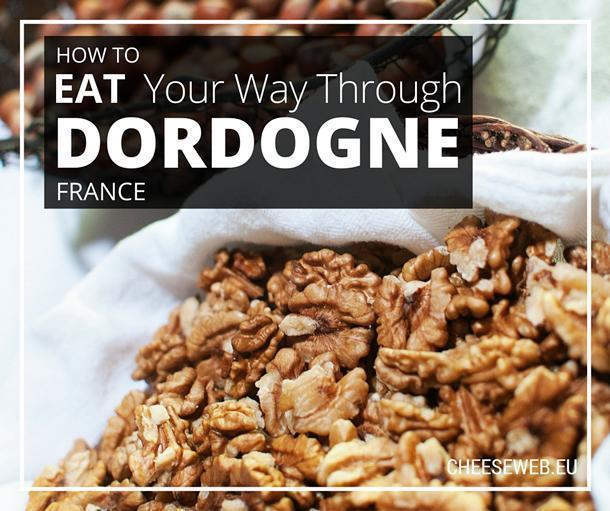 The Dordogne department of France might just be the tastiest French destination. Today we share how to eat your way through Dordogne's local specialties.
It's not hard to eat well in France, no matter what region you visit. However, with local specialties like foie gras, walnuts, and truffles, the department of Dordogne, in northern Aquitaine, takes gourmet French cuisine to a whole new level. During our week in the area, we discovered some fabulous foodie finds from traditional local favourites to unexpected delights. Read on to find out how to eat your way through Dordogne, France.
Thiviers Produce Market
A great place to begin your exploration of Dordogne's local produce is the Marché Alimentaire de Thiviers, every Saturday morning (and Tuesday mornings from June to September). The market stalls are brimming with colourful fruits and vegetables, freshly butchered meats, homemade sausages and pâtés, baked goods, and other seasonal delights.
Thiviers is known as the 'capital of Foie Gras in Perigord-Vert' and there are plenty of foie products to be found at the market. If you aren't able to visit Thiviers on market day, La Maison du Foie Gras, on the main square, sells a variety of foie gras products. It also contains a small museum dedicated to the tradition of foie gras making in the area.
La Maison Du Foie Gras
8 Place Maréchal Foch
24800 Thiviers
La Ferme de Turnac Foie Gras Farm
As a lover of foie gras, I've long been conflicted about the ethics of its production. I felt if I was going to continue to enjoy eating foie, I should, at least, see how it's made, first hand. We discovered a certified organic foie gras farm, called La Ferme du Turnac, near Domme, that was both open to the public for tours and part of the France Passion program for free overnight motorhome stays. Perfect!
The farm, owned by the Germain family, is part of France's Bienvenue a la Ferme program (which we'll be writing about soon). Farms in the program are open to the public for visits, shopping, and often meals or accommodations. We arrived at the farm late in the day, but just on time to be part of the final tour, led by Mme. Germain, herself.
It was clear to see, right from the start, Mme. Germain loves her geese. They are fat, happy, and have beautiful surroundings in which to live their lives. The geese roam free on large grassy lawns, shaded by walnut trees. The trees are fertilised by the geese and the farm also produces walnut oil – the ultimate in symbiotic agriculture. This is definitely not a factory farm situation.
But the controversy around foie gras is not about how the geese are raised (although I believe this should be the question for raising all livestock) but how they are force fed at the end of their days. We watched the entire process. Is it pretty? No, it isn't. Do the geese seem to suffer from it? In this case, where it is done in a few seconds and by hand, I would say very little. However, after seeing this process on a small-scale, organic farm, where the farmers care about their animals, I certainly can't condone foie gras not made in this way. I can only imagine what industrial foie gras production looks like and I'm sure it's not pretty, as is the case of any industrial meat production.  I can guarantee the geese on the Turnac farm have a much nicer life than your typical grocery store chicken.
Our visit to the foie gras farm sparked a lot of conversation that evening about the ethics of animals as food in general and foie gras specifically. Although it was difficult to watch, it was important for me to see it firsthand so I could make an informed decision about this controversial product.
La Ferme de Turnac
Turnac
24250 Domme
La Chanteracoise Artisan Biscottier
One artisanal product without any controversy (unless you're gluten-intolerant) is biscuits and La Chanteracoise has been making biscotti-style baked goods in the Dordogne since the 1950s. The factory produces savoury and sweet biscuits, toasts, croutons, and provides the perfect crispy vehicles for transporting cheese, jam, and other goodies from your plate to your mouth.
On weekdays, you can do a free hour-long guided visit of the Biscottier with a tasting at the end.
La Chanteracois
"Le Pont"
24190 Saint-Germain-du-Salembre
Domaine Huso Neuvic Caviar
One product that certainly doesn't spring to mind when you think of Dordogne is caviar. However, the town of Neuvic has been home to caviar production since the 1980s. In 2011, Laurent Deverlanges joined this tradition and set up the sturgeon farm, Domaine Huso, at the confluence of the Isle and Vern rivers.
Huso's caviar is extremely high-end and the farm uses cutting-edge technology to care for its sturgeons. Visiting the farm is both a pastoral experience and a technological one. There are 4 huge tanks holding fish of different sizes. The quality of the water, food, and health of each fish is monitored to exacting standards.
But beyond the ponds and monitoring equipment are tranquil fields and a gaggle of farm animals from goats to ponies and even a friendly pig.
Groups and individuals can take a guided tour of the farm and finish with a tasting of Neuvic caviar for a fee.
Domaine Huso
La Grande Veyssière
24190 Neuvic
Moulin de la Veyssière Nut Oil Mill
Of all of the farms and local production facilities we visited in Dordogne, the tiny Moulin de la Veyssière was my favourite. Almost next door to Domaine Huso, this ancient nut oil mill is perfectly picturesque. Inside, not much has changed since it was constructed in 1637. The mill has been in the Elias family for a whopping 7 generations and the nut oils and flours are produced with the same care today as they have been for hundreds of years.
Arriving at the mill, we were greeted by the current generation of Eliases, Christine, who showed us how the nuts are pressed and turned into oil and flour using the ancient mill. It's a lot of work to press nuts in this way, but the proof is in the pudding or, in this case, the oils.
After our tour, Christine led us to the shop and tasting room for some samples. The walnut and hazelnut oils were bursting with flavour. There was absolutely no comparison to the store-bought nut oils we've tried. In addition to the oils made at the mill, the little gourmet shop is stocked with other local products made from walnuts. Andrew couldn't resist the walnut beer and we both enjoyed the local tipple 'Noyer' a fortified wine made from nuts. I even snagged some pasta made from nut flour.
You can visit the Moulin de la Veyssière and its wonderful little shop every afternoon except on Sunday. Benefit from a free tasting and buy lots of wonderful local nut products to take home with you.
Moulin de la Veyssière
la petite Veyssiere
24190 Neuvic Sur l'Isle
Château Feely Biodynamic Wines
Of course, we can't talk about local food specialties in France without discussing the best regional wines. We had an excellent afternoon of tasting the biodynamic wines at Château Feely in Saussignac. Read all about our experience at Château Feely here.
Château Feely
Haut Garrigue
24240 Saussignac, France
Chateau les Merles Restaurant
While we love buying local products direct from the producers and learning how they are made, sometimes we want to see how a master puts them all together. To learn more about Dordogne's local cuisine we headed to Chateau les Merles, a prestigious restaurant, hotel, and golf resort, and spoke with Dutch Chef Bas Holten.
Chef Holten grows his own vegetables in the restaurant's organic garden and takes advantage of the regional, seasonal produce. He explained to us how the Dordogne is perfectly situated for an abundance of fresh produce, meat, and river fish. Even seafood only has to come from Bordeaux, a mere hour and a half away. This abundance allows the chef the ultimate freedom to create exquisite dishes from entirely local products year-round.
Château les Merles
Tuilières
F-24520 Mouleydier
Domaine de la Rhonie
Eating your way through Dordogne is exhausting, so you're going to need a place to stay. One option is the stunning gite at Château Feely another alternative is the incredibly rural Domaine de la Rhonie. This beautiful rambling farmhouse is many things: a gite, a restaurant, a historic area, a nature preserve, and a working farm. Marie Rose showed us around the farm that has been in her family for 9 generations.
The domain is EcoLable certified, since 2012, and walking the property with Marie Rose we could see why she wants to keep this site pristine. The abundance of wildflowers, wildlife, and natural beauty is exceptional. In addition, dotted throughout the site are a number of historic buildings, including 12 stone cabins in various states of restoration. In fact, helping to restore these buildings using traditional methods is one of the many activities guests can participate in at the domain.
As a working farm, Domaine de la Rhonie produces a number of regional specialties including foie gras, walnuts, chestnuts, jams and preserves, and nut oil. All of these can be purchased to take home, or enjoy a farm to table experience at the onsite restaurant.
Domaine de la Rhonie
Lieu-dit Boyer
24220 Meyrals
We've barely scratched the surface of the abundance of excellent local produce available in the Dordogne department of France, but we think it's more than enough to tempt you to go eat your own way around Dordogne.
We'd like to thank the many foodies we met along the way who shared their passion for Dordogne and its local products with us. We'd also like to thank the Comité Départemental du Tourisme Dordogne for hosting us in the area. As always, all opinions are our own.
Latest posts by Alison Cornford-Matheson
(see all)