THIS POST MAY CONTAIN COMPENSATED LINKS. FIND MORE INFO IN MY
DISCLAIMER
.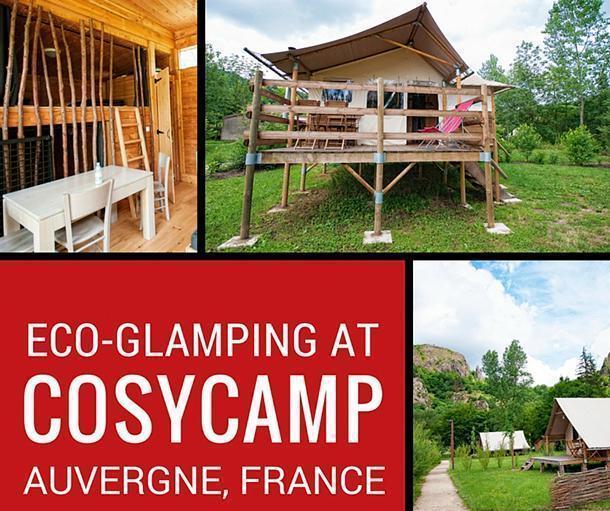 Camping in Auvergne, France is glamorous and sustainable at CosyCamp, a Nattitude-designated campground on the Loire River.
The final stop on our explorations of unique, sustainable accommodation, with Auvergne's Nattitude designation, was truly special. We've heard a lot about 'glamping' (glamorous camping) over the past few years, but we had never tried it for ourselves. Now we think our motorhome, Amelia, is pretty glamorous and some of the locations we parked in France and Spain were breath-taking but the few campgrounds we stayed in during our travels were mostly unremarkable – until we arrived at CosyCamp.
To wrap your head around what CosyCamp is, you have to understand a bit about what 'camping' means in France. Our months travelling by motorhome were an education in the French-style of camping. Coming from Canada, when we think of a campground we picture a park for tents, trailers, and motorhomes with varying levels of services. There may be cabins or other accommodations nearby, but that's certainly not a given.
While flipping through camping guides in France, we were surprised to discover this concept turned on its head. Many of the campgrounds listed offered accommodations in cabins or rental trailers but had no spaces for motorhomes or even tents. We're not sure if this is because the infrastructure for over-night stops for motorhomes is so good in France (we'll be discussing this in detail in a future article) or if there are simply more people who prefer not to own their own camping-car (the French term for motorhome.) Whatever the case, these rental accommodations vary in style and luxury and CosyCamp is unique, sustainable, and definitely luxurious.
CosyCamp's setting is spectacular. In fact, the drive along the Loire River to reach it was one of our favourites during our travels through France. When we think of the Loire, we picture the chateaux of the Loire Valley. We didn't picture it coming this far southeast, but, as the longest river in France, it does. In Auvergne, the Loire meanders through deep basalt gorges and forests and the occasional small village. CosyCamp is tucked away at the bottom of a huge cliff outside the village of Chamalières-sur-Loire.
Arriving at CosyCamp, we discovered a campground the likes of which we had never seen before. Pulling up to the gate we saw what looked like a safari village straight out of a storybook. There were no cars permitted on the site and we couldn't see any other motorhomes.
We walked into the reception building and met the owners, Richard and Sofie, who welcomed us warmly and pointed us in the right direction. Luckily for us, and Amelia, there are a few lovely spaces reserved for motorhomes, right down beside the river. We settled in for a week – our longest stay in one place in almost two months after leaving Brussels.
After we settled in, we returned to the main building to meet with Richard. He told us the story of how CosyCamp came to be and, as is often the case; the truth was stranger than fiction. For 14 years, Richard had worked for Dupont, the paint manufacturing company. When they parted ways, Richard devised a plan to start his own company selling products no longer supported by Dupont. Although the project was sound, when Richard presented it to the local chamber of commerce he was met with looks of boredom and asked if he had any other ideas.
Richard did have another grain of an idea for a sustainable, high-end campground, set in a beautiful, natural location. Immediately, his interviewer perked up, told Richard to refine his idea and return in a few days. Little did Richard know, the town council was already sitting on a property begging for redevelopment – a former municipal campground in need of some TLC. When Richard returned with his plan, he was faced with the entire town council, including the mayor.  A deal was struck, in which Richard and Sofie would lease the land and the buildings from the local government. The government would provide funds towards the restoration project and, at the end of the lease, the land and original buildings would revert back to the government. It's an interesting partnership giving Richard and Sofie the freedom to focus on their business, a bit like we saw at L'Instants Absolu Eco-Lodge.
Having the freedom to focus on the business allowed Richard and Sofie to create something magical. Richard led us on a tour of CosyCamp and we were able to discover all of its Glamping glory. The heart of CosyCamp is the natural environment so the focus is on sustainability. Other than the buildings that already existed on the site, CosyCamp's accommodations are made of untreated wood and canvas and are completely removable. Rainwater collection and composting maintain the many gardens throughout the campground and no chemicals are used. CosyCamp works with local ecological groups to sustain local plant and bird species and, as a result, the entire space is a riot of colourful flora and the air is filled with birdsong. CosyCamp also focuses on inclusion and the site is fully accessible to people with reduced mobility, from the swimming pool to the shower blocks to the tents.
But after wandering through these canvas tents of all shapes and sizes, we were ready to peek inside. What we saw was unlike any tenting experience we've ever had. In fact, they are enough to make me break my vow to never sleep in a tent again!
At the most modest end (and we're using the term modest loosely) is the Amazon Tent. At 20m², it sleeps 5 and has a fridge, microwave, cooker, coffee-maker – and this is 'roughing it' at CosyCamp.
The tents only get larger and more glamorous from there. You can choose the Robinson Tent, perched in the trees, with a kitchen equipped with hot water and a full bathroom and shower. Or there's the Canadian Tent, with two bedrooms and a huge terrace – We've never camped in this much style in Canada…
The Hut is a two-bedroom tent on stilts that begins to make the transition to an actual cabin.
The Lodge Cabin takes this one step further with heating and insulation.
One of my favourites is The Treehouse. Who could resist this wooden cabin with a bird's-eye view?
For the ultimate in luxury, you can opt for the Cottage. With two full bedrooms and a dining room, living room, and kitchen; I was ready to move in and stay – forever.
If I could run away with one of CosyCamp's 'properties' though, it would be the Gypsy Caravan. If it had a gas stove, I'd move in tomorrow.
When we visited CosyCamp it was still the off-season and although there were a few families enjoying the calm, it was still fairly quiet and many of the summer's full schedule of activities hadn't yet kicked off. This was fine for us as we were enjoying the time to catch up on work and relax. We enjoyed a few nights of home-cooked meals from the CosyCamp kitchen – by far the best campground food we've had. Even our pizza was topped with locally made cheeses. Heaven.
What is most special about CosyCamp, however, is the feeling of community Richard and Sofie have created here. Many of their clients return year after year. We can see why. After only a few hours on site, we already felt like we belonged. No request ever felt like an imposition and in fact, most things were offered before we even knew we wanted them. This was four-star service with a real feeling of family.
In fact, the only downside to our week at CosyCamp was that it rained. Every. Single. Day. We believe someone was telling us to stop moving and get some work done. We complied gladly. Between showers, we were able to enjoy dips in the gorgeous pool, walks through the gardens and bask in the stunning natural surroundings. All in all, CosyCamp was exactly the escape we needed from what turned out to be not-always-so-slow travel.
If you're looking for a truly unique, guilt-free holiday, surrounded by stunning natural beauty, book yourself a tent (or gypsy caravan) at CosyCamp. You'll love every minute of it – even if it rains.
CosyCamp
43800 Chamalières-sur-Loire
France
Latest posts by Alison Cornford-Matheson
(see all)