THIS POST MAY CONTAIN COMPENSATED LINKS. FIND MORE INFO IN MY
DISCLAIMER
.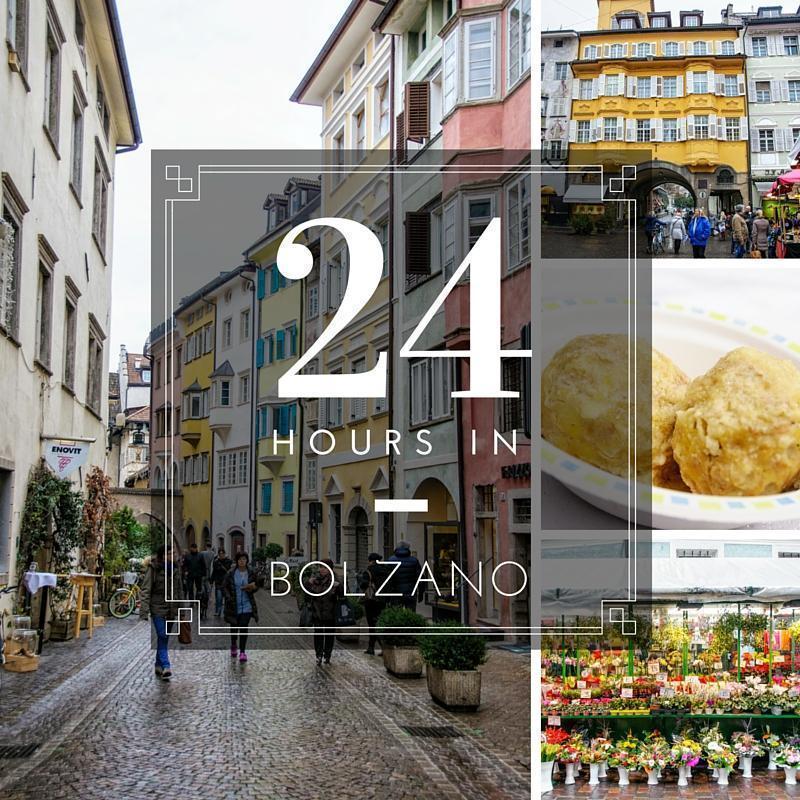 Could there be a better way to pass 24 hours in Bolzano, Italy, than exploring vibrant markets and colourful streets, and eating delicious South Tyrolean food? We think not.

Last spring, we explored the tiny, mountainous region of South Tyrol in northern Italy. To us, it was an undiscovered paradise with stunning landscapes, beautiful wines, and delicious local produce. Our short time in the area was enough for us to fall in love and vow to return to South Tyrol. We just had no idea our return would happen so soon.
When the folks at South Tyrol tourism, invited us to visit in December, we jumped at the chance, especially as we would be able to explore Bolzano, the region's capital city. We regretted not having time to visit Bolzano (Bozen in German) in the spring and, after reading Lee's excellent guest post, we were eager to check it out.
Let me begin by saying 24 hours is not enough time to see Bolzano. Unfortunately, it was all the time we had. Second, the weather was not kind to us when we visited. South Tyrol lays claim to 300 sunny days a year. We managed to find two of the 65 not so sunny ones, during our 3-day visit. Despite these setbacks, we loved Bolzano's colourful streets and bustling atmosphere.
Because we're now car-free, we weren't able to drive to South Tyrol, as we did last time. Instead, we flew to Venice, where we picked up a rental car to make the 2.5-hour drive to Bolzano. While getting around South Tyrol by public transportation is possible, you can't beat the flexibility of having your own vehicle to explore the countryside. (Just be prepared for some twisty mountain roads once you get off the highways!)
Classic Elegance at Hotel & Restaurant Laurin, Bolzano
Our first stop was the Hotel Laurin, our base for the first two nights of our stay. The Laurin is a grand old building in the heart of the city. In fact, it would be hard to be more conveniently located, just five minutes from the main Walther Square.
Our room was a spacious suite, with a large marble bathroom. It's definitely old-school, but comfortable and friendly. As it was a long day of travel, we were happy to relax and enjoy dinner in the hotel that evening – a definite treat.
We began in the hotel bar, which is a must-see. The walls and ceiling are entirely covered in art-nouveau murals by Bruno Goldschmitt. The rich leather sofas and chairs beside the roaring fire make it a favourite with locals as well as guests.
From there, we headed to the Restaurant Laurin where we enjoyed an upscale version of the South Tyrolean cuisine we had fallen in love with on our first visit.
Without hesitation, we both ordered dumplings to start: mine with cheese and local speck (bacon) and Andrew's with white truffle. Then we both moved on to beef in a chestnut crust, served with sweet potato. For dessert, I ordered (big surprise) the local cheese plate, while Andrew opted for a sweeter confection. We washed it all down with a local Lagrein wine. It was great to be back in South Tyrol!
The next morning we could barely take advantage of the extensive breakfast buffet. We had a light bite and caffeine before heading out to explore Bolzano.
Foodie Heaven at the Pur Südtirol Shop, Bolzano
One of my favourite finds on our previous visit was the Pur Südtirol shop in Bruneck, featuring the best of the region's local produce. When I heard there was a Pur in Bolzano and it was near our hotel, there was no keeping me away.
We restrained ourselves when we discovered the basement wine cellar, but I didn't escape without purchasing a few goodies to take back home with us.  (The following day we also visited the new Pur shop in Merano. I swear we only went inside to escape the rain and have a coffee. However, I was tempted…)
Hand-Crafted Gifts at the Bolzano Christmas Markets
The main reason for our visit in December was to visit the famous Bolzano Christmas Market. It had a lot to live up to, as we had been to the Christmas Market in Monchau, Germany, the day before, and it was our favourite holiday market so far (besides the Brussels Christmas Market of course.)
Despite the drizzle, we loved wandering through the 80 stalls of handcrafted goods from South Tyrol. There were many stalls with foodie treats, from candy to cheese to liqueurs, as well as decorative items featuring local woodcarving, wool, and glass.
The numerous stalls selling wool slippers seduced me. I held my ground until the following day when I succumbed to a deep red pair at the Christmas Market in Merano. (It's smaller but has the same calibre of regional products and is also well worth visiting.)
Of course, no Christmas Market is complete without some tasty street food. We're happy to report the cheese knödel (dumplings) and sausage were up to par.
In addition to the market on Walther Square, Bolzano is home to another Christmas Market. The Rassegna Mercato Artistico, or Artist's Market, founded in 1970, is the oldest Christmas Market in Italy.
The Artist's Market is held in front of the Town Hall in Piazza del Municipio and features 60 artists from South Tyrol and around Italy. The artists must be on hand themselves to sell their works, so it makes for an intimate atmosphere where you can find some truly unique gifts.
The Colourful Piazza delle Erbe Fruit and Vegetable Market
The Christmas Market isn't the only market in town, so if you visit Bolzano outside of December, never fear. Not far from Walther Square, through the colourful city streets, is Piazza delle Erbe.
Every day, except Saturday afternoons and Sundays, the piazza is home to a bustling fruit and vegetable market. Here you'll find fresh produce of all varieties, flowers, breads, nuts, and spices.
It's not only the vivid produce making Bolzano a colourful city. Make time to walk the streets of the centre and take in the multi-coloured architecture. Even in the drab and dreary weather we experienced, the streets were vibrant and full of character.
South Tyrolean Cuisine at Vogele Restaurant
While we loved the fine cuisine at the Restaurant Laurin, it was the hearty, traditional, South Tyrolean dishes we fell in love with on our first visit. We were eager to find those dishes again, so we headed to the Vogele Restaurant in the heart of Bolzano. We weren't disappointed.
Vogele is a rabbit warren of rooms, seemingly tacked together haphazardly. The individual rooms make for a cosy dining atmosphere, despite the packed tables on the night we visited.
Vogele is exactly what we were looking for – the best of South Tyrol's local produce featured in the traditional recipes of the region. The serving sizes are especially generous so be warned.
Andrew's first course of tagliatelle with venison ragu would have been plenty for a main course for me. I wisely went straight to the main course (although I did snag a few bites of Andrew's starter… to be helpful of course.)
I chose a meltingly tender goulash, served with knödel (my second of the day, for research purposes). Andrew stuck with venison; this time served in a rich wine sauce, with polenta. Both were hearty, deceptively simple dishes, executed perfectly.
There was not even a smidgen of room left for dessert.
For More Information on Bolzano
Our 24 hours in Bolzano was a mere taste of the city that left us wanting more. We hadn't the time to visit any of the city's museums, attractions, or the nearby castles. We did, however, have more adventures in South Tyrol, which we'll share with you in our upcoming articles.
For a more comprehensive look at the city, be sure to read Exploring Bolzano, by our guest writer Lee. Lee and her husband are American expats who lived and worked in Bolzano for several years. (If you're planning a trip to Bolzano, we also highly recommend Lee's book, Life on a Gelato Diet: Everyday Expeditions with an American in Bolzano, Italy
)
We wouldn't be able to do what we do without the generous support of our sponsors. We'd like to extend a huge thank you to South Tyrol for inviting us to explore Bolzano and allowing us to express our honest opinions about South Tyrol. As always, if we don't recommend a destination, you won't see it here on CheeseWeb.
Latest posts by Alison Cornford-Matheson
(see all)
Read more from this series...
24 hours in Bolzano, South Tyrol, Italy