THIS POST MAY CONTAIN COMPENSATED LINKS. FIND MORE INFO IN MY
DISCLAIMER
.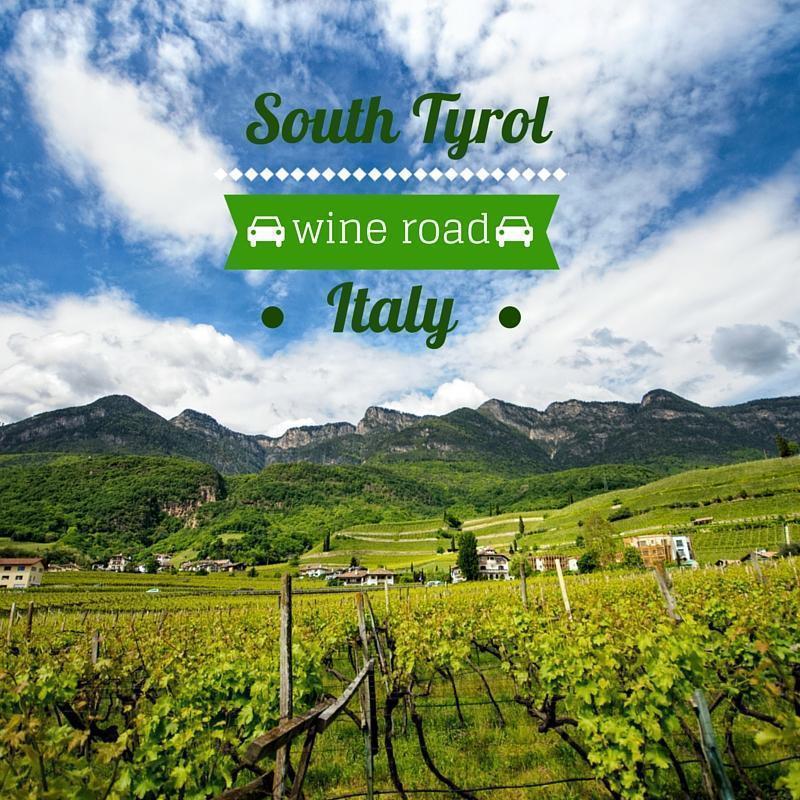 One of our most incredible road trip adventures in Europe took us to South Tyrol in Northern Italy. This is the first half of our story.
It was foggy. So foggy we could hardly see the road in front of us. I was seriously questioning our decision to drive to Italy in one day.
After all, we could have flown into Bolzano and picked up a rental car. It would have been more expensive but we'd be in South Tyrol by lunch time. But it wasn't just our budget that had us up before the sun, packing our car with suitcases and picnic food. We both love a good road-trip.
Our adventure in South Tyrol was to be one of our best weekend road-trip getaways yet.
In fact, driving to Northern Italy is quicker than you might think. Google Maps set our destination in South Tyrol at just 9 hours. We knew with pit stops, road construction, and traffic jams, it would be longer. Still, the 11 hours it took us, door to door, was shorter than many of our trips to France.
The fog burned off by the time we hit Germany. As we zipped Southeast on the autobahn, the scenery became prettier too.
Reaching the Austrian border, things slowed significantly as, single-file, we switch-backed through the Fern Pass. We didn't mind stopping to enjoy the view, as the scenery became more and more dramatic.
Crossing through Austria, into Italy via the Brenner Pass, we emerged into the stunning South Tyrol region. It didn't take long to reach Eppan (or Appiano in Italian), our home for the next two nights.
When I learned we'd be staying at a winery, I had visions of a rural hideaway, surrounded by nothing but vines. I was a bit surprised when we pulled into the lovely village of St. Michael. But the villages in this part of South Tyrol have a unique characteristic. The majority of people here, instead of having green, grassy lawns, have vineyards.
In fact, there is hardly a meter of empty land here. Every centimeter is packed with vines or apple trees and it looks beautiful!
After seriously confusing our GPS, we pulled into the vine-lined driveway of the Wolfganghof, where we were greeted by the young and passionate owners, Wolfgang and Elisabeth. As previously mentioned, I had some preconceived ideas about what a farm-stay would be like. Let's just say they were shattered as we walked through the door of the apartment.
After settling in, to our gorgeous accommodations, Wolfgang gave us a tour of his vineyard. He co-owns both the vineyard and apple orchard, with his father, who lives next door. Wolfgang has lived in this corner of the world his entire life and his passion for the land and what he grows on it is infectious.
We loved learning how wine is grown in this part of South Tyrol and how Wolfgang's own vineyard and orchard has grown and changed over the years. (Andrew has some video in store for you so stay tuned).
But all of that driving had made us peckish and we were eager to sample some of the local delicacies. As luck would have it, Elisabeth's family run a farm bar (a local pub-style restaurant) a few villages over and I was ready to try the dumplings I had been hearing so much about.
We squeezed our car through the gate of the Speckkeller Restaurant and stepped inside, and back in time. The building dates from 1600 and it doesn't look like it has changed much since then. Despite a few curious looks from the locals, we were ready to tuck into some Tyrolean specialities.
After some quick menu translations from the youngest member on staff, we settled on a trio of dumplings for me and goulash and polenta for Andrew, washed down with a local red wine.
This meal started two trends for our South Tyrol adventure (three if you include mass consumption of the local grapes). First, we spoke with a lot of young people. Most people of our generation and younger have a decent grasp of English in these parts, (although it comes in as language number 4, after the regional dialect of German, standard German, and Italian.) And while many will insist their English isn't good, it is infinitely better than our German and Italian abilities. With older folks, English is not widely spoken and a lot of youngsters were hauled away from their homework to translate for us. It was actually fun for us to get this younger perspective, old fogies that we are.
The second trend, for me anyway, was dumpling sampling. The dumplings at Speckkeller were the first of three tastings – each different and each wonderful.
To start, we were treated to a plate of the local charcuterie (speck, in these parts.) It was delicious, as were our mains. Tyrolean food isn't especially pretty to look at, but it is heavenly to taste.  Not to mention filling. Those three little dumplings may not look like much, but I was so full I had to share with Andrew!
Needless to say, after our 11-hour drive, introduction to the vineyards, and heavy dinner, we slept like logs, in our quiet, cave-like apartment.
We woke early, refreshed and ready to tackle the South Tyrolean Wine Road. But first we needed a good base in our stomachs and that base arrived in a picnic basket, delivered by Wolfgang.
In addition to the beautiful local meats and cheeses, we had fresh baked bread and homemade jams from Elisabeth. We washed it all down with coffee and fresh apple juice from Wolfgang's orchard. Yes, we could get used to this!
Our first stop was Kaltern or Caldaro in Italian, as like in Belgium, places in South Tyrol have names in two languages. We stopped at the tourist office to pick up our wine passes. These gave us free access to public transportation as well as access to wine tastings and other scheduled events. They are available for 3 or 7 days. As we only had one day to use them, we weren't able to make the most of ours, but it would be perfect for someone staying in the area who doesn't enjoy driving as much as we do.
After a wander around story-book pretty Kaltern, and a cappuccino pick-me-up on the square, we decided we needed to get up – really up.
In addition to public buses, our wine passes also include several gondolas and the Mendola funicular railway. We boarded the little train that took us up the 850m Mendola Pass, for this stunning view of the valley below.
After a little wander at the top, we were both ready to hit the Wine Road and taste the results of all of the vineyards we had been passing. The South Tyrolean Wine Road is actually a series of roads through the heart of the wine valley, stretching in both directions from our base in Eppan.
The only snag in our tasting plan was it was now lunchtime, and most of the wine shops were closed for the next couple of hours. As we were still recovering from our Wolfganghof breakfast, and had picnic supplies in the car, we weren't tempted by the pretty cafes.
Instead, we stumbled upon the one truly out-of-place building on the wine road. As we saw plenty of cars in the parking lot and wine barrels guarding the doors, we decided to take a look.
The spaceship of a building, built in 2010, houses Cantina Tramin and they had plenty of wines available for us to taste. We tasted many a fine wine in Tramin's beautiful tasting room, overlooking the grape vines nurturing the wine to be. When we finally left, our trunk was much heavier than when we started.
From Tramin we did a long loop of the wine route, enjoying the view, the pretty villages and stopping for a photo or twelve.
Finally, we decided it was time to head back to Wolfganghof, where we met the man himself, for a tour of his apple orchard and learned why South Tyrol is so perfect for growing apples.
From the orchard, we headed to the St. Michael – Eppan wine co-operative, where Wolfgang's grapes turn into delicious wines. Like Tramin, this was also in a newly renovated, modern tasting room. And we had plenty of wines to sample.
Again, we had many favourites, so we decided to sleep (and eat) on it, before we made any purchases. We'd stop back in the morning before we left town.
For dinner that evening, we decided to visit the Luggin Steffelehof, an organic farm bar recommended by Roter Hahn. We twisted up, up, up, the windy roads and found a cozy building glowing with warmth. Inside we were greeted warmly, as the owner rushed off to pull his son from the kitchen to translate for us. (Thank you to the high-school students of South Tyrol for your translation skills!)
The dining room, in a former cellar, was furnished with old wine barrels, up-cycled as chairs. We were served 'mineral-water' with actual crystals in it, and the most gorgeous breads.
In my quest for research, I opted to try their cheese dumplings. Andrew found a ham, potato, and asparagus combination that piqued his interested, and we opted for big glasses of the house organic wine.
It was all delicious. But then, we were expecting it to be, by this point. South Tyrol was setting some high standards for delicious regional food.
With very full bellies, it was back to Wolfganghof for our final night.
Now I am not a breakfast person. So after a heavy dinner of dumplings, I could happily not eat again until lunch. But our picnic basket breakfast the next morning was just too tempting to turn down. In addition to the bread, meat and cheese, Elisabeth had even baked us cake. Yum!
We also tried her delicious homemade jams and I came home with a jar of preserved cherries. Andrew fell in love with Wolfgang's apple juice; a blend of three apple varieties. So, a dozen bottles were loaded into our trunk (a steal at only a 1.50 a bottle!)
After lengthy good-byes with our warm and wonderful hosts, we made a stop at the St. Michael wine co-op, loaded a few more boxes into the car, and headed for the Dolomites.
For a more detailed travel itinerary, I've created a Google Map of our exploration of the Wine Road and some stops along the way, including our route to Wolfganghof from Brussels.
Stop by next week for the final instalment in our South Tyrol adventure and some of the most stunning scenery we've ever laid eyes on. Andrew gets to navigate some extremely twisty roads and I am in photography heaven. (And of course, there's more incredible food.)
Want to hear more of our impressions about South Tyrol? Have a listen to our interview with the Amateur Traveler Podcast:
Amateur Traveler Episode 425 – Travel to South Tyrol, Italy
Looking for more of our favourite hotels in Belgium and beyond? Visit our Hotel Reviews page to find out where we've been sleeping.  For more great restaurants around the world, check out our Restaurant Review page.
We wouldn't be able to do what we do without the generous support of our sponsors. We'd like to extend a huge thank you to Roter Hahn for sponsoring our accommodation at Wolfganghof and to Wolfgang and Elisabeth for being such warm and wonderful hosts. We'd also like to thank South Tyrol for helping support our travel costs in the region and sponsoring our Wine Passes.
Latest posts by Alison Cornford-Matheson
(see all)
Read more from this series...
Wolfganghof and the South Tyrolean Wine Road, Italy