THIS POST MAY CONTAIN COMPENSATED LINKS. FIND MORE INFO IN MY
DISCLAIMER
.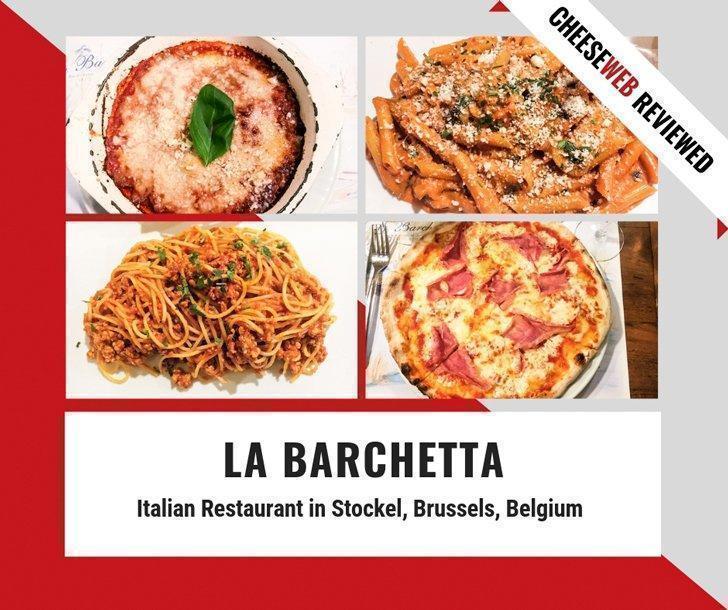 If you're looking for a family-friendly Italian restaurant in Brussels, Belgium, consider La Barchetta. Monika reviews the pizza and classic Italian dishes at this popular family restaurant in Stockel.
We moved from the Brussels neighbourhood of Uccle to Stockel last year, and this provided the perfect opportunity for a foodie like me to explore the area.
Stockel is a pleasant family neighbourhood with plenty of shops, restaurants, boutiques and other essentials too. I always like to explore new areas, particularly on foot. It helps me discover new shops, restaurants, meet people, and generally get to know the neighbourhood in a better way.
A friend introduced me to an Italian restaurant called La Barchetta near Stockel. I passed this restaurant many times but didn't realise it has a nice expansive area inside, especially for families, and they are welcoming to kids.
I quite like La Barchetta's interior; casual but still welcoming in its own charming way. The restaurant even has a small boat which holds wine bottles, glasses and crockery. Not to mention, there is a bar-esque area at the entrance of the restaurant.
I have visited La Barchetta twice in the past six months. The first time, I went with my friend and enjoyed a meal with some much-needed girl-time.
I ordered the house white wine which was an excellent accompaniment to my spaghetti Bolognese. I usually order this classic at an Italian restaurant and expect a thick meaty sauce with great depth of flavours. By the time the dish arrived, I was quite hopeful. Unfortunately, when it was served at La Barchetta, it fell a few notches below my expectation.
A good Spaghetti Bolognese requires a perfect marriage of the sauce and pasta. In this case, they were married but were not looking eye to eye. The other pasta dish, penne in a mushroom sauce, which they customized for my friend was pretty flavourful and had the right consistency too.
The next time, I dined at La Barchetta with my other half, and my six-year-old, especially important if you need to try a restaurant's pizza. We ordered the Pizza Jambon. Since this pizza has so few toppings, the essentials of pizza making are put to the test.
This time, the restaurant did not falter and delivered a good pizza. I realized La Barchetta is extremely popular for its pizza as I saw many pizzas being prepared for home delivery.
I also ordered an Aubergine Parmigiana; a dish for which I could travel to Italy too. The Mediterranean tomatoes there add a distinctive flavour which is practically impossible to recreate here in Western Europe. Despite these limitations, La Barchetta served a nice Aubergine Parmigiana with the aubergine still having a bit of bite and soaking in the flavours well.
La Barchetta is the kind of restaurant where you would be immediately recognized if you have visited a couple of times. The service is attentive and warm, without being overfriendly. I saw tables with families sitting around and enjoying their pizzas. The restaurant seemed busy, even on a weekday which is always a good sign the food is fresh, and you should probably have a reservation.
Finally the most important question – would I go to La Barchetta again? Yes, for the ambience and the pizza!
Looking for more great restaurants in Brussels? Don't miss our Ultimate Guide to the Best Restaurants in Brussels, Belgium.
La Barchetta
Rue de l'Eglise 92,
Woluwe Saint Pierre 1150
Rating:
Ambience: 7
Service: 7
Food: 6
Bang for the buck: 7