THIS POST MAY CONTAIN COMPENSATED LINKS. FIND MORE INFO IN MY
DISCLAIMER
.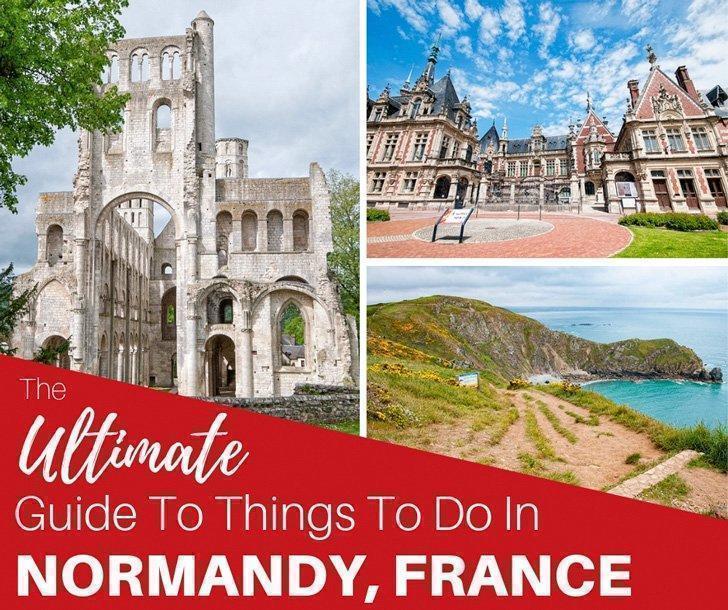 We share all the best things to do in Normandy, France, including the best museums and Normandy beaches, what Normandy foods you have to try, where to stay in Normandy, and much more.
When many of us think of Normandy, France, the first thought that comes to mind is of the D-Day landing and the unthinkable horrors of WWII. While military tourism remains a big draw to the Normandy Beaches, there is so much more to discover in this beautiful region of Northern France.
From quaint villages with timber-framed buildings and thatched roofed cottages to romantic ruins and flourishing gardens, Normandy has something to offer travellers of all tastes. Speaking of tastes, Normandy is a foodie's delight offering some of the world's best dairy products, seafood, cider, and other delicious delicacies.
Best of all, Normandy is the ideal road-trip destination with plenty of stunning drives both along the coast and inland through beautiful agricultural land. While there are plenty of Normandy day-trips from Paris, we urge you to take your time touring the region either by car, bike, or as we did, in our motorhome.
Where is Normandy France
In 2016, the regions of Upper and Lower Normandy were combined to create the new region of Normandy, France. It is situated on the northwestern coast of France between Brittany, to the south, and Hautes-de-France, to the north. Normandy sits directly across the English Channel from England and has many historical ties to its British neighbours.
Normandy is made up of five departments: Seine-Maritime, Orne, Manche, Eure, and Calvados. The Prefecture (essentially the capital) of the region is Rouen, in the Seine-Maritime department. Rouen is located about 2 hours from Paris and makes an excellent base to begin exploring the Normandy region.
The Best Things to do In Normandy, France
There are loads of tourist attractions in Normandy both on and off the beaches. Some of the top sights in Normandy are extremely popular with visitors, but there are still plenty of places you can get off-the-beaten-path, even during the high season.
1. Mont-Saint-Michel
The Normandy region is home to two UNESCO World Heritage Sites, the first of which is one of the most popular attractions in all of northern France, the iconic Mont-Saint-Michel. Few sights are more atmospheric than this fortified Gothic abbey perched on an island surrounded by the frigid waters of the English Channel.
The narrow streets leading up to the abbey are filled with (mostly overpriced) souvenir shops, restaurants, and ice cream parlours and can be downright heaving with tourists in the peak season. A visit to the abbey is worth fighting the crowds though, or better yet, visit during the offseason. You may find the souvenir shops closed, but the peaceful streets will be worth the chillier temperatures.
[Top Tip: Skip the lines by booking your tickets online here.] Read more about Mont-Saint-Michel in our article here.
2. Le Havre
At the opposite end of the coast from Mont-Saint-Michel is Normandy's second UNESCO site, the city of
Le Havre
. This vast port city, with the largest container port in France, may seem like an odd place to discover cultural heritage. Make your way into the centre, however, and you'll find a strikingly cohesive city.
Le Havre was bombed heavily during WWII. Its rebirth was due primarily to one man, Auguste Perret, whose design was recognised by UNESCO as 'an outstanding post-war example of urban planning and architecture.'
In addition to being a must-see for architecture buffs, La Havre has the second-largest collection of Impressionist paintings in France and gardeners will be awed by the Jardin Suspendus, or hanging gardens, built inside an ancient fortress.
3. WWII Museums and Memorials
It is possible to build a week-long Normandy itinerary around WWII sites alone, and indeed, many tour operators offer these sorts of trips. While Andrew could have easily spent all his time immersed in Normandy's battlefields and memorial sites, I had to limit my exposure to these painful places and alternate them with more upbeat destinations.
Depending on your area and level of interest in WWII history, there are a vast array of museums and sites to visit both on and off the Normandy Beaches. We focused on the following:
Arromanches – This is where the British landed and built a temporary harbour, called a Mulberry. There is a museum here and the remains of several mulberrys on the beach.
Pointe du Hoc – Site where the American Rangers scaled the cliffs to take out a German gun battery.
Saint-Mere-Eglise – famous for the US Airborne assault
Juno Beach – Site of the Canadian landing and home to an excellent museum that is a must visit for Canadians.
Montormel – This site marked the end of the Normandy campaign and turning point in the war
Andrew wrote about each of these sites in detail in his article on the Second World War Museums of Normandy.
TIP: If you aren't able to spend more time in Normandy, it is possible to book d-day themed day-trips from Paris.
4. Jumieges Abbey
In my opinion, Jumieges Abbey was one of the top attractions in Normandy and one we discovered entirely by accident. Known as 'France's most beautiful ruin' this stunning abbey was visible from our campsite at a nearby farm.
Having never heard of it before, I did a little research, and we decided to visit the following morning. We were glad we did. Not only was the ruin of the former abbey jaw-dropping, but the modern art installations offered a fascinating contrast to the ancient architecture. Read more about our visit to Jumieges abbey here.
5. Monet's Garden at Giverny
The Fondation Monet in Giverny is the second most-visited tourist attraction in Normandy, after Mont-Saint-Michel, and is a popular day-trip from Paris. If you can stay in the area and arrive early or late in the day, you can avoid some of the crowds, but the peak season can be quite intense.
Nevertheless, if you love art or gardens (or both like me) standing beside the pond where Monet painted his famous waterlilies series is unforgettable. The garden is a riot of colour and wandering through Monet's house is fascinating. There is an excellent gift shop brimming with every Monet-related souvenir imaginable and, if you have a little extra time, a stroll through the village is a nice change of pace.
TIP: Skip the lines and learn more about Giverny and Monet on a guided tour.
6. The Bayeux Tapestry
The
Bayeux Tapestry
was on my Normandy bucket list but unfortunately, time wasn't on our side, so it's one of the only sites in this guide we haven't visited in person. Rumour has it, it will be headed to the British Museum in London sometime in 2020, so if you want to see it at its home in Normandy, do it this year.
The Tapestry depicts the events leading to the Norman conquest of England ending with the Battle of Hastings. It spans 70 metres (230 ft) long and 50 centimetres (20 in) high and was embroidered in England in the 1070s. The tapestry was housed in Bayeux Cathedral for much of its 950 years but now has its own museum, the Musée de la Tapisserie de Bayeux.
7. Chateau Gaillard
Like much of France, Normandy is home to a wide variety of castles and chateaux, both privately owned and open to the public. One of the best castles in Normandy to visit is the Chateau Gaillard, the stronghold of Richard the Lionheart. This medieval ruin will have you dreaming of knights and ladies as you admire it perched on the limestone cliffs above Les Andelys.
8. The Alabaster Coast
The Alabaster Coast or Côte d'Albâtre is the 120km of high chalk cliffs that stretch from Le Havre to Le Treport. This is the same formation that created The White Cliffs of Dover on the opposite side of the English Channel.
The most popular sections of this coastline are around Étretat where you can see the needle and arch formations and the charming fishing port of Fecamp. Read more about the Alabaster Coast in Adi's article.
9. Little Ireland
Because of its popularity with tourists, we found the Alabaster Coast challenging to visit in our motorhome. There was little parking available for RVs, and some villages had complete bans.
By contrast, we had an amazing trip around the coast of the Manche from Barfleur to the Nez de Jobourg. We explored a number of beautiful villages, stayed overnight at an oyster fishery, and explored the gorgeous scenery of the area known as 'Little Ireland' for its rolling green hills. There were few non-French tourists here, and we found peace and charm galore. Read about our stay in Little Ireland here.
The Best Things to Do in Normandy for Foodies
1. Explore the Normandy Cheese Route
Ever hear of a little French cheese called Camembert? Well you can visit the namesake village in Normandy and taste camembert fresh from the farm (guaranteed to be better than anything you've tasted abroad.) But that's just the tip of Normandy's cheese iceberg.
Normandy has 4 AOP (protected designation) cheeses as well as dozens of other types available – not to mention butter so good you'll want to eat it with a spoon. You can tour cheese factories, taste your way through mind-blowing cheese shops, or go straight to the farm for your fresh dairy fix. Read all about how to spend a cheesy day in Normandy here.
2. The Benedictine Distillery
Even if you're not particularly interested in alcohol, the Benedictine Distillery in Fecamp is worth visiting. We first learned about this unusual place in Adi's article, and I had to see it for myself. The distillery is still the only place this liqueur is distilled much as it has been for generations and the guided tour a museum is fascinating. However, the vast mansion that houses some unusual collections (antique hinges anyone?) is truly a sight to be seen.
3. Taste The Best Food in Normandy
Seafood
Normandy is one of France's biggest producers of oysters, scallops, and mussels, all of which you can sample directly from producers or enjoy in local restaurants.
Apples
When you leave the Normandy Coast and head inland, the most common sights are fields of Normandy cows (producing those amazing dairy products) and apple orchards. Apple cider (the alcoholic kind) is widely available (as are a variety of non-alcoholic fresh juices), and you can even follow the Normandy Cider Route. Apples are also used to produce brandy in Normandy, the most famous being Calvados. If you have a sweet tooth, be sure to try Tarte Tatin, a sort of upside down apple pie.
Caramels
Salted butter caramels can be found in just about every souvenir shop in Normandy. The most famous come from Caramels d'Isigny and have been made with the best dairy products since the 1930s. Enjoy your caramel on ice cream, crepes, popcorn, or all by itself.
The Prettiest Villages in Normandy – Les Plus Beaux Villages
Normandy has six villages listed in France's Plus Beaux Villages, or prettiest villages program.
1. Barfleur
Barfleur is a charming seaside village on the northern tip of the Mache department. This traditional fishing port is a fantastic place to enjoy fresh seafood, right off the pier if you're lucky like we were. Don't miss strolling through the grey granite streets and stopping at the unique church dedicated to the seamen who made this port famous.
2. Beuvron-en-Ague
This colourful timber-framed village in Calvados is quintessentially Norman. Search for treasures in the many antique shops and don't miss the cider festival in October.
3. Le Bec-Hellouin
This peaceful half-timbered village in Eure is dominated by the Benedictine Abbey Notre-Dame de Bec. Religious heritage and stunning architecture make a stop to this village a must.
4. Lyons-la-Foret
This picturesque village in Eure was featured in the film version of Madame Bovary, and it's easy to see why. It's film-set like charm is highlighted by timber-framed and brick buildings featuring tea rooms, restaurants, and plenty of antique shops.
5. Saint-Céneri-le-Gérei
This village in Orne sits on the Sarthe River and has attracted artists for centuries inspiring an annual arts festival.
6. Veules-les-Roses
With a name like Veules-les-Roses, how could this village on the coast of Seine-Maritime not be charming? The Veules River flows through this timber-framed village and is used for growing watercress.
Things to do in Normandy Map
Where to Stay in Normandy
There is a vast range of accommodations from which to choose from Normandy holiday rentals to boutique hotels in Normandy. You can even treat yourself to a luxury stay in a castle in Normandy!
Luxury Accommodations in Giverny – Hotel The Originals Le Jardin des Plumes
This stunning Art Deco style hotel is just 500m from Monet's Garden. Relax in the sunny garden terrace or soak in your own luxurious soaker tub. Rooms are unique, and the hotel offers 4-person suites, perfect for family groups. The hotel has free parking, is pet-friendly, and receives top marks from previous guests. Check rates and availability here.
Holiday Home on the Alabaster Coast – Le Bout du Monde
Le Bout du Monde is a stunning holiday home in Saint-Léonard on Normandy's Alabaster Coast. Enjoy your morning cuppa on the terrace while watching the sun rise over the white cliffs. The one-bedroom house has a fully-equipped kitchen, wood burning stove, wifi, flat-screen TV, and you're just a five-minute walk to the beach Check rates and availability here.
Gite with a Jacuzzi near Etretat – La Chaumière de Diella
On the outside, this thatched-roofed holiday home oozes Normand charm. Inside, however, it has all the modern conveniences of a fully-equipped kitchen, gorgeous bathroom, washing machine, and satellite TV. There's even a private Jacuzzi in the backyard. Check rates and availability here.
Romantic B&B in Etretat – Chambre d'hôtes Héliya
Enjoy a romantic getaway at this cosy B&B in Etretat. Rooms have private bathrooms, and guests receive a sumptuous French breakfast that can be enjoyed on the terrace. After a long day of sight-seeing, relaxing in the soaker tub. Check rates and availability here.
Lakeside Spa Retreat – Au Charme du Lac
Halfway between Giverny and the Normandy coast, you'll find this stunning retreat, perfect for a couple's getaway. Au Charme du Lac guesthouse offers an indoor pool and Jacuzzi as well as beautiful views of the garden and lake. Enjoy a buffet breakfast, private bathrooms, free parking, and bar facilities. Family rooms are also available. Check rates and availability here.
Budget-Friendly Studio on the Beach – Les Pieds dans l'eau
For a budget and family-friendly stay just steps from Normandy's beaches, head to Donville-les-Bains. Les Pieds dans l'Eau is a one-bedroom apartment with a bathroom and small but well-equipped kitchen. This pet-friendly flat is just across the street from the beach, sleeps three, and includes free parking. What more could you ask for? Check rates and availability here.
Boutique Hotel in Bayeux – Hotel Reine Mathilde
Just steps from the Bayeux Tapestry Museum is the cozy boutique Hotel Reine Mathilde. This small but full-service hotel features rooms ranging from twin beds to luxurious suites. The hotel offers a buffet breakfast and full restaurant with room service. There are accessible rooms available and free parking. Check rates and availability here.
Stay in a Castle near Mont-Saint-Michel – Château de Boucéel
If you've dreamed of staying in a French chateau, here is your chance. The Château de Boucéel is just 13km from Mont Saint Michel and offers every luxury you could desire. Decorated in period furniture, you can peruse the volumes in the library or enjoy a game of pool in the games room. Stroll the manicured gardens or take a dip in the pool before enjoying dinner in the stunning dining room. Check rates and availability.
Find More Great Hotels in Normandy Below


Latest posts by Alison Cornford-Matheson
(see all)