THIS POST MAY CONTAIN COMPENSATED LINKS. FIND MORE INFO IN MY
DISCLAIMER
.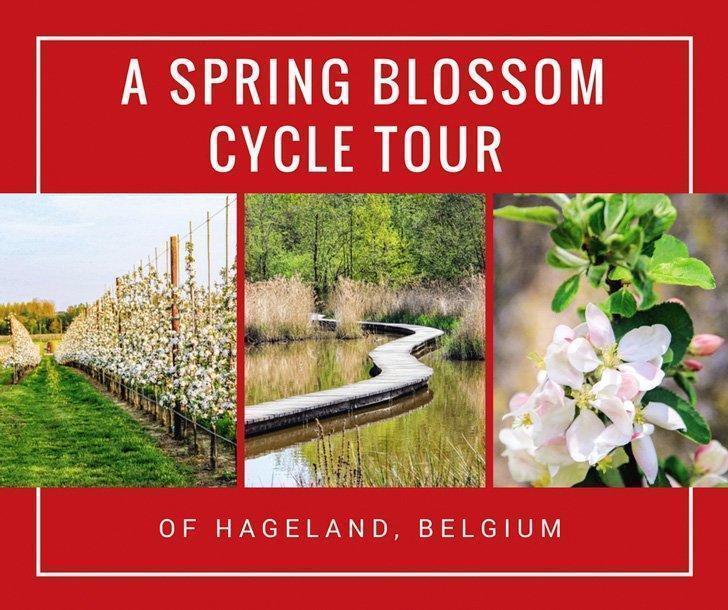 Adrian shares a slow travel cycle trip to discover Belgium's Hageland area of Flemish Brabant including stops at a winery, ice cream shop, Het Vinne nature reserve, and plenty of beautiful spring blossoms.
Mid-April is one of the most photogenic times of the year in Belgium, thanks to the spring blossoms adding so much colour to so many places. The best way to enjoy the spring scenery is to travel slow. Knowing we like to promote the slow travel here at CheeseWeb; Kristien from Toerisme Vlaams Brabant, the tourist office of the Belgian province of Flemish Brabant, invited me to enjoy a day out and discover some exceptional places, well off the beaten path.
The trip I took with my wife, Wenli, was part of the Bucket List of travel tips created by Toerisme Vlaams Brabant with expats in mind. It included a walk in the Provincial Domain of Het Vinne, a blossom node-to-node cycle through picturesque villages, plus a picnic of local products, a wine tasting, and a delicious ice cream treat. Sound good? Let me take you there.
Het Vinne Provincial Domain A Bird Watcher's Paradise
In the far east of the province, near the town of Zoutleeuw and bordering Limburg, lies Het Vinne. This 100 ha wide natural reserve, including the only inland lake in Flanders, is perfect for walking in nature and a paradise for bird watchers. You can hike around the lake either by following the paths on land or by taking the boardwalks giving the feeling you are walking on water. The trail is diverse – open air, water, forest – there is a bit of everything.
Some of the most interesting spots are the wooden shelters placed over the lake. From inside these shelters, marked as birdwatching huts, we had beautiful views over the lake, and we could watch the birds in their natural habitat. The shelters are also good places to rest if the weather is too hot.
One thing I particularly loved about Het Vinne was the noise. I loved it because this loud, relentless noise, similar to that from the crowd attending a pop concert, was made by a huge group of birds and frogs. If you listen to it, you won't leave without a smile.
After the 4 kilometre walk, we took a lunch break at the bistro, right at the entrance to the domain. There, we received a picnic basket filled with regional, farm-to-table products and enjoyed them just outside, on a picnic table.
Cycling in Hageland
Once refuelled, it was time for the long ride. We rented two electric bikes from the reception hall of the domain. They rent all sorts of bikes, from standard city bikes to tandems, kids bikes, and even bikes that can carry a wheelchair. Prices range from 7€ to 15€ (or 3,5€ for kids bikes), which to me sounded more than reasonable. More information is available here. The website is in Dutch, but they also speak English well, so don't worry.
For our cycling trip, we made use of the node system, as suggested by Toerisme Vlaams Brabant. The node system, deployed throughout Flanders and even parts of Wallonia, is a practical way to explore the region by bike while avoiding heavy traffic roads and without the need of permanent GPS assistance. You'll need a map of these nodes, however, especially in the planning phase.
You create your itinerary by choosing a series of numbered nodes, which will serve as waypoints. They are placed strategically all over the place, and you will need to link them. These nodes are clearly marked with white-and-green signs which, unless you miss a turn, will help you find your way to the next node on your route easily.
Our itinerary followed this series of nodes: 48 – 31 – 49 – 25 – 24 – 22 – 43 – 42 – 46 – 45 – 3 – 4 – 50 – 1 – 21 – 51 – 23 – 48. No, they are not the lottery lucky numbers. On the map, they form an actual cycling loop through the villages and orchards of Hageland.
It seems I have a talent in missing turns, however, which results in getting away from the track and also from the node signs. In that case, the map is essential. I did not have the printed version, but I could choose from several smartphone apps for that purpose. On my Android phone, I used an app called Vlaanderen Fietsland, which worked just fine. I could seamlessly create my itinerary, see my current position, and even save the route for future reference.
Ice Cream Break
In the village of Budingen, we took our first break during our cycle. We stopped at Crema del Crème, an n'ice cream place serving freshly churned gelato. Mr. Johnny Winnen, the owner of the shop, had us taste some good scoops, including several locally made flavours. I can still remember the speculoos flavour, which I enjoyed on their shaded terrace. It was delicious! Just perfect for the sunny weather.
Hagegoud Vineyard
We had lunch; we had the dessert; then what? A glass of wine, of course! That's why our last stop was a visit to a local winery. Hagegoud is a small family business where they focus more on quality wine and less on quantity. We were received by co-founder, Veronique, who took us for a visit to their vineyard.
What impressed me the most is the vineyard operation is a hobby. Both Veronique and her husband have other jobs, and Hagegoud is their secondary activity. Nevertheless, they have set up a lovely shop, where they can receive visitors (on appointment), and there is also a tasting room. So taste is what we did.
We especially enjoyed a red Regent from 2014, but not too much of it, unfortunately. We had yet to cycle a long distance, so we had to thank Veronique for her kindness and leave, even though we would have loved to try some more of their production. If you plan a trip to the area, be sure to arrange a visit to Hagegoud in advance.
You can find plenty of info on their website in Dutch. However, they do speak English, so you can get in touch with them directly. Their contact details are at the bottom of the page.
Cycle Through Hageland's Charming Villages and Colourful Trees
After Hagegoud, it was up to us to follow our node-to-node itinerary and take in the beautiful scenery. We weren't disappointed. The fruit trees were indeed in blossom, and riding past the many orchards on the way was a pleasure to the eye.
We also rode through a series of villages, such as Kortenaken, Ransberg or Drieslinter and then back to Het Vinne domain in Zoutleeuw. The last part of the trip was particularly easy, as it followed a bike path converted from a former railway. It's the kind of structure I always enjoy as a cyclist.
The only place we missed was the town of Zoutleeuw itself. We were a bit late and had to return the bikes and catch a bus, so we had to cut it short, therefore skipping the town centre. But, you can never have everything, and we did have a great day out.
How to get to Het Vinne
The closest railway station to Het Vinne is Sint-Truiden and, by the way, that city is also worth a visit. However, the station is about 7 kilometres away, so you need to find an extra connection.
The closest regular bus stop is Zoutleeuw Retsbaan, about 1,5 kilometres from the domain. There is also a bus stop right in front of the park, Zoutleeuw Het Vinne, but it is only served by minibuses on demand. These buses, known as belbus, do not have a set route, nor a timetable, and must be booked in advance, over the phone. You can find all the information on the website of the Flemish bus operator De Lijn, this time also available in English. It may not be straightforward, but it is a practical solution and an experience in its own. We used it successfully both for getting to Het Vinne and returning to the station.
Alternatively, if you have a Blue-Bike membership card, you can pick up a Blue-Bike at the station and use it for the whole trip.
Final Thoughts
We truly enjoyed our day out in Hageland, especially because we discovered something new. I had no idea about Het Vinne natural reserve, and it turned out to be something special. Our trip was aimed at nature lovers who seek somewhere away from the noisy city. Add to that some excellent local food, tasty ice cream, and a lovely glass of wine, and you get a perfect leisure day.
However, if you'd like to pair your outing with a visit to a bigger city, don't worry; Sint-Truiden, Hasselt, and Genk are just a stone's throw away, in the neighbouring province of Limburg.
For more ideas on how to explore Flemish-Brabant, check out our other articles on the region.
CheeseWeb would like to thank Toerisme Vlaams Brabant for sponsoring Adrian's discovery of the region. As always, all opinions remain those of our writers.
Read more from this series...
A Spring Blossom Cycle Tour of Hageland, Belgium