THIS POST MAY CONTAIN COMPENSATED LINKS. FIND MORE INFO IN MY
DISCLAIMER
.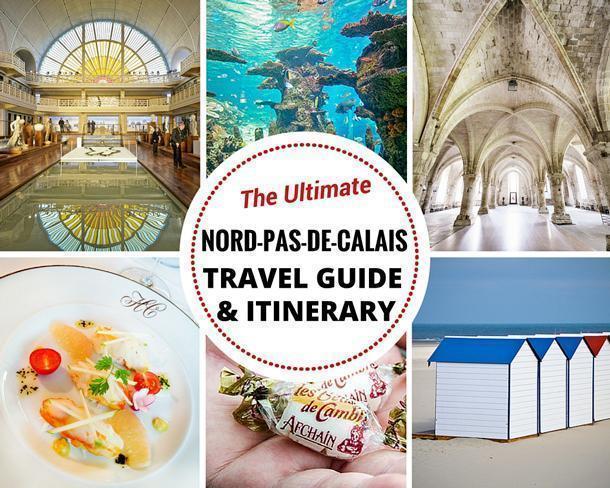 We share our ultimate guide to travel to and in Nord-Pas-de-Calais so you have all the information you need to plan your travel to this region of Northern France.
Nord-Pas-de-Calais is one of the most under-rated regions of France. Folks often pass through on their way to and from Brussels, Paris, or the Channel ferry without pausing to give it the recognition it deserves. Despite this, there is plenty to see and do in Nord-Pas-de-Calais for slow travellers, weekenders, and foodies alike. From the battlefields of the Somme to the pristine beaches of the Opal Coast to the art and culture of Lille, Nord-Pas-de-Calais should definitely be on your France bucket list.
This is our ultimate slow travel guide to Nord-Pas-de-Calais. Use it to inspire your visit to this lesser-known but exciting part of France. At the end, we even include a 9-day itinerary to help you make the most of your time in Nord-Pas-de-Calais. Let's go!
Where and what is Nord-Pas-de-Calais
Up until January 1st, 2016, Nord-Pas-de-Calais was a region of France in its own right; a joining of the country's Nord and Pas-de-Calais departments. Now it is joined with Picardie to form Nord-Pas-de-Calais-Picardie (Rolls off the tongue right? New names will be assigned to France's new uber-regions later in 2016).
The region is on France's Atlantic coast with Belgium to the north, Ile-de-France to the south, Normandy to the southwest, and (new uber-region) Alsace-Champagne-Ardenne-Lorraine to the southeast.
Language in Nord-Pas-de-Calais
Like all of France, French is the only official language. However, because of its proximity to Belgium and the UK (via ferry and Channel Tunnel), English is more widely spoken here than some other parts of the country. Of course, your results will vary based how urbanised the part of Nord-Pas-de-Calais you're visiting is. You'll also find a strong Dutch/Flemish character in parts of Nord-Pas-de-Calais in the architecture, cuisine, and even in the language.
Who Should Visit Nord-Pas-de-Calais
As mentioned in the intro, Nord-Pas-de-Calais has something for just about everyone. Lille is a major urban centre with both historic and modern areas. It's a fantastic destination for foodies and culture buffs. Nature-lovers will also find plenty to do in the region, from exploring the white sand beaches to biodiverse marshes and forests. There are family-friendly activities like the NAUSICAA aquarium and a sweeping history from roman ruins to the remains of the world wars. There are art galleries and museums both big and small and the people are friendly and hospitable. This really is a prime slow travel destination as it is not on the package tourist radar and the attractions feel local and undiscovered.
Who Shouldn't Visit Nord-Pas-de-Calais
It's hard to think of anyone who couldn't find something to enjoy in Nord-Pas-de-Calais. However, if you are looking for perpetually sunny skies or theme-park-style attractions, Nord-Pas-de-Calais is probably not the best choice.
Transportation to and in Nord-Pas-de-Calais
Given its position between the major centres of Brussels and Paris, Nord-Pas-de-Calais is easily accessible by just about all forms of transportation.
By Car: Nord-Pas-de-Calais is well-connected by roads and, arguably, the easiest way to explore the area is by car. As many of the destinations are more rural, driving your own vehicle offers the most flexibility and convenience.
You can even bring your own vehicle to France from the UK either by ferry (see below) or via the Euro Tunnel. Here, you drive your car onto a train and remain in your car while the train makes the journey through the tunnel. We've done this trip multiple times and nothing beats the speed and convenience of travelling across the Channel in this way.
Here are a few average driving distances/times:
Brussels to Lille – 112km (1h22m)
Brussels to Boulogne – 228km (2h21m)
Paris to Lille – 225km (2h17m)
Paris to Boulogne – 260km (2h42m)
Boulogne to Cambrai – 154km (1h37m)
Euro Tunnel Terminal to Lille – 112km (1h11m)
Euro Tunnel Terminal to Boulogne – 34km (27m)
By Train: Nord-Pas-de-Calais is also well connected by train. Lille, in particular, is a hub for rail within the region from around France via TGV and also is a stopping point for major European rail lines like Eurostar (from London) and Thalys (From Paris, Brussels, and Amsterdam). Other hubs within the region include Dunkirk, Calais, Boulogne, Le Touquet, Arras, Douai, Valenciennes, and Cambrai, among others.
Here are a few average train journey times:
TGV Paris > Calais (2h)
TGV Paris > Arras (50m)
TGV Lille > Calais (30m)
By Bus: Similarly, Nord-Pas-de-Calais is well serviced by bus routes, including buses on major European routes. We travelled from Brussels to Lille on iDBUS (now called OuiBus) and service was quick and comfortable. OuiBus now offers service to Lille from Paris (centre and airport), Amiens, Brussels, Antwerp, Amsterdam, Rotterdam, and London.
By Ferry: If you are visiting Nord-Pas-de-Calais from the UK an alternative to the Channel Tunnel is the ferry. The ferry runs from Dover to Calais and is operated by P&O Ferries. The ferry trip takes 90 minutes and on clear days provides great views of the white cliffs of Dover.
By Airplane: Arriving in Nord-Pas-de-Calais by air is the least convenient transportation option. There is only one airport of any size in the region, Lille-Lesquin Airport.  Scheduled flights are available from Biarritz, Marseilles, and multiple locations in Corsica, as well as Geneva, Djerba, and several destinations each in Greece, Portugal, and Morocco. There are two small airports on the coast. Le Touquet airport only offers regular flights via Lydd Air in Kent, UK. The Calais-Dunkerque Airport only services freight and charter flights. Besides Lille Airport, the closest airport of any size is actually Brussels South Charleroi, 100km from Lille.
Where to Stay in Nord-Pas-de-Calais
Because of its close proximity to our home-base in Belgium, we didn't spend time in many hotels in Nord-Pas-de-Calais. However, our personal recommendations include the following:
Our best hotel stay in Nord-Pas-de-Calais was at the Hotel Chateau Cléry, just outside of Boulogne-sur-Mer. This stunning former manor house has spacious rooms, grand common areas and a fantastic fine-dining restaurant, worth the trip in and of itself.
While exploring the eastern side of the region, we stayed at the Chateau de la Motte, located in the tranquil, pastoral l'Avesnois National Park. Our room was small, basic, and honestly, a bit dated but it did the trick. The star of the show here was the restaurant. We had booked the 'Soirée Gastronomique,' which included our room for the night, our breakfasts, and a 4-course 'menu du Terroir.' The food was exceptional, with service to match.
In Lille, we chose the Crowne Plaza – Euralille, located just across the street from the international train station. The rooms are modern and spacious and the hotel has everything you would expect from a high-end chain. The selling feature here is location, location, location, as you can stumble off your train or bus and be in your room in minutes.
What to Eat in Nord-Pas-de-Calais
If you are familiar with Belgian cuisine, food in Nord-Pas-de-Calais won't be terribly surprising. You'll find mussels and fries, more beer than wine, even waffles and endive. The region also shares some typical Flemish dishes like waterzooi, carbonnade, and meatballs. Naturally, on the coast fresh seafood is king while the interior is known for agriculture including apples, potatoes, cauliflower, artichokes, peppers, and strawberries. A few regional specialties to try are:
Cheeses: Maroilles – a soft, square, AOC cows-milk cheese, with a funky smell and mild-ish flavour. Mimolette – a hard, round, bright orange cheese, with a flavour resembling cheddar
L'Andouillette de Cambrai – A sausage made from veal typically grilled or fried
Beer: The most well-known beers from the region are the bières de garde, like Ch'ti. The region is also home to the first official Trappist beer in France, Mont des Cats.
Due to the production of sugar beets, Nord-Pas-de-Calais is also known for its candies. Our favourites are the Bêtises de Cambrai.
Where to Eat in Nord-Pas-de-Calais
If you love great food, your first stop in the area should be Lille, a true foodie city with a full spectrum of restaurants, gourmet shops, and a fantastic farmer's market. Read our article for our top foodie finds in Lille.
Even if you don't stay at the Hotel Chateau Cléry, near Boulogne (and you really should) don't miss its restaurant, Le Berthier. The fine-dining Menu Dégustation is exceptional.
For Michelin-starred fine-dining, La Matelot, in Boulogne-Sur-Mer is a must. Seafood is the star of the show and each course is well thought out and beautifully presented.
For a more casual seafood feast, order the seafood platter at La Marie Galante in the village of Audresselles.
As mentioned above, the gastronomic menu at Chateau de la Motte is also a fantastic value.
Need more inspiration? Check out the restaurant suggestions for Nord-Pas-de-Calais on the Fork.be. Just type the city name into the search bar. You can even book a table online.
What to Buy in Nord-Pas-de-Calais
For us, the best souvenirs are always edible ones and this is true for Nord-Pas-de-Calais. To be sure you're getting authentic regional products you can discover shops around the region on the Produits Regionaux Nord-Pas-de-Calais website.
What to Pack for Nord-Pas-de-Calais
As Nord-Pas-de-Calais has the typical Northern European climate: cool, wet, and unpredictable. Add to this weather the coastal influence and all you can be certain of is a mixed bag of weather. If you plan to spend a lot of time outdoors, layers are essential and rain-gear is highly recommended. This is not to say you won't experience any good weather – but you may also get rain, hail, and/or high winds on the same day.
Top Attractions in Nord-Pas-de-Calais
Top 10 lists are always subjective and ours is no exception. We certainly haven't been to every tourist site in Nord-Pas-de-Calais so we can only share our own experiences. As such, here is our personal top 10 in no particular order. For more detail on individual sites follow the links to our expanded articles.
UNESCO Sites in Nord-Pas-de-Calais
Nord-Pas-de-Calais has one UNESCO site of its own, the Nord-Pas de Calais Mining Basin, and a number of sites shared with other regions and countries.
Sample Itinerary for Nord-Pas-de-Calais
Because we were based in Brussels, we visited Nord-Pas-de-Calais in a series of short trips. However, if you have more time, you can see much of the area in one go. Below is a sample itinerary combining our favourite activities in Nord-Pas-de-Calais with a few extra bonuses, depending on your preferences. It's created in a loop, so you can begin the itinerary wherever makes sense for you. I've also shown how you can create several smaller itineraries as we did.
Here is a map of the route with the main stopping points. You can click to open a larger view.
Phase One – Lille – 2 Days
Day 1-2
Arrive at Lille and check into the Crowne Plaza Euralille (or another hotel of your choice). We recommend two full days (and nights) to explore the city. [Top tip: If you plan to visit multiple museums in Lille, check out the Lille City Pass to see if it is worth your while.] Suggested activities:
Phase Two – Boulogne & The Opal Coast – 3 Days
Day 3
Drive from Lille to Clairmarais (1h) to tour the Audomarois Marsh. Do a guided boat tour with the company Isnor and grab lunch in their restaurant.
After lunch make your way to the Hotel Chateau Cléry for 2-3 nights of exploration of the Opal Coast.
Have dinner in the hotel's Restaurant Berthier and enjoy the hotel amenities for the evening.
Day 4 & 5
Spend the day exploring Boulogne-Sur-Mer and the Opal Coast. Suggested activities:
Phase Three – Vimy & Arras – 1-2 Days
Day 6
If you are pressed for time, the only essential on Day 6 is Vimy Ridge. This can be done on the way to Chateau de la Motte for a longer driving day. If you have more time, add a night's stay in Arras or Lens and take advantage of some or all of our 'detours' in the area.
Drive to Vimy Ridge (1h 30m) Allow several hours to explore the memorial, museum, and trenches.
(Detour) Visit the Vauban Citadel in Arras
(Detour) Visit the new art gallery, the Musée du Louvre-Lens
(Detour) Learn about the region's mining history at the Centre Historique Minier
Optional – Choose a hotel in the Arras-Lens area to spend more time or continue on to the Chateau de la Motte (1h 40m by highway or 2h through the l'Avesnois National Park)
Dine at the hotel.
Phase Four – Cambrai – 2 Days
Day 7 (or 8)
Drive to Le Cateau-Cambrésis (1h) and visit the Musée Départemental Henri Matisse
Grab lunch in Le Cateau then continue on to the Abbaye de Vaucelles (30m) [Note: The Abbey is closed between 12-2pm]
Continue on to Cambrai (18m) the rest of the day exploring the city on foot. Recommended sights (See this article for details on Cambrai):

The Spanish House (also the tourist information centre). [Tip: Don't miss the tunnels in the basement]
Saint Géry abbey church
Cathedral of Notre Dame
The UNESCO-listed belfry
The fortified Paris Gate

Return to hotel
Day 8 (or 9)
Leave Chateau de La Motte
(Detour) Visit the Musée – Atelier du Verre in Sars-Poteries (15m)
Drive to Bavay to explore the Roman Ruins (45m from hotel or 30m from Sars-Poteries)
Return to Lille (1h)
Further Reading on Nord-Pas-de-Calais
One of the reasons I created this resource is I was disappointed in the availability of printed information for Nord-Pas-de-Calais. (If you read French, there are a few more options.) If, like me, you like to have a printed guidebook, in addition to online resources, here are a few possibilities. [NOTE: These are not personal recommendations, just suggestions based on Amazon and other reviews online.]
The following are useful online resources for further planning:
For even more Nord-Pas-de-Calais slow travel inspiration, check out our board on Pinterest:
Follow CheeseWeb.eu – Slow Travel in Europe's board Nord Pas de Calais Picardie France on Pinterest.
We hope our guide encourages you to get off the motorways and explore this lesser-known corner of Northern France. We'd also love to hear your suggestions for the area. Leave them in the comments below.
Latest posts by Alison Cornford-Matheson
(see all)