THIS POST MAY CONTAIN COMPENSATED LINKS. FIND MORE INFO IN MY
DISCLAIMER
.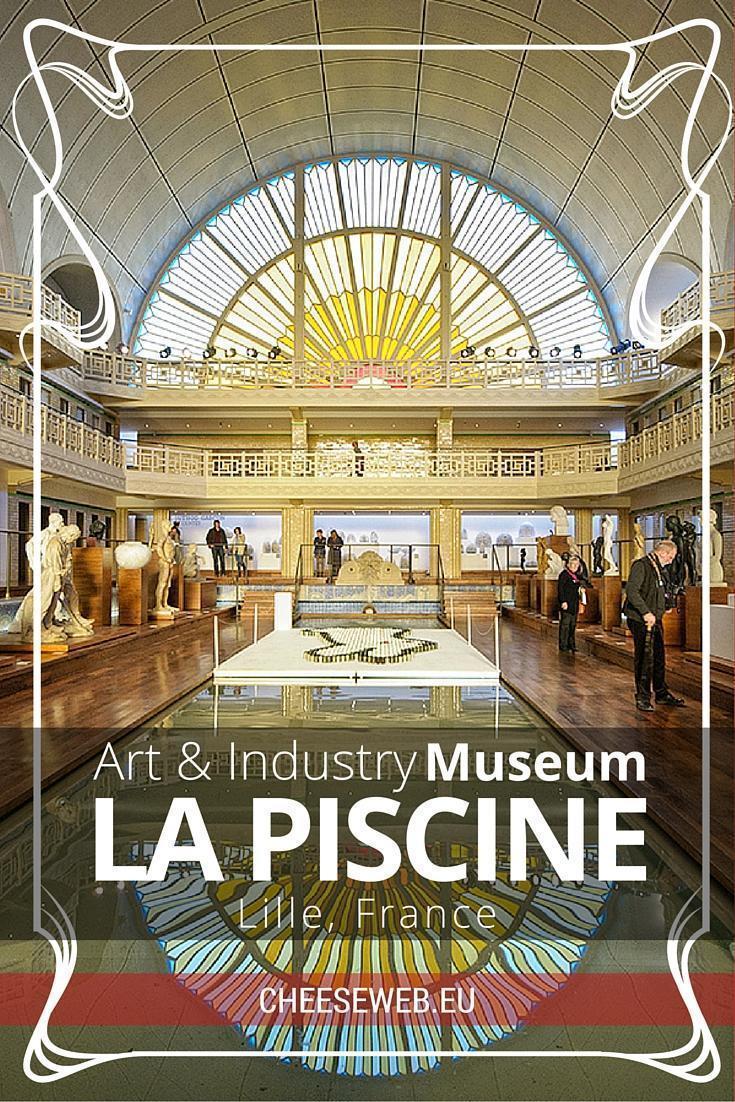 When was the last time you went to a swimming pool to see works of art? If your answer is never, it's time you visit La Piscine in Roubaix, France, Lille's Art and Industry Museum.
When we first arrived in Europe, I was a travel-planning addict. I would spend hours poring over guidebooks and websites, studying a city we were about to visit in depth. I'd come up with a detailed itinerary of what I wanted to do, see and eat – even what photographs I wanted to take.
After discovering some of our best experiences happened in places I hadn't researched at all, I began to relax. Now I do a quick search and come up with one or two 'must dos', and I leave the rest to chance.
Despite this relaxed attitude, I almost always do a google image search, to see if there are any iconic locations I just have to photograph. That's how I discovered La Piscine while I was preparing for our trip to Lille with iDBUS (now called OuiBus),  and this is the photo I was dying to take:
That stunning Art Deco window is one of the highlights of the Art and Industry Museum, in Roubaix, near Lille, France. Known as La Piscine, because it was once (you guessed it) a municipal swimming pool, the building was converted into a museum in 2001.
Jean-Paul Philippon, the architect behind my favourite museum in Paris, the Musee d'Orsay, led the conversion project. Philippon seamlessly merged the original design and function of the 1932 swimming pool, designed by Albert Baert, with its new function as a museum and gallery.
Rather than gutting the building and starting from scratch, Philippon worked the existing features into the new design, using them in innovative ways. For example, former shower cubicles now form exhibition rooms, housing ceramics and textile displays.
Echoes of the pool remain in the central water feature. Here, the original fountain gushes water into the pool that is now lined with sculptures.
In addition to the swimming pool, La Piscine also took over the Hannart Prouvost weaving mill, which now houses the permanent collection. Textiles were important to the Roubaix area, and La Piscine houses a library of fabric samples dating from 1835 when many of the local textile factories began production.
La Piscine's restaurant also retains the original decor of the pool's former cafeteria. The food, however, has gone upscale, with the addition of a Meert tearoom (check out our Foodie's Guide to Lille for more about Meert!).
La Piscine is a perfect 'bite-sized' museum, and it's easy to reach from central Lille. Simply catch the clean and efficient metro (tickets cost 1.50€ each way or buy a day pass for 4€) and get off at Gare Jean Lebas (The ride lasts about 15 minutes). From the station, walk straight for about 5 minutes to 23 Rue de l'Espérance. It couldn't be easier and it's well worth the side trip.
La Piscine Art and Industry Museum
23 Rue de l'Espérance,
59100 Roubaix, France
For more details on tickets and opening time, visit the La Piscine website (in French).
We'd like to thank OuiBus for sponsoring our travel to Lille and allowing us to explore the city and La Piscine at our leisure. As always, all opinions are our own. 
Latest posts by Alison Cornford-Matheson
(see all)