THIS POST MAY CONTAIN COMPENSATED LINKS. FIND MORE INFO IN MY
DISCLAIMER
.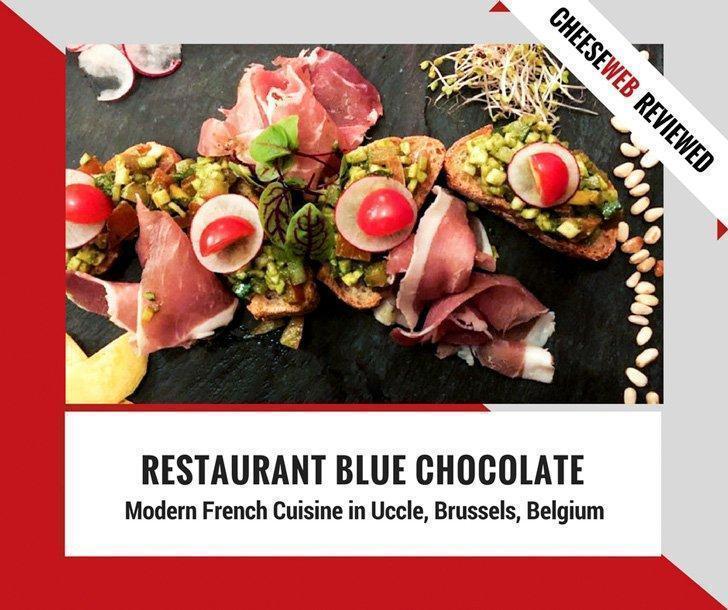 Monika reviews Blue Chocolate Restaurant in Place Saint Job in Brussels' neighbourhood of Uccle, Belgium. The menu takes a modern approach to French cuisine in a warm and cosy setting.
Blue Chocolate Restaurant Review
After a bit of a break, I am back with another Brussels restaurant review. This time, I decided to visit the chic Blue Chocolate Restaurant in my own neighbourhood of Brussels. Uccle doesn't have a shortage of good food, but service can always be tricky here. So, when I was invited to the restaurant Blue Chocolate, I was impressed with the patient and attentive service.
Nestled in the leafy neighbourhood of Uccle in Place Saint-Job, the restaurant is elegantly decorated with a balanced mixture of colours and texture. The interior has two sections, one with soft beige walls and the other with exposed bricks. Both areas feature dark wood polished furniture. This decor creates a warm and inviting atmosphere to the restaurant. We chose a nice cosy little corner for a cold March evening.
We were welcomed with a lovely spring drink with mint and lemon. I like the fact the restaurant was optimistic about the weather, though spring was nowhere in sight in early March. The wine list was impressive, though a little bit pricey. I had an R de Ramatuelle rosé wine which was crisp and dry. The restaurant also had a great selection of spirits which included award-winning Belgian brands.
For starters, I asked for bruschetta with pork, courgette, tomato, and basil. It looked appetizing, and the presentation was lovely. However, the taste left much to be desired. My other half asked for a lobster ravioli which was served in a creamy chicken broth. This dish was terrific with the ravioli retaining its texture while being wholly enveloped with the creamy deliciousness of the chicken broth.
Blue Chocolate's menu has limited options. I chose a filet of Xander fish which was paired with a lemon flavoured sauce and served with mashed potatoes and vegetables. It was my 'wow' dish of the evening. The fish was fresh and delicately cooked to imbibe the flavours of the lemony sauce. My other half chose a slow-cooked pork for his main course. The slow cooking had done wonders for the dish, with the meat succulent with the flavours of Leffe and honey.
As you can imagine, this had nicely filled us up, but dessert is a sin in which we all indulge. And we did too! I ordered a raspberry fricassee with some homemade limoncello and my other half who loves all things chocolate asked for a warm chocolate brownie and custard. The brownie was just right with a crisp exterior and a melt-in-the-mouth centre. I liked the raspberry fricassee too which was correctly flavoured with the limoncello.
In 2018, I have decided to rate restaurants on the basis of their ambiance, service, food, and bang for the buck. The quality and the taste of the food is paramount, but the ambiance of the restaurant and most importantly, the service can elevate a regular dining experience to an outstanding culinary journey.
Monika's rating of Blue Chocolate Restaurant in Uccle
Ambiance: 6/10
Service: 8/10
Food: 7/10
Bang for the buck: 7/10
Blue Chocolate
Place de Saint-Job 24,
1180 Uccle, Brussels
We'd like to thank Blue Chocolate for inviting Monika to dine and write her honest review of their restuarant. As always all opinions remain those of our writers.