THIS POST MAY CONTAIN COMPENSATED LINKS. FIND MORE INFO IN MY
DISCLAIMER
.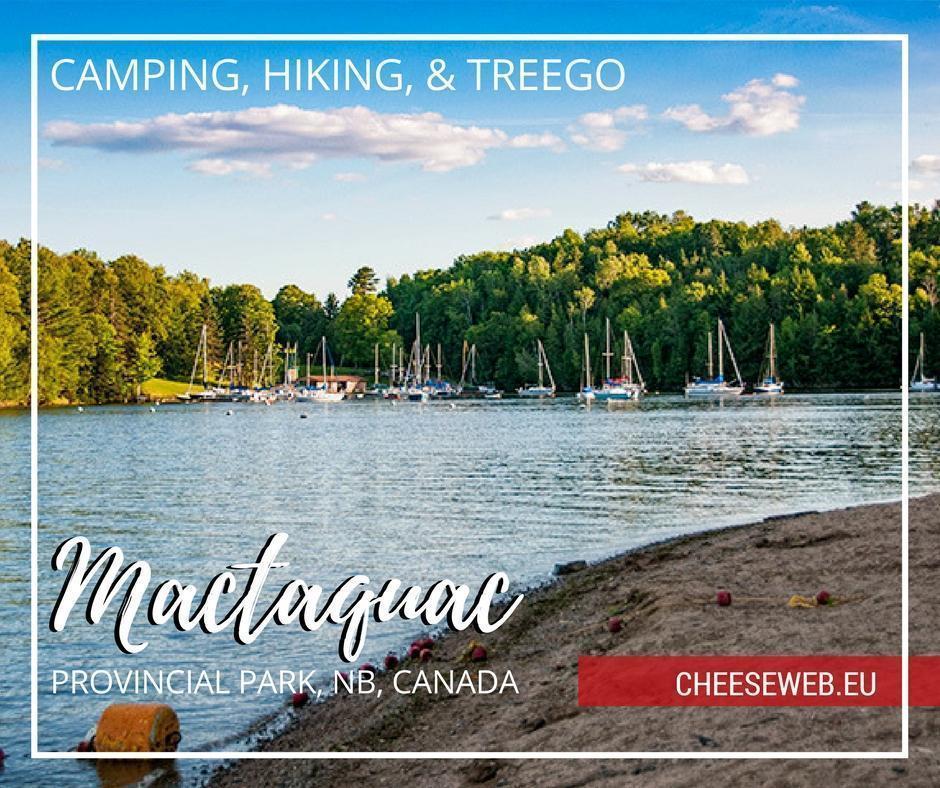 We discover Mactaquac Provincial Park in New Brunswick, Canada where we go camping, hiking, and climbing through the treetops at TreeGo.

One of the most fascinating aspects of being back in my home province after (ahem) 20+ years, is rediscovering the places from my youth as an adult. As I mentioned in one of my early posts, viewing New Brunswick through the eyes of a travel writer has been enlightening, and I'm loving seeing places I took for granted as a child in this new light. One such place is Mactaquac Provincial Park.
Mactaquac is a recreation park and campground located near Fredericton, New Brunswick. Its 525 hectares (or 1,300 acres) encompass woodlands, fields, and wetlands along the St. John River. In 1968, the Mactaquac Dam began operations creating the waterfront as it appears today. The provincial park and marina were built in conjunction with the dam project, and the area has been a haven for boaters and watersports enthusiasts ever since.
My childhood memories of Mactaquac are deeply entwined with my oldest and dearest friend, Amy. Amy and I grew up like sisters and were always at each other's houses; her family feeling like an extension of mine and vice versa. While my family usually headed to the USA in our motorhome for summer vacation, Amy's family frequently took their trailer to Mactaquac to enjoy a few weeks on the St. John River.
I have vivid memories of candy-fueled late nights, (not) sleeping in her family's van listing to the Tragically Hip until the wee hours, as her parents escaped our giggles inside the trailer. We spent the hot summer days driving our bikes all over the park, swimming at the little beach, and playing games at the rec centre.
Late last July, we had the opportunity to spend a few nights rediscovering Mactaquac Provincial Park. I hadn't been back to Mactaquac since my early teen years, and I was curious how well my memories stood up to reality. I was excited to share this little blast from my past with Andrew, and, as luck would have it, Amy was able to join in for some of my walk down memory lane as well.
Mactaquac Provincial Park Camping
Our primary reason for visiting Mactaquac Provincial Park was to do some camping in our motorhome, Yeti. By this stage of the summer, we had already stayed at a private campground in St. Martin's, NB, and Kouchibouguac National Park (our stay at Fundy National Park came later) but we had yet to camp at any of New Brunswick's Provincial Parks.
We weren't disappointed. Mactaquac has more than 300 campsites, and you can choose to camp in open field or shady woods. We opted to take full advantage of the sun and parked on a grassy hilltop with a beautiful view. We had electric and water hookups, were close to the washrooms (although we generally use our own) and had a fire pit and picnic table, which we put to good use.
Since my childhood, Mactaquac has permitted some seasonal campers each year. However, unlike many private campgrounds, they must remove all structures each autumn, and there is still plenty of room reserved for overnight and short-stay camping.
Within the campground, there are plenty of services including a convenience store, firewood sales, a rec centre, a number of playgrounds, and a small beach. Several of the park's walking trails pass through the campground as well.
Overall, the camping facilities are excellent. The lots are spacious, and we enjoyed our stay immensely.
Hiking in Mactaquac Provincial Park
On the evening of our arrival, we decided to hit the trails before the sun went down. Because the trailhead was right across from the campground, we opted for a woodland stroll on the Maple Sugar Trail. This short (0.6km) trail winds through a stand of sugar maples and other trees and ends at Mactaquac's golf course. There, you can either return the same way or follow a dirt road beside the driving range to the paved road back to the campground.
We caught some beautiful golden evening light and happened upon a few curious deer who were out for an evening snack. It was a peaceful, easy walk in the woods.
The park has six walking trails ranging from 0.3km to 2.4km. Many of the trails link up so you can create a longer loop. In addition to interpretive signs along the trails, Mactaquac Provincial Park also offers guided walks on a variety of topics and for different age levels. (See below for our family-friendly guided walk.)
Tackling the Treetops at TreeGo Mactaquac
In addition to camping, we had another great reason to visit Mactaquac. We wanted to take on the TreeGO Mactaquac Aerial Adventure course. We had heard rave reviews of this challenging ropes skills course (and the sister TreeGo in Moncton) and were eager to try it out. When Amy learned we were TreeGoing, she decided to join us and brought her nephew along as well.
The four of us met at the TreeGo office and were kitted out with all the equipment we would need. We joined a group of other participants for a lesson on safely manoeuvring through the course. Then we were ready for the actual course. It's a series of balancing and climbing exercises that take you increasingly higher into the treetops as the challenges become more difficult.
I'm not going to lie; it was hard. I didn't complete the final challenge as my upper body strength just wasn't there. Despite this, I had a blast. It was thrilling zipping through the treetops on the ziplines, and we had a lot of laughs watching each other do the challenges. And, despite my fear of heights, I felt completely safe and secure the entire time.
While you're on the course, you're monitored by staff to make sure you're staying safe and not running into problems. They are ready to zip in for a treetop rescue if you get stuck. There are options for all fitness levels, so you don't have to be a monkey to enjoy yourself. There's also a TreeGo challenge for younger children (aged 7-13).
I am eager to attempt TreeGo again and conquer the Mactaquac course, and I'd love to try their second location in Moncton.
Family-Friendly Activities at Mactaquac Provincial Park
In addition to TreeGo and the recreation program offered at the campground, Mactaquac provides a variety of activities tailored to different age groups. Although we don't have kids ourselves, we do have nephews we'd love to bring to Mactaquac, so we were curious about one kids' program in particular.
While you can walk the 1.3km Beaver Pond Trail on your own, at any time, you can also arrange to walk it with a guide. Curious to discover more about Canada's favourite animal, we met with one of the Mactaquac guides to learn more.
The trail is entirely accessible to wheelchairs and strollers and takes you past the beaver's habitat. Our guide filled us in on the beaver's life cycle and pointed out stumps of trees felled by beavers, beaver scratch marks, and various dams and lodges. It's quite amazing how these little animals can change an entire landscape in a short time span. Unfortunately, however, we didn't spot any actual beavers.
We did manage some other wildlife spotting, though. We saw a variety of birds, insects, and the largest tadpoles I've ever seen. The tadpoles and frogs are favourites of kids doing the walk. The interpretive program allows them to catch (and release of course) all manner of creatures in the pond. The guide identifies them, and the kids learn about the variety of wildlife in the wetland. This walk is something I know I would have loved at a young age and I hope we have the opportunity to share the experience with our nephews in an upcoming summer.
Exploring the St. John River with Lakeway Houseboats
There's another family-friendly activity at Mactaquac that is firmly on our bucket list. What better way to slow travel along the St. John River than by houseboat? Now we're huge fans of all styles of boating from canoes and kayaks to sail and speed boats. But Lakeway Houseboats are some of the most luxurious watercraft we've seen. They're essentially floating cottage rentals and would be an excellent way to enjoy a week (or more) with family or friends.
There are three different styles of houseboat on offer. The largest sleeps up to 14 people, has five rooms, 1.5 bathrooms, a fully equipped kitchen, flat-screen TV, and a propane fireplace – on a boat! The mid-sized houseboat is similar, but sleeps 10, with two queen-sized rooms, and one bathroom. The smallest boat is perfect for a couple or small family. Honestly, we were ready to sail away on it as soon as we stepped on board!
Except for the smallest houseboat, the upper level of the boats house a hot tub and bar area. There's even a waterside for a quick dip in the river. It's easy to see why these boats are so popular and often book up a year in advance. While spending the lazy summer days cruising up the river would be heavenly, our dream trip would be in autumn to take advantage of the beautiful fall colours.
3 More Things to Do at Mactaquac Provincial Park
Although we didn't have time to make use of them on our visit, there are three more reasons to visit Mactaquac Provincial Park.
If you are a golfer, be sure not to miss a round on the Mactaquac Golf Course. The 18 hole course has a beautiful setting and reasonable green fees. You'll likely even spot some wildlife while enjoying a game.
The golf clubhouse is also home to MOCO Kitchen at Mactaquac. We've eaten at MOCO's restaurant in downtown Fredericton and loved the atmosphere and tasty food. Menu items range from casual 'pub grub' to fine-dining main courses like scallops, steak, and pasta.
Perhaps the best thing about Mactaquac Provincial Park is its proximity to Fredericton. You can experience nature and outdoor recreation, within a 30-minute drive to the centre of New Brunswick's capital city. It's the best of both worlds.
I was thrilled to discover Mactaquac Provincial Park not only lived up to my rosy childhood memories – it exceeded them. With meticulously maintained and updated facilities, new activities like TreeGo and Lakeway Houseboats, and proximity to everything Fredericton has to offer, there's something at this gem of a park for everyone.
We'd like to extend our thanks to Tourism Fredericton, TreeGO, Lakeview Houseboats, and Mactaquac Provincial Park for inviting us to discover the area. As always, all opinions remain our own. 
Latest posts by Alison Cornford-Matheson
(see all)