THIS POST MAY CONTAIN COMPENSATED LINKS. FIND MORE INFO IN MY
DISCLAIMER
.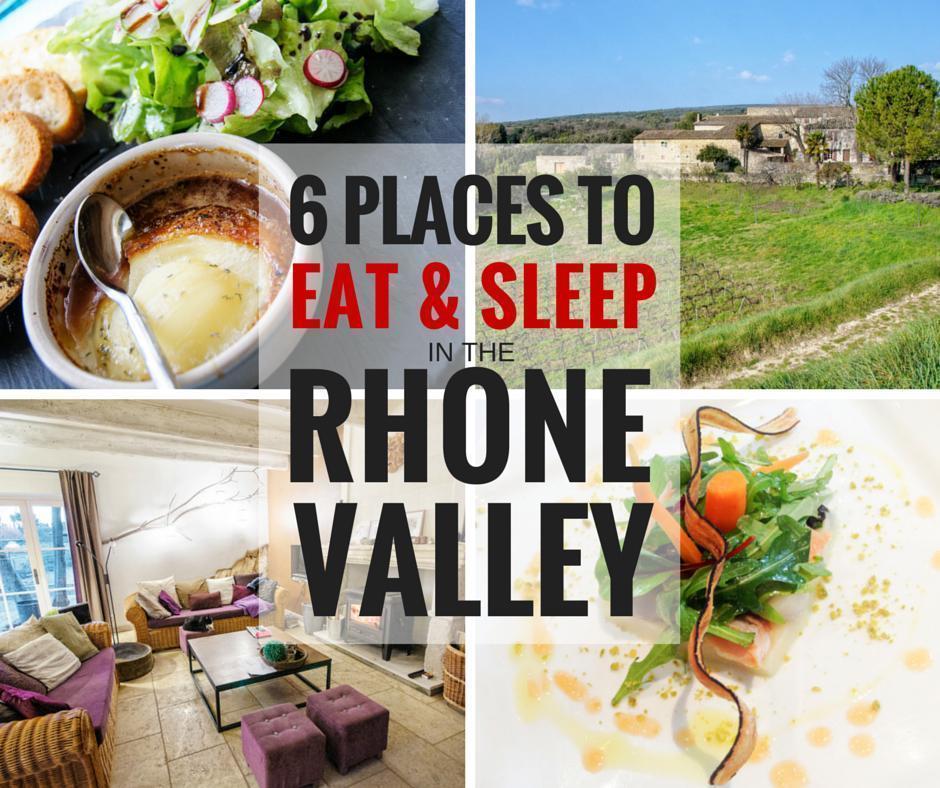 From cozy B&B's to gastronomic restaurants, we share our top tips on where to stay and eat in France's wine-filled Rhone Valley.
While one of the highlights of the Rhone Valley region of France is the wonderful wine, it would be crazy to ignore the excellent food options on offer. Of course, you'll also need a great place to lay your head at night as well. Today we've rounded up our favourite restaurants and accommodations from our recent trip to France. Here are our top 6 recommendations on where to stay and eat in the Rhone Valley.
L'Agape Restaurant, Avignon
If, like us, you travel to the Rhone Valley by TGV, you'll arrive in the stunning city of Avignon, one of our favourite small cities in France. We popped into the city centre for a quick lunch, before beginning our journey through the Rhone Valley, where Jessica from Inter Rhone, introduced us to the lovely restaurant, L'Agape.
L'Agape opened just under a year ago and it's already become a local favourite in the historic centre. This cozy bistro features local products and revisited classic dishes.
My duck samosa starter was heavenly, while Andrew enjoyed a rich fish soup.
For mains, it will come as no shock to regular readers, Andrew opted for pork on a bed of puy lentils. I chose the perfectly cooked salmon with sweet potato puree and a tempura green onion that tasted like the best onion ring on earth. Heaven!
If you find yourself in Avignon, and you should, this is a little gem of a restaurant not to be missed!
Restaurant L'Agape
21 Place des Corps Saints, 84000 Avignon
Domaine Notre Dame de Cousignac, Bourg-Saint-Andéol
In our last article, we mentioned our incredible experience tasting wines from Domaine Notre Dame de Cousignac in the Grottes de Saint Marcel d'Ardeche. But that wasn't the only great experience we had with Raphael.
We stayed in Raphael's beautiful guest house, which has been the family home for generations. Our pretty purple room was comfortable and homey. Raphael gave us a tour of the other available rooms as well, including a large family suite.
The property also includes a reception hall and tasting room (currently being renovated for this season) and a pool with a sweeping view of the countryside.
One of the highlights of our stay was the breakfast (served by Raphael's Mom) of delicacies from the Ardeche region. The cheeses, fresh juices, and bread were perfect and how could you not have a great day when you start it in such a bright and cheery space.
The other highlight was our tour of the tasting room, part of which is actually inside the old wine vats. The deposits left from years and years of aging wine have left behind the most beautiful abstract art. We can imagine interior designers trying to simulate this natural painting technique.
We were also excited to learn Domaine Notre Dame de Cousignac is part of the France Passion scheme for motorhomes (something we're excited to use and write about in the future) so we could end up back here later in the year, in our new home.
Notre Dame de Cousignac
Quartier Cousignac – 07700 Bourg-Saint-Andéol
Auberge de Montfleury, Saint-Germain
As if that wasn't enough, Raphael also had a hand in our favourite meal in the Rhone Valley. When he told us he would take us to a friend's restaurant for dinner, we expected a casual, local hangout. What we didn't expect was rolling up to the chef's table at the Michelin-calibre Auberge de Montfleury. (Thank goodness we changed our clothes!)
Despite the formal food and setting, we were treated to a warm and friendly welcome by Chef Richard Rocle, his wife Angèle, and their team. The delectable sounding dishes on the menu were making it hard to choose (as were the plates we watched being whisked from the kitchen) but when we spotted the Menu Ardeche, highlighting the local produce, the choice was made.
The menu changes with the seasons and is ridiculously reasonable, at 31€ (or 35€ including a cheese course).
We spent the evening chatting about food, wine, and the passion of local producers. We were the last to leave the restaurant, which had been a full-house in the middle of the week.
This is a restaurant experience not to be missed and we hope we have the opportunity to return someday.
Auberge de Montfleury
Quartier de la gare – 07170 Saint-Germain
Table des Chartreux, Pujaut
You'd be forgiven for pre-judging the Table des Chartreux a little harshly, based on its exterior. We did. Situated by a large roundabout on a busy road, it looks a bit like your garden variety truck-stop. Luckily, the atmosphere is bright and modern inside and the food speaks for itself.
The cuisine is typically Provencal and there's a strong focus on fresh veggies and seafood, although carnivores are well served here too. We enjoyed a surprisingly good lunch here, meeting with Emmanuel from Gard Rhodanien Tourism, who helped co-ordinate our stay in the area.
We all opted for two courses (although Andrew managed to sneak in a dessert too) and all of the dishes were colourful and refreshingly summery (after stuffing ourselves with heavy Belgian dishes all winter!) If you're looking for a leisurely lunch while travelling in the area, consider this a great stopping point.
Table des Chartreux
1410 quartier Saint-Anthelme, Pujaut
Le Jardin de Bacchus, Tavel
Being ardent fans of the grape (and Greek drama) how could we not fall in love with a Bed & Breakfast called Le Jardin de Bacchus? But this B&B is wonderful for much more than just its name. The house is stunningly renovated and tucked away in a hillside hideaway. Our room was spacious and inviting and we were wishing the weather was just a bit warmer so we could take advantage of the gorgeous pool and terrace. There's even a resident kitty (and you know we like that!)
But, as is often the case with a great B&B, it's the people that make it truly special – and Christine and Erik are special people. These world-travellers and serial expats are warm and open and we hit it off immediately. Erik, who is Dutch but has lived pretty much everywhere, was the architect behind their beautiful home and B&B. Christine, French but who has also lived abroad, is the bundle of energy behind Le Jardin de Bacchus and a fantastic cook. She not only whips up incredible breakfasts, but hosts table d'hôtes evenings, and even offers cooking classes.
Over generous glasses of Tavel rosé, we chatted about travel, expat life, and good food. In fact, we hit it off so well, we invited them to join us for dinner at our final top tip.
For a lovely stay, 12km from Avignon, in the heart of France's number one region for rosé, Tavel, don't miss the Jardin de Bacchus (and say hi to Christine and Erik for us!)
Jardin de Bacchus
223, rue de Tourtouil – 30126 Tavel
Le Physalis, Tavel
If you're staying at the Jardin de Bacchus and can't take advantage of Christine's table d'hôtes, a 5-minute walk into the village centre will find you at Le Physalis restaurant. Chef Stéphane cooks up colourful Mediterranean dishes featuring fresh, local ingredients. Because we had been eating for three days straight, we opted just for main courses. My beef cooked in local Lirac red wine was melt-in-the-mouth tender. The veggies were crisp and fresh and the wine suggestion paired perfectly.
Le Physalis is a homey, little gem of a restaurant and, with a three-course menu for 21€, it's also a steal.
Le Physalis Restaurant
127 rue Frédéric Mistral – 30126 TAVEL
With countless unique wine experiences, fantastic food, and warm and welcoming places to stay, France's Rhone Valley is the perfect place for a gastronomic getaway. We can't wait to return to this beautiful (and tasty) region of France.
We'd like to extend a huge thank you to all of the people who welcomed us in the Rhone Valley and made our stay so enjoyable. This trip was made possible with support from Atout France and Inter Rhone, but as always, all opinions are our own.
Latest posts by Alison Cornford-Matheson
(see all)