THIS POST MAY CONTAIN COMPENSATED LINKS. FIND MORE INFO IN MY
DISCLAIMER
.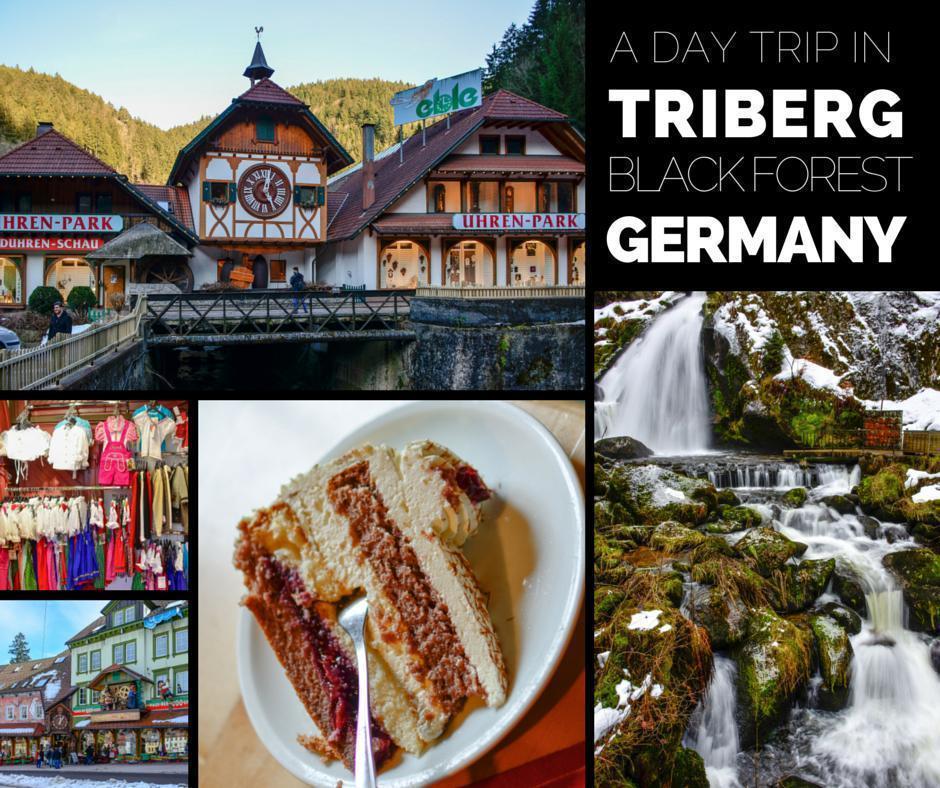 Today Adriana takes us on a day trip through Triberg, in Germany's Black Forest, featuring giant waterfalls, cakes, and cuckoo clocks.
We recently moved to Germany, after living in Belgium for three years followed by a short, six months stay in the US. We arrived in Stuttgart and, after a week with two kids in a small hotel apartment, we decided it was time to take a day out. Our choice was the quaint town of Triberg im Schwarzwald, a town in Baden-Württemberg, Germany, located in the Schwarzwald-Baar district in the Black Forest.
This was not our first visit to Triberg. We lived in Germany before and made this trip in the dead of winter – a rather disappointing endeavour due to frigid weather. You would think we would not consider being in the Black Forest in icy conditions, but we thought we knew better. Since nobody had fun the first time, we decided to give Triberg another chance.
Triberg is home to Germany's highest waterfall, the Triberger Wasserfälle. These spectacular rapids plunge to a depth of 163m over seven cascades. It was quite a sight for our tired, jetlagged eyes. We were not able to hike the entire trail as some parts were closed. Although the weather was superb, there was still plenty of ice and snow in the forest. The price paid for our family of four, for part of the trail, was 5.5 euro – a bargain.
After the hike, we decided to try the Landgasthof Zur Lilie restaurant, right by the waterfall entrance. Yes, it's made for tourists, decorated with mountain and forest accents, but the ambiance is cozy, with comfortable seating, English speaking staff, and superb food. There are plenty of menu choices: traditional German, wild game hunted on their grounds, Black Forest specialties, vegetarian, and fish.
Hubby tried the pork platter called "Made in Germany," which was four types of pork with maultaschen. I took a bite, and it was yummy, but I cannot compare it to what I ordered – the very tender venison fillet with veggies covered in divine sauce, spätzle, and berry chutney. I cannot stress enough how incredible my meal was and how much I recommend it. The venison fillet was melting in my mouth, which reminded me of the last time I had something so delicious. It was the reindeer steak tenderized overnight, at Nili restaurant, in Rovaniemi, Finland. I guess I would be stretching it to say my meal was as good as sex but it came very close to it.
We ended with Black Forest cake loaded with kirschwasser (locally made cherry schnapps), so not a kid-friendly dessert (although I was tempted to give it to my daughter to temper her disorderly conduct.) Eating the Black Forest cake here made me realize all the other times I had it, they were selling me a lie. The real deal is drenched in schnapps, and I prefer it, especially with screaming kids next to me. There are many other desserts on the list, so one is not limited to the boozy cake. Overall, the prices, were moderate, with main courses between 19 and 26 euro.
Stuffed, happy, and with me a little tipsy, we continued our exploration of this little town. We gave the Triberg Black Forest Museum a try. The museum offers insight into the life and work in the Black Forest. The collection includes historic Black Forest clocks from 4 different centuries, as well as a unique display of barrel and fairground organs (some of them will play a few tunes in exchange for one euro), peasant costumes, old crafts workshops, a minerals tunnel, and a large diorama of the Black Forest Railway. For the price of 13 euro for a family pass, it was a pleasant way of spending forty-five minutes. The kids were thrilled with the organ music and the mineral tower made to look like a mine.
For one-of-a-kind souvenirs try the House of 1000 Clocks and the Triberger Moden Stadl. The House of 1000 Clocks will have a cuckoo clock for all budgets, while the Moden Stadl offers a huge variety of dirndls for women and girls, and lederhosen for men and boys, all made in Germany. I could have stayed there for hours looking at the beautiful colours. I even ended up getting my daughter an outfit. She was born in Germany, and we thought she should look the part.
If you desire Black Forest edible souvenirs, a visit to the Schinkenstrasse is a must. Here you can find Black Forest ham (one of our favourites), sausages, gems, Kirschwasser, and even beer jelly. All of the products are local or made in other parts of the Black Forest.  Salespeople at all the stores speak English, which is a plus if trying to speak German is intimidating.
By the end of the day, we had enough time left to visit the world's biggest cuckoo clocks. I say clocks because there are two of them, six kilometres apart.
The first one is the original world's biggest cuckoo clock, in Schonach, three kilometres away from Triberg. You can almost miss it, as it's nestled between houses. For four euro (kids go free), we were able to go inside and see the huge mechanism and have it explained by the guide and then waited in the courtyard for the cuckoo to sing. This happens every thirty minutes.
Because having one world's largest cuckoo clock in the area was not enough, another one, even bigger was built six kilometres away, in Schonachbach. The bird alone weighs 330lbs or 149kg and was built in the traditional Black Forest way. Here too, you can find a large variety of cuckoo clocks, from traditional to contemporary, along with clothes and other Black Forest products and souvenirs.
We had a lot of fun in the Black Forest, this time around. The weather was great, there was plenty to do and see, and the food was delicious. And if you travel with misbehaving kids, there is always the kirschwasser cake.