THIS POST MAY CONTAIN COMPENSATED LINKS. FIND MORE INFO IN MY
DISCLAIMER
.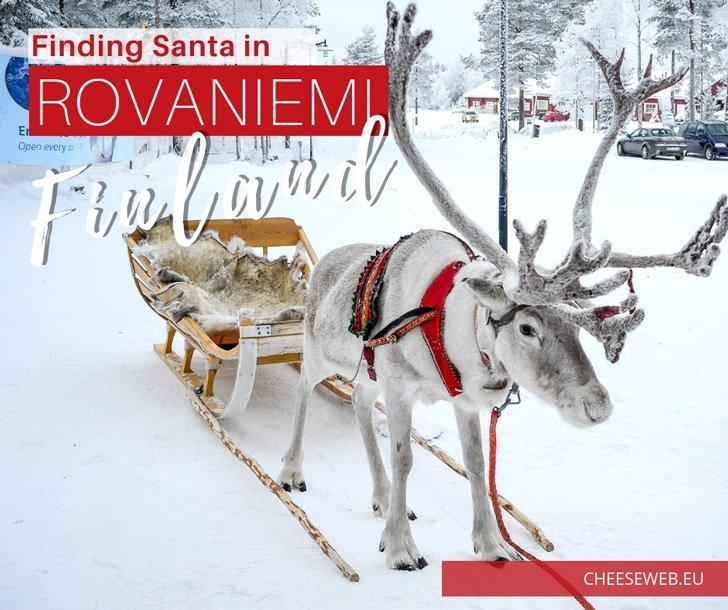 Adi shares a family-travel adventure to the Arctic Circle with loads of fun things to do in Rovaniemi, in Finnish Lapland. There's plenty of winter family fun, searching for the Northern Lights, visiting Arctic animals, and a special visit to Santa Claus.
My husband and I have always travelled and having kids didn't stop us.
Since my son was born, eight years ago, we have lived in four countries and travelled to 24 others.
The birth of our daughter, three years ago, didn't stop us either.  When she was just four months old, we made a transatlantic move, from Germany to the US, only to move again, ten months later, from the US to Belgium.
Since our family has no problem travelling, we decided to take the kids to Rovaniemi, in the Finnish Lapland, last winter; some 2150 kilometres north of Brussels.
My husband and I had a dream to reach the Arctic Circle, and my son wanted to meet the real Santa Claus, so it was the perfect trip to make the whole family happy.
The first thing we did was invest in good winter clothing, an essential part of a successful trip in extreme, sub-zero temperatures. As a friend of mine once told me, "there is no such thing as bad weather, just bad clothes."
Traveling to Finland can be quite expensive. After much research, we chose a package (through Expedia.com) including flights and a hotel, saving us a few hundred dollars. Booking via American websites was much cheaper than the European packages we found.
Rovaniemi is the administrative capital and commercial center of Finland's northernmost province, Lapland.
My first impression was "oh my gosh! It's so cold." The temperature was -20C when we landed, but we quickly acclimatized. Dry cold with no wind makes being there bearable, even for my then two-year-old.
One thing you have to get used to is almost perpetual darkness. The length of the day while we were there, at Christmas time, was only 2h15m. It's never a real day, but more like twilight.
Things to do in Rovaniemi Lapland with Kids
During the day hours, there is plenty to do. There are ice slides in many parts of the town and, for a small fee; you can rent a slide board for a whole day. Often, the price includes hot glögg, the traditional Finish Christmas drink.
The Christmas market is in the centre of town, with vendors selling mostly Lappish products.
Santa Claus comes every evening, pulled by his reindeer sleigh and surrounded by elves. It's an event awaited by everyone.
We spent most of our time at Santa Village and Santa Park, just a few kilometres outside Rovaniemi. You can get to both by a free bus ride, or you can take a taxi, which is inexpensive due to the proximity.
Santa Village, Rovaniemi, Finland
Santa Village is a place of fun for young and old. Tourists from all over the world go there alone or with their children. Seeing so many kids around, made us think we were not crazy to travel with ours after all.
My daughter slept almost all the time. Cold air has this power over her.  Having an all-terrain stroller is best. I would not recommend kids backpacks, as it is too cold for them. We had our stroller with a natural sheep's skin foot-muff. It was perfect.
My son had the time of his life. Inside Santa Village, there is a huge ice slide where kids were patiently waiting their turn.
They offer snow tubing, where my husband and my son spent half the day.
Meeting Santa was obviously the highlight of the trip. The line is somewhat long. However, it moves fast, and it gives you the opportunity to look around Santa's house and see the Elves.
Santa Park, Rovaniemi, Finland
Santa Park is a lot of fun. Inside you can find the Elf School, Mrs. Claus' Gingerbread Kitchen, Santa's Office, (where you can, again, meet Santa), Four Seasons Sleigh Ride, Ice Princess Gallery, Giant Snow Globe, and the Post Office.
You pay one price at the entrance, leave your bulky jackets, and you can spend all day inside.
There are restaurants inside both Santa Village and Santa Park, serving hot soups, reindeer stews, and much more.
Best Restaurant in Rovaniemi – Nili
The food scene in Rovaniemi is diverse, but it would be a shame to not eat, at least once, at Nili, a traditional Lappish restaurant.
Try the "Rovaniemi Market" a selection of Nili's best appetizer delicacies, deer sausages, fresh fish, tender reindeer, and Lappish cheese.
Follow with reindeer tenderloin, grilled and stewed overnight; meat so tender it feels like soft butter in your mouth; smoke flavoured potatoes and savoury game sauce.
The deserts are a treat and don't forget to wash your meal down with some vodka spiced glögg. We loved it so much; we ate there four nights in a row. It's not cheap, but we couldn't resist. For me, it was the highlight of the trip.
Ranua Wildlife Park, Rovaniemi, Finland
Another fun thing to do in Rovaniemi is going to the Ranua Wildlife Park, home to fifty animal species, including polar bears.
There is a bus going there, once a day, in the morning, but because we missed it, we rented a car for the day. The way there and back is dreamy; everything is white and frosted.
Our last night in Rovaniemi was reserved for a snowmobile safari, during which, we hoped to see the Northern Lights.
They accept small kids, as they get to ride in the sleigh, pulled by the front snowmobile.
The company provides all the clothing and boots. However, looking back, I would have preferred our own clothes, as theirs kept us a bit cold.
We drove one hour over a frozen river, deep into the forest, where we had a free snack, consisting of sandwiches made with smoked reindeer sausages and meat and hot glögg.
We didn't have much luck with the Northern Lights, so we came back on the same path. My daughter slept through the whole thing.
The groups are small (15 people), each riding his own snowmobile. If someone cannot drive, (s)he rides either in the large sleigh or with another person.
Finland is extremely child and family friendly and, looking back; I am happy we went on this trip. It was exciting, adventurous, and we were able to show the kids a wilder side of life.
More fun things to do in Rovaniemi, Finland
Getting to Rovaniemi from Belgium:
Finnair flies from Brussels International Airport to Rovaniemi via Helsinki.