THIS POST MAY CONTAIN COMPENSATED LINKS. FIND MORE INFO IN MY
DISCLAIMER
.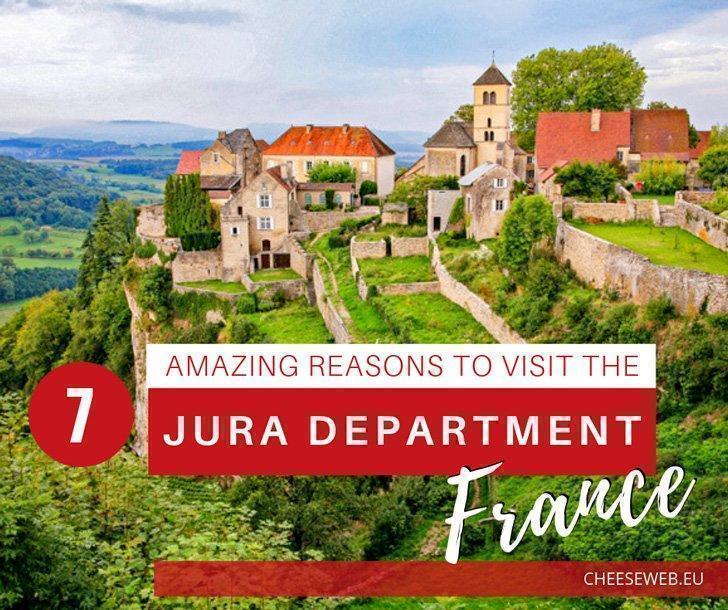 If you love great food, nature, and off-the-beaten-path destinations, it's time to discover the Jura region of Bourgogne-Franche-Comté. Catherine shares 7 Amazing Reasons to visit Jura France.
If you're a traveller who likes to explore beautiful areas other tourists overlook, Jura France is an excellent choice. Nature and outdoor enthusiasts flock to Jura to enjoy the magnificent forests, stunning Jura mountains, and rolling hills. The landscape is both mountainous and pastoral, and wildlife abounds, making camping in Jura France a favourite activity for visitors.
In the winter, Jura's ski resorts become breathtaking winter wonderlands. Plus, the region is dotted with picturesque medieval towns, stunning churches, relaxing spas, and a slew of cultural treasures. The Jura wine region also has a lot to offer oenophiles who want to explore local vintages.
Where is the Jura Region of France?
It isn't uncommon to wonder, "Where is Jura?" Since the area isn't as widely travelled, many are unfamiliar with its location. For those who are intrigued by Jura, it is located in the Bourgogne-Franche-Comté region of the country in eastern France. The Vosges Mountains border it in the north, and the hills of Burgundy lie to the west. Jura also shares a border with Switzerland, which is located to the southeast and east.
Best Things to Do in Jura France
The Jura region has a lot to offer travellers. The area is steeped in a rich history, giving visitors a chance to explore the local culture through the ages. Food and wine options are plentiful, so it's an excellent choice for those who want to experience French cuisine. Finally, the natural beauty of Jura makes it ideal for anyone who enjoys spending time outdoors.
Ultimately, Jura has something to offer anyone. Plus, it isn't overrun with tourists. Many travellers head to more well-known areas, such as nearby Burgundy. That gives Jura an "undiscovered" feel as if you were let in on an amazing secret that put you on the path for a unique and engaging journey.
If you are considering a trip, here are seven of the best things to do in Jura France.
1. Jura Mountains France
When it comes to must-sees in the area, no traveller should miss the Jura mountains in France. Outdoor and nature enthusiasts can relish in the tranquil landscape or spend time being active, biking or hiking along the winding trails nestled in the thick forests.
Along the way, you can discover lakes, chasms, and caves. In the summer, swimming is an option. During the winter months, you can cross-country ski through the magnificent landscape.
2. Camping in Jura France
Campsites in Jura France are surprisingly plentiful. If you plan to explore the outdoors and take advantage of the exceptional hiking opportunities through the nearby Jura Mountains, why not seize the opportunity and sleep under the stars?
Camping Jura France is a great approach if you want to experience the natural wonders of the region. Plus, you can make reservations online for many of the Jura campsites, allowing you to plan ahead and secure your spot before you arrive.
Many of the campsites in Jura are surprisingly well-appointed, offering access to various facilities. You'll find options with small waterparks, indoor swimming pools, playgrounds, snack bars, and much more.
If you are looking for options, Camping Domaine de Chalain offers a great location along the shores of Lac de Chalain. There are plenty of nearby activities and attractions as well.
La Petite Montage is another fantastic option, featuring 94 campsites, 26 rental cabins, and plenty of amenities. If you're heading to the Premier Plateau area of Jura, consider Domaine de Surchauffant for your camping needs.
3. Besançon
Situated on the Doubs River,
Besançon
is best known for its stunning
Citadel
, which is UNESCO listed. The fortress towers over this charming medieval town. You can enjoy the views from the ramparts, which seem to stretch on for eternity, or head to the
Museum of French Resistance and Deportation
for an educational experience.
If you want to learn more about local life, Musée Comtois gives you a glimpse into the experience of those who have lived in the city throughout the ages. There is also a natural history museum that is fun for people of all ages.
4. Cascade du Hérisson
For those who want to see a spectacular natural feature, the
Cascade du Hérisson
is a must-see. The waterfalls send water crashing down with a thunderous roar, plummeting over 800 meters down through a rocky valley. At the nearby Maison des Cascades Visitor Center, you can also learn about the history of the Hérisson valley, including engaging local legends that have persisted over the centuries.
5. Baume-les-Messieurs
Baume-les-Messieurs is a picturesque community in the Jura Mountains area of the Jura department of France. In fact, Baume-les-Messieurs is considered one of the most beautiful villages in all of France, and it's all centred around the Romanesque
Abbaye Impériale
.
Plus, it is home to stunning waterfalls and near Grotte de Baume-les-Messieurs, a 200-million-year-old cave. You can also take a journey to an underground lake, a sight that is startlingly beautiful.
6. Clairvaux-les-Lacs
If you're a traveller who enjoys strolling through markets,
Clairvaux-les-Lacs
in the Jura lakes region is where you want to be. This small market town is a shopper's paradise, particularly if you would like to experience some of Jura's mouthwatering cheeses, such as Mont d'Or, Emmental, Cancoillotte, or Bleu du Haut-Jura.
Plus, it's situated on Grand Lac, making it a great choice if you want to spend some time relaxing on a beach or swimming. For the adventurous traveller, don't miss the aerial adventure park. It's set up in the surrounding forest, allowing you to be among the treetops while doing some fun activities.
7. Château de Frontenay and Château-Chalon
Dating back to the 12
th
century, this magnificent château has served as the home of the same family for more than 500 years. It has the look of a fortress but was renovated in the 18
th
century to make the interior more luxurious. Between April and November, the public is welcome to stroll through the well-manicured grounds. Visitors can also make arrangements to tour the interior, and the château regularly hosts cultural events, music concerts, seminars, and workshops.
If you plan ahead, you may even be able to reserve one of the bed and breakfast guest rooms. Then, you can easily spend a day or two exploring Château-Chalon, another of France's most beautiful villages.
The Jura Wine Region
Many would consider Jura to be the most obscure wine region in France. While it isn't as well known as Burgundy, Bordeaux, Champagne, and Côtes du Rhone, it is certainly worth heading to Jura to experience the unique wines, including vin de paille (straw wine) and vin jaune (yellow wine).
Jura France wine is incredibly distinct. Nothing else in the world is like what Jura creates, particularly the yellow wine made from Savagnin, what some consider to be the signature grape of the region. You can also find Pinot noir, chardonnay, ploussard, and trousseau among the available varieties.
For those who want to experience the Jura wine region, plan to take a trip to the quaint town of Arbois. Once there, you can head to Bénédicte et Stéphane Tissot, Domaine de la Tournelle, or Domaine de la Pinte for amazing wine tastings. If you're in Château-Chalon, then take a trip to Fort des Rousses for a tasting tour that shouldn't be missed.
However, if you want a truly wine-centric experience, plan on attending Percée du Vin Jaune (the "piercing of the yellow wine") in February. It's a festival that marks the beginning of each year's vin jaune vintage, usually attracting about 50,000 attendees.
Where to Stay in Jura France
If you're headed to the Jura region, you'll likely want a place to stay. The area has so much to offer that trying to see it all during a day trip just isn't realistic. If you want to make the most of your trip by staying for a few days, here are a few hotels in Jura France that need to be part of your Jura accommodation search.
1. Closerie Les Capucines – Arbois
Closerie Les Capucines is a renovated 17th-century convent that was converted into a bed and breakfast. Guests can enjoy the garden, pool, sauna, and rooftop terrace. The rooms are comfortable and well-appointed. Along with free Wi-Fi, you also have access to bicycles that you can use to explore the surrounding area.
2. Chateau De Germigney – Port-Lesney
The Chateau De Germigney is a hotel within an 18th-century manor that is nestled in a parklike setting. Every room boasts a park view, and each suite offers unique, elegant décor. On-site, there is a gourmet restaurant that offers authentic local cuisine.
If you travel with your pets, you'll be happy to know that Chateau De Germigney is dog-friendly.
3. Chambre D'hote Chez Francoise – Dole
At Chambre D'hote Chez Francoise, guests can enjoy a daily breakfast, access to Wi-Fi, and bicycles that are all included as part of the stay. Many of the rooms boast river views, and there is also a private pool available for a swim as well as a hot tub.
Latest posts by Catherine
(see all)