THIS POST MAY CONTAIN COMPENSATED LINKS. FIND MORE INFO IN MY
DISCLAIMER
.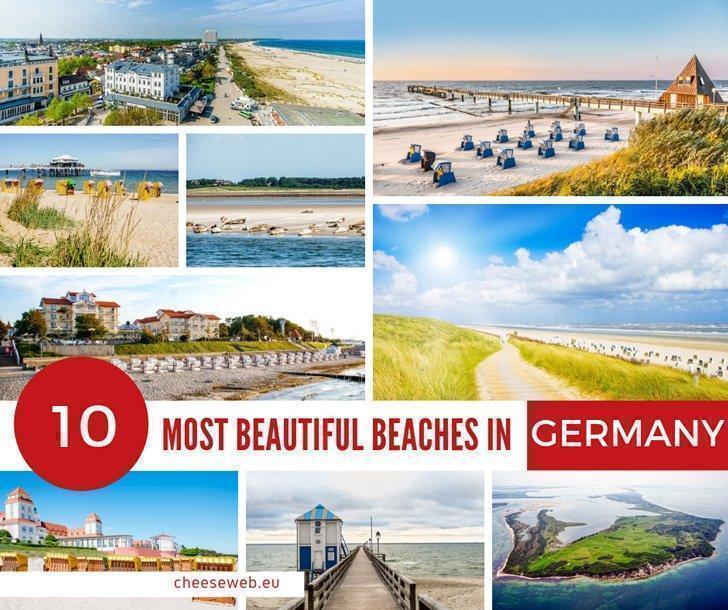 If the hoards of tourists keep you away from the Mediterranean, you can still have an amazing European beach vacation. We share 10 of the Best Beaches in Germany for your seaside pleasure.
When most people think of beaches, they focus on tropical destinations, like Bali, Oahu, Rio de Janeiro, and Santorini. But these aren't the only options out there. Germany is actually home to some stunningly beautiful beaches, but they aren't on every traveller's radar.
The beaches of Germany offer spectacular views, brilliant sunshine, and magnificent sandy shores. Whether you are looking for a peaceful, isolated destination or beaches brimming with activity and vibrancy, here's a look at some of the most breathtaking and enjoyable island and north Germany beaches.
Does Germany Have Beaches?
Yes! Germany actually has nearly 1,500 miles of coastline, mostly situated along the country's northern edge. Plus, several islands are part of the nation, including some that are home to some of the most popular beaches in Germany.
Best Beaches in Germany
Germany has a lot to offer in the way of beaches. Some are incredibly energetic, attracting tons of visitors during the warmest months. Others are more secluded, making a visit feel particularly private or even intimate. For the bold, you can also head to nude beaches in Germany, giving you a chance to sunbathe without having to worry about tan lines.
Here's a look at the 10 best beaches Germany has to offer.
1. Sylt
Nestled in the middle of the
Wadden Sea UNESCO World Heritage Site
, the Sylt beaches in Germany are some of the most popular options for locals and travellers. This Northern Frisian island has something for nearly everyone. You can stroll through nature preserves, try your hand at watersports, dance the night away at a local club, and enjoy mouthwatering cuisine.
There are approximately 25 miles of stunning sandy beaches on Sylt. The landscape is so breathtaking that some have dubbed the island the Queen of the North Sea. There are also several beach resorts, giving you plenty of options for accommodations.
Hotels in Sylt
2. Rügen
Rügen, the largest of Germany's islands, attracts tourists from far and wide. At
Jasmund National Park
, the massive white chalk cliffs stretch over a stunning deep blue sea, making them a sight to behold. Plus, the island is punctuated with picturesque villages and is home to several resorts. Rügen is also the site of the Störtebeker theatre festival, an incredibly enjoyable event.
In total, Rügen has around 38 miles of sandy coastline to enjoy. Additionally, hiking and biking opportunities abound, making this island an excellent option for travellers who like to stay active and spend time in nature.
If you aren't sure which beach to try, head to Binz Beach. On average, these white sand shores get 1,800 hours of sunshine each year, making it one of the sunniest parts of the entire country.
Hotels in Rügen
3. Lubmin
Germany is world-renown for this nudist culture. At Lubmin Beach, which is located on the Baltic Sea, clothing is completely optional, and many people consider it one of the nicest nude beaches in the entire country. The surrounding scenery is breathtaking, featuring blue waters, rugged cliffs, and views of the nearby forest.
Plus, there are plenty of opportunities to enjoy other activities in the surrounding area. Hiking, fishing, and horseback riding are all favourites for locals and visitors, giving you a chance to enjoy the outdoors once you are done working on your full-body tan.
Hotels in Lubmin
4. Föhr
A North Sea island located in
Schleswig-Holstein Wattenmeer National Park
, Föhr is known for its lush and wide variety of flora. Beautiful gardens are a staple of the landscape, and many come to the island for wellness treatments and thalassotherapy.
Föhr is also a favourite for families. There are plenty of opportunities for some fun in the water. Additionally, the island has tennis and golf courses, making it easy to stay active.
Hotels in Föhr
5. Juist
One of seven inhabited East Frisian Islands, Juist is situated in the Wadden Sea. While the island is small, it has miles of windswept and slightly rugged beaches, all of which are perfect for a casual stroll. You can also find opportunities to enjoy thalassotherapy spa treatments or hike through the island's mudflats, allowing you to turn a traditional beach vacation into so much more.
During the late spring, Juist hosts an amazing music festival. If you prefer something with a bit more intrigue, consider travelling in September so that you can experience the crime fiction festival.
Juist is also a surprisingly peaceful destination. The entire island is car-free, so you won't be bothered by engine noise. Just be prepared to walk or bike to get around in many cases, though you can take a ride in one of the island's horse-drawn carriages in many of the more populated sections.
Hotels in Juist
6. Usedom
If you want to experience a unique natural phenomenon, consider making a trip to the beaches at Usedom, an island in the Baltic Sea.
Usedom
is known for its "singing sand." When the wind comes through just right, the grains of sand rub together, creating an auditory experience you won't find anywhere else.
Usedom is also incredibly peaceful. The sun-soaked shores are ideal for relaxing, and the surrounding outdoor landscape is just begging to be explored. Plus, you'll find fantastic food, elegant spas, and vibrant music festivals, allowing you to take your visit in several different directions.
Hotels in Usedom
7. Timmendorfer Strand
Timmendorfer Strand feels like a well-kept secret. While locals flock to this four-mile stretch of beach, it rarely ends up on tourists' radar. As a result, it tends to have a quieter feel, making it ideal for relaxation.
At Timmendorfer Strand, you'll also find a long pier that stretches out into the surrounding sea. The nearby wildlife park is ideal for bird watching as it is home to about 1,300 species. Many also head to Timmendorfer Strand for luxurious spa treatments, ensuring their stay is as rejuvenating as possible.
Hotels in Timmendorfer Strand
8. Warnemünde
A port town on the Baltic Sea, Warnemünde welcomes hundreds of cruise ships throughout the year. By climbing to the top of the 19
th
-century lighthouse, you can get amazing views of the massive vessels bobbing in the water and the surrounding town. Some of the rockier stretches of shores are ideal for listening to the waves, and the deep blue waters seem to stretch on forever, creating a stellar view.
Warnemünde is also an excellent choice for families. The waters stay reasonably shallow for a substantial distance from shore, making it ideal for those with small children. Along with the beach and marina, there are plenty of attractions nearby. Restaurants and parks are plentiful. Plus, if you want to try your hand at sailing, there are learning opportunities available.
Hotels in Warnemünde
9. Hiddensee
The west coast of this Baltic island is practically a continuous stretch of sandy beach, all of which is backed by beautiful, rolling sand dunes. Hiddensee is also one of the quieter options as the island is entirely car-free. Additionally, it doesn't see as many tourists as some of Germany's other islands, making it feel more peaceful.
Hiddensee's beaches are divided into sections. Vitte is one of the most popular, but be forewarned that it is nudity-friendly. Otherwise, Kloster and Neuendorf are also favourites because they are supervised throughout much of the year. Neuendorf is also a picturesque fishing village, giving it a uniquely quaint feel.
Hotels in Hiddensee
10. Kühlungsborn
Known for its quaint appearance, Kühlungsborn is ideal for travellers who want to get away from modern life without having to travel too far off the beaten path. All of the buildings in the area aren't allowed to be any taller than the local trees, ensuring the landscape isn't visually disrupted.
Plus, Kühlungborn has a storybook charm you won't easily find in other areas of the Baltic coast. Sunbathing here can feel a bit like you are stepping back into a simpler time, something that many travellers are sure to appreciate.
Hotels in Kühlungsborn
Latest posts by Catherine
(see all)