THIS POST MAY CONTAIN COMPENSATED LINKS. FIND MORE INFO IN MY
DISCLAIMER
.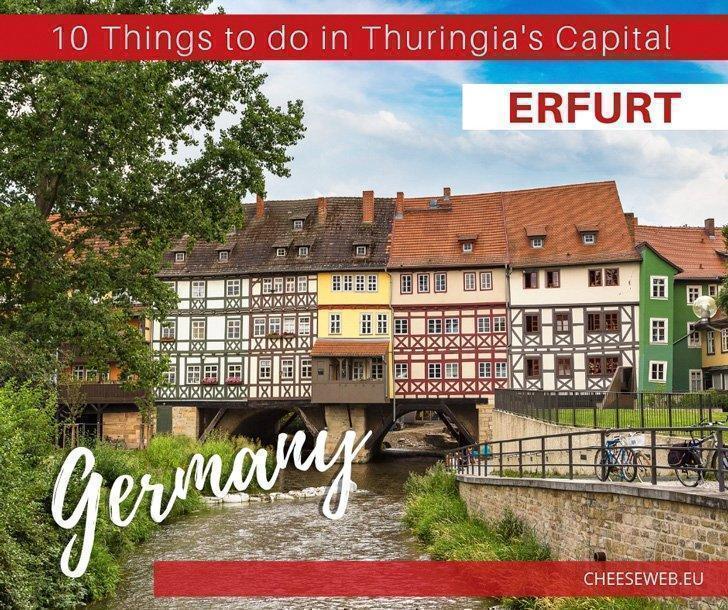 While many regions of Germany are popular stops on the tourist trail, visitors often overlook Thuringia. Local expert, Annemarie, shares why its capital city, Erfurt, is perfect for slow travellers and needs to be on your Germany bucket list.
Where is Erfurt, Germany?
Erfurt is the capital city in Germany's most central state, Thuringia. Sadly underrated when it comes to tourism, Thuringia itself is well worth a visit and Erfurt alone has so much to offer.
Here are the top 10 reasons why you should add Erfurt, Germany to your German travel Bucket List.
Best Things to do in Erfurt, Germany
1. Visit the Christmas Markets
Erfurt has one of Germany's prettiest Christmas markets. Located on its old town square in front of the stairs of a medieval cathedral and church, it is excessively beautiful. Covered in golden lights, hundreds of stalls offer delicious Christmas treats and handmade souvenirs. But what stands out the most is the extremely tall, real, and fully decorated Christmas tree and the wooden pyramid.
That's not the only Christmas Market in Erfurt, however. When you walk from the train station to the market square, you will see the Willy-Brandt-Platz market and inner-city market.
Don't forget to walk across the Merchants' Bridge for the best Christmas atmosphere and charming medieval flair.
2. Stay in a Bridge
One of the most iconic sites in Erfurt is the old Merchants' Bridge (or Krämerbrücke). The medieval arch bridge dates back to the 14th century and nowadays it is impossible to live on it unless you are an artist with a unique specialisation.
There is the possibility, however, to book a stay in the Krämerhaus to experience a taste of Medival life. [Check the current rates.]
A small museum also lets you have a look inside a tiny house in case you can't make the stay happen.
Either way, check out the local shops, in particular, the Thüringer Spezialitätenmarkt for local foodie souvenirs and Goldhelm for crazy handmade ice cream flavours.
3. Dine on Dumplings
When in Thuringia, you cannot miss out on the delicious regional dish Thüringer Klöße (Thuringian dumplings). Together with the Thuringian sausage Thüringer Bratwurst/Roster, they are staple dishes, and I love both to bits.
If you didn't know, these dumplings are made from potatoes: half mashed and half grated. They take hours to make and a lot of hard work. You can get them in all restaurants serving German cuisine but if you want a modern spin, try the fried dumplings served in edible bowls at Restlos Bistro.
4. Walk in Luther's Foot Steps
It was in Thuringia the major shift in church politics happened thanks to Martin Luther. He translated the Bible into German so common folk could understand, protested against the practice of charging heftily for indulgences, and his preachings resulted in the split of the church.
He never wanted that division; he only sought reformation. But now we have the Protestant Church, and we are mighty proud of it in Thuringia.
You can see his statue on the Luthermarkt and near the North Park. The city is also honoured by his famous quote stating Erfurt is located in the best of places.
5. Take a City Walking Tour
To truly appreciate the historical significance of Erfurt and why it didn't always belong to Thuringia, I recommend a walking tour with a local guide. They will point out breathtaking buildings and share interesting stories about their details, show you newly discovered ruins, and point you to the best foodie spots in Erfurt.
You can book those easily at the tourist information centre, on-site or online. There is quite a variety; tour specific areas, such as the Petersberg fortress, or choose a guide in medieval costume or through public transport.
6. Discover the World's Biggest Bell
In the middle tower of the Gothic cathedral, you can find 'Gloriosa.' It is the world's largest free-swinging medieval bell. You can also attend international organ concerts in the St Marien Cathedral every Saturday from May to August.
There are daily cathedral tours at 2 pm. They cost 3 EUR. Next to the cathedral, you can visit two former abbey churches, St. Marien and St. Severi. Entrance to St. Severi costs 4,50 EUR.
7. Experience Gardenscaping
Erfurt has been very invested in gardenscaping, running the egapark since 1961, having its very own German Gardenscaping Museum, and hosting the Bundesgartenschau (German Garden Show) in 2021.
The egapark stretches across 36 hectares and has attracted over 45 million visitors since its founding. Entrance fees during the winter season are 3 EUR and 8 EUR for the summer season. Apart from beautifully kept flower beds, you can see art and statues made entirely from flowers.
8. Unleash the Inner Child
You might not have grown up watching the German kids channel KiKA or recognize the cartoon characters across the city, but they still are fun selfie material. In total, there are ten figures hidden all over Erfurt.
The silliest might be Bernd das Brot, who is a constantly depressed loaf of bread. You cannot miss it as it is right next to the town hall and I can guarantee you; there will be questions when you show photos with a big bread loaf to your loved ones at home.
9. Cuddle with Beans
Thuringians love food, and it's not surprising the city's mascot is something edible; '
Puffbohne
,' the broad bean. You can buy it as plushies, magnets, mugs, or actual bean seeds for souvenirs. The bean has been a staple vegetable since the middle ages thanks to its high protein and starch content.
The soil around Erfurt is fertile and allowed for productive agriculture, including cultivating beans. It is said the native citizens of Erfurt kept a handful of beans in their pockets and tipped their hat at bean fields as a sign of respect.
10. Attend Events Throughout the Year
There is always something going on in Erfurt. Whether it is garden shows, food markets, city festivals or seasonal events, the calendar is packed. It's also worthwhile checking for upcoming concerts as both local and international artists are regularly holding shows around the city.
Sometimes it's a stage set up in front of the cathedral; sometimes it's in smaller club venues or even at the fair. Previous and current shows include The Prodigy, Hozier, Lynyrd Skynyrd, Holiday on Ice, and the Phantom of the Opera.
Latest posts by Annemarie Strehl
(see all)