THIS POST MAY CONTAIN COMPENSATED LINKS. FIND MORE INFO IN MY
DISCLAIMER
.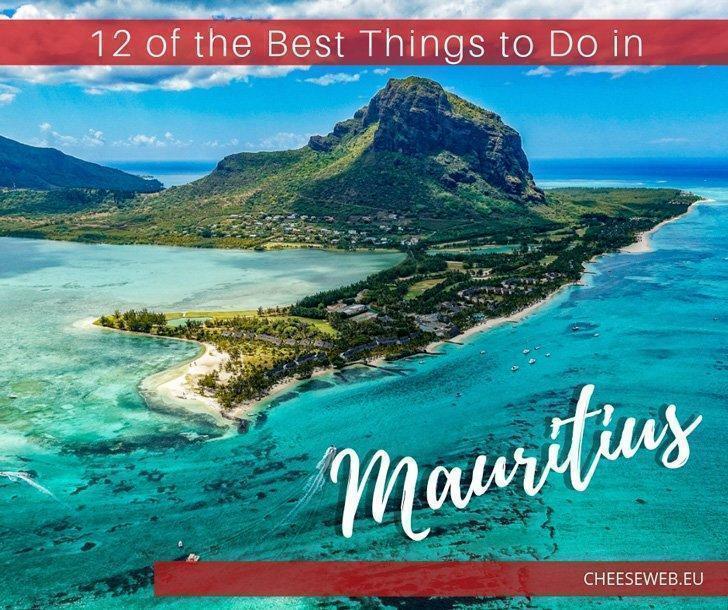 If white sand beaches, gushing waterfalls, and unique natural phenomenon are the makings of a perfect holiday destination, consider visiting Mauritius. This island getaway in Africa combines unbelievable nature and unforgettable luxury. Rachita shares the best things to do in Mauritius for the ultimate tropical holiday.
Where is Mauritius?
A tropical island paradise lying in the southeast coast of Africa, the Republic of Mauritius happens to be one of the world's top luxury tourist destinations.
Particularly known for its white sandy beaches, azure-coloured ocean, and a plethora of both natural and man-made wonders, Mauritius is a delight for all. This island is perfect for all kinds of travellers because it caters to everyone's needs. You have gorgeous waterfalls, magical beaches, amazing hikes, and so many activities to indulge in here.
There are just so many amazing places in Mauritius to explore and discover which a lot of locals are unaware of too. In this article, I have listed 12 amazing things you can do on this island to experience the real Mauritius.
12 of the Best Things to do in Mauritius
1. Spend a Day Exploring the Black River Gorges National Park
One of the largest attractions in Mauritius happens to be the Black River Gorges National Park which is perfect for hiking/trekking enthusiasts. A beautiful hilly region in southern Mauritius, the Black River Gorges National Park was established in June 1994. It is known to house several exotic animals and birds like the pink pigeon, Mauritius kestrel, echo parakeet, etc.
The best thing about this rainforest is there is no entrance fee. Yes, that's right; you can plan to come here anytime you want and make the most of the views and landscapes. This park has a rich flora and fauna which makes it quite popular among nature lovers and photography enthusiasts.
Apart from bird and animal watching, you can also hike the variety of available trails. There is the Macchabee trail, Cascade des Galets, Black River Piton, and so on. Most of these trails are 4-9 km in length, and each hike can be completed in around 4-5 hours.
2. Party at Grand Baie/Flic en Flac During the Weekend
For party people, the weekend is the best time to head to Grand Baie or Flic en Flac as this is where the fun happens. From cool beach parties to live music sessions, you will find it all here but only if you know where to look. There are many clubs and hotels in Grand Baie which will promise you a night of fun and enjoyment, but the one place that stands out the most is the Banana Beach Club.
This has been the 'IT' place in Mauritius for over 20 years where you can experience both live music and awesome DJs, depending on the day you visit. In Flic en Flac, you can try Lakaz Cascavelle which is a European-style pub where you will come across a lot of local DJs. The best thing about this place is the drinks are cheaper here so a night out won't burn a giant hole in your pocket.
3. Go for the Dolphin Tour on Flic en Flac Beach
Another popular activity in Mauritius you cannot even think to miss out on is the Dolphin Tour which happens on the Southwest coast of Mauritius. This tour is a chance to expose yourself to the world of dolphins and swim with these cute, intelligent creatures while learning more about them. There are two types of dolphins which you are likely to observe on this tour: the Bottlenose dolphins and the Spinner dolphins.
But, dolphin watching and swimming is not the only activity included in this tour. You also have snorkelling, and a trip to Benitiers Island and Crystal Rock included in this day tour. On Benitiers Island, you are served the most delicious BBQ meal along with some local Mauritius drinks.
There are many tour companies which you can find both online or in Mauritius for this day tour. Book your dolphin tour in advance here.
4. Take a Helicopter Tour to Observe the Underwater Waterfalls
One of the most magical and mysterious phenomena in Mauritius you absolutely cannot miss is the Underwater Waterfalls. Found near the southern tip of the island, the Underwater waterfalls are actually an illusion but a beautiful one at that. This underwater waterfall is caused by the Indian Ocean sand being driven into a deeper abyss by the strong currents on the coastal shelf.
It is an optical illusion caused by a natural phenomenon which makes this even more fascinating to observe. There are only two ways to witness this illusion; on a helicopter tour or from the top of the Le Morne Brabant peak. A helicopter tour is a preferable option as it shows you the underwater waterfall from directly above which gives you a better view and understanding of this place.
A helicopter tour for the underwater waterfalls can cost you anywhere between 400 – 950 Euros, depending on your starting location.
5. Hike to the Offbeat Eau Bleue Waterfalls and Relax Here
One of the most mesmerizing and offbeat places in Cluny, Mauritius is the Eau Bleue Waterfalls which is a real natural wonder. It is not easy to find but you can ask the locals, and they will take you right to the starting point. Essentially, during monsoon time, there are four waterfalls which look completely blue and magical and are surrounded with rocks and mud.
To reach the waterfalls, you have to hike between the trees and rocky paths so wearing a sturdy pair of sports shoes will be a good idea. You can easily spend a day here, just relaxing and swimming under the waterfall. And since it is secluded, there is no need to hurry either.
6. Enjoy the Glass Bottom Boat Tour at the Blue Bay
Are you eager to learn about the underwater life but scared to dive in the water? If the answer is yes, then this is the perfect adventure for you. The Blue Bay Marine Park is situated on the southeast coast of Mauritius and is the best place to see the marine life in Mauritius. The water is sparklingly blue, and you can look at the corals and fishes quite clearly without diving into the waters.
But what is even more amazing is the boats have a glass bottom so you can see the marine life clearly while sitting comfortably inside the boat. Also, if you aren't afraid of the water, you can snorkel or swim to experience the marine world first-hand. Book a full-day glass bottom boat trip to Ile des Deux Cocos here.
7. Go For a Hike to Le Morne Brabant Peak, UNESCO World Heritage Site
One of the top attractions in Mauritius, Le Morne Brabant, is a UNESCO World Heritage Site and the third highest peak in the country. There is a tragic story associated with this peak. It is said the locals committed suicide from here to free themselves from slavery. One can actually hike to the summit and also see the spot on the way from where these people jumped to die.
It is a slightly difficult hike so it would be a good idea to hire a guide but if you are a pro at hiking, then go ahead and make the most of this adventurous location. It is usually a good idea to start early in the morning so you can be back at the base by the evening.
8. Enjoy a Day at Gris Gris Point in South Mauritius
Yet another unique place which will make you fall in love with Mauritius, Gris Gris beach lies in the Souillac region on the southwestern coast. This beach is surrounded by cliffs which make for a good vantage point, and you will experience strong winds throughout the day here. This is the wild side of Mauritius because the ocean is a little rough here and collides hard with the ocean rocks to make large splashes of water.
If you know how to windsurf this is a good spot for it or else you can simply enjoy a picnic here. There is also a tree trail which will take you to another cliff, on the opposite end of the Gris Gris beach which offers even more amazing views of the ocean. Book a 10-hour tour of the south coast including Gris Gris here.
9. Spend a Day Exploring Port Louis, Capital of Mauritius Island
A visit to Mauritius Island without spending a day in its capital is completely absurd. This small capital city lies in the northeastern part of Mauritius and is full of markets and colourful buildings. You can shop for souvenirs here and will get most of the objects for very low prices. If you visit on a Saturday, you can also watch the horse riding competition which occurs throughout the day.
Don't forget to head to the Le Caudan Waterfront because this is where all the magic happens, especially in the evening when the sun sets and the whole place is lit up with lights and colours. You also have the Blue Penny Museum and the Photograph Museum to explore and a few viewpoints which give you a panoramic view of the city. Book a full-day tour of Northern Mauritius here.
10. Hike to the Highest Mountain Peak in Mauritius
Do you love hiking? If yes, then you have to hike to the highest mountain peak in Mauritius, the Little Black River peak. This is an easy hike which will take about 4 hours for the return journey and from the top, you get to see the southeastern coast of Mauritius.
The last few meters can be slightly difficult as it is a vertical ascent, but there are ropes in place to offer you support. You cannot miss out on this activity because from the peak, you also get to see the famous Le Morne peak, and the Trois Mamelles peak, not to forget the vast expanse of the Black River Gorges National Park.
11. Take a Walk around the Trou Aux Cerfs in Curepipe
A dormant volcano crater, lying in the center of the Mauritius, Trou Aux Cerfs is another place you should visit while exploring Mauritius. This crater has now been turned to a park where people come for an evening or morning walk to enjoy the environment. The inside of the crater has been completely covered with vegetation, and you can take a walk to the bottom of the crater as well.
But the loveliest thing about Trou Aux Cerfs is you see the mountain peaks on the eastern coast from here and lovely sunset hues which change every day.
This full-day tour of the south of Mauritius includes the Trou Aux Cerfs and the 7-coloured earth below.
12. Visit the Famous Chamarel Seven Colored Earth
Finally, make sure that you don't forget to visit another magical attraction in Mauritius, i.e., the Chamarel Seven Colored Earth. This is yet another natural phenomenon which has caused a beautiful formation for the world to see and admire. In Chamarel, you will see a small area of sand dunes in which the sand is made up of 7 colours.
It is said the colours remain the same and if you keep it in a jar and shake it, the sand would form neat layers of different colours. So, don't miss out on this amazing location and do take sand jars as souvenirs for your friends and family from here. The entry ticket to the Chamarel park will cost you about 7 Euros per person and will also include the Chamarel Waterfall attraction.
Book More Tours and Things to Do in Mauritius: