THIS POST MAY CONTAIN COMPENSATED LINKS. FIND MORE INFO IN MY
DISCLAIMER
.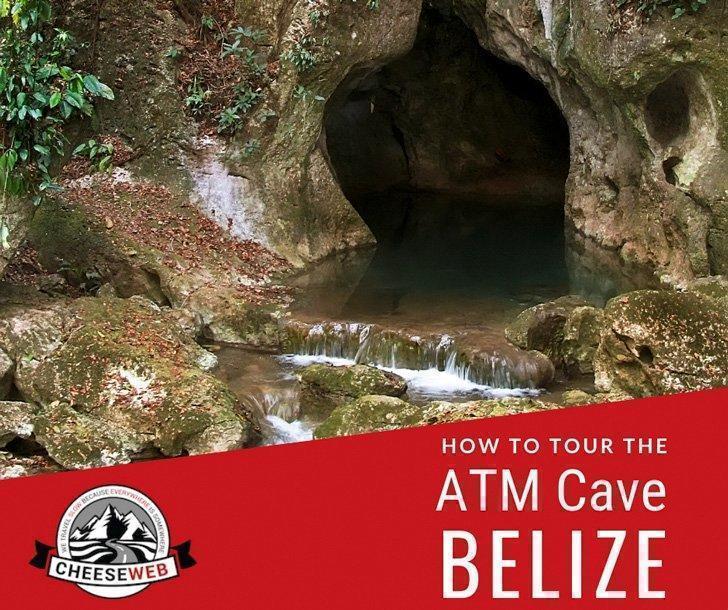 If you're looking for adventure, culture, and nature this winter, consider a trip to the Cayo-District of Belize. Our guest contributor, Alison, takes us on a multi-generational, family-travel adventure inside the Actun Tunichil Muknal or ATM Cave, Belize.
We put together an inter-generational, family trip for our winter break. The eleven of us ranged from 9 to 76 years of age; all relatively fit for their given age group, all seasoned travellers, and all excited to embark on a new adventure. When tossing around ideas, we came up with Belize as a destination. I knew little of the country- only of its reputation as a great location for diving and fishing.
Intrigued, I began investigating, and I realized there was a lot to learn and see in Belize's interior.  Reading about the dense jungle, the nature lovers' paradise, and Mayan culture and historical sites, I decided we had to go.
Digging deeper, I was captivated when reading about the Actun Tunichil Muknal Cave (ATM). The ATM Cave is sacred and believed to be a gateway to the underworld by the Mayans of the area. Human sacrifices took place in its depths as a plea to the gods for rains. It was a must-see location in Belize.
How to get to the Cayo-District, Belize
Our journey started in Guatemala. Leaving Tikal, we drove from the Flores area to the Belizean border. Customs was easy, quick, and uneventful. After clearing customs, we were greeted by a guide, hired to take us to San Ignacio.
Immediately, I could feel the change in culture from Guatemala, with its strong indigenous culture, to a decidedly Caribbean influence. The houses were brightly coloured, and on stilts, English was everywhere. The 2-hour ride was through the heavily forested jungle.  The infrastructure was mediocre at best.
The main road led through the downtown of San Ignacio. San Ignacio, a small town, was decorated with Christmas lights during the holiday season. Although the town attracts some tourists, it wasn't built up with hotels and restaurants. Mainly, it was bustling with residents, working and living.
We noticed the many Chinese markets and soon learned of the Chinese population that moved to Belize in the early twentieth century. While some used it as a gateway to enter the US, most eventually stayed. By our guide's account, the Chinese immigrants own the majority of grocery stores, gas stations and convenience stores in the region.
Our drive through San Ignacio lasted about five minutes. We crossed a bridge and entered Santa Elena, the sister city of San Ignacio. Any difference wasn't discernible, except that Santa Elena was a bit smaller.
We continued down the main road through the interior of Belize, until we turned off an unpaved and rough road. We saw a few nice fenced-in homes along the side of the road, but not much else. After what seemed like an hour, but was only 15 minutes, we turned into our hotel.
Best Hotel for the ATM Cave Tour
We booked at the Table Rock Lodge, a small hotel with cabins dotted through a heavily wooded area. As we exited the van, we were immediately greeted by the manager who addressed us by name and then split us up by cabin assignment. Each cabin group was given a tour of the lodge and then an introduction to our rooms.
The rooms were large and open with windows only covered by screens. Hanging off the roof rafters outside were bats. They were squeaking at each other as if arguing about the evening's events.
We walked to the lodge's restaurant for snacks and cocktails while admiring the view of the jungle in front of us. The lodge had a selection of board games, and some of us played while we waited to for dinnertime.  It was a quiet and pleasant way to pass some time.
The restaurant overlooked a hillslope that led down a river, where we could grab rafts and take a slow tube ride down the river.
The lodge's grounds also housed chickens, rabbits, turkeys, and donkeys. Orchards were filled with orange, star fruit, avocado, and mango trees. The only rule was "if you pick it, you eat it."
The kids flocked immediately to the animals and played among the chickens and rabbits, and then eventually made their way to the donkeys where they took millions of selfies with the animals.
I strolled around the orange grove, watching the birds fly through the trees as the sun started getting lower in the sky. My husband took the youngest for an inner tube rafting ride down the river. Eventually, I went back to the room and sat on the deck watching motmot and hummingbirds dance among the branches while the bats chirped above me. It was peaceful and beautiful.
During dinner, the hotel manager stopped by our table to prepare us for our tour of the ATM cave in the morning. She told us they would have breakfast ready, then told us what to bring along. I had already read some of the requirements before I left: bring socks in a sealed plastic bag, wear quick-drying clothes and water-friendly shoes like Keens, and don't bring cameras on the tour. It turns out, a couple of years ago a tourist dropped his camera and cracked a 2000-year-old skull.
Actun Tunichil Muknal (ATM) Cave Tour.
From my prior reading, I understood the ATM cave tour isn't a good idea for those who experience any bit of claustrophobia, and those participating should be in good physical health. The cave tour comprised of a 45-minute hike, including three river crossings, followed by an immediate swim into the cave, and a 2-kilometre trek in the cave that included swimming and rock scrambling. [You can book your ATM Cave tour in advance here]
I spent the evening before the trip riddled with anxiety about whether or not my 70+-year-old parents would be able to handle the adventure. I knew my nine-year-old could. He's rock-climbed, white water rafted, and has done a lot of hiking. But my parents, although in good health, have not tackled this type of rigorous tour.
Morning rolled around. After a hearty Belizean breakfast consisting of eggs, tortillas, refried beans, fresh fruit, and mediocre coffee, we all hit the bathroom and met the guide. The eleven of us piled in a van with clothes to change into after the tour and towels provided by the hotel. The van pulled out, drove back down the dirt/gravel road and onto the main road. We passed Santa Elena, over the bridge through San Ignacio, and stopped to pick up another couple.
The drive was about an hour in total. We drove by thick jungle, orange groves, forests of mahogany grown for commercial purposes, and some farms dotted throughout.  The countryside is beautiful with its varied landscape and with the exception of the two aforementioned cities, lack of development.
As the van pulled into a parking lot, we were greeted by a welcome sign listing all of the things not to do. There was a bathroom area in the parking lot with showers and a changing area. The guide told us to use the bathroom, as our next break would be nature. We did, and when we returned, we were fitted with helmets, headlamps, and life vests. We were broken down into groups of five and seven, and another guide met us there.
Only a handful of guides in Belize are permitted to enter and lead groups into the cave. The guides are rigorously trained and then tested to be allowed to guide treks into the cave.
The guides were anxious to get going as it was the holiday season and the cave could get busy with tours. We were fortunate to be the first ones there. My advice is to always book the first tour of the day for this reason, which we saw by day's end. By then, the cave was busy and getting through tight areas was a hassle with so many people. With its combination of narrow sections and inexperienced spelunkers, it can take a while to get through its many slippery and difficult passages.
Our tour started with an immediate river crossing. It was deep, and there was a rope drawn across for anyone to hold on to. The kids jumped right in, my parents, waded in and I followed behind, keeping my eyes peeled for any rogue caimans, it is Belize after all.
We continued our hike along a muddy path and through two more rivers. They weren't as deep, which was almost worse as it was more difficult to walk across than swim with the slippery, shifty, rocks ready to give way at any moment. The guide had given us bottles of water, so we were well hydrated through the hike.
Our dryland hike ended at a small shaded area with a few wooden benches. We were instructed to leave our water bottles, and find a tree to use the bathroom one last time as there was no place to go in the cave. Once we were ready, we carefully climbed down an embankment and straight into a clear, turquoise pool of water teaming with little fish. Surprisingly, the water temperature was quite comfortable. We started swimming straight into the massive mouth of the cave. The only thing crossing my mind at this moment was how the hell did anyone find this place?
Adventure Inside the ATM Cave
Our journey into the cave continued for two kilometres of swimming, wading through water, squeezing through tight spaces, and climbing over and under boulders. The temperature stayed mild throughout, and never once did I feel cold.
My thoughts occasionally went to my parents as I was split from them. Fortunately, my sister was with them, and they were holding their own. The kids were having a blast traversing the nooks and crannies of the cave.
The guide discussed the history of the cave pointing out the stalactites and stalagmites. He also showed us the bats and their importance to the cave. He showed us the crystal formations along the walls that had taken thousands of years to develop and explained one touch by human hands would ruin it. He gave us the history of the Mayans use and connection with the cave. He told us about why they used it for human sacrifices and how they believed it was an entrance to the Mayan underworld. His knowledge was extensive, interesting, and gave us insight into what we were about to see.
Our hike brought us to an 18-foot boulder we would all need to scramble to come up to the area called The Cathedral. The Cathedral is a massive dry area of the cave with high ceilings where we would find Mayan artifacts and sacrifices.
We all climbed the rocks, jumped across to another massive boulder, and then eventually jumped from there to a dirt ledge. At the ledge, we were instructed to remove our shoes and put our socks on. It is not an area you want to explore without socks, as there are small pebbles that can be painful when stepped on with bare feet. One of the members of our group did not know to bring socks; fortunately for her, I had an extra pair. I have learned to bring extra with kids.
We walked into the massive, cavernous Cathedral. Our guide started pointing out red tape placed all over the ground. Within the taped areas were Mayan artifacts; pieces of pottery, tools, and the occasional skull and bones; some belonging to sacrificial victims as young as infants. Some of the pottery had holes for bloodletting, and some were completely intact. What amazed me were these had not been moved from their original resting places,  and were simply marked by red tape.
The journey was still difficult, as we were still squeezing through tight spaces and climbing over large boulders. Along our tour, the guides showed us some of the cave structures. When shining a light on them,  they created shadows looking like massive temples of the Mayans. It was spectacular. We also came across some skulls that had been altered in shape to demarcate social status. They, too, were sacrificed for the gods in hopes of rain.
As we came across the back of The Cathedral, we were led up a 20-foot metal ladder, held up by roughly-tied ropes. We climbed up and hopped across at the top to a small, lit area where we saw a full skeleton that had been crystallized by the mineral deposits of the cave. The skeleton is referred to as the Crystal Maiden. However, our guide said the skeleton belonged to an adolescent male and was not female.
We made our way back out of the cave the same way we trekked in. The journey out was just as tricky starting with the metal ladder. We had to traverse the same boulders, squeeze through the same tight spaces, scramble down the same 18-foot boulder and swim and wade through the same water.
No railings, stairs, or handles were available to hold on to. We did have to sign a waiver before going, but this journey is not for those who are not in good physical health, and how do I put this kindly, not for those who have had too many holiday treats. There are tight, dangerous spaces. The rocks are slippery. Lots of swimming is required, and the boulder climbing is not easy. However, it is a fantastic adventure and worth seeing. It's hard to imagine the Mayans did this all without modern amenities such as headlamps, helmets, and life vests.
Visiting Belize's Interior
After we made it back to the van, we showered, dried off, changed, and sat down for lunch. Our meal was Belizean chicken stew with plantains, rice and beans, and juice.  Belizean stew is made with ginger, onions, cumin, brown sugar, salt, and – the key ingredient – red recado. Red recado is a paste made from annatto seed and ancho chilli. It is a different taste, like paprika and saffron got together, had a baby and created an entirely new flavour. It was a rich stew with falling-off-the-bone chicken. It was so good (maybe because I was hungry after our cave tour but, more likely because it was made so well).
More things to do in Cayo District, Belize
We headed back to our hotel to relax in the Belizean jungle for one more night before making our way to the coast. As the eleven of us met for dinner to discuss our adventure, we all agreed we wished we had more time in the interior of Belize. The people were kind and excited to share their culture and land.  The region is beautiful, and I would have loved to do more tours to view the wildlife and see more Mayan areas. I was excited to get to the coast to do some snorkelling but was sad to leave Belize's interior.
Latest posts by Alison Netzer
(see all)