THIS POST MAY CONTAIN COMPENSATED LINKS. FIND MORE INFO IN MY
DISCLAIMER
.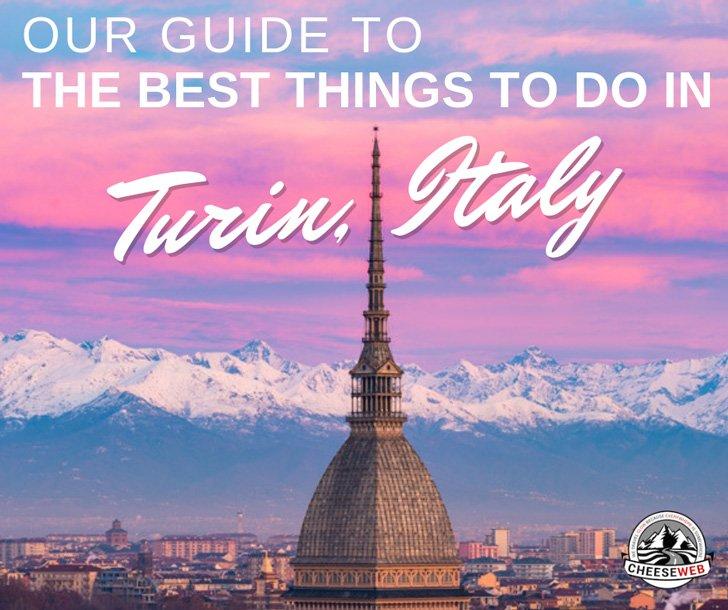 While many of Italy's cities are overcrowded with tourists, Turin remains off the tourist trail – for now. This city of culture, history, cuisine, and breath-taking views of the Alps won't stay a secret for long. Find out why in our guide to the best things to do in Turin, Italy.
Rome, Florence, Milan, Venice; when people think of Italy, those are usually the cities that come to mind first. While travelling to any of these places will likely result in a fantastic trip, these are major tourist destinations, and they feel like it. But, if you decide to head to Turin, Italy instead, you get to enjoy a jewel of an Italian city not on every traveller's radar.
Where is Turin, Italy?
Since many people aren't familiar with the city of Turin, it is common to wonder: where is Turin located in Italy?
Turin, or Torino in Italian, is found in the Piedmont (Piemonte) region of Italy, in the northwestern portion of the country. It is the capital of the province, nestled along the right bank of the Po River.
The city has a magnificent backdrop, as the snowy peaks of the Alps are visible from many areas in Turin. You can also catch glimpses of Superga, a beautiful, green hill located to the east of the city.
Why Visit Turin, Italy?
Turin has a unique history in Italy, serving as the center of government until the parliament was relocated to Rome. In fact, it was the first capital of a unified Italy, a claim no other city can make.
Additionally, Turin is an architectural wonder, mixing classic design with a metropolitan (and admittedly chic) feel.
Many consider Turin to be "the Paris of Italy," thanks to its royal past, majestic structures, and romantic vibe. In 1562, the French House of Savoy relocated its capital to Turin, launching several extravagant building projects to make the city grand.
As you can imagine, royal-level financing made securing some of the era's best architects possible, and you can experience the quality of the work by taking in the breathtaking palaces, piazzas, and boulevards.
Splendid examples of the baroque period, the palaces of Venaria and Stupinigi on the city's outskirts mimic Versailles.
Both the Art Deco and Art Nouveau periods are also well-represented in the architecture, particularly the large geometric, stained glass windows recognized as part of the style. Cafes and townhomes also feature the magnificent, curved ironwork and floral motifs on the plasterwork, making them sights to behold.
6 Things to Do in Turin, Italy
While you could spend an entire trip just enjoying the architecture, there are tons of things to do in Turin, Italy, besides meander through the streets. From museums to religious sites to parks, there is something for everyone. Whether you want to stand back and appreciate one of the Turin, Italy points of interest or take part in an activity, here is a list of what to do in Turin.
[TIP: If you plan to visit several museums or attraction in Turin or the Piedmont region, order a Torino+Piedmont card for free admissions and discounts at top landmarks.]
1. Mole Antonelliana
Part architectural wonder, part historical destination, the Mole Antonelliana is the tallest museum in the world. The structure was originally a synagogue, built in 1848 after non-Catholics were officially granted the freedom to worship, and the stunning spire is an integral part of the city's skyline.
Plus, the building houses the Museo Nazionale del Cinema, or National Cinema Museum, featuring memorabilia and equipment that speaks to the history and significance of filmmaking. Book a private 3-hour city and Mole Anonelliana tour here.
2. Piazza Castello
Located in the historic center of Turin, Piazza Castello to home to two major architectural wonders: the Palazzo Reale, or Royal Palace, and the Palazzo Madama.
Both feature stunning Baroque design, but the latter, which dates back to the year 1003 (though the façade was an additional in 1718), is known for capturing the heart of Napoleon, who made it his home in the city. Book advance tickets and a guided tour here.
Palazzo Madama also houses the Museo Civic d-Arte Antica, featuring stunning collections of medieval, Renaissance, and Baroque period paintings.
3. Historic Coffee Houses
Turin is recognized for its coffee and chocolate, and many of the historic coffee houses explore these delicacies, working to elevate them to new heights. You can experience the charm by heading over to Baratti & Milano, Caffe San Carlo, or Caffe Torino, all located within Turin.
4. Parco del Valentino
While the city features a lot of green space, Parco del Valentino is an ideal destination if you want to stroll along the west bank of the River Po. You can admire the city's architecture, including numerous grand villas, all while being surrounded by beautiful trees and the well-manicured walkways.
5. Balon Flea Market
If you have a Saturday morning free, or are in Turin on the second Sunday of the month, head over to the Balon Flea Market and weave through the maze of more than 250 stalls nestled along the road among a series of established antique shops. You can find anything from contemporary crafts to vintage clothing, and it's all near the Porta Palazzo in the Aurora neighbourhood.
6. Museo delle Antichita Egizie
The Museo delle Antichita Egizie, or Egyptian Museum, is the only museum outside of the Cairo Museum to be entirely dedicated to Egyptian culture and art, making it a unique destination filled with history and wonder.
Famous scholars have often travelled to Turin since the museum was created in 1833 to dive into the collections, and you can do the same. Plus, there are magnificent statues of Ramesses, Sekhmet, and Seti II, along with a Sarcophagus of Ibi and a variety of scripts featuring hieroglyphics that shouldn't be missed. Skip the lines to this top attraction in Turn by booking a guided tour.
7. More Top Things to do in Turin, Italy
Check out more great things to do in Turin from our favourite experience booking site, GetYourGuide:
Where to Stay in Turin
Having high-quality accommodations during your stay can make your trip to Turin even more memorable. If you are trying to decide where to stay in Turin, here are two excellent choices.
Grand Hotel Sitea
If you want to experience 5-star luxury and an ideal location in the city, look no further than the Grand Hotel Sitea. The hotel is right behind the Piazza San Carol and only a 10-minute walk from the Piazza Castello.
Surrounded by shops and restaurants, you'll be able to embrace the ambiance of the city fully. Or, if you'd rather grab a bite without leaving the hotel, you can enjoy Carignano, the on-site Michelin starred restaurant. Plus, it is near the Royal Palace and the Egyptian Museum, both of which can be considered must-sees. Check the current rates here.
Liberty Hotel
Located less than a mile from the city center in a quiet, residential district, the Liberty Hotel is ideal for a relaxing stay. The rooms are spacious, and the location is just a 10-minute walk from the train station, making it an incredibly convenient option for budget-conscious travellers.
Some of the beds are even antiques, adding a bit of history to the accommodations. Plus, there is a small wellness area that features a Turkish bath and hot tub, making it an excellent option for a quick soak after a busy day. Check the current rates here.
Best Restaurants in Turin, Italy
If you are going to head to Turin, taking time to enjoy some local cuisine is an essential part of the experience. If you aren't sure where to go, here are of the best restaurants in Turin that are certainly worth exploring.
Carignano
Located in the Grand Hotel Sitea, Carignano is a Michelin-starred restaurant that provides an exceptional dining experience. The setting is romantic and fairly quiet, even with its downtown location.
Every dish is as photo-ready as it is delicious, and many of the options feature creative twists on traditional options.
Del Cambio
If you want to experience a restaurant in Turin that has stood the test of time, Del Cambio has hosted a variety of 19th-century famous political figures, including the Count of Cavour.
The setting of this Michelin-starred restaurant feels luxurious, and the expansive menu gives you the ability to enjoy a variety of local cuisines. If you want to turn your meal into a full-blown experience, consider opting for a tasting menu accompanied by local wines.
While it may take a few hours to finish your tasting, it is a memory you won't soon forget.
Dai Saletta
A small restaurant brimming with local cuisine, Dai Saletta is an excellent choice if you want to try an authentic trattoria while visiting Turin. You can also dive into other traditional dishes, like brasato al Barolo or tajarin, and enjoy a local wine from small producers that are perfect accompaniments to any meal.
Porta Rossa
Seafood lovers should make sure to stop at Porta Rossa during their stay in Turin. The restaurant focuses largely on fresh fish and a range of seasonal ingredients, which can make each visit potentially unique. Even though it is centrally located, the atmosphere remains intimate and relaxed.
Vintage 1997
If you have a sweet tooth, make a trip to Vintage 1997 to enjoy some homemade ice cream that is hard to beat. You can also opt for the cinque piccolo dolci, a plate featuring five small desserts, giving you some variety.
The restaurant itself, which also offers a variety of traditional entrees, is elegant and calm. Each dish is presented masterfully, making it as much a feast for the eyes as it is for your mouth.
Best Day Trips from Turin
There are some amazing options for day trips from Turin, Italy, especially if you're a wine lover. Head to Barolo, go truffle hunting, sail in a hot-air balloon, or visit the mecca of Italian gastronomy. Book your tickets below:
With so much to see and do, the capital of the Piedmont region of Italy isn't going to stay a secret from tourists for long. Be sure to visit Turin before the word gets out!
Latest posts by Catherine
(see all)