THIS POST MAY CONTAIN COMPENSATED LINKS. FIND MORE INFO IN MY
DISCLAIMER
.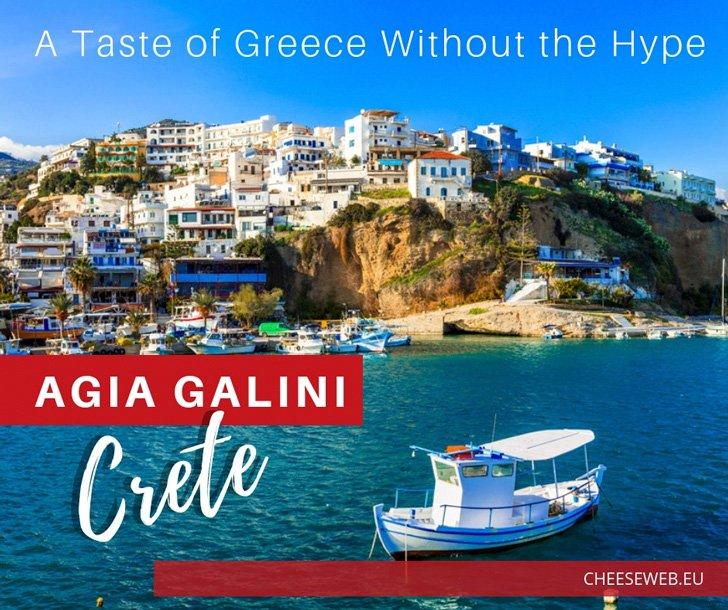 For a Greek island escape you won't have to share with loads of other tourists, head to the charming village of Agia Galini, Crete. Greece expert, Violeta, shares the best things to do on Crete within easy reach of the sandy beaches and narrow streets of this beautiful village in Greece.
Why Visit Crete, Greece?
Crete is different than all the other Greek islands.  It is so big you can choose it as your vacation destination for ten years in a row and still have something new to explore.  However, it is not its size that makes it stand apart, but its traditions, its culture, and its food.
Crete has sandy beaches and mountains, and even a lake. It also has charming villages where you can find your inner peace for a week or two, should you be seeking tranquillity and wild natural scenery.
Agia Galini is one of these beautiful Greek villages that deserve more attention than they get.
Located on the southern coast of Crete, in the Rethymno district, Agia Galini can make an excellent base for exploring this lesser-known part of the island.
How to Get to Agia Galini, Crete
You can reach Agia Galini by bus, car, or taxi from either Chania or Heraklion. Crete has a good public transport system. However, I'd recommend that you rent a car so you can explore the remote areas even buses can't reach.
Your other option is to use the bus to get to Agia Galini and then rent a bike for the duration of your stay.
Buses are comfortable, and they reach almost all villages on the island. Nonetheless, you need to observe the bus schedules carefully to make sure you don't miss the last ride of the day.
Agia Galini is a 90 minutes' drive from Heraklion and about 2 hours' drive from Chania. From Heraklion, the road passes through Tympaki, the nearest town to Agia Galini.
If you come from Chania, you'll pass nearby Rethymno, as that's where the road heading south begins. Then, the road takes you through mountain villages with taverns and small houses scattered along the way, through olive groves and rocky canyons, to lead you to your final destination, Agia Galini.
You'll pass by Spili, which is a name you should remember, as that's where you can eat amazing Cretan style lamb dishes. Don't give in to the beauty of this town just yet. You'll want to visit it properly on one of your day trips from Agia Galini.
The Best Time of Year to Visit Crete
Crete can be the perfect vacation destination all year round. However, starting mid-June until late September, everything will be crowded, as that's the peak tourist season in Crete.
If you want some privacy but still enjoy bathing in the sea, snorkelling, and road trips, consider October as the best time to visit Crete.
The Libyan sea is warm even during November and December, but you should know the weather may be rough for several days in a row. Keep tabs on the weather forecast and book your flights and your accommodation accordingly.
Unfortunately, the departure of the tourists triggers the closing of many restaurants and hotels. This might limit your options, but this is nothing to worry about, as you'll still find everything you need to feel comfortable.  Many British people winter in Crete, and some restaurants stay open to cater to them.
The advantages are you'll have all those pristine beaches to yourself, you'll have the opportunity to take great photos without people in them, and you'll enjoy silence everywhere you'll go.
How to Choose the Best Accommodation in Agia Galini
There are hundreds of accommodation options for all budgets and preferences. You can book an apartment with a terrace facing the Libyan Sea, a hotel room on the main road, or a room in an all-inclusive resort.
Nonetheless, I strongly encourage you to avoid all-inclusive facilities, because they don't offer you an authentic Cretan experience. Opt for small hotels or apartments, as they are usually run by welcoming people who are willing to go out of their way to make you feel welcome. They will prepare breakfast with free-range eggs from their chickens and offer you priceless gifts such as olive oil from their own production.
If you don't mind some walking and stair climbing, I'd recommend choosing a hotel up the hill, so you can enjoy a lovely panorama of the village.
You may also want to take a closer look at the bed & breakfast facilities on the hill facing the harbour. These small hotels and apartments have impressive terraces where you can sit for hours, watching the boats, the birds, and the clouds. Don't expect luxury or modern style furnishings. Everything is old and worn out, but that's what makes these rooms authentic. Check here for the latest rates on B&Bs and Hotels in Agia Galini.
Beware the village is built on hills, so you should expect some climbing wherever you may want to walk. The alternative is to use a car.
The Best Day Trips and Activities from Agia Galini, Crete
You won't need more than one full day to explore the tiny streets of Agia Galini and take photos of young cats behind old gates, colourful bougainvillea plants, traditional Cretan houses with white walls and blue window frames, and old villagers having a chat and a coffee.
If you're looking for tranquillity, good food, and a welcoming beach, you can spend your time on the Agia Galini beach, sipping a café frappe, taking long swims, reading a good book, and trying out all fish dishes in the village.
The real advantage of setting your base camp in Agia Galini, though, is the proximity to long sandy beaches, archeological sites, museums, cities, and natural parks.
Heading West  from Agia Galini
One of the day trips on Crete I highly recommend is to Plakias. You'll need about one hour to drive the 50km to Plakias beach. To take panoramic photos of Plakias from above, make a stop in Myrthios (you'll need to get off the main road for a few minutes, but the detour will be well worth it).
In Plakias, go to Paligremnos beach to see the vertical cliffs nearby. If you enjoy rock climbing, this is the place for you. To go snorkelling, head over to Skinos beach, between the village and the harbour of Plakias. Here the water is shallow and clear, and there aren't any waves.
You can eat in Plakias, as there are some excellent fish restaurants just by the waterfront. The only caveat is Plakias is more popular with tourists than Agia Galini, so depending on the time of year it could be busy. I've been there in late October, and there weren't that many tourists, but I can't vouch for July-August or even September.
You also have the option to eat on your way back home to Agia Galini, in
Spili
– the town I've mentioned before. Choose a taverna where you see locals eating. Try the lamb; it's fantastic.
If time allows, you'll also want to stop by the Preveli Monastery and the Preveli palm tree forest. If this is too much for one day, you may want to leave Preveli for another time. You can take a boat trip from Agia Galini to Preveli, so check out this possibility, as well.
Heading East from Agia Galini
Located about 30 km from Agia Galini, Matala is another idea for a short trip. You can turn this visit into a full day itinerary by including the town of Tympaki and the Ancient City of Phaistos.
Matala features an unusual beachscape, with sandstone cliffs scattered with caves. Apparently, some of these caves were used as tombs by Romans and early Christians. During the 70s, some members of the hippie community found their shelter inside the caves in Matala. I haven't met anyone living in the caves during my visit, but the place has a kind of rebellious spirit; an atmosphere that gives it a special charm.
While in Matala, remember to search for the Red Beach. Accessible only by foot, the Red Beach is about a 15-20 minute walk from Matala. The path isn't difficult, but you need to be in good health, to enjoy walking, and to wear proper shoes (this excludes flip-flops). Clothing is optional on the Red Beach, so you won't need a bathing suit. However, remember to bring sunscreen, as you're going to need it.
Why Choose Agia Galini for Your Crete Vacation?
Close to Heraklion and Chania, the two main airports of Crete, Agia Galini offers a wealth of accommodation options, good food, and a quiet beach.
Less touristy than the neighbouring villages of Plakias and Matala, Agia Galini is a short drive away from all main attractions on the island.
You'll be able to visit Chania, Rethymno and Heraklion, as well as the beautiful beaches in south Crete.
If you enjoy hiking, you can take a taxi to Omalos, then do the Samaria Gorge hike and take a boat from Agia Roumeli to Sfakia, and then a taxi or a bus to Agia Galini.
If you look at a map of Crete, you'll see that I only covered a small fraction of the things to see on this island. You'll understand why some people book a second, third or even tenth holiday in Crete.
More Things to do in Crete, Greece
Latest posts by Violeta Matei
(see all)