THIS POST MAY CONTAIN COMPENSATED LINKS. FIND MORE INFO IN MY
DISCLAIMER
.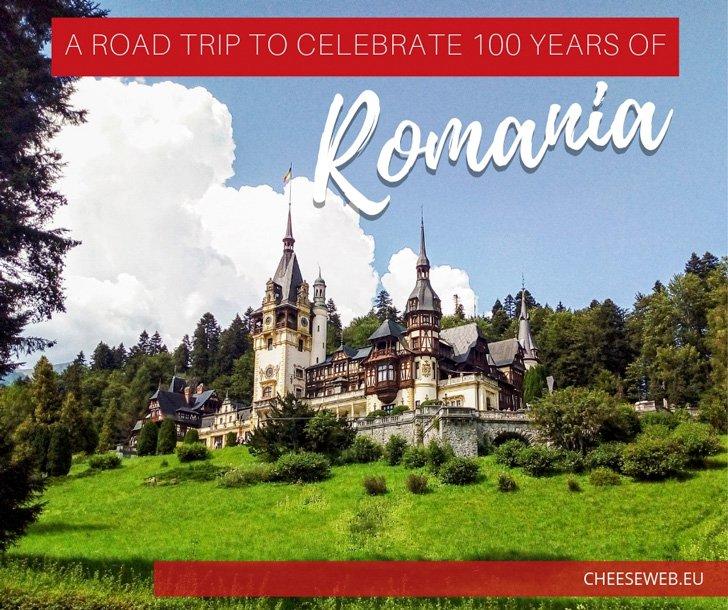 Romania is celebrating its hundredth birthday and there is no better time to visit this unique European country. Val shares a Romanian road trip itinerary through Iaşi, Moldova, Brasov, Transylvania, and the modern capital, Bucharest, with plenty to do, see and eat along the way.
Although the land and mountains are ancient, inhabited once by Greeks, Dacians, and Romans, the modern nation-state of Romania is only one hundred years old.
Born of the shattered empires after the First World War, the Romanian people, finally free from foreign rule, unified the three Romanian regions, Moldova, Transylvania, and Wallachia, into one country in 1918.
There was no better year than the Centennial celebration for us to explore Romania and get to know its unique regions. To see and understand each of them, you must look and listen carefully. So, slow down, enjoy the scenery, the history and the food. You will not be disappointed.
Moldova: Iaşi – the Ancient, the Spiritual, the Cause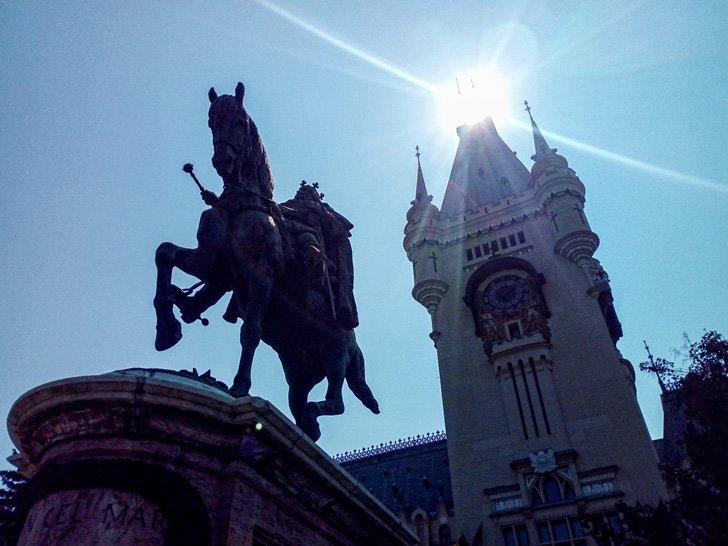 Moldova was the first Romanian region to win its independence from foreign rulers and develop a truly Romanian culture free from domination by neighbouring empires.  It was also our first stop after arriving at the Iaşi airport.
Throughout the nineteenth century, Iaşi attracted the best and brightest from the other Romanian regions where they were free to express and explore their love of country, tradition, and language.
Today the city provides seekers of history a rich offering of unique historical museums, intricate monasteries and churches, as well as the words and prose of the nation's most beloved writers, poets, and statesmen, who defined Romania's contemporary identity.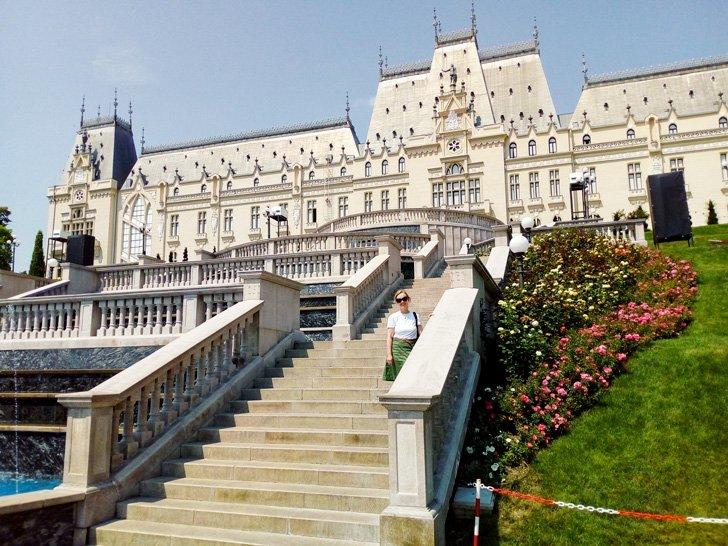 To house the prolific works of art and the treasured artifacts Moldova has produced over the centuries, Iaşi had to provide a museum big enough to accommodate them. The crowning work of architecture in modern Iaşi is the Palace of Culture at the head of Stefan the Great and Holy Street in the heart of the city. This building houses four separate museums of national art and history.
Not far from the Palace of Culture stands the first theatre to perform Romanian language productions from Romanian playwrights. The artists and academics who organized these first Romanian productions went on to found the Romanian Academy for the promotion and preservation of Romanian culture (which is now located in Bucharest).
Further on Copou hill, beyond the country's first university, named after Romania's founding father Ion Cuza, you will find a peaceful park dedicated to Romania's storytellers. The National Poet Mihai Eminescu, who would brood over the meaning of life and commune with nature under an ancient tree, is commemorated here along with the other great storytellers in Romania's early history.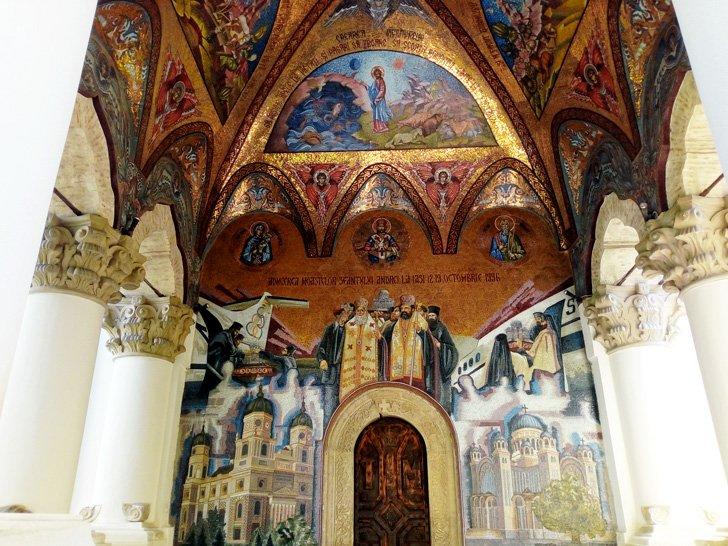 Moldova is also the spiritual center of Romanian religious life with the seat of the Metropolitan in the Iaşi city centre, and the UNESCO-recognized heritage sites (in nearby Suceava) featuring the painted and carved monasteries and churches dedicated to the various saints of the Orthodox tradition. The monasteries in Iaşi are peaceful oases with rich, aromatic gardens where worshippers can listen to services both inside and outside the church.
While Iaşi holds its heritage sacred and preserves it well, there is a definite modern side to the city that has embraced globalization and the Western shopping experience. This is embodied in the shopping mall located behind the Palace of Culture offering a manicured garden, trendy restaurants, brand name shopping, and a food court which rivals anything from the best Californian shopping malls.
Hospitality at properties offering Airbnb type accommodations, and high-rise business hotels are provided at affordable rates for any traveller. Apartments and rooms are well appointed and comfortable with amiable and helpful hosts.
You will find the people of Iaşi welcoming and excited to tell you about their cozy city and traditional culture. Many of them speak English or French exceptionally well.
Transylvania: Braşov – The Fortress & The Mountains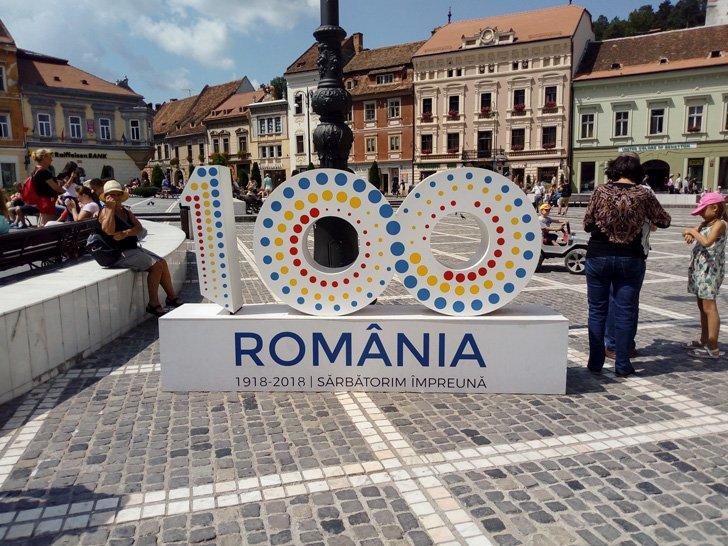 After a long, yet scenic drive southwest from Iaşi in a rented car, we arrived in Transylvania.  The majestic Carpathian mountains which surround Transylvania have been a historical bulwark against invading armies and are considered protectors of Romanian lands.
Some of Romania's most romanticized defenders descend from Transylvania. Undoubtedly you have heard of both Vlad Dracul and Vlad Tepeş ('the Impaler'), the father and son duo who repelled and impaled Turkish invaders in the fifteenth century.
Using Transylvania as a buffer between the Muslim Ottomans and Christian Europeans, King Andrew of Hungary offered free land and no taxes to Saxon colonists if they would build and defend cities placed in key strategic locations to guard against the invading armies from Turkey.
Several of the old fortress cities founded at that time, such as Cluj, Sighişoara, and Braşov are extremely well-preserved and are lovely to visit.
Braşov and the other Saxon settlements in Transylvania have a distinctly different atmosphere than other major Romanian cities. The Saxons not only brought their discipline and industry to the regions but also their unique civic architecture and city planning. You could easily mistake these fortress cities for German alpine villages.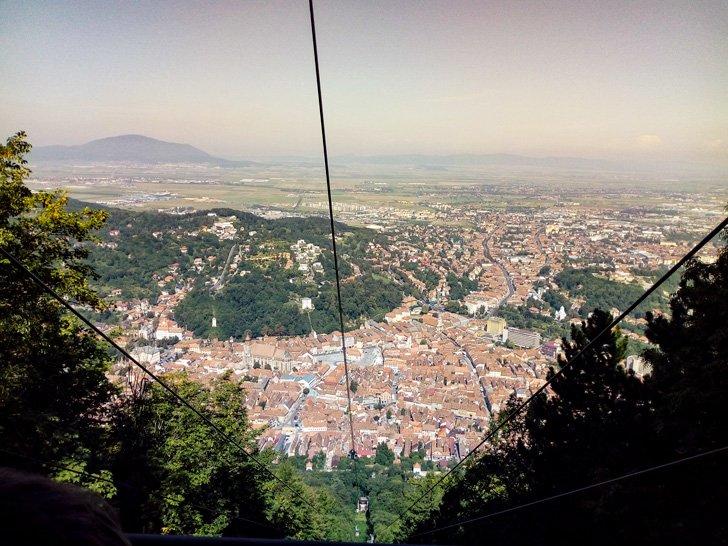 Braşov is located at the base of Mount Tâmpa and at the mouth of the Prahova Valley, where the air is a bit fresher and thinner, the mornings bright and refreshing even in the height of summer, and the scenery breathtaking, year round.
Things to do in Braşov
Braşov is a four seasons destination.
In winter, Braşov is a perfect base for sampling the various world-class ski slopes within easy driving, bussing, or training distance, such as Poiana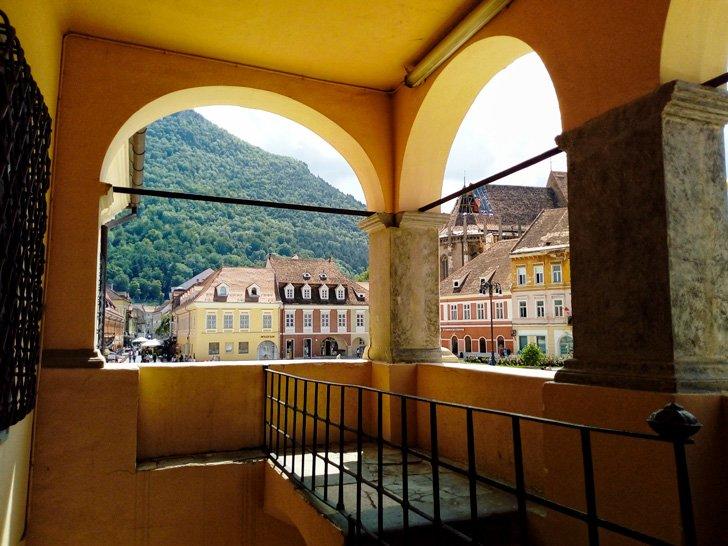 Braşov and Predeal.
In summer, there are endless lengths of mountain trails to walk and hike, with differing levels of difficulty from easy to expert; all present views that will inspire you to keep going up and over the next peak.
If you're tired from exploring the commercial arcades and narrow alleys of this charming town, there is also an affordable tramway service to the top of Mount Tâmpa, from the edge of the old town center, that will zip you to the top without breaking a sweat or rubbing a blister.
Restaurants in Braşov
Braşov offers the visitor everything from the trendy fast food on the popular Council Square to an authentic and rustic Romanian menu on the edges of the old fortress overlooking the city's ancient churches.
I highly recommend skipping the crowds in the centre and indulging in the craft of the local chefs for a dinner you will not regret!
Casa Românească on the southern edge of the old town, nestled against the forested hills will please both your pallet and your Instagram feed.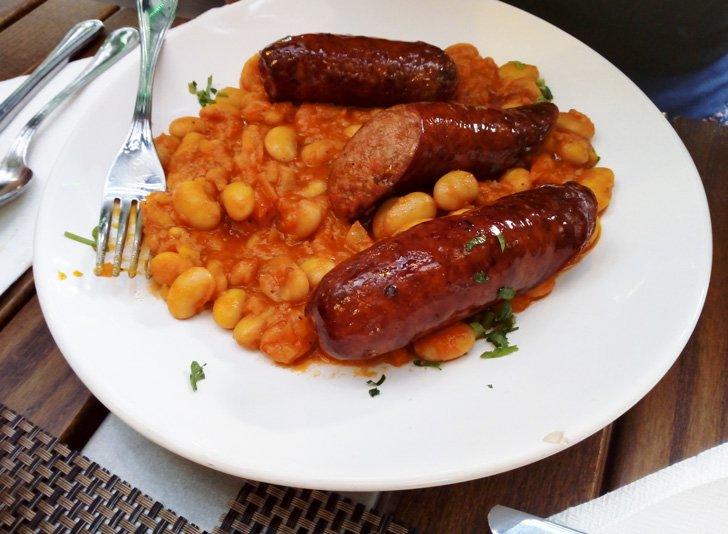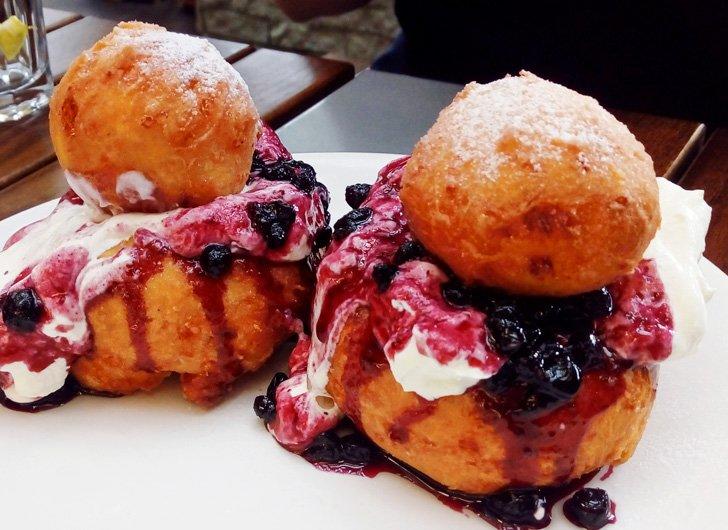 To hold you over until dinner after a day of hiking or shopping, you will find bounteous fruit and vegetable stands throughout the city offering rich, juicy produce for affordable prices. Don't be shy; the plums are delectable!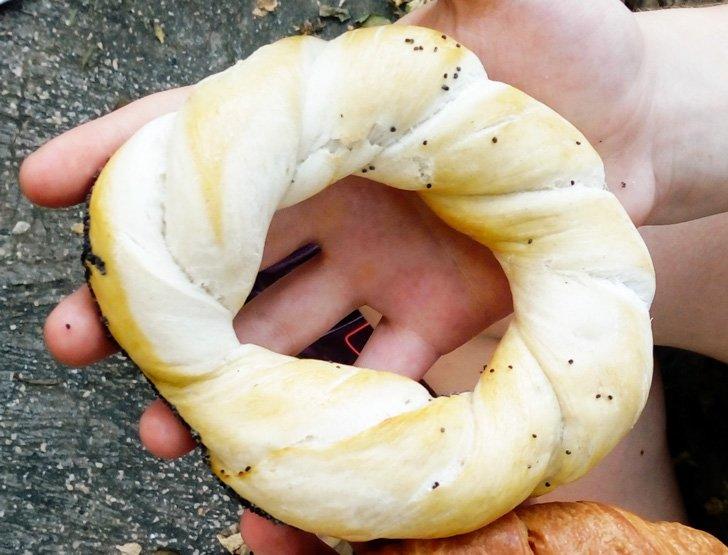 If you need a little something more than ripe plums and apricots, try the Transylvanian pretzel called covrig, which is available everywhere. As you won't be able to stop with one, you will need to know the plural form of the word: covrigi (pronounced co-vreedge).  You can choose from the many covrigi options like sunflower, pumpkin, poppy, or sesame seed.
Where to Stay in Braşov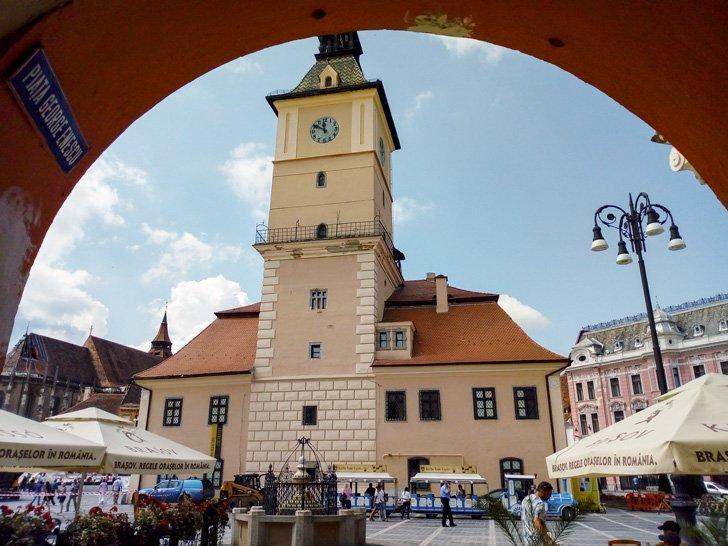 When booking accommodations in high season in Braşov, prices are uniformly higher than elsewhere in Romania but the properties offered can be disappointing.
I highly recommend booking modest hotels (two and three stars) before booking Airbnb type apartments in Braşov. Cramped, inconvenient and unsanitary places can be cleverly disguised in photographs, descriptions, and rankings on internet booking sights.
Sinaia & Castle Peleş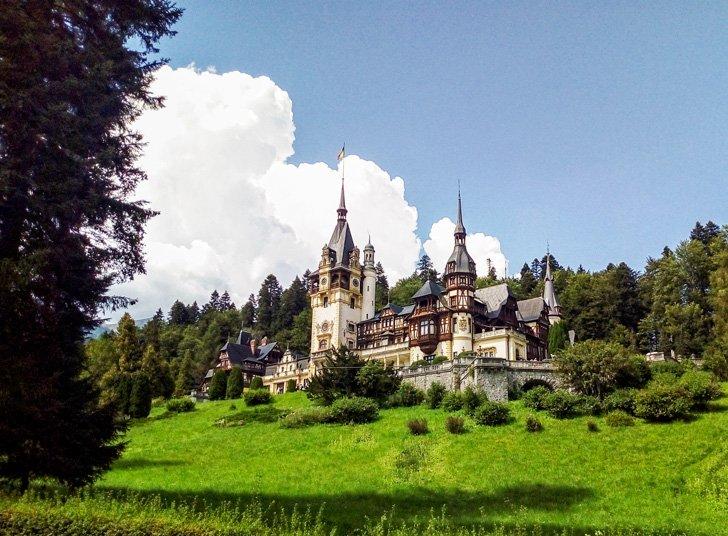 Castle Peleş will leave you speechless with its beauty! Built for Romania's king, Carol I, this fairytale castle in a storybook setting is a must see if you are in Romania.
Take some time for a tour and experience a sumptuous interior inspired by the various cultures that have influenced Romania over hundreds of years.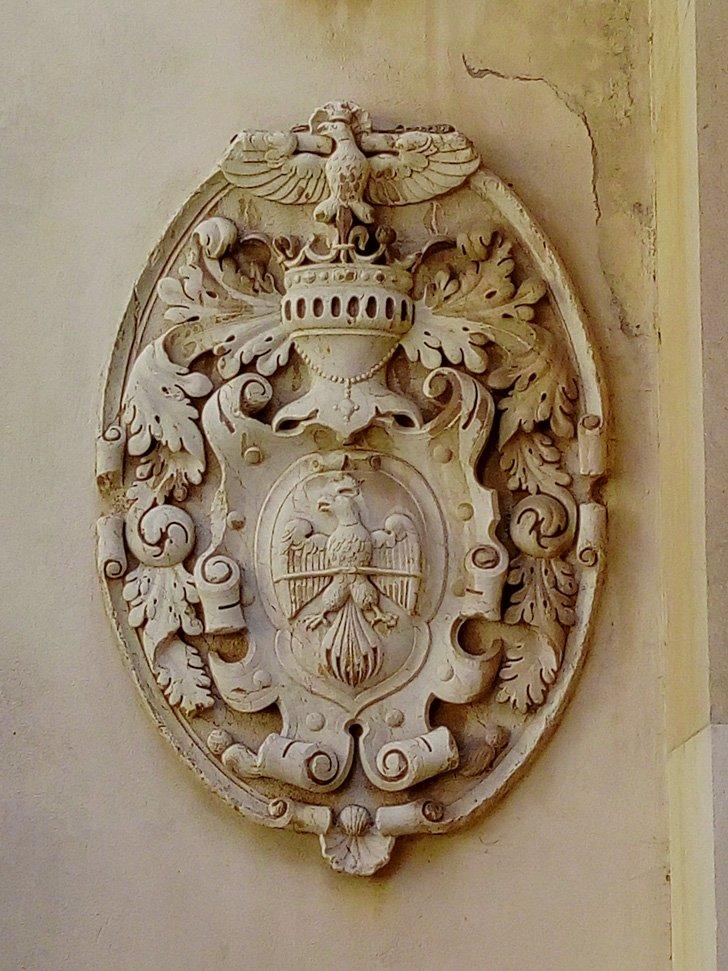 Located in the mountain pass between Braşov and Bucharest, Sinaia can be booked as a day trip from either city. It is easily accessible by train from both and then is a twenty-minute walk from the train station, following the pedestrian signs.
A city tourist shuttle is also available (for a small cost) for those unable to walk uphill for twenty minutes, so there is simply no excuse not to visit this stunning castle.
Tickets are only for sale in cash, so be prepared, but lunch at cafés in the Castle Park or the chic hotels and restaurants in the hamlet of Sinaia will not leave you lacking.
Wallachia: Bucharest – A Modern European Capital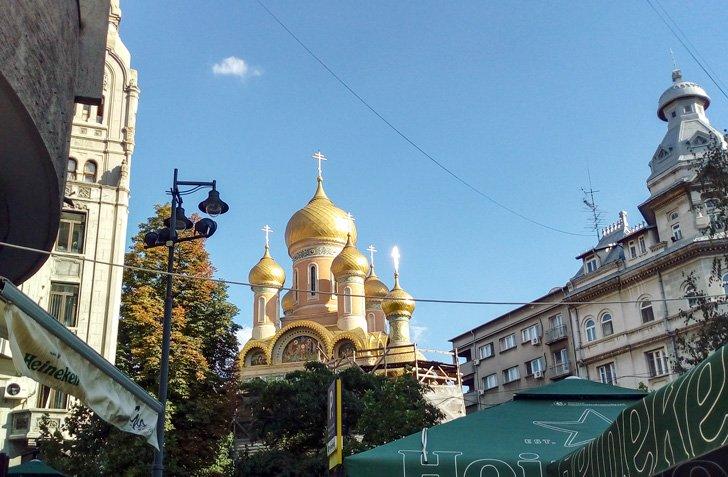 For those who have the impression that the Romanian capital is a culture-free, communist inspired concrete jungle, you'll do a double-take when you visit, because…Bucharest is back! (Read our full article on the best things to do in Bucharest.)
After disembarking our train from Braşov, we found a capital city filled with museums, concert halls, and tree-filled parks; with a transportation system that is inexpensive, clean, and safe, both above and below ground.
The first place to visit to get a feel for old Bucharest is the Old City. This historic center has undergone extensive restorations over the last ten years, bringing back the former glory of the beautiful and unique Romanian style that thrived at the beginning of the last century.
While there are still restoration works going on, the narrow cobblestone alleyways, mixed with the modern shopping and dining opportunities in a European pedestrian zone make this exploration pleasant and rewarding.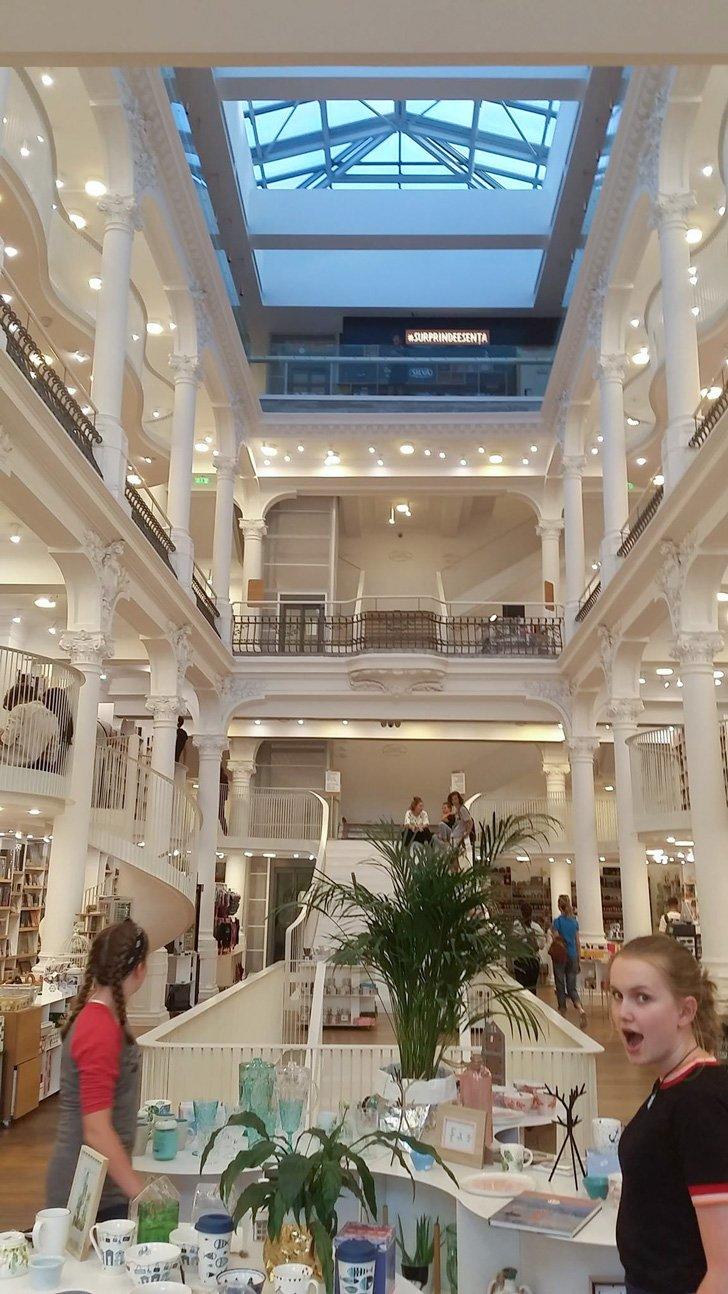 A must see is the Cărtureşti bookstore! It too will leave you speechless, so shut up and read!
Authentic Romanian Food in Bucharest, Romania
While restaurants in the Old City are plentiful, I will not recommend a meal here if you are hoping for an authentic experience. The Old City has a quasi bohemian-hedonistic atmosphere for the global youth, but it lacks the authentic experience of true Romanian culture and cuisine.
For the best meal you'll have in Bucharest, head north out of the Old City to Park Herestrau on the metro (Metro Aviatorilor) to the open air peasant museum called, Muzeul Satului (The Village Museum). Your taste buds will pay you back double for the small entrance fee to the park you'll pay to gain access to Hanul la Bariera.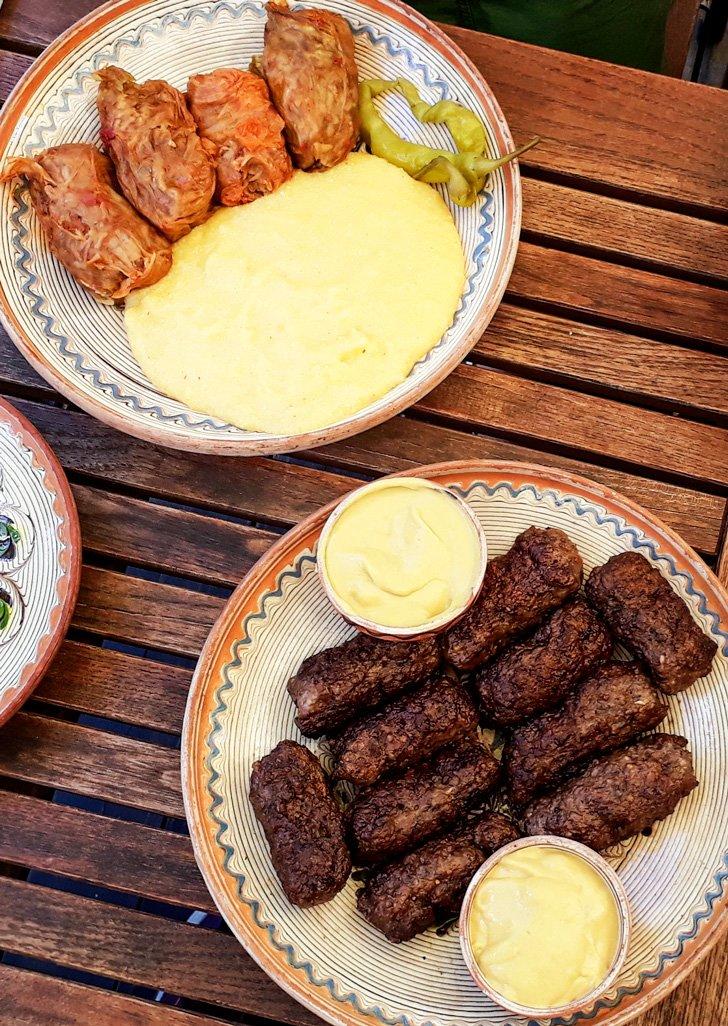 This restaurant is housed in an authentically recreated19th-century inn, serving a menu (partially) sourced from the vegetable gardens and chicken coops out back, just like the peasants used to do. A satisfying and filling lunch of traditional dishes from flavorful ingredients will set you back no more than McDonald's or Pizza Hut in the Old City, and what a memory!
Don't worry about ordering wrong. You can't. Everything is excellent. I especially recommend the soups: Ciorba with meatballs or with beans!
After lunch take in all the different recreational and cultural offerings in Herestrau Park, from a kids' skate park to live music and open-air art expositions. You can also rent bicycles to ride around the lake on the paved cycle paths. Boat rides on the lake are also a relaxing option.
The other parks that ring the city centre, Cişmigiu, Tineretului, and the Botanical Gardens, all offer a great reprieve in the middle of the bustling city.
Bucharest is replete with museums celebrating Romania's cultural heritage from the Museum of Folk Art with its rough woven national costumes to the Romanian Literature Museum celebrating the height of Romanian culture.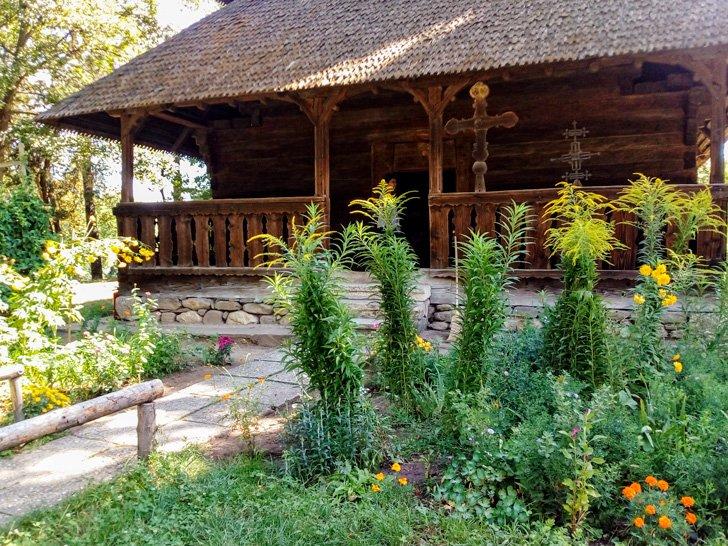 The Romanian Academy, originally founded in Iaşi by the nation's first poets and storytellers is now housed on Calea Victoriei, in the heart of the unified country's capital, to promote and protect the country's unique identity.
There are theatres and an opera house with high-quality productions of ballet, opera and symphonies at very affordable prices.
One of the most elusive museums in the city, The Palace of Cotroceni, not readily visible from the street and only accessible by reserving limited tickets for guided tours, must be planned around. It offers a thorough history of Romania's royalty. The palace interior is modest but beautifully refined with interesting artifacts on display in a uniquely approachable manner.
To understand what makes Bucharest what it is today, a walking tour that (re)visits the crucial events and places of the 1989 Christmas revolution is a must. Book your tour here.
Bucharest is alive today with activism and protests to preserve the freedom they fought for, and for which thousands died ousting the heartless communist dictator Ceaucescu.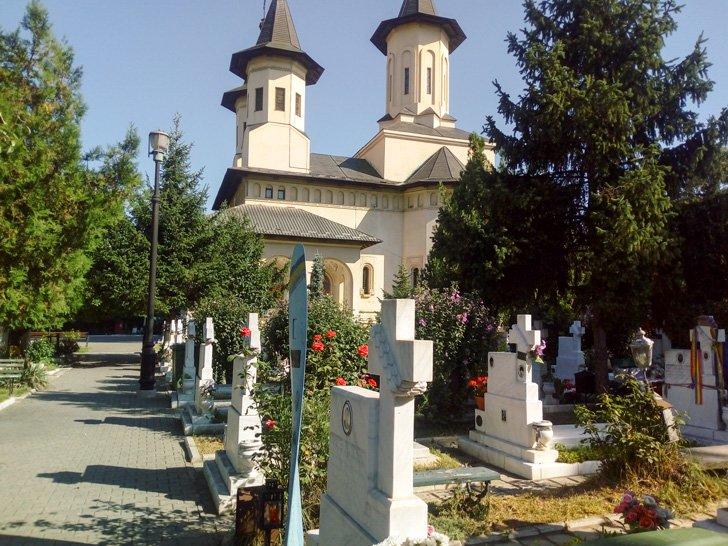 A visit to the Cemetery of Martyrs, the holy graveyard of those who died in the fighting, will touch your soul. (Metro Eroii Revolutiei) Take time and look at the photos and dates on the tombstones and understand it was Romania's youth who paid the price for today's growing freedoms. You will leave with a renewed gratitude for liberty and see Bucharest through a fresh pair of eyes.
One aspect of Bucharest you might notice is there is no iconic tourist attraction; no famous cathedral or bell tower. The city's churches are mostly small, local chapels, beautiful on a smaller scale than those of other European capitals.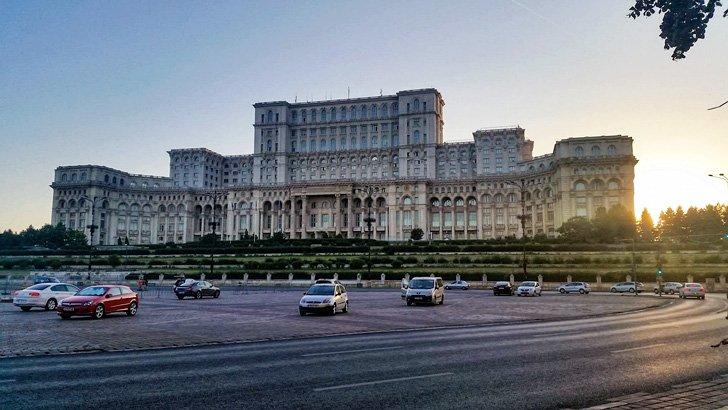 The city can also appear somewhat manic with beautifully ornate and stately buildings standing next to drab, run-down apartment buildings. Monolithic structures such as the Palatul Parlamentului, one of the world's largest buildings (not tallest), are juxtaposed against refined gothic vaultings or classical designs. To understand what Bucharest is today is a puzzle to be solved through exploration.
How to Get Around Bucharest, Romania
Public transportation in the city is inexpensive, clean, safe and self-explanatory.  You can't purchase bus tickets on board, so look for the ticket kiosks at the cluster of vendors at the major bus stops to stock up. (Other Romanian cities follow this same pattern.)
The Bucharest Metro is clean and well marked, with announcements made in both Romanian and English to help visitors stay on track. Also, free WIFI is available on buses and metros to help you find your way.
Taxis are also a convenient and reasonably priced option. While Bucharest taxis drive fast and crazy, you can count on them always stopping at a marked pedestrian crosswalk with the other city drivers.
Things to Know About Travel in Romania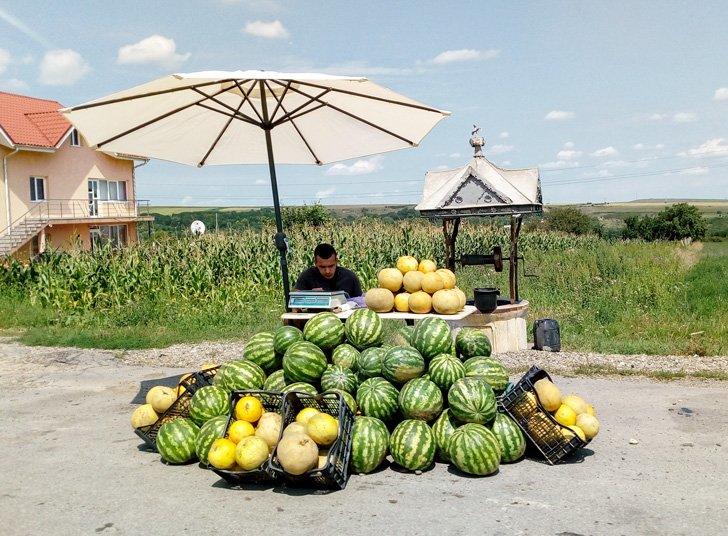 The biggest challenge of tourist travel in greater Romania is the transportation infrastructure is still lagging behind the modern era.
While payments with credit cards are universally possible, you may find when taking the train between cities; even your reserved seat will be occupied when you board a busy train. If you have a long journey and need to sit, it is best to find the conductor instead of arguing with those sitting in your reserved seats.
Renting a car is relatively easy and affordable in Romania, but there are some peculiar driving customs visitors from North America and Western Europe need to be aware of, and watch out for.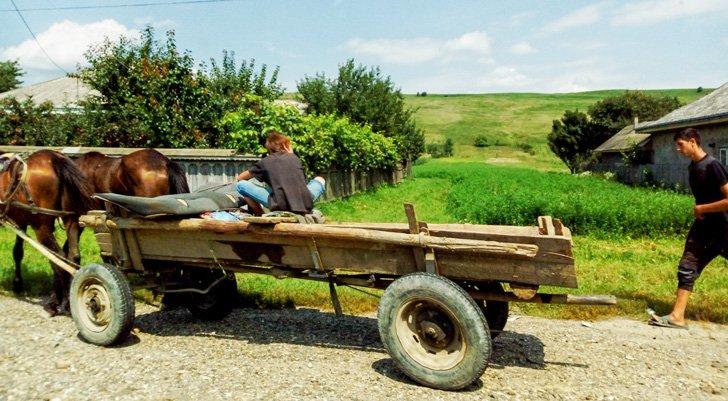 Many roads outside of Bucharest are narrow and in poor condition. While passing trucks and tractors on the road, exercise caution!
A GPS unit is highly recommended!
Read more about the challenges of driving cross-country
Romania is arguably one of Europe's most underrated destinations in Europe for a truly authentic experience that hasn't yet been dramatically altered by global corporations.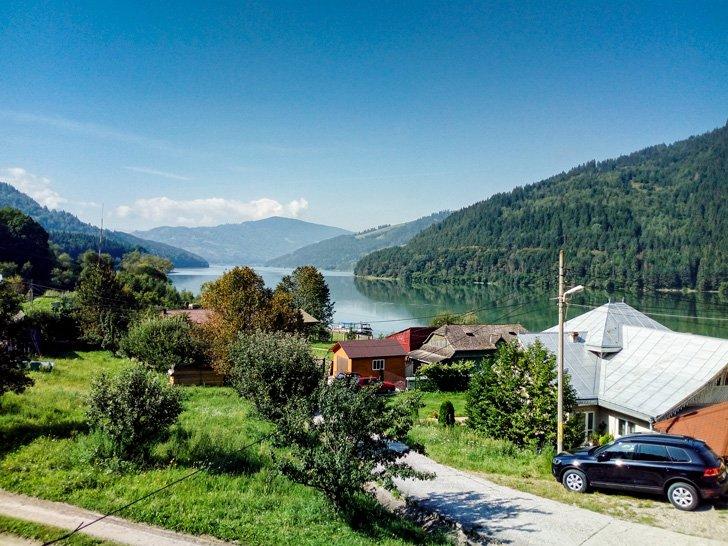 Bucharest and Braşov, while modernizing, have maintained their characters, for good and bad, while embracing global tourism. The rest of the country, while hospitable and warm, is much as it has always been before the global brands and coffee culture took over Europe's old city centers.
In short, travel to Romania will provide you with a unique experience: a modernizing society with the rustic appeal of centuries past, full of curiosities and incredible views.
Latest posts by Val Karren
(see all)