THIS POST MAY CONTAIN COMPENSATED LINKS. FIND MORE INFO IN MY
DISCLAIMER
.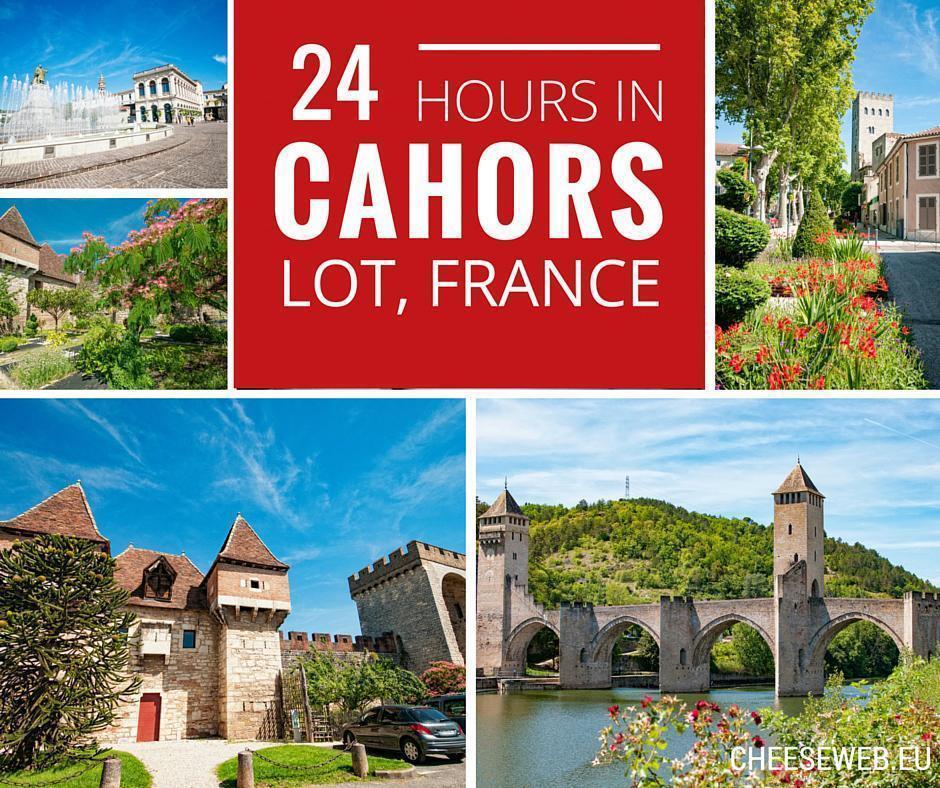 Random events led us to discover the historic city of Cahors in Lot, France. We spent 24 hours discovering the city's secrets and charms.
We hadn't intended to visit Cahors. It wasn't on my bucket list of places to see in France nor was it somewhere we learned of from fellow travellers. In fact, if it weren't for a random set of circumstances we would have missed visiting the capital of the Lot department of France's Midi-Pyrénées and skipping Cahors would have been a tragedy indeed.
Despite planning my press trip to French Guiana before leaving Brussels on our motorhome adventure, many of the trip's details were left to the last minute. It wasn't until a few weeks before my scheduled departure I received a lengthy packing list including copious amounts of 'recommended' medications and gear; none of which were included in our minimalist belongings and required trips to pharmacies, sporting goods stores, and clothing shops to track down before my flight to South America.
There was one item that was non-negotiable, however. If I wanted to get on the flight to French Guiana, I needed a Yellow Fever vaccine. I could only be vaccinated at an International Vaccine Centre and the closest, between Toulouse (where I was catching the train to Paris for my flight) and us, was in Cahors.
When you're travelling by motorhome, everything is more complicated, especially when you're going to a city. We needed to make sure there was a safe place for us to park overnight and a motorhome-friendly route around Cahors as our house-on-wheels was not going to fit through the narrow city streets.
Luckily, Cahors is well set up for motorhome travellers. We found two listings for the city in our motorhome parking guide. One spot was a vast open parking lot on the outskirts of the city. It would do in a pinch but it didn't sound particularly attractive. The other was a shady riverfront aire (a site designated specifically for motorhomes) right beside the bridge leading to Cahors' historic centre. Unfortunately, there were only four spaces here and they were highly sought after.
Arriving in Cahors, we cruised past the aire. As expected, all of the prime spaces were filled with motorhomes. We continued to the parking lot. We joined a group of other motorhomes in the full sun and did our best to open our roof vents and close our shades to block out the worst of the heat so our cats wouldn't roast inside.
My appointment at the medical centre wasn't until later in the day but, as we didn't know where anything was, we wanted to scope it out beforehand. To get to the bridge to the city centre, we had to pass by the coveted aire. Like a mirage on the desert horizon, an empty space appeared.
"Should I go back and get Amelia?" Andrew asked me. Knowing the site's popularity and the number of motorhomes we had seen driving around, I had little hope he'd make it back before the spot was filled. However, I volunteered to stand there and try to hold our ground.
I expected it would take Andrew some time to walk back, open all the shades, and secure the roof vents, but within a few minutes, I looked up to see Andrew barrelling down the road with Amelia's vents wide open. He had a look of grim determination like a Viking sailing into battle. We claimed our picturesque spot overlooking the River Lot, giving the cats some much-needed shade and us peace of mind to leave them for the afternoon.
We crossed the bridge on foot, passing a checkpoint for the Camino de Santiago pilgrimage, and were immediately charmed by Cahors. The ancient city was built on a deep, U-shaped bend in the river and is a warren of narrow streets, pretty pocket gardens, and open plazas.
Following our directions to the clinic, we passed the tourism office on what seemed to be a newly renovated square. We picked up a map and continued on our way. We didn't have far to go, as the hospital turned out to be just a block from the square.
The hospital complex seemed shiny and new and the vaccination process was blessedly simple. We registered and made our way to the vaccination centre. I was greeted by a young, female doctor who explained the shot's possible side effects. After reciting a laundry list of terrible symptoms she laughingly said the risk of any them occurring was slim but she liked to scare people into leaving their tickets behind so she can travel herself.
The deed was done in under an hour and we had the rest of the day to explore Cahors.
As the first city we had visited in weeks not part of a busy press trip schedule; it was refreshing to wander through Cahors aimlessly, without a set agenda.
Our first stop was the Valentré Bridge, a stunning 14th-century bridge with six arches, topped with three fortified towers. It is UNESCO listed as part of the pilgrimage road to Santiago de Compostela. The bridge's construction took 70 years. Legend has it the architect sold his soul to the devil to finish the project. The deal was, the devil would do anything the architect asked; if he didn't, the architect would get to keep his soul. As the construction was nearing completion, in a bid to save his soul, the architect told the devil to carry water for cement using only a sieve. The devil tried and failed 20 times before admitting defeat and the architect was able to save his soul. When the bridge was reconstructed in 1880, a devil sculpture was added to commemorate the legend.
At the top of the U that makes up central Cahors, is another ancient site, the Barbican that once defended the gate. From this 15th-century fortification is a stunning view of the Lot River below.
Wandering the narrow streets of old Cahors, there are countless remarkable historic buildings from churches and convents to beautiful private homes. You can even see the remains of a Roman amphitheatre in a car-park. But what surprised me even more than the city's fascinating history was its Secret Gardens.
Tucked in small pockets of Cahors are 25 Jardins Secrets inspired by castle and abbey gardens of the Middle Ages. The gardens were devised in 2002 to use up empty and undesirable space in the centre and were such a success they were listed as one of France's Jardin Remarquables. Uncovering these little pocket gardens was a great way to discover quiet corners of the city.
We ended our exploration of Cahors with a lingering lunch on a restaurant terrace overlooking a shady park on Rue Daurade. The food was good, if not memorable, and we enjoyed not having to rush off to our next destination. Unlike our lunch, our short time in Cahors and the Lot Valley will remain in our memories as a highlight of our travels through the region.
In fact, we would have loved to have more than 24 hours in Cahors to discover more of its attractions and hidden charms. But we were thankful for the random circumstances that introduced us to this lovely city and for the luck to snag our perfect camping spot overlooking the heart of Cahors on the Lot River.
Latest posts by Alison Cornford-Matheson
(see all)