THIS POST MAY CONTAIN COMPENSATED LINKS. FIND MORE INFO IN MY
DISCLAIMER
.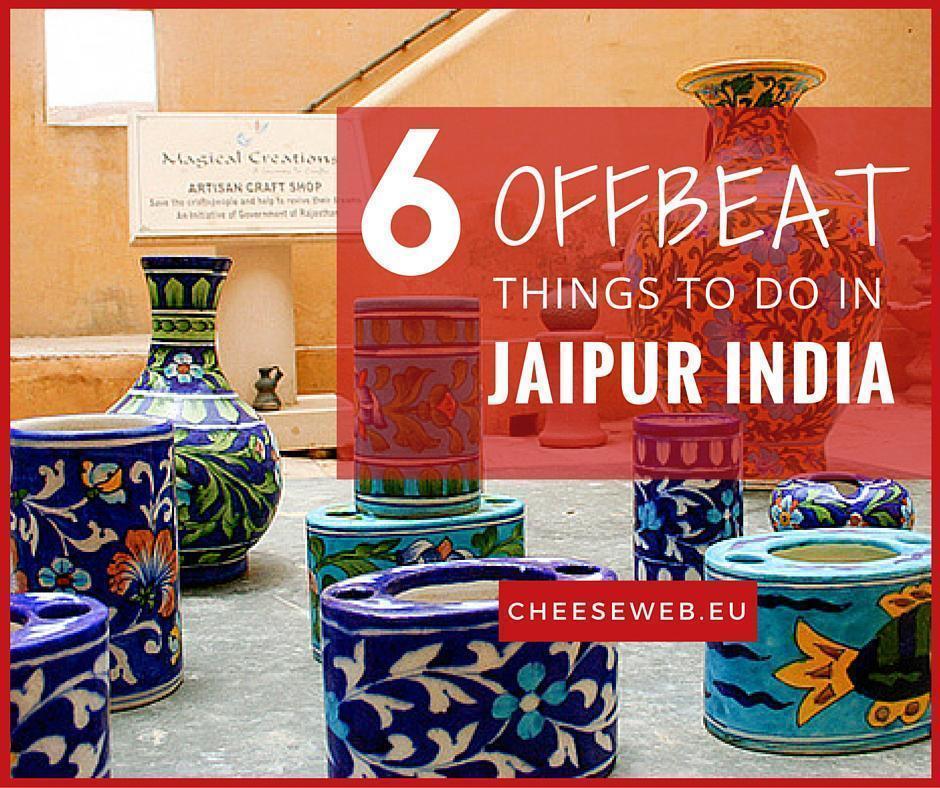 Today our guest contributor, Himanshu, shares 6 offbeat things to do in Northern India's Pink City, Jaipur, Rajasthan.
The capital city of Rajasthan, Jaipur, is a place of deep cultural resonance. Jaipur is arguably the largest city in India by size. Besides possessing a substantial amount of real-estate, Jaipur is also popular for its art and heritage. There are innumerable attractions in Jaipur to grab the attention of tourists ranging from traditionally made handicrafts to appetising delicacies made using age-old recipes passed down through generations.
Jaipur has so many things to indulge in every trip falls short of something or the other each time. However, to truly enjoy the spirit of Jaipur in the most Rajasthani way possible, listed below are six offbeat things to do in the city. Ensure an excitement-filled vacation on your next trip to the Pink City as you savour all these pleasures of life.
1. Take a Rickshaw Ride
Every market in Jaipur is laden with manually operated Rickshaws. The tri-wheeled cycles are an easy and affordable way to travel within short distances inside the city limits. The rickshaws are driven by a cyclist and are a unique experience for tourists. Each rickshaw can carry up to two people. Besides cycle rickshaws, there are auto rickshaws which run on fuel. Auto rickshaws are the conventional mode of public transport in Jaipur.
2. Soar in a Hot-air Balloon
Riding a hot-air balloon inside the city is unique and exciting. Jaipur is famous for its tours through the city in a hot-air balloon. The entire landscape of Jaipur is visible from above where the balloons float through the air. An average balloon ride completes a trip through Jaipur while hovering over various forts including Amber Fort and Jal Mahal. The shops and streets of Jaipur are also visible in a panoramic view from the hot-air balloons. The average cost of riding a balloon is INR 7500/- per person (roughly 98EUR or 112 USD).
3. Eat Pyaaz ki Kachori
Pyaaz ki Kachori is a Rajasthani delicacy popular throughout the world for its unique flavours and mouthwatering taste. Its preparation includes garlic, onions, and potatoes. This delicacy is best enjoyed with a cup of tea in the afternoon. The most famous place for Pyaaz ki Kachori in Jaipur is Rawat Misthan Bhandar. The Kachori sold here costs only INR 25 (0.32EUR or 0.35USD)per plate and is revered throughout the city.
4. Drink a Glass of Lassi
Lassi is a celebratory drink in North India. It is made from the curd of cows' milk and churned to a liquid. In Jaipur, one can find refreshing Lassi in almost any corner of the market. A glass of chilled Lassi is the best drink to cool off on a hot summer day. The two variants of Jaipuri Lassi are sweet and salty. In summers, they are served with ice and a dab of fresh milk cream. One can get a Lassi for merely INR 30/- per glass (0.40EUR or 0.45USD) as per their own taste.
5. Shop for Gemstones, Handicrafts, and Textiles
Jaipur is laden with vibrant and attractive works of art. Entire markets are filled with beautiful examples of traditional craftsmanship. The textiles found in Jaipur have generous colours and designs imprinted or embroidered on them while the handicrafts including statues and decorative items are made using exceptional skill.
Every single detail in Jaipuri art is brought out through distinct complexity and presented on the items sold. Jewellery and jewellery boxes can be found in abundance in the marketplace. They are unique to Rajasthani culture and can be purchased at affordable rates. Exquisite gemstones including turquoise, emerald, and sapphire can be found in abundance in the street market and every nook and cranny of the city.
6. Visit Nearby Villages
Any person who enjoys experiencing new cultures first hand has to visit the villages surrounding Jaipur. Some of the villages on the outskirts of the city are the source of the handcrafted items available in Jaipur. Rusirani Village is one of the most beautiful. An abundance of cultural life can be observed here along with marvels of craftsmanship. Camel rides are also available for the entertainment of tourists at a nominal fee.
When in Jaipur, one must remember to set aside their usual routines and enjoy the vibrancy of this city. People in Jaipur are friendly and greet tourists with humble gestures and offer their services in a polite manner. But above all, it is good to let it go once in a while and experience something new.