THIS POST MAY CONTAIN COMPENSATED LINKS. FIND MORE INFO IN MY
DISCLAIMER
.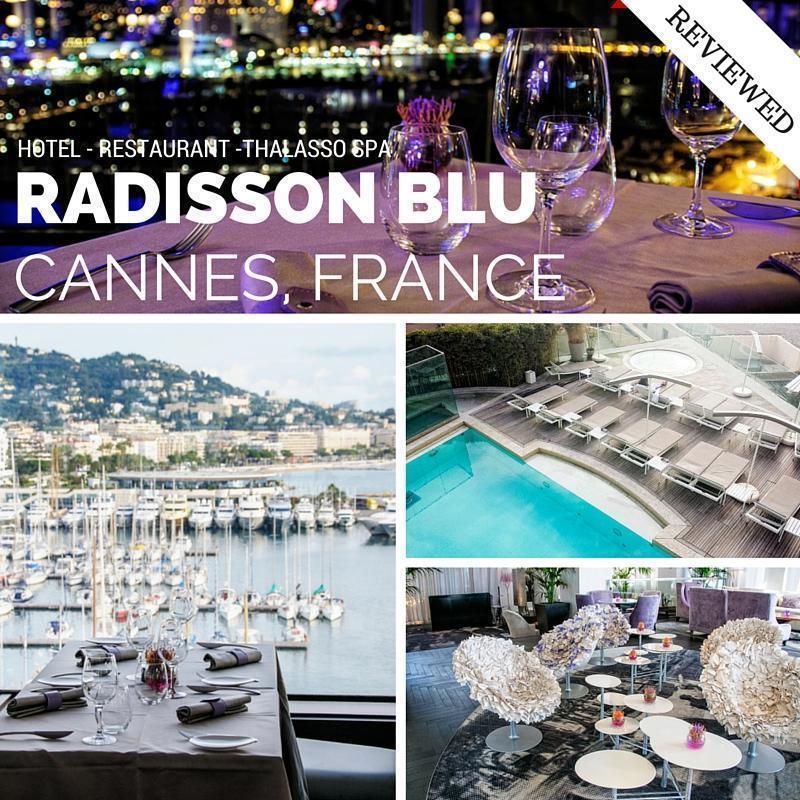 In late November, I visited Cannes, France to review the Radisson Blu 1835 Hotel & Thalasso for my final duty, this year, as a Radisson #bluBlogger.
It's safe to say, my final duty as a Radisson #BluBlogger Ambassador was the one I was most anticipating. Who wouldn't want to escape cold, grey Belgium at the end of November, for a weekend in the sun in Cannes?
I even had a partner in crime for my adventure, my fellow Brussels Radisson Ambassador, Emma. We met (not so) bright and early at Central Station, on Saturday morning, and headed to the airport. As we were only staying one night, we were travelling light and sailed through security to await our Eastjet flight to Nice.
In less than two hours, we were emerging from our airplane into the sunshine of the south of France. We climbed into our waiting car to make the half hour drive from Nice Airport to Cannes.
In real-estate terms, the three most important things are: location, location, location, and the Radisson Blu 1835 Hotel & Thalasso in Cannes ticks these boxes in style. Situated on the edge of the old quarter, the Radisson overlooks the port of Cannes. (And if you know anything about Cannes, you know the kind of boats that grace this harbour!) The views from all over the hotel are stunning, especially from the bar and restaurant, but I'll get to that in a minute.
The spa manager greeted us at reception and informed us we would enjoy two of the Thalasso treatments that afternoon. She gave us a quick tour of the property and spa and we hurried to have a bite of lunch before our appointments.
We ate, changed, and made it to Les Thermes Marins de Cannes, with a few minutes to spare. The spa is on three levels, with the majority of the treatments happening on the first floor. There is a peaceful waiting room, with drinks and snacks, and a balcony over-looking the pool and harbour.
On the ground floor are the changing rooms, a few other treatment rooms, reception, a shop, and access to the indoor/outdoor pool.
Finally, one floor below, are the sauna, hammam, caldarium, multi-sensory shower, and a relaxation room.
We waited for our treatments to begin and finally, Emma was led away. We found this a bit odd as my treatment was supposed to begin first. After what seemed like more than a reasonable amount of time to wait, I went to reception to inquire about the delay. It turned out the person who was supposed to do my treatment was stuck in traffic. As a further wait would impact my second treatment, I was told a solution would be found and I should enjoy the spa while waiting for my second treatment.
My second treatment was one of the Thermes Marins' signature massages – the Ciel & Terre (Sky and Earth) foot and head reflexology. It's safe to say, this was one of the most relaxing massages I've ever experienced. The fact that my masseur only worked on my head and feet was quite incredible.
When I emerged from my massage, I received the message my original (first) treatment would start in ten minutes.
Sure enough, I was punctually (this time) led into another treatment room. This one was quite different from your typical spa treatment room. The lights were shining brightly and at the centre of the room was a large platform covered in plastic with a huge contraption suspended above it. This was another of the spa's signature treatments, a body scrub under a seawater shower.
I began by laying on my stomach while the warm seawater was showered over me. The technician would adjust where the water was directed and then scrub various parts of my body with a citrus and salt scrub. Then it was time to flip and the process was repeated on my front. The effect was surprisingly relaxing (or maybe it was because I was still half asleep from my massage). Afterwards, my skin felt soft and shiny and smelled great.
After my treatments, I met Emma in the hot tub, where we relaxed and compared treatment notes. Then we did a circuit of the hammam, sauna, and caldarium downstairs, before heading to our rooms to prepare for dinner.
Like the common areas in the hotel, the rooms at the Radisson Blu Cannes are stylish. While my room wasn't large, it had everything I needed, including a small balcony with a fantastic view.
The bathroom is where things got really interesting. The tub was vast, (I was forced to try it out the next morning, for research purposes, of course) and the rain shower was heavenly. However, the toilet stole the show.
In fact, I didn't notice anything unusual about the toilet until I rolled the bathroom door into place to discover a huge Anime poster declaiming the wonders of the Japanese Toilet. From the heated seat, to the oscillating spray wash, this thing did everything short of make me toast in the morning. (I won't be purchasing one for myself anytime soon, but it was memorable.)
Emma and I regrouped for a drink at the Radisson Cannes' stunning terrace bar. Aptly named Le 360, the terrace bar has views of the harbour, the old town, and the surrounding Esterel hills. While we weren't overly impressed by the cocktails, we had to admit, the atmosphere was hard to beat.
After we enjoyed our drinks, the view, and the ability to sit outside at the end of November, we headed inside Le 360 restaurant. Again, the view was enough to take our breath away.
We were offered a three-course menu (currently 49 euro). Perusing our options, we only deviated on our starters. Emma chose the red snapper while I opted for a home-style pate.
For our mains we both chose a fish dish (being at the seaside after all), served with potatoes and a light cream sauce.
Our dessert course was the dish we both felt was the winner of the meal – sweet samosas with a mango sauce and ice-cream.  It was inventive and delicious.
We returned to our rooms for a restful and quiet sleep and met early for the extensive breakfast the next morning.
We had until early afternoon to entertain ourselves before our flight back to Brussels. I'll share what we did in an upcoming post, but I will say it was the highlight of the weekend.
Overall Impressions: If you are looking for a stylish hotel with a great location, you can't do better than the Radisson Blu 1835 Hotel & Thalasso. While the restaurant Le 360 has a stunning setting, I felt the food didn't quite live up to expectations for the price. The Thermes Marins spa treatments were excellent (once I finally had them) and the facilities are immaculately maintained. I will say that living in Belgium has me spoiled on both the spa and restaurant front so my expectations are extremely high.
I'd love to know if you've experienced the Radisson Blu 1835 Hotel & Thalasso or Le 360 restaurant, in Cannes, and what you thought of them. Leave your comments below.
Radisson Blu 1835 Hotel & Thalasso
2, boulevard Jean Hibert
F-06414 Cannes, France
For more of our favourite hotels in Belgium and beyond? Visit our Hotel Reviews page to find out where we've been sleeping.  For more great restaurants around the world, check out our Restaurant Review page.
I visited the Radisson Blu 1835 Hotel & Thalasso as part of the #BluBlogger program sponsored by Radisson Hotels. As always, all opinions remain my own.
Latest posts by Alison Cornford-Matheson
(see all)
Read more from this series...
Reviewed: The Radisson Blu 1835 Hotel & Thalasso, Cannes, France