THIS POST MAY CONTAIN COMPENSATED LINKS. FIND MORE INFO IN MY
DISCLAIMER
.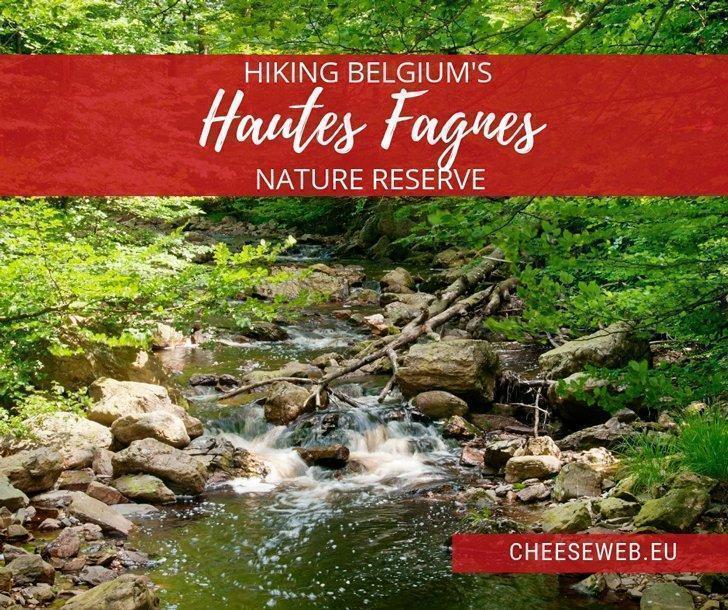 Secluded woodlands, gushing waterfalls and hundreds of kilometres of forest trails – this can't be Belgium, can it? It can if you're hiking in the Hautes Fagnes Nature Reserve, at the edge of Liège, in Belgium's beautiful Eastern Cantons.
We're often asked about our motivation for moving to (and staying in) Belgium; particularly by Belgians themselves. "But Canada is so beautiful," they sigh. "Don't you miss the nature?"
In truth, we do miss the nature and wide-open spaces of our home and native land, but to be honest, we weren't spending a lot of time in nature, even when it was so readily accessible.
While I have nothing against hiking per se, it's not something I've ever done regularly. So when our hostess at the lovely B&B Julevi, in Eupen, recommended a 'nice walk through the forest,' I thought it would be an excellent opportunity to put my camera through its paces. I had no idea it would be me getting the workout.
As I examined our map of the extensive Hautes Fagnes trail network, I started to get concerned. Although I walk long distances in the city, was I really up to hiking 18kms through the forest? "Don't worry," chided Andrew. "It's Belgium; how hard can it be?"
The Hautes Fagnes (High Fens, in English, Hohes Venn, German or Hoge Venen, in Dutch) make up the largest nature reserve in Belgium, with an area of 4,501.2 hectares (11,123 acres). They are part of the 700km2 Hohes Venn-Eifel park which spans the Belgian-German border.
The Hautes Fagnes is particularly special because of their 10,000-year-old alpine sphagnum bogs. The water that filters down through these bogs is the cleanest in Belgium. The marshes also create a microclimate, which sustains flora and fauna unique to this area of Belgium.
The hike we had chosen would begin south of the N67 road, to Germany, and loop through the forest, crossing back over the road and ending at Eupen Lake. The trail would be signposted along the way. At the midway point, we would stop for lunch at the Haus Ternell nature centre and brasserie. A beer and food stop… it sounded like a genuinely Belgian hike.
So, armed with our trusty map, we set out on our adventure. We quickly spotted the multi-coloured signposts that would guide us through the forest.
We strolled along on a paved path with forest on one side and pasture on the other. From our higher vantage point, we had a lovely view of Eupen, below.
We were feeling rather smug about the paved and signposted 'hiking' trail. But our smugness melted away as we took in the beautiful scenes around us. There were wildflowers everywhere; particularly abundant were the bright fuchsia foxgloves (digitalis).
Although we didn't pass another human for the first few hours of our hike, we weren't alone. The trees were filled with birds, butterflies flitted around us, and we even happened across one of Belgium's more bizarre inhabitants – the slowworm, or Anguis.
Although the slowworm looks like a snake, it is actually a legless lizard. What's the difference, I hear you ask? Lizards, even legless ones, have eyelids and small ear openings, which snakes lack. They also have notched tongues rather than forked tongues like a snake. Our slowworm was basking happily on the path and wasn't bothered by us.
As we continued into the forest, our paved path gave way to gravel and finally to the forest floor. At last, it was feeling much more like nature tails we were accustomed to in Canada. We found ourselves walking alongside rushing streams and, around every turn, there were rapids and small waterfalls.
Just as we began to forget what country we were in, we arrived at our halfway point and lunch stop. Halfway through a Canadian hike, we'd likely be eating canned beans or hot dogs cooked over a campfire. In the German corner of Belgium, we were treated to currywurst and schnitzel.
With our energy reserves restored, we set out for the second phase of our Hautes Fagnes hike. Although we began on pavement once again, it wasn't long before we were scrambling over logs, clambering up hillsides, and teetering over rickety bridges. Now, this was hiking.
Despite realizing we are seriously out of shape (thank you Belgian gastronomy!), we were having a fantastic time. We both couldn't help marvelling how this wild place was just a two-hour drive from cosmopolitan Brussels.
In fact, if someone had dropped us into the Hautes Fagnes blindfolded, we would have easily been convinced we were somewhere in North America or Scandinavia.
When we finally emerged from the wilderness and stumbled onto the paved path beside Eupen Lake, we were dirty and exhausted but also elated and invigorated. We had uncovered the green heart of Belgium, and there are still dozens of nature trails for us yet to discover.
Latest posts by Alison Cornford-Matheson
(see all)