THIS POST MAY CONTAIN COMPENSATED LINKS. FIND MORE INFO IN MY
DISCLAIMER
.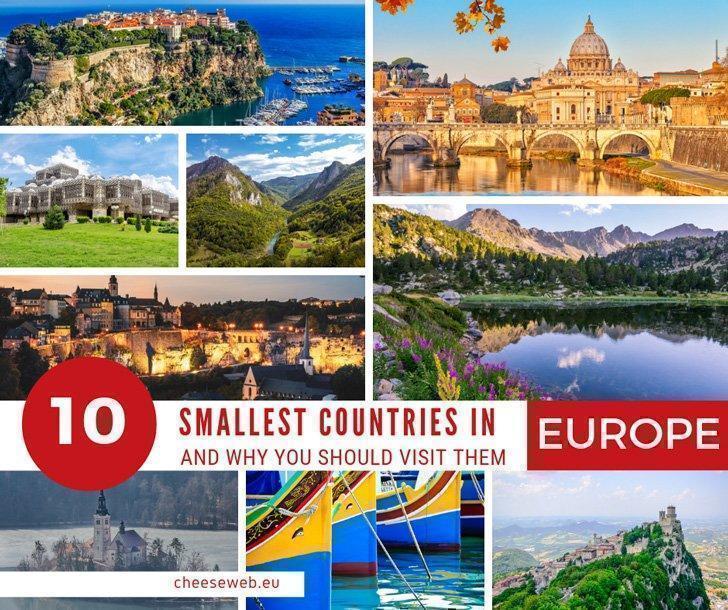 We think of Belgium as a tiny country, but it doesn't even crack the top 10 smallest countries in Europe. Catherine shares why you should visit these little gems.
Most are familiar with the adage, "good things come in small packages." When it comes to the smallest countries in Europe, that classic saying is particularly on point.
These small-but-mighty nations pack a lot of travelling punch. Along with rich histories, you'll find breathtaking forests, magnificent coastlines, shimmering blue waters, unique and varied architecture, and so much more.
If you are trying to decide whether heading to one of the smallest nations is worth the trip, here's what you need to know about the 10 smallest countries in Europe and why they are worth adding to your travel itinerary.
How we Chose the 10 Smallest Countries in Europe
When it comes to defining the smallest countries in Europe, there are a few ways to go about it. However, for this list, the focus is on the total land area.
Additionally, only countries that are entirely in Europe are included. That's why you won't see Georgia on this smallest countries in Europe list. Georgia has two sides, with one portion sitting in Europe and the other in Asia. If you only include the European side, Georgia would come in as the seventh smallest nation in Europe. But, if you count the Asian section (which is part of the country), it is much bigger than the countries on this list.
The same goes for Azerbaijan. If you only include the European part of Azerbaijan, it's pretty tiny. But, the moment you add in the Asian section, that is no longer the case. Cyprus is in a similar situation, being divided between continents.
With that in mind, here is a look at the smallest counties in Europe, from largest to smallest, and why you should visit them.
10. Slovenia
Slovenia has an innate natural beauty, but many travellers overlook this gem of a nation. As a result, it isn't as busy as some other locations, making it easier to enjoy the magnificent mountains, large cave systems, beautiful rivers, and elegant cities.
Hiking, mountain biking, canyoning, swimming, and other outdoor recreational opportunities abound in Slovenia. Ljubljana, Slovenia's capital city, is a vibrant cultural center, hosting events regularly and serving as the home of engaging museums and art galleries. You can also visit Ljubljana Castle, a medieval fortress filled with history, and the Franciscan Church of the Annunciation, a Baroque-style structure with colourful frescoes throughout the interior.
9. Montenegro
Pristine beaches, quaint fishing villages, quiet coves, and an increasing number of resorts all attract visitors to
Montenegro
's Adriatic coast. However, the mountainous interior is also popular, featuring old growth forests, clear lakes, winding rivers, and snowy peaks. Areas like Kolasin are also favourites for skiers during the winter months.
If you want to do some hiking, Durmitor National Park has a majestic quality begging to be seen in person. From rolling hills to jagged peaks, Durmitor would easily qualify as a photographer's dream destination as well. However, if you wanted to define picturesque, then the Bay of Kotor may be the better option, as it is genuinely exquisite.
Montenegro also has an incredibly rich history which is tinged by a rebellious nature, particularly when trying to fight back against the spread of the Ottoman Empire. Monuments to their desire and drive for autonomy are plentiful.
8. Kosovo
The newest country in Europe,
Kosovo
declared its independence from Serbia 2008. However, this declaration isn't without controversy, and Serbia (along with a few other countries) do not recognize Kosovo's sovereignty.
Kosovo's capital, Pristina, is a vibrant, energetic, and friendly city. In recognition of the United State's helping Kosovo during the 1990s and 2000s, you can find a statue of Bill Clinton in Pristina. Streets were also named for Clinton, George Bush, and Bob Dole.
Pristina is also home to several historic mosques, featuring magnificent architecture and art. Additionally, markets and cafes dot the city.
If you prefer skiing, then consider heading to Brezovica. The mountains have ideal terrain for spending some time on the slopes and is regarded as some of the best skiing the Balkans has to offer.
7. Luxembourg
Home to the last remaining Grand Duchy in the world,
Luxembourg
is a small country brimming with fairytale castles. Vianden is one of the best examples of a true medieval castle, making it ideal for anyone who appreciates history or historical architecture.
In Luxembourg City, the nation's capital, you can stroll through the charming old town region and find a café serving judd mat gaardebounen, a national dish consisting of smoked pork, cream sauce, broad beans, and potatoes.
Outside of Luxembourg City, the nation is mainly rural. Natural lovers can hike through the dense Ardennes forest or explore various nature parks, including rocky gorges in the Mullerthal region and the Moselle River Valley. If you'd rather spend time relaxing instead of hiking, make time to visit the numerous breweries and vineyards in Luxembourg or find local meat and cheese producers for some fun food tastings.
6. Andorra
The sixth smallest nation in Europe,
Andorra
sits in the eastern Pyrenees, nestled between France and Spain. Thanks to its duty-free status, Andorra is incredibly popular for day trips to buy goods that can easily cost more in nearby counties. Plus, during the winter months, ski resorts bring in visitors from all around the world.
During other times of the year, many of the cities in Andorra are ideal for wandering. You can take in the Romanesque architecture as you meander through the streets of many towns. If you'd rather spend time in the wilderness, hiking trails abound, and they often range in difficulty from easy strolls to incredibly challenging hikes.
5. Malta
Not only is Malta one of the smallest countries in Europe, but it is also actually the smallest country in the European Union. Three teeny islands – Malta, Comino, and Gozo – make up the Republic of Malta, which are situated between the North African Coast and Sicily in the Mediterranean.
This smallest EU country is known for having some of the most pristine beaches in all of Europe, featuring gorgeous sand and crystal-clear blue waters. Seafood lovers also flock to restaurants in Malta, allowing them to try some of the freshest catches of the day served in native dishes. There are also multiple prehistoric sites that you can explore, including the Ggantija megalithic temple complex.
With its Mediterranean location, nearly any time of year is a great time to explore Malta. The region has a mind-blowing 7,000-year-old history, so there are tons of historical sites – like the Hagar Qim Temples, Grand Master's Palace, and St. John's Co-Cathedral – and museums for those who want to wander and learn about this tiny nation.
4. Liechtenstein
Liechtenstein has a quirky element to its history. Switzerland, one of Liechtenstein's neighbours, "invaded" this small nation on three separate occasions. Usually, the situations where the result of training accidents or soldiers getting lost. However, in one instance, Swiss Army officials intentionally send cadets to Triesenberg to set up an observation post, seemingly forgetting Triesenberg was in Liechtenstein and not Switzerland. Liechtenstein seems to hold no ill-will toward their accidental invaders, especially since Swiss officials often compensated the small nation for any damage or inconvenience caused.
Aside from those unique historical events, Liechtenstein has a lot to offer. Magnificent architecture abounds, and the alpine forests are natural wonders. Winter sports aficionados also adore Liechtenstein for its location in the Alps.
Now, if you were hoping to fly into Liechtenstein as part of your travels, you're going to be a bit disappointed. Liechtenstein doesn't have its own public airport. Instead, you'll need to fly into Zurich, Switzerland and then travel to Liechtenstein by car or bus.
3. San Marino
San Marino is a small country in Italy. The nation is surrounded by Italy on every side and is considered the oldest surviving sovereign state as well as the oldest constitutional republic on the planet.
Due to its location, San Marino, which was founded in the year 301, is a popular day trip for travellers who are already exploring Italy. The region is mountainous and San Marino's capital – Citta di San Marino – nestles on the slopes of Monte Titanos.
San Marino's Old Town is a UNESCO listed site. The cobblestone streets and medieval walls allow travellers to step back in time. Plus, the journey to Old Town itself is unique. If you arrive by car, you have to park at the bottom of Old Town in a parking garage. Then, you can either use the mountainside-climbing elevator or head to Borgo Maggiore to take a funicular ride.
Certain destinations should make every San Marino traveller's list. The Piazza della Liberta features magnificent architecture and houses Parliament and the Government of the Republic, making it both beautiful and historically relevant. The First Tower looks like a storybook castle, teetering on a cliff side and overlooking the breathtaking landscape. Basilica of San Marino, a Neoclassical church built in 1836, features Corinthian columns and a stunningly ornate ceiling.
For those who prefer something a bit macabre, San Marino's Museum of Torture is a unique and engaging destination. However, it isn't necessarily for the faint of heart (or, potentially, young children).
2. Monaco
Surrounded by breathtakingly blue waters,
Monaco
is situated along the French Mediterranean coastline. This country is world-renown for its casinos and inherent sense of luxury, attracting affluent individuals from across the globe. Home to the annual Monte Carlo Grand Prix, auto racing fans also flock to Monaco once a year.
Monaco has a permanent air of luxury at least partially due to the sheer number of millionaires and billionaires that call Monaco home. Since Monaco doesn't have income taxes, wealthy people from around the globe have decided to live here. As a result, you'll find high-end retail shops, fine dining options, and luxury accommodations with ease. However, this means a visit to Monaco can be pretty expensive.
While the casinos may garner the most attention, Monaco has a lot more to offer. The coastline is almost startlingly beautiful, and the azure sea waters go on for what seems like an eternity. Having a chance to witness a sunrise in Monaco shouldn't be overlooked.
1. Vatican City
If you find yourself wondering, "What is the smallest country in Europe?" the answer is
Vatican City
. In fact, at just .44 square kilometres, Vatican City is easily the smallest country in Europe, coming in 1.51 square kilometres smaller than second-place Monaco.
To better grasp how tiny Vatican City is, consider this: Disneyland in California is bigger than Vatican City. If you have wandered the Disneyland park, you have personally walked through a theme park that has a larger area than the world's smallest nation.
This sovereign city-state is ruled by the Pope and is home to only around 1,000 residents. As a result, it isn't just the smallest nation in Europe by size, but also by population.
While Vatican City's significance, in the religious sense, is obvious, it is a fantastic destination for any traveller. The chance to marvel at St. Peter's Basilica and the magnificent ceiling of the Sistine Chapel shouldn't be missed, and the Vatican museums give a glimpse into the area's rich history and art.
Latest posts by Catherine
(see all)