THIS POST MAY CONTAIN COMPENSATED LINKS. FIND MORE INFO IN MY
DISCLAIMER
.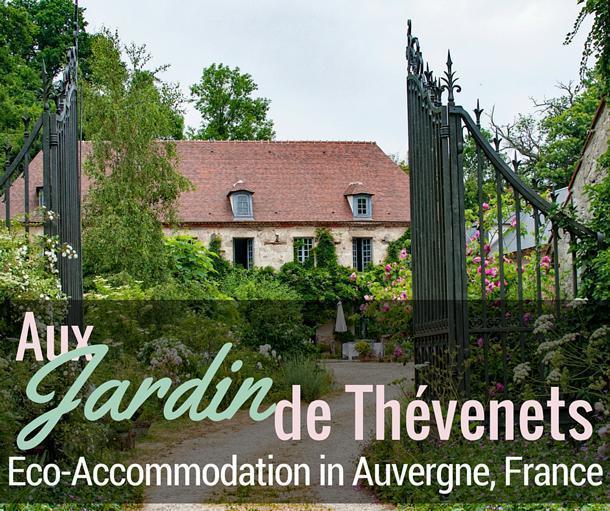 Aux Jardins des Thévenets is a tranquil, sustainable chambre d'hôtes, in Auvergne, dripping with charm and roses, only 10 minutes from Vichy, France. 
After 38 days on the road in our motorhome, Amelia, and back-to-back press trips with tight schedules and jam-packed days, we were ready for a break. Arriving in Auvergne, we were gearing up to start the final leg of our press-trip marathon in France. We had just spent a stressful night in a farmer's field (albeit behind a castle) battling a huge bug infestation, which will be forever referred to as 'bug-mageddon.' We were exhausted, both physically and mentally.
So when I opened my email to find a cheerful note from Lynn, our hostess for the evening, inviting us to arrive as early as 10 am, we didn't need much convincing. For the first time in weeks, we would have a real bed, long, hot showers, and dinner cooked for us, (did I mention a real bed?) all at a chambre d'hôtes (B&B) not far from where we spent our bug infested night.
We navigated Amelia down a tree-lined track, where we discovered a charming house dripping in climbing roses. We tucked Amelia behind the barn and made our way through the gate to our home for the night – Aux Jardins des Thévenets.
Lynn was just as lovely in person as she sounded in her emails. She greeted us with a warm smile and a South African accent. Oh, the joy of speaking English, after a month of taxing our French brains! This really was going to be a relaxing night.
Things got even better when Lynn explained we would be staying in our own apartment in the 19th-century dovecot. There, we could be close to Amelia and the kitties and still have some privacy. Stepping inside, we knew this place was decidedly 'us.' The modern décor blended seamlessly with the ancient architectural details and the entire apartment had a colourful, eccentric flair.
After settling in, we met Lynn in her beautiful country garden, where she explained how she met her French, graphic artist, husband, Olivier, in Paris and how they came to restore this rambling house in Auvergne. While the remodelling of the buildings had been primarily Olivier's domain, Lynn set about studying organic agriculture and creating the flower explosion surrounding us.
After our chat, Lynn led us into the main house and showed us the five beautiful and uniquely decorated rooms available. It was hard to pick a favourite, but I was definitely seduced by the rich red in Passionnément Rouge and the huge claw-foot tub in Blanche.
We retired to our (not-so-little) gite in the dovecot to work a bit, before taking a dip in the pool.
Then it was time to turn our French brains back on (at least partially) to gather with the other guests for our evening meal. We began with an apéro and getting-to-know-you session in the garden. The other guests were as eclectic as the rooms at Aux Jardins des Thévenets – German, British, and French from as far away as Paris and as close as neighbouring Vichy.
We've stayed at many chambres d'hôtes over the years, and we've learned what makes a good one truly great, is the people who run it. Lynn and Olivier have the gift of making people feel welcome – more than just as guests but as honoured friends. The atmosphere in the garden was not of strangers meeting for the first time, but rather friends who hadn't seen each other in a while and were busy catching up. Language, or lack thereof, wasn't a barrier and everyone was laughing and having a great time (of course the excellent local food and drink didn't hurt.)
Speaking of food, Lynn's talent in the kitchen is as impressive as her talent in the garden. Taking advantage of the beautiful weather, we dined at a long table on the terrace in front of the house.
We began with crisp, grilled asparagus, wrapped in local ham, served with cucumber soup.
Our main course was roasted pigeon with an African-inspired couscous.
As our meal lasted long into dusk, I don't have photographic evidence of the beautiful dessert. The low light (and likely copious amounts of wine) resulted in a blurry photo (and memory).
What I do remember is enjoying the food and the company immensely.
We slept so well that night, on our deliciously comfortable bed; it was hard to tear ourselves from the sheets in the morning. However, we are nothing if not professionals and we had our final (and one of our most-loved) press-trip to begin.
Over our breakfast coffees, Lynn gave us plenty of advice on her favourite shops in Charroux (our next destination) and foods we must try in Auvergne. She also invited us to come back any time and frankly we really (really!) didn't want to leave.
What we would discover over the coming days in Auvergne is Aux Jardins des Thévenets is one of several truly special properties we would get to experience. Part of the Nattitude designation, these hotels, gites, B&Bs, and campgrounds are eco-responsible, sustainable, original, and take advantage of the exceptional nature and local produce available in Auvergne.
Stay tuned for more Nattitude properties and more amazing reasons why a visit to Auvergne should be on your bucket-list for next year. Don't miss a relaxing, friendly stay, surrounded by flowers, great food, and lovely people at Aux Jardins des Thévenets.
Aux Jardins des Thévenets
Chemin des Thévenets
03110 Espinasse Vozelle
Auvergne, France
We'd like to thank Lynn and Olivier for a wonderful stay and meal at Aux Jardins des Thévenets. (We'll be back!) We'd also like to thank the Région Auvergne Tourism office for hosting us in the area. As always, all opinions are our own.
Latest posts by Alison Cornford-Matheson
(see all)