THIS POST MAY CONTAIN COMPENSATED LINKS. FIND MORE INFO IN MY
DISCLAIMER
.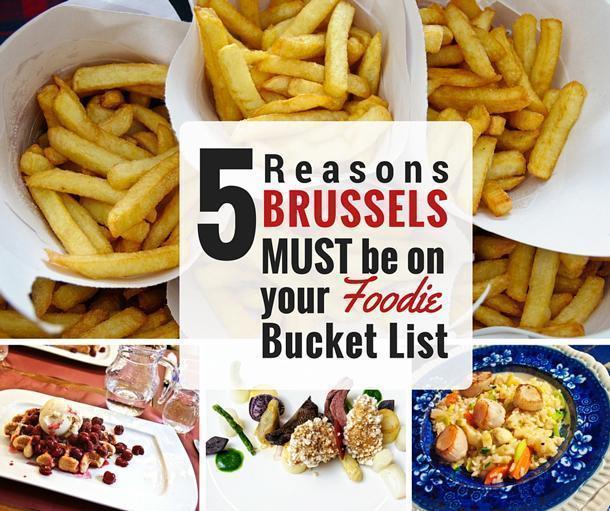 With incredible restaurants for all budgets, countless festivals, and food museums, Brussels is at the heart of the Belgian culinary scene. Here are 5 reasons Brussels must be on your Foodie Bucket List. 
For the past 11 years, I've been writing about the food scene in Belgium and sharing my favourite foodie finds here on CheeseWeb. Over the past few years, the culinary world is gradually waking up to what I've been saying for years – Belgium is a foodie paradise. Despite this, the country is still frequently overlooked by food-lovers, in favour of its more famous neighbours. I've made it a personal mission to help change this, because I believe foodies should be flocking to Belgium.
The cultural mosaic that is Brussels is a great place to begin your Belgian culinary journey. I've spent the past three months writing all of my insider foodie tips to the best restaurants, shops, hotels, and activities for food-lovers in The Foodie Guide to Brussels. This book is jam-packed with all of the city's juicy (and tasty) foodie gems.
But just in case you aren't convinced Brussels is worth your time (and increased calorie intake), today I'm sharing my top 5 reasons Brussels must be on your foodie bucket-list.
1. The Big 4: Belgian Chocolate, Waffles, Beer & Fries
Even if you know nothing else about Belgium, you've surely heard we have the best chocolate, beer, waffles, and fries in the world. While you can find these delicacies all over the country (and you really should taste them in as many places as you can) you'll find them concentrated in the centre of Brussels, for extra easy access.
Imagine plucking hot, crispy fries from a paper cone and dipping them into a variety of sauces, from truffle mayo, to spicy samourai sauce. You can wash them down with a malty, dark Trappist or a refreshing lambic beer, on a sunny terrace. Then stroll to a waiting waffle van to choose between the flakey Brussels waffle and the sticky-sweet Liège waffle (or try both.) Finish with a trip to your favourite chocolatier, where you can hand select your favourite pralines. How could this city not be foodie heaven?
2. Experience the Rich Culture of Traditional Belgian Cuisine
While tasting the Big 4 is enough for many casual tourists in Brussels, there is so much more to Belgium's culinary history. The country's rich gastronomic tradition has roots in both Dutch and French cuisine, but it has combined and adapted these with many other influences, to create something uniquely Belgian.
There are plenty of traditional Belgian dishes that are rich and comforting, just like grandma used to make, from carbonnade to waterzooi. But there is also a fresh and edgy haute-cuisine in Brussels, with a number of chefs who are pushing the boundaries of Belgian cuisine and breaking new ground. You'll find more Michelin starred chefs, per capita in Belgium than in France and trendy, new budget options are taking Brussels by storm, including an influx of food trucks.
But Belgium's foodie culture goes beyond just restaurants. You'll find folks creating the products from traditional recipes, just as they have done for generations and shops selling the very best from the country's vast array of farms and producers. You'll also find museums dedicated to aspects of Belgium's culinary history – from beer to chocolate and beyond. Not to mention food tours and cookery classes to plunge you even deeper into the city's foodie culture.
3. Celebrate Food and Culture
Brussels is a city that loves to party. It's also a city that loves to eat well, so it should come as no surprise there are dozens of food festivals, throughout the year, celebrating food and drink in all its wonderful forms.
There are wine and beer festivals, festivals with nothing but Belgian chocolate, and festivals celebrating foods from around the globe. There are also plenty of festivals honouring the best Brussels restaurants and chefs, with plenty of opportunities to taste-test of course. From tasty treats to keep you warm at the Christmas Market, to summer picnics in the park, Brussels offers a food festival atmosphere all year round.
4. Eat the Globe in Brussels
Belgium has always opened its doors to outside cultures and influences and nowhere has this been more beneficial than the Brussels food scene. With more expats and immigrants in the city centre than native Belgians, Brussels is a rich tapestry of global cuisine. You can find just about any cuisine you can imagine here – if you know where to look.
There are plenty of international restaurants to choose from, from Bulgarian to Lebanese and everything in between. You'll even find unimaginably delicious fusion restaurants, such as the French/Japanese Chez Oki. There are shops stocking all manner of international ingredients and there are even expats willing to open their doors to strangers to offer a taste of their home country.
5. Feel Brussels' Foodie Passion
If there's one thing Bruxellois, both native and adopted, have in common it's a passion for great food. At any gathering of locals, the discussion inevitably turns to food – where to eat it, how to make it, and whose is best. But we also love to share our secrets. That's why you'll find so many food blogs in Brussels, folks who are opening their homes through projects like Bookalokal, and chefs and producers who are eager to talk to you about the food they create. We may argue about politics and language, but we're always happy to share in a discussion about food!
If you want to learn more about why Brussels needs to be on your foodie bucket list, check out our book, the Foodie Guide to Brussels. In it, you'll find recommendations for over 60 restaurants I've personally tested, from food-trucks to Michelin-stars, as well as the best Belgian foods you have to try, beyond the Big 4. I've also included the best shops, hotels, and activities for foodies – from festivals to cooking classes, so you'll become a local foodie expert in no time.
Latest posts by Alison Cornford-Matheson
(see all)