THIS POST MAY CONTAIN COMPENSATED LINKS. FIND MORE INFO IN MY
DISCLAIMER
.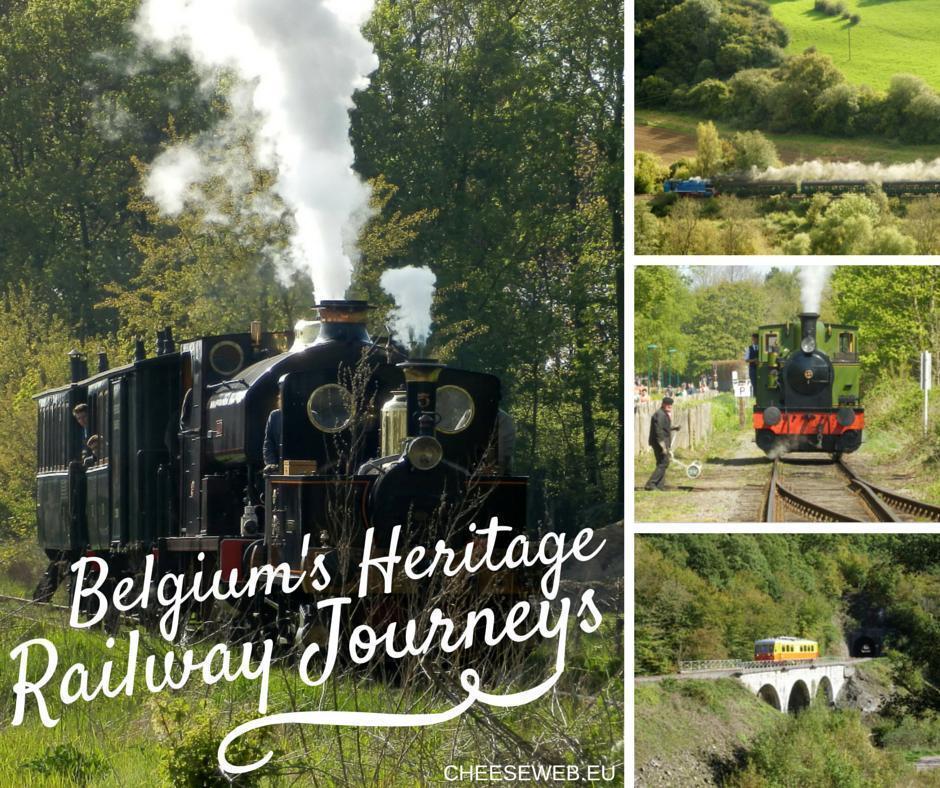 Adrian shares a look at Belgium's best heritage steam train journeys in Flanders and Wallonia. Take an exciting tourist train trip through Belgium on one of these antique trains. 
Back in the 19th century, Belgium was the first country in continental Europe to open a railway and today it still boasts the second densest railway network in Europe. However, during the last century, a number of Belgian railway lines were taken out of service, as a consequence of the industrial decline and the advent of road transportation.
Nevertheless, a few lines that were no longer used by the Belgian National Railway Company (SNCB) have been saved by train enthusiasts and are now run for tourism purposes. As a train enthusiast myself, I will now take you on a trip to the most beautiful Belgian railway lines, operated with steam trains. All aboard!
A Journey Across Three Valleys
Located in southwestern Belgium, the Three Valley Steam Railway (Chemin de fer à vapeur des trois vallées or CFV3V) runs through a remote and picturesque area, over about 14 kilometres, between Mariembourg and Treignes. Its name comes from the simple fact that, along its way, this line crosses three rivers. Trains on this line call at three stations en route, including Vierves-sur-Viroin, a small village that is officially recognized as one of the most beautiful villages in Wallonia.
This railway section was once part of an international line, linking Charleroi to Paris. Today, the line is carefully maintained and run by a non-profit association. Its members restore and put into service heritage rolling stock from different countries and eras. Their collection is impressive: tens of diesel and steam locomotives, diesel railcars and carriages made between the early 20th century and the 1960s. But the flagship of this collection is a double cabin steam locomotive built in 1894.
On the Three Valley Railway, trains run from April through October, usually on weekends. In June and July however, they are accessible every day. The association also organizes several events each year. The most important of them is the Steam Train Festival, which takes place in the 4th week-end of September (26 & 27 September 2015). On the two days of the festival, there is a train from Mariembourg to Treignes (and back) about every 55 minutes.
At the end of the line, just near Treignes station, a warehouse hosts a restoration workshop that can be visited, but also a railway museum.
Viaducts, Tunnels and Picturesque Villages
If the previous line was crossing three rivers, this one is happy with only one. The Bocq Railway (Chemin de fer du Bocq) winds along the river of the same name, through the natural region of Condroz. It crosses a number of viaducts and tunnels, providing the traveler with a view that's hard to ignore.
Back in the days when it was used commercially, it linked the towns of Ciney and Yvoir, both of them located on important railway lines. Nowadays, the section is run by the Railway and Tourism Heritage association (Patrimoine Ferroviaire et Touristique – PFT), which is also restoring it gradually.
For the moment, it is only accessible from Ciney to Bauche, over a distance of 15 kilometers and is operated mainly by diesel railcars from 1952. In July and August, special trips with steam trains are also scheduled.
The Bocq Railway is operational on Sundays and bank holidays. For the complete schedule and more information, check their website.
Steam Trains in the Area with the Highest Tourist Density
Beside capital city Brussels, Bruges and Ghent host the most tourists in Belgium. However, few visitors know, right between these cities, there is a place that would impress any railway history fan. It is called Stoomcentrum (Dutch for Steam [Train] Center) and it consists, as you might expect, of a disused SNCB railway section.
The line goes for 10 kilometers from Eeklo to Maldegem, where the Stoomcentrum has its own station and depot. An extra 1.5 kilometer-stretch from Maldegem to Donk was rebuilt to a 60-centimeter gauge and is operated with specific rolling stock.
A notable sight on this line is the vertical-lift bridge over the Schipdonk Canal, near Balgerhoeke, classified as a historical monument.
At Stoomcentrum, they have an equally important collection: steam locomotives (the oldest of them dating back to 1893), diesel railcars, carriages from the 1930s and even a cinema car.
The Stoomcentrum is open every Sunday from May to September, with a broader schedule in June and July, but also for some extra seasonal events. The full timetable and related information can be found on the website.
The Heritage Line of the Klein-Brabant
The Heritage Line of the Klein-Brabant is another interesting rail-line in the Flemish Region, which connects Dendermonde to Puurs. The story goes the same way: disused commercial line, taken over by an association and transformed into an open-air museum.
Their steam trains and railcars run, here again, on a 15 kilometer stretch and call at two stops on the way. Dendermonde and Puurs are each served by an operational SNCB line.
On this heritage line, trains run every Sunday from July to September and for some extra events. All the information is available on their website, but only in Dutch.
Special Trains on Ordinary Lines
Remote heritage lines are not the only places where you can see historic trains at work. On various special occasions, PFT organizes special themed train journeys, using old steam or diesel locomotives. These trains usually leave from Brussels and run on the regular SNCB lines. Such trains have already travelled to the steam train festivals at Mariembourg, Ciney and Eeklo, but it is better to check the PFT website to learn about their next scheduled events.
That said, if you are into trains and railway history, then you should definitely put these places on your Belgian travel list, as soon as spring comes. Have a nice trip!