THIS POST MAY CONTAIN COMPENSATED LINKS. FIND MORE INFO IN MY
DISCLAIMER
.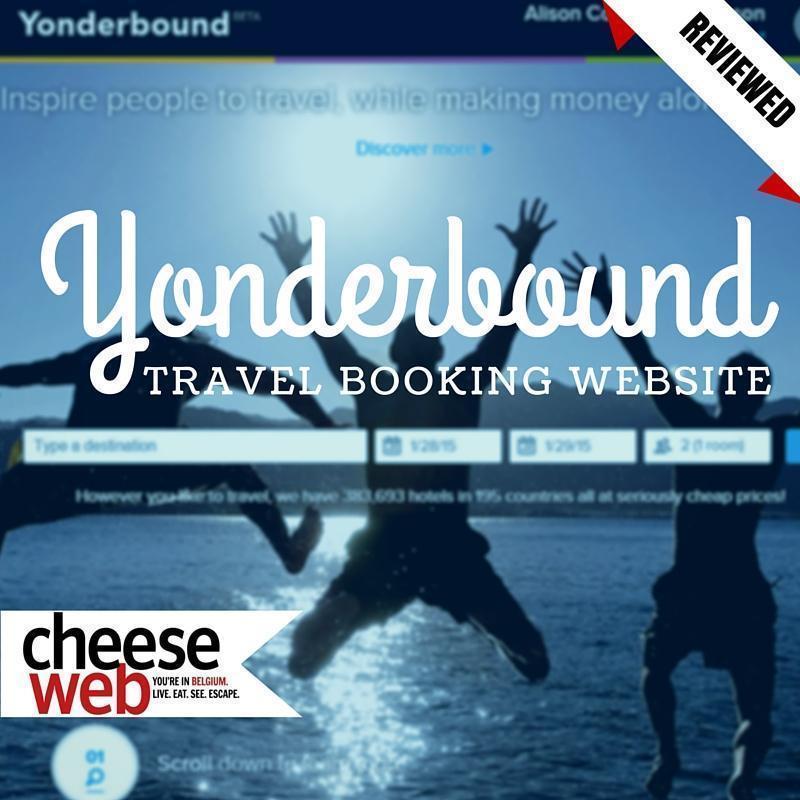 It's a brand new year, full of possibilities. What better time to plan your next vacation or weekend escape? We've recently discovered a brand new tool to make your trip planning easier, cheaper, and even more fun. Meet Yonderbound!
As you can imagine, I do a lot of travel booking – both for our own travel plans as well as visiting family and friends. Normally I flip between a variety of websites, searching for the very best prices. When the new start-up Yonderbound asked me to review their website, I figured it would be more of the same. But, I'm happy to say I have found my new favourite booking site. Here's why:
Low Prices
For me, the bottom line comes back to price. If I see a hotel listed on five different booking websites, I'm generally going to choose the one with the best price. This can get tricky though. Not all booking websites are upfront about the room costs. The price they display is not necessarily the price you pay by the time you add in taxes and extra fees.
Yonderbound is different. What you see is what you pay.
I picked one of our favourite hotels and some random dates, just to see if the low price claim was legit. See for yourself:
Integrated Trip Advisor Reviews
While I normally read the reviews on whatever hotel booking website I'm using, I always double-check with Trip Advisor (if I don't start my search there in the first place.) Now, I don't have to flip between two websites, because Yonderbound includes Trip Advisor reviews right inside the hotel listings.
Beautiful Interface
Ok, I'll admit, I'm a sucker for nice design and Yonderbound has a Pinterest-like feel that appeals to my desire for things to be visually appealing as well as useful. The search results are clean, clear, and uncluttered – pairing function and design seamlessly.
Yonderbound is more than just a pretty face though. It also allows easy filtering of hotels by price, rating, and even amenities like wifi or free parking.
Saving Search Results
Beyond having the lowest prices, the ability to save search results is my favourite feature of Yonderbound. First of all, your recent search results are always saved automatically. If you accidentally closed a tab or forgot to save something, you can simply go back to your history to see your previous searches and the hotels you looked at.
But the most powerful feature is the Yonderbox. This is a bit like a Pinterest board for hotels. By clicking the heart on a listing, you can save a hotel to a Yonderbox. You can create Yonderboxes for anything: specific locations, themes, road trip planning, or simply dream destinations. They are always there to return to when you're ready to book your getaway.
I've already created a few Yonderboxes to store my favourite hotels in Brussels, around Belgium, France, Amsterdam, and Around the World. As always on CheeseWeb, they only contain hotels we've tried ourselves and recommend.
Share Your Trip and Save
We love sharing our favourite discoveries and Yonderbox is a great platform to do this. Not only can you share your Yonderboxes with the world (or keep them private if you choose), you can also earn credit towards your next booking. If you share a hotel in your Yonderbox and someone books that hotel you get credit towards your next booking. As Yonderbound says on their site:
 "Contrary to popular review sites where millions of people share their knowledge for free, Yonderbound gives you back up to 70% of the net revenue your advice helps to produce."
Dream + Share = Save. What could be simpler?
What's the Catch?
In short, there really aren't any – but there are a few things that could be perfected.
Yonderbound was newly launched in April 2014 and is still technically in Beta. I've been told there are plenty of improvements in the works, including bookings beyond just hotels, like tours and activities.
There are plenty of hotel options on the site, although many of the smaller hotels I hoped to add aren't available yet. I expect as the site grows, so will the options.
My only other downside is so far you can't search hotels without entering exact dates. I often browse without knowing my schedule and it would be nice to see what is available in a region without entering specific dates.
Despite these little niggles, Yonderbound has so much potential (and low prices) it will definitely be my go-to booking site. I'm excited to see how they progress in 2015.
As a special bonus, if you sign up now, you'll even get an additional 10$ credit to use against your next booking!
Check out some of our Yonderboxes and be inspired to create your own. Travel planning just became a lot more interesting!
Disclosure: Yonderbound requested and sponsored this review but, as always, we've given our honest feedback and only recommend products we believe in. 
Latest posts by Alison Cornford-Matheson
(see all)