THIS POST MAY CONTAIN COMPENSATED LINKS. FIND MORE INFO IN MY
DISCLAIMER
.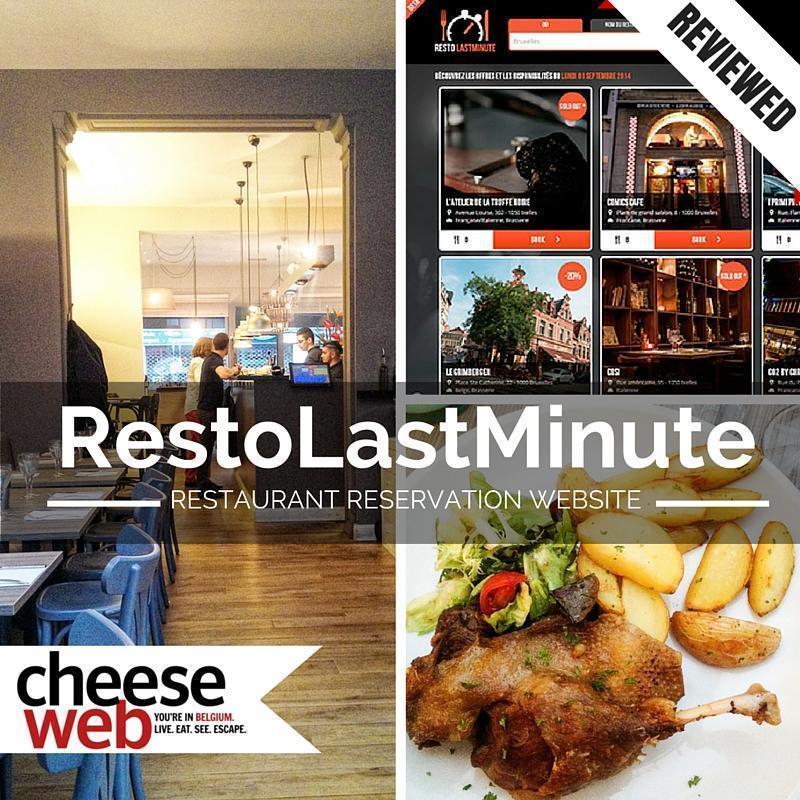 The Resto Last Minute restaurant reservation website lets you book tables at restaurants across Belgium, at a discount, without having to pick up the phone.

Let me know if this sounds familiar: You had big plans to cook a nice dinner but you've worked all day and the last thing you feel like doing is being creative in the kitchen. You're sick of the usual take-away and delivery options and think it would be nice to go out to a restaurant. The last thing you want to do, however, is wander around looking for a restaurant with a free table on a busy evening.
If this situation rings a bell, you need to check out the Resto Last Minute restaurant reservation website.
Resto Last Minute is a reservation engine for restaurants, with one important difference – you can only reserve for the current evening. (Lunchtime reservations are also coming soon.) At a glance, you can see how many tables are available at your chosen restaurant. Simply click 'Book' and you're on your way.
The best news – restaurants offering tables on Resto Last Minute do so at a discount. You get a reduction of 10-40% off your bill (excluding drinks, set menus, or other offers) simply for booking through the website.
Rest Last Minute is also great for those of us who want to try somewhere new, but need a little inspiration. When you click on a restaurant's booking page, you can see sample menu items (with prices), photos of the interior and some of the dishes, a map of the restaurant's location, and even the link to click through to its website, if you need more information.
You can refine your search by location, type of cuisine, or, if you know exactly where you want to eat, you can search by Restaurant name as well.
When the folks at Resto Last Minute contacted us to test out their service, we were eager to see if it lived up to its potential. We decided to incorporate it into our Wednesday night 'new restaurant challenge.'
Wednesday morning, I visited the Resto Last Minute website and had plenty of options to choose from. There are many Brussels 'institutions' as well as restaurants I'm not (yet) familiar with. You can even book the Brussels Tram Experience through the website.
I filtered my search to Brussels, as more and more restaurants are being added outside the capital, (good news for those living in Antwerp, Liège, Namur, Waterloo and more.)
The first results are the newest offerings, which is helpful if you're a regular to Rest Last Minute and are looking for something new.
I could see, right away, one of the restaurants I was interested in was fully booked, as the bright orange circle with the discount read 'Sold Out.' I continued down the list and spotted Les Canailles du Chatelain, a restaurant we planned to visit for our 'challenge,' and it offered a 20% reduction. Bonus! There were still tables available so I clicked the 'Book' button.
I filled in our name, phone number, and email address. (It's also possible to connect Resto Last Minute to your Facebook account to have these details pulled in automatically.) Then I selected the numbers of diners and the time we would arrive. I could also opt to receive confirmation by SMS or email. It was as simple as that.
With both the email and SMS received as promised, all we had left to do was visit the restaurant and see if the experience there was just as seamless.
When we arrived at Les Canailles du Chatelain, in the Brussels commune of Ixelles, and gave our name. They knew immediately we had booked through Resto Last Minute. We were off to a good start.
The restaurant décor is a nice balance of formal and casual and has a lovely large terrace. (It was a pity the weather was too cold to try it). We were only the second table to be seated, but by the time we left, the restaurant was hopping.
As we perused the menu, we were given fresh bread and delicious pork rillettes. It took us some time to choose, as we spotted many of our favourite dishes.
The menu offers traditional Parisian Bistro-style French food, several hamburgers, and four salads, which can be ordered as starters or mains.
To start, Andrew opted for the bone marrow and country bread (Os à moelle, pain de champagne -€9). Although it was tasty, he found the amount of marrow very small considering the huge bone it was presented on.
I started with a smoked beef Carpaccio, which was on the specials board. It was served with rocket, sun-dried tomatoes, and parmesan. It was tasty, but again, a bit smaller than I expected.
Things improved with our main courses. I can rarely turn down confit duck, and the Confit de canard fermier du Gers, frites maison was lovely. If I'm picky, the skin could have been crispier and the fries cooked just a bit more, but I'm really nit-picking here. It was a solid dish.
Andrew's main course was the star of the night and I have to say that was a big surprise for me. He ordered Boudin noir de chez Christian Parra, duo de pommes and it was excellent. Normally I find Boudin Noir dry and grainy, but this was moist, spicy, and delicious.
For dessert, Andrew chose the Frites de pain perdu, coulis de Nutella praline and I opted for the Café gourmand. Again, both were well presented, solid dishes.
When our bill arrived, we were given the Resto Last Minute 20% without having to remind them, so our 3-course meal, including drinks came to €87, a very fair price.
In fact, our overall review of Les Canailles du Chatelain is 'solid.' While it met our expectations on just about every level, it also didn't blow us away. The service was very friendly and helpful, the prices were reasonable, and the main-course portions were fair (although we did find the starters a bit stingy). If you are in the area, it's definitely worth a try, especially with the Resto Last Minute discount.
As for Resto Last Minute, we will definitely be using the website again. There were plenty of restaurants to choose from, the discounts are a great incentive, and it's nice not having to call a restaurant and speak (in French or Dutch) with a harried server who may or may not get the booking right (especially when you have a last name like ours!).
Les Canailles du Châtelain
Rue du Bailli 38 – 1050 Brussels
We'd like to thank Resto Last Minute for inviting us to use their service and provide and honest review of our experience.
If you're looking for more great dining ideas, check out our Restaurant Review page for more recommendations.
Latest posts by Alison Cornford-Matheson
(see all)